Slumberdown Climate Control Pillows Review
It's no secret that everyone loves a good night's sleep. What's less well-known is the amount of work that goes into achieving it. From the perfect pillow to the right room temperature, there are many factors to consider when trying to get some shut-eye. So, if you're not getting enough sleep, don't worry – help is on the way – the Slumberdown Climate Control Pillows review is coming in hot. Or cool? We'll see about that.
Who is Slumberdown Climate Control pillows pack for?
Slumberdown Climate Control Pillows are perfect for people who want to sleep cool. The more heat your body generates, the harder the breathable Dacron filling will work to move the excess heat away and help you enjoy a comfy night's sleep.
These pillows are also good for back and side sleepers because they help to support your head to be slightly raised and aligned with your spine, so you can enjoy a comfortable night's sleep without neck pain.
And, if that wasn't enough, these pillows come in Firm and Soft renditions, so you know side and stomach sleepers are getting their own, new favourite pillow.
Add a header to begin generating the table of contents
What do we use this product for?
As we've just mentioned, the Slumberdown Climate Control pillow comes in three versions – Firm, Soft and Medium support pillow. As such, the Climate Control range of applications is spectacular – which is not something you can say about a lot of pillows.
On that note, we can:
Use it to get a great night's sleep.
Use it to alleviate neck and head pain.
Use it to sleep comfortably in any sleeping position.
Use it to keep allergens at bay.
Features you should know about Slumberdown Climate Control pillows
To gain a better understanding of this pillow, we have to look at all the features that create this comfy resting environment.
Dacron Hollowfibre is a synthetic fibre that is designed (and scientifically proven) to carry excess heat away from your body, so you can enjoy a cool and comfortable sleep. Because of it, it is often used in climate control products like this one.
What Dacron also does flawlessly is carry excess moisture away from your body, too. So, if you get all toasty and sweaty during the night, this pillow will do its best to help you out!
First of all, hypoallergenic means that the pillow does not contain materials which are likely to cause allergies – not that it's anti-bacterial. So, if you're struggling with allergies and don't want them exacerbated by your pillow, this is a good choice for you.
However, don't expect this pillow to treat or solve the problem. The soft-touch cover and Dacron fibres won't make you sneezy, but they won't help you overcome your problems, also.
It shouldn't come as a surprise that the most popular out of the three available ones in the lineup is the Medium support pillow. Medium support pillows have always been a crowd favourite because they're so versatile.
Medium support Climate Control pillow offers a great mix of support and comfort, without being too hard or too soft – which is what a lot of people look for in a pillow.
As you can imagine, this one's not filled up to the brim with Dacron hollowfibre (about 1080 g of filling), so it will gently sink once you lay your head into it, but not to a point where it becomes flat and useless.
As such, it's pretty good for side, and excellent for back sleepers.
The firmer support pillow is a side-sleeper favourite. Side sleepers often look for a pillow that will support their necks and heads without putting any strain on them, and this is precisely what the Firm support pillow does.
What's interesting is, despite being called Firm – this one's not as much. It strikes the perfect balance between being supportive and comfortable, without being overly stiff and rigid. It manages to achieve this with just a little bit of extra filling (about 100 g more) compared to the Medium-firm one.
As you can probably guess, back sleepers could also enjoy this one.
The softness of the bunch is the Soft support pillow – specially designed to tailor to stomach sleepers' needs.
In this industry, stomach sleepers are often overlooked, which is not surprising considering that almost 80% of UK residents sleep on their side, making the remaining portion of the market virtually irrelevant.
Be that as it may, Slumberdown went out of their way to create a third option of their Climate Control pillow and tailor it towards folks that like to nap on their tummy. How did they do it? By putting less hollowfibre filling inside of it – about 840 g to be somewhat precise.
As expected, this one's the flattest once you lie on top of it, making it tip-top for stomach sleepers, decent for back snoozers, but not as appealing for those resting on their sides.
Washing machine & dryer friendly
The pillowcases aren't the only things you should wash regularly – your pillows need some maintenance, too.
Thankfully, Climate Control pillows are fully machine washable, so you can easily chuck them in with the rest of your laundry. Just make sure they're on a delicate cycle and low temps (up to 40°C), and don't use any fabric softener or harsh detergents as it could damage the fibres.
As for drying them out, you can either leave them out to air dry or toss them in a dryer. Just remember to give them a good fluff once they're dry and they'll be ready to go.
Review of Slumberdown Climate Control pillows
So, what's our final verdict on the Slumberdown Climate Control pillows? Let's hear it in the review of the Slumberdown Climate Control pillow.
Overall, we're quite pleased with these pillows. They offer a great variety of support levels for all sleeping positions and are perfect for people with allergies as they're made out of synthetic materials that won't aggravate your symptoms.
The fact that they're machine-washable is also a huge bonus, as it makes them very easy to maintain. However, this doesn't mean you don't need to use a separate pillowcase – please do. It'll help your pillows last a long time.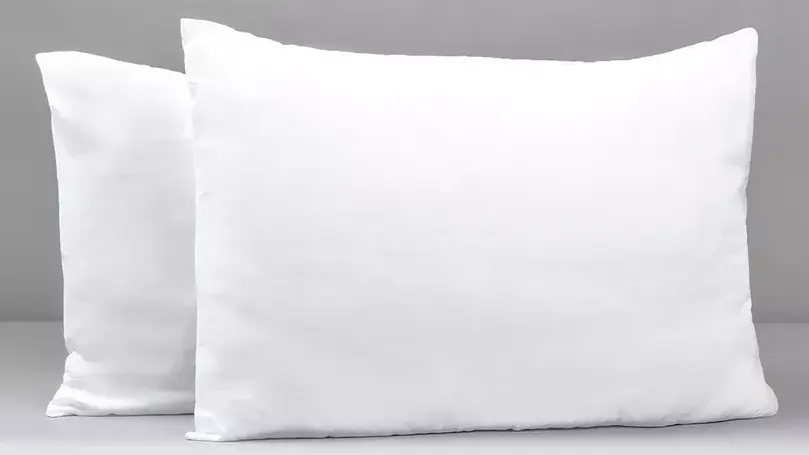 But, the absolute best thing about these pillows is their price tag. They usually come in pairs (although you can buy just one pillow if you wanted to) and they're super affordable. But, if you get a four-pack – you'll save an additional 20%.
All in all, there's a good chance this could be the right pillow your body deserves.
Fill: Dacron microfibre
Material: Hollowfibre
Loft: 10 cm
Removable cover: No ; soft touch polyester
Size: 74 x 48 cm
Weight: 840 – 1180 gr
Warranty: No
Trial: No
Care instructions: Machine washable at 40°C, Tumble dry at low temperature
What we like about Slumberdown Climate Control pillows
Probably the best pillow pair at this price point. A truly good buy
An excellent pick for the summer months. Dacron and microfibre cover really keep heat and moisture away from the body all night long
Not anti-allergy, but will still make your life easier if allergies are the bane of your existence
Slumberdown's part of John Cotton Group, so we're sure their environmental efforts are where they need to be
Easy to order – click and collect, free delivery, what more could you want?
Easy care – fully machine-washable and tumble drier friendly.
What we didn't like about Slumberdown Climate Control pillows
We love how easy it is to care for this one, but we'd really prefer a separate, removable pillowcase
It should do a better job of retaining shape during the night.
It's a good quality pillow, especially at this price point, but we wouldn't expect it to last very long
You don't get a trial or warranty, but then again, we didn't really expect it at this price point.
What makes this product better than some other similar ones?
As sleep experts, if we do say so ourselves, what makes this pillow better than some similar items is its incredible value for money. You get so much for so little! If you want a good pillow without spending an arm and a leg, this is the one for you.
For starters, you get three loft options for every sleeping position. Also, it's machine-washable, which is always a huge plus in our books. On top of it all, it's suitably cold for those hot summer nights. And, if you're looking for something non-allergenic, this pillow ticks that box, too.
To sum up…
These pillows offer excellent value for money. So, if you're on the hunt for a new pillow (or, in this case, two), we say go ahead and try this one out. Your bed won't mind.
Consider these two if you are buying Slumberdown Climate Control pillows
If you're satisfied with your new pillow, you will probably be satisfied with the rest of the Climate Control products, so why not check them all out?
Slumberdown Climate Control Duvet
Slumberdown Climate Control 10.5 TOG Duvet is a great piece of bedding. It's warm (and cool when it needs to be), comfortable, and light, with a smooth texture that will gently hug your body.
It also has excellent breathability due to the unique Dacron fibres and a lovely polyester microfibre cover. Overall, sleeping under this comforter should be a joy – whether it's summer or winter.
On top of it all, the hypoallergenic properties are a lifesaver for those who frequently have trouble sleeping at night.
All in all – now of the best duvets at this price point.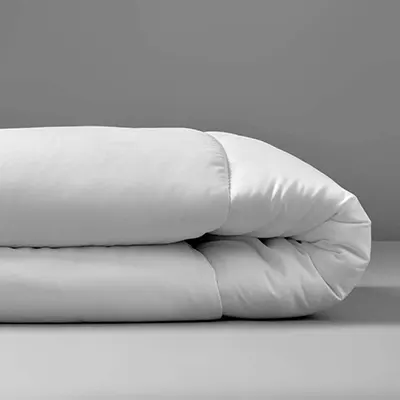 Slumberdown Climate Control Mattress Topper
Slumberdown Climate Control Mattress Topper is a great choice for those who tend to get too hot or too cold while sleeping.
The topper is made with a widely praised Dacron hollowfibre fill that helps to regulate your temperature, so you can stay comfortable all night long.
But more importantly, the topper features a medium-firm (they say it's firm but it really isn't) support level and a soft touch quilted cover for added comfort.
So, if you're looking for a way to improve your sleep, Slumberdown Climate Control Mattress Topper is definitely worth checking out and pairing with your new pillow.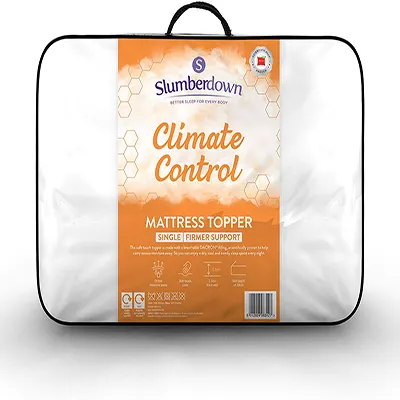 How did we test the product?
As is always the case with our reviews, we started it all by ordering the test subject. If you don't know, you can order these pillows on Amazon, just like we did, and you won't pay for shipping or delivery. The pillows will just appear on your doorstep a few days later.
The first thing we did was inspect the packaging. To be fair, this isn't exactly fair to Slumberdown, because let's face it – we know how Amazon delivery guys can get. Thankfully, ours was more than gentle with the package as there weren't any signs of damage.
The same thing applied to the pillow itself. First, we inspected it visually, looking for any stitching defects, tears in the cover, lumpy fillings etc. Then, we moved on to the "heads"-on testing. Pardon the pun.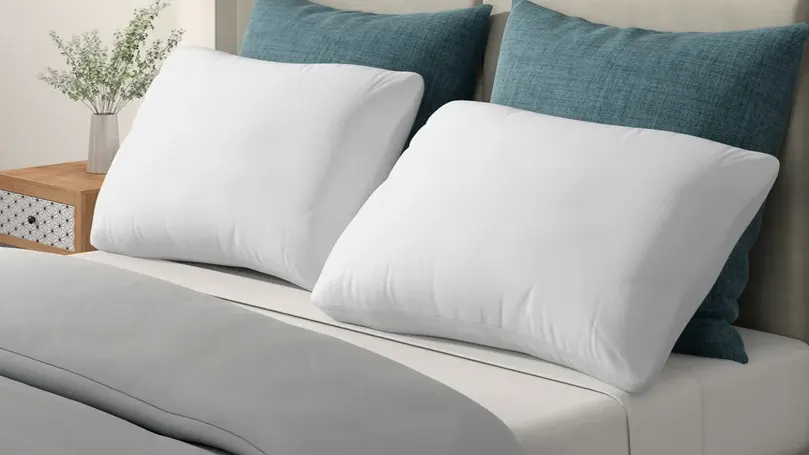 Anyway, a few of us from the office spend a few nights with this pillow, testing it in different environments. We've tested it in both cold and hot rooms to see how it would behave in different temperatures. We've tested it to see how responsive and bouncy it is (spoiler alert – not at all). And, of course, we've done our best to simulate long-term usage and see how well will this one stand the test of time. All in all – standard stuff.
General impressions after testing the product
So, what did we conclude from our extensive testing?
Well, our overall impression is that this is a very good pillow when you take everything into consideration. Naturally, there's nothing mind-blowing or earth-shattering about a pillow that's this affordable, but still – it gets the job done.
The "build-quality" is pretty much spot-on. There weren't any stitches loose or threads hanging out of the pillow. The cover felt like it could take some beating and still remain intact and gentle on your skin.
On that same note, our general impression wasn't "wow", but more like "oh, wow" if you catch our drift.
Essentially, what we're trying to say is we were actually surprised by how well this pillow pair performed.
What are the common problems with Slumberdown Climate Control pillows?
Now, let's disregard the fact that this is an affordable product and let's be harsh and take a look at what's wrong with it.
The first thing we (and a bunch of other people noticed) is that while this pillow is decently cool and breathable – there's no such thing as the Climate Control Range. This one won't actively cool you. The best thing you'll get is not overheating as much as you would with some old pillow.
Another thing is the overall responsiveness and shape-retention. Sure, we're talking about a hollowfibre pillow, there isn't supposed to be any bounce-back, but these ones just tend to get really flat and lifeless for our liking. And it's not just us – we're not pillow snobs. Regular customers notice this, too.
Keep in mind that both of these things happen with pretty much any other pillow – even the much more expensive ones. So, take this critique with a grain of salt. The issue is there, but it's probably something you've gotten accustomed to by now. We just thought you ought to know.
FAQs about your Slumberdown Climate Control pillow
In the end, we thought we owed you some answers.
Are Slumberdown Climate Control pillows suitable for side sleepers?
Yes, these pillows are suitable for side sleepers - provided that you get the firmer support pillow.
Should back sleepers use Slumberdown Climate Control pillows?
Absolutely. If you sleep on your back you can sleep on anything you like, let alone a decent pillow.
Are Slumberdown Climate Control pillows suitable for stomach sleepers?
Yes. One could actually argue that these pillows are perfect for stomach sleepers.
Do Slumberdown Climate Control pillows have a removable cover?
Unfortunately, it does not. However, it is fully washable.
How long do Slumberdown Climate Control pillows last on average?
It's hard to say, but we'd say you can rest assured these will last you at least three or four