Dormeo Memosan Anatomic Pillow Review - Sleep Well Without Neck Pain
Memosan pillow, made from NASA inspired memory foam, with its anatomic shape is the ideal pillow whether you are a front, back or side sleeper. Its special shape allows it to contour around your neck, providing total support for your head, whilst keeping your neck and spine in perfect alignment – or at least that's what Dormeo says. Whether that's true or not, we're going to find out in our Dormeo Memosan Anatomic Pillow review.
Who is Dormeo Memosan Anatomic pillow for?
According to Dormeo, their Memosan memory foam pillow is ideal for everyone and they also claim that this memory foam pillow will keep your spine properly aligned regardless of the position you sleep in.
Well, if we're being perfectly honest, which we always are – that's not entirely the case. If you belong to the front sleeper category – shop for another pillow. This anatomic memory foam pillow is not a good choice for front/stomach sleepers.
But, thanks to its unique shape – it is the right choice for side and back sleepers.
What do we use this product for?
Now that we've gone over who can use this pillow, let's see how we can use it.
Thanks to the high-quality memory foam, this pillow offers excellent neck support and proper spine alignment. In addition to that, the polyester cover makes this one hypoallergenic and resistant to dust mites.
So, with all that being said – we can:
Use it to alleviate neck pain
Use it to alleviate pressure off of pressure points
Use it to sleep comfortably
Use it to battle allergens.
Does this pillow come in different versions?
There are two available versions of this anatomic memory foam pillow. Now, unlike many other products that share the same name, these two are quite different. So, let's learn a bit more about the Memosan Deluxe pillow.
Dormeo Memosan Deluxe Pillow
Unlike the Anatomic version, the Deluxe is not made from a single block of memory foam. Memosan Deluxe is specially designed from temperature-sensitive memory foam pieces, it will adapt comfortably to the contours of your head, giving better support for your neck and spine.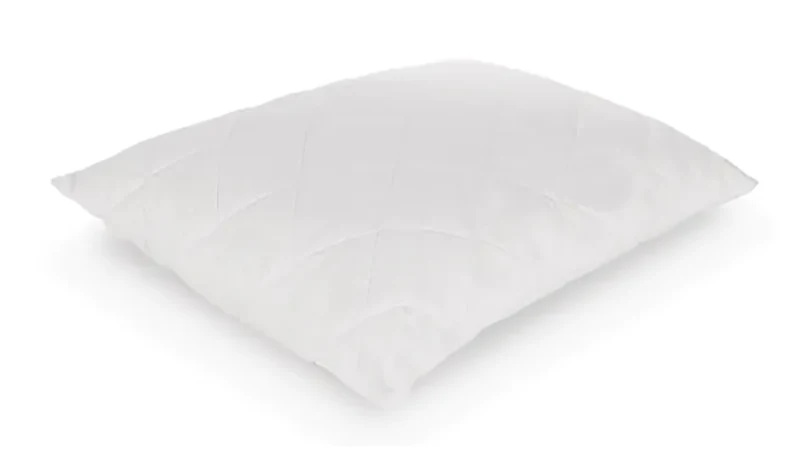 The pillow is encased in a beautiful quilted, machine-washable cover made with natural cotton. The cover will be cool to touch on warm nights yet still be warm and comfortable on the chilly ones.
A good quality product
Removable, delicate pillow cover
Supportive and comfortable.
Minor breathability issues
Not the ideal pillow for side sleepers.
Features you should know about Dormeo Memosan Anatomic pillow
Now, let's learn a few things about the defining characteristics and features of our reviewee.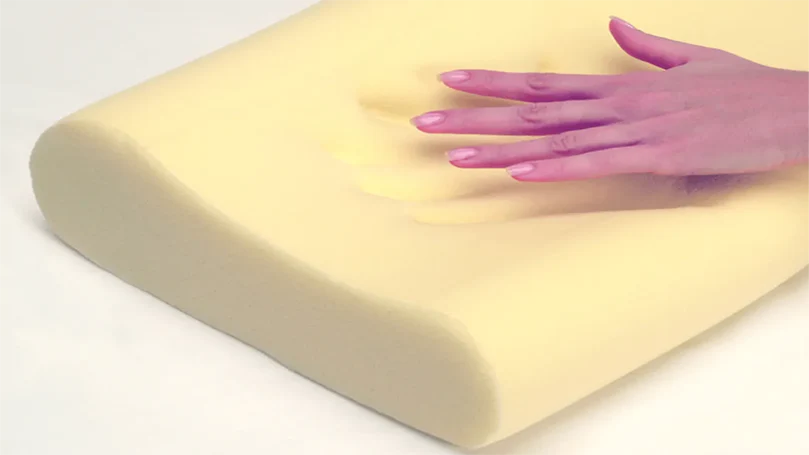 Memory foam, the pressure-relieving material originally designed for NASA, cleverly moulds to every contour of your head and neck, delivering you restful and supportive sleep.
As such, this pillow is an excellent choice for side and back sleepers, because it will fully support your neck and head, while simultaneously keeping your spine properly aligned.
The memory foam is also resistant to dust mites, the leading cause of most allergies.
Anatomic & contouring features
Anatomic pillows are great for sleepers struggling with neck aches or headaches, and sleeping on one of the pillows such as this one should provide almost instant relief.
Thanks to the anatomic & contouring features of the Memosan pillow, most sleepers should notice the relief after a night or two.
Cooling & breathable structure
Since you've probably read your fair share of pillow reviews, you know that the memory foam pillows have a bad rep of being prone to retaining heat. And, nine out of ten times – that is true.
In this case, however, Dormeo wanted to make sure their customers get a good night of sleep, so they made sure to make their foam cooling and breathable. In addition to the foam having cooling and breathable structure, Dormeo has also encased this pillow in a smooth, cotton-polyester blend cover to help with overheating.
Review of Dormeo Memosan Anatomic pillow
First up – let's start with the design. Just by looking at it, you can see that this is a cervical pillow, which is the standard design for an all-foam pillow.
But, thanks to that particular design, you can rest assured that your neck and head will be properly supported, and you should have no problems getting a good night's sleep with the Memosan Anatomic.
You'll get medium support out of this one, but you'll also get to enjoy cushy, contouring comfort. However, at 7 and 10 (both sides) cm tall, this pillow won't be a good fit for front sleepers. It comes with a plush, machine-washable,  zippable pillowcase made with cotton and polyester.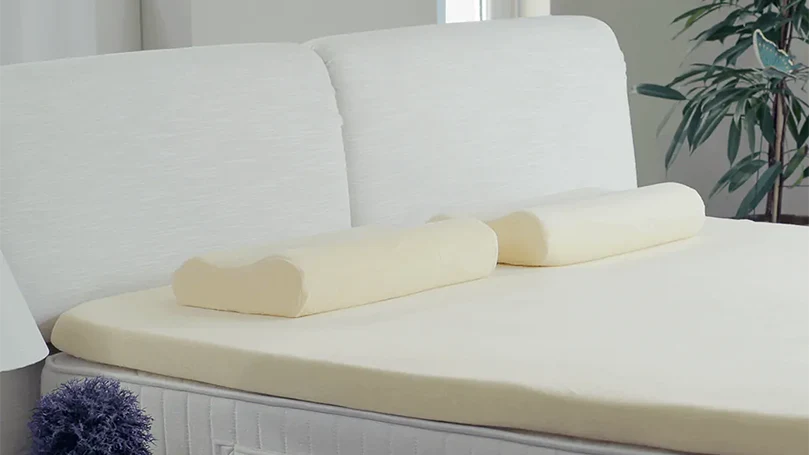 Now, this won't be the most breathable pillow you've ever slept on, but compared to some other foam pillows – this one is pretty good.
Finally, you get a 60-night trial to test this one out. If you don't find it satisfactory, you can return it for a full refund.
Size: 30 x 49 x 9.8 cm
Material: Memory foam
Type: Anatomic
Cover: Removable.
Offers medium support
Good fit for sleeping on the side and back
Hypoallergenic, washable cover.
Not a good fit for sleeping on your stomach
Initial off-gassing
No warranty.
What we like about Dormeo Memosan Anatomic pillow
It offers good support for the neck and head while sleeping on your back and side
It comes with a soft, removable, hypoallergenic cover
Different height on each side makes it easier to find your perfect fit.
What we didn't like about Dormeo Memosan Anatomic pillow
You can't really sleep on your stomach and use this product comfortably
There is some minor, initial off-gassing present
It does not come with a warranty.
What makes this product better than some other similar ones?
The greatest strength of our reviewee is that it is universally good, without any major disadvantages. Sure, it won't be a good fit for front sleepers on most occasions, but that's almost universally true for all memory foam pillows.
When you purchase this product, you get a quality item, from a reputable brand, that you will most likely use for a really long time.
How did we test the product?
First up, let's talk about ordering and the delivery because before we can test the product, we have to order it first. The ordering process is quite easy. You choose the product, choose the quantity, add it to the basket, go to the checkout, add your credit card details, submit the payment and you're left with the verified purchase for your new pillow.
Dormeo will charge and £4.95 for the delivery of this pillow, or the delivery of other items under £79. However, they have partnered with specialist couriers to ensure the best possible delivery experience in the UK. Unfortunately, Dormeo does not deliver to Gibraltar and Channel Islands. For other orders out of the UK mainland, extra charges and special conditions apply. For further information on the delivery or the latest news on their products – feel free to visit the Dormeo website.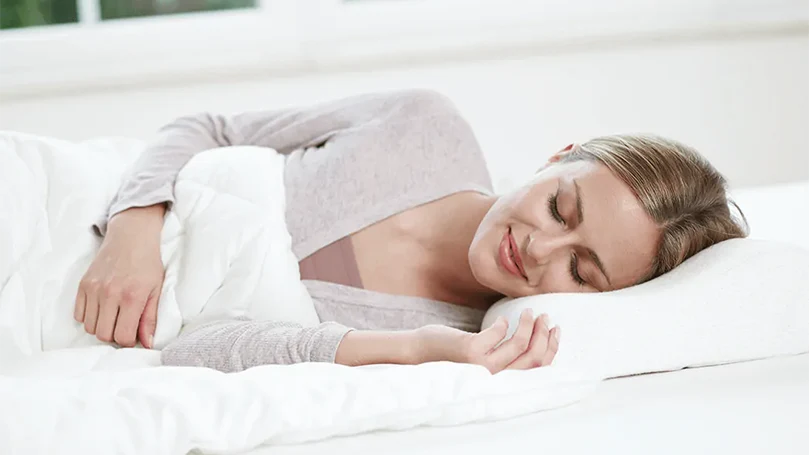 Now, let's talk testing. The Anatomic Memosan arrived in 5 days, and upon removing it from the original packaging – we have immediately started testing it. Through a collective effort, we've tested it extensively. We've tested its build quality, firmness, support, comfort, breathability, responsiveness, durability and so on.
After we've done all that, we have discussed our findings and wrote this review.
FAQs about your Dormeo Memosan Anatomic pillow
In the end, let's answer some FAQs.
Is Dormeo Memosan Anatomic pillow a good choice for side sleepers?
Yes. This is a good choice for side sleepers.
Should front sleepers use Dormeo Memosan Anatomic pillow?
In our opinion - no. This one wouldn't be a comfortable fit for front sleepers.
Can back sleepers sleep on Dormeo Memosan Anatomic pillow?
Yes. They shouldn't have any problems sleeping on this pillow.
Is Dormeo Memosan Anatomic pillow a good choice for people with neck/shoulder/hip pain?
Yes. This pillow should help ease the pain in the neck, head and shoulder area.
How do I clean my Dormeo Memosan Anatomic pillow?
The cover of the Dormeo Anatomic Memosan is removable and washable.