Slumberdown Anti Allergy Duvet Review
Getting a good night of blissful sleep is about making yourself perfectly cosy and comfortable, and that can be quite hard to do if you're sharing your bed with dust mites. Well, with Slumberdown Anti Allergy Duvet – you don't have to. Stick around to find out full details and why we recommend putting this product in your shopping basket!
Who should use Slumberdown Anti Allergy duvet?
Slumberdown Anti Allergy duvet is a 10.5 TOG duvet, and as such, there are pretty much no limitations as to who can use this product. All kinds of sleepers can benefit from the Slumberdown Anti Allergy duvet, regardless of their age, body weight or sleeping preferences.
But, there is one group of sleepers who will really enjoy this product, and those are people sleeping with allergies. Filled with a special hypoallergenic microfibre that inhibits dust, mites, bacteria, mould or fungi, this one will help anyone dealing with allergies get a good night's sleep.
Add a header to begin generating the table of contents
What is this duvet good for?
There are two things that make this product a top-selling duvet in the UK – hypoallergenic properties and an all-year 10.5 TOG rating. The leading allergy specialists within the UK might recommend this one to sleep easy so you can understand how the company was devoted to manufacturing such a high quality product. Therefore, it is one of the best products within the anti allergy range within the UK.
10.5 TOG rating is widely considered the perfect rating for an all-seasons duvet. It is both warm enough to make you cosy and warm during the winter, but still cool enough to prevent you from profusely sweating during the summer.
To be fair, you won't need it most of the summer unless it's a 4.5 TOG one. But, once those seldom chilly nights come about – this model will be your best friend. 
Features you should know about Slumberdown Anti Allergy duvet
We've mentioned that this Slumberdown Duvet is UK's top-selling duvet. Now, let us tell what makes it so popular and why one family should go with this one.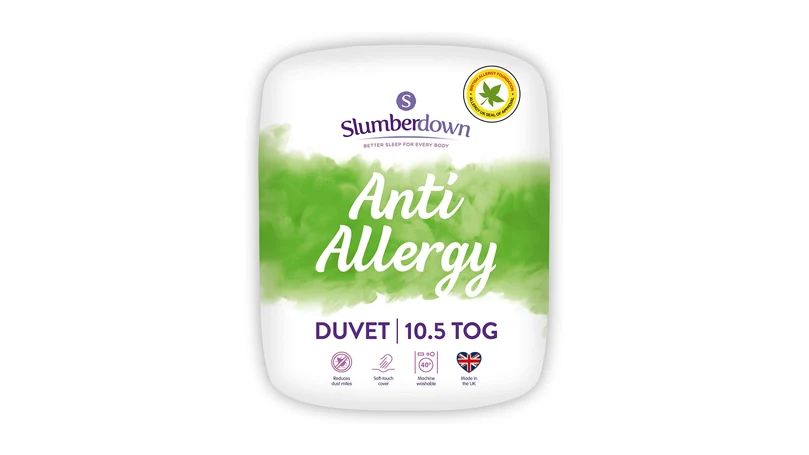 "10.5 TOG – Designed to give you a balanced comforting night's sleep all year round". That's how Slumberdown likes to say it. And, we agree to an extent. A 10.5 TOG is widely regarded as the all-year-round standard. However, as we all know, during some summer nights, you'd much rather sleep outside of your skin because it gets so hot.
Now, we won't tell you that this model will help you sleep cooler during those nights because it won't. However, for any other night that you're not sweating your soul out – this one will come in handy.
The main selling point for this model are its anti-allergenic properties, hence the name. To make this one anti-allergenic and resistant to mould and bacteria, they've filled it with specially designed Anti Allergy filling.
The filling inside of this product has also been independently tested and approved by the leading experts from Allergy UK field, ensure their quality and safety for everyday use.
You may not know it, but common household dust mites are responsible for almost 85% of health complications in sleepers dealing with asthma, and other respiratory issues, which is exactly what this one should prevent and stop from happening. Now you don't have to worry about this as you will get much better night's sleep.
The Anti Allergy fillings are essentially just treated microfibres. Microfibre is a synthetic material commonly used in duvets because of its resemblance to feather and down, without any drawbacks of the aforementioned.
Not only are they often hypoallergenic, but they are also very strong and durable, meaning they will help the bedding, in this case, our Anti Allergy duvet, retain its shape and quality over time. In addition to that, microfibre is also lightweight and durable, which is why it can be used almost all year round.
Microfibre also gives that soft, cosy and comfy feeling without being too heavy or snug. It'll comfort you nicely, regardless of the position you sleep in, but it won't inhibit your movement or make you feel crushed.
Finally, wrinkles won't be a problem with this one either. Since microfibre is naturally wrinkle-resistant, you can wrap yourself in it any way you like, toss and turn all you want, and in the morning – it'll look the same as yesterday.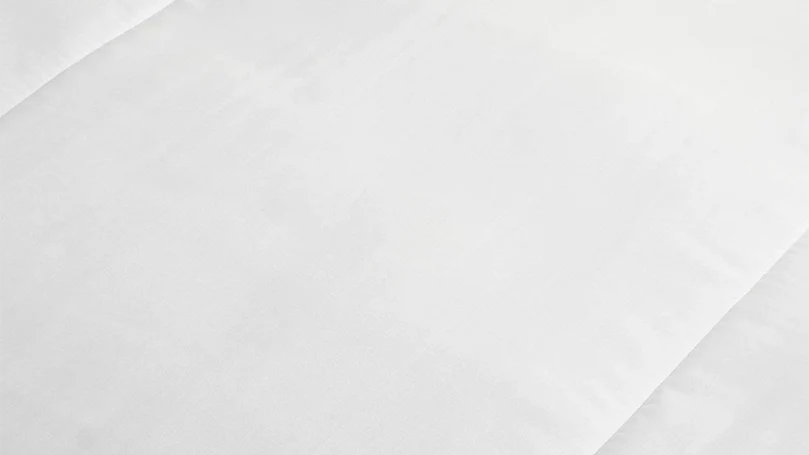 Another useful feature of microfibre is easy maintenance. Duvets aren't usually easy to deal with, but this one is machine-washable in its entirety. There's no outside cover that you have to take off because microfibre is washing-machine friendly, doesn't lump and dries very quickly.
So, all you'll need to do is toss your duvet in a washing machine at 40°C, and that's it. You can also tumble dry it once you're done, but if you have the time, we'd advise air-drying it.
Review of Slumberdown Anti Allergy duvet
Finally, it is time for the review for the best-selling duvet in the UK!
First things first, this one is the definition of a value pick. At this price point, it almost feels bad trying to find something wrong with it.
It comes in three sizes – Single, Double and King size. As such, they'll fit most beds, and it also feels good knowing that you shouldn't have a hard time finding  covers for it.
It feels good. It feels soft, light and comfortable, which is to be expected from an all-seasons 10.5 TOG  rating. As we've said, we don't really see anyone using this one during the warmest nights of the year as most people will find it too hot.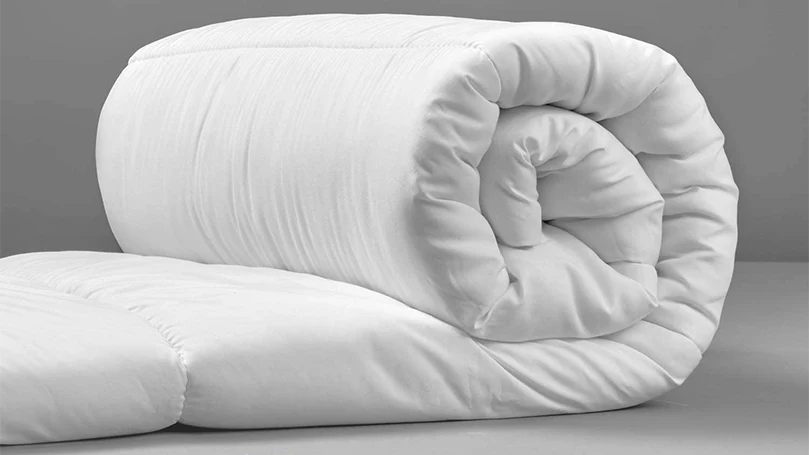 Lying underneath it feels soft, natural and cosy. It won't restrict your movement or feel heavy, but what's possibly more important is that it won't have you feeling like you're inside of an oven. Duvet's very breathable and quite cool, thanks to the microfibre fillings known for their ability to dissipate the extra heat.
Finally, we have to mention the anti-allergenic and anti-bacterial nature of this one one more time. Honestly, if you're struggling to get a good night's sleep and if you are one of the allergy sufferers – this one will make life easier for you. The allergy UK's seal is an approval that the product is specifically made in accordance with the anti-allergic guidelines, meaning that Slumberdown inhibits dust mites and prevents their growth!
Hypoallergenic and anti-bacterial
Incredible value for money
Soft, lightweight and cosy.
Too warm for hot summer nights
King size may be too big for most regular washing machines
Some may not prefer the lightweight, soft feel.
Things we like about Slumberdown Anti Allergy 10.5 TOG duvet
It feels very soft and cosy – an absolute pleasure to curl up under
Perfect for allergy sufferers
It can act as a perfect quilt
Great price for a product that follows very high standards
Perfect choice for fighting the mites, bacteria and fungus
You won't be able to find a better product at this price point
High quality manufacturing process
Good purchase that ranges in a medium-priced products that justifies its price.
What we didn't like about Evercomfy Aloe Vera duvet
Despite best efforts, this done is still too warm for hot summer nights
It is machine-friendly, but it sometimes won't fit inside of a washing machine
Some sleepers would prefer a snug-like fit than this one has
You pay for the delivery.
You might want to consider these alternatives to Slumberdown Anti Allergy duvet
Just to help you explore your options, we've prepared two alternatives picks to our Slumberdown duvet.
Silentnight Pure Cotton is also one of the more popular duvets on the UK market, and for a good reason. It has been designed to provide you with a natural, relaxing sleep throughout the night by combining the soft, breathable 100% pure cotton with soft hollowfibre.
Pure Cotton comes in a 4.5 TOG and a 10.5 TOG version, with the latter one being more similar to our reviewee. Therefore, it is a great choice for an entire year round. The 4.5 TOG Pure Cotton Duvet is better suited for those warm summer months, and the 10.5 TOG should be able to suit you the rest of the year.
Like our reviewee, Pure Cotton is also hypoallergenic product that inhibits dust mites, bacteria and machine washable and comes with a 5-year warranty.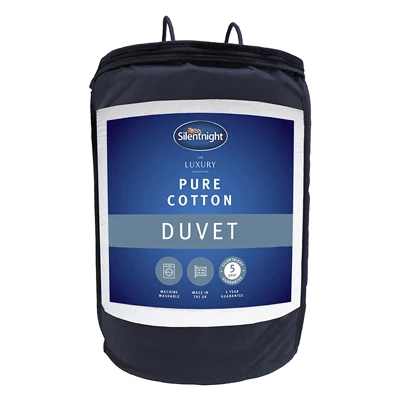 Hypoallergenic
Machine washable
Available in 10.5 TOG and 4.5 TOG.
5 TOG option is more expensive
King and Super King size may be too big for most regular washing machines
Some may not prefer the lightweight, soft feel.
If you are looking for a 10.5 TOG duvet that you may actually want to use during summer – it's this one. One side of the product is treated with Simba's patented Stratos technology for active cooling, and it is that side that you want to snuggle under during the warm summer months.
What also makes it good for summer are super-soft, lightweight Simba Renew recycled plastic bottle fibre fillings. Loosely translated, this is a soft, lightweight duvet that isn't snug but instead a one that gently covers you. Another benefit of the Simba Renew fibres is that they're hypoallergenic.
Feel free to also check out our in-depth review of Simba Hybrid pillow.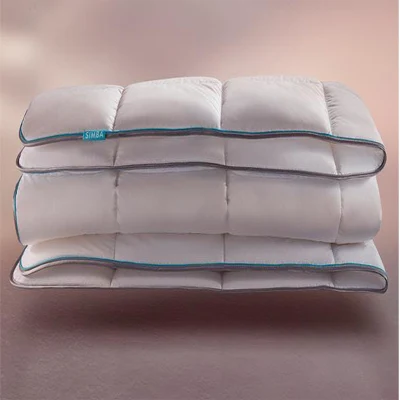 Great temperature regulating properties
Very comfortable and durable
Lightweight 
Hypoallergenic. 
More expensive than some similar products
It might be too big for your washing machine
Only a one-year warranty.
Consider Silentnight Geltex pillow if you are buying Slumberdown duvet
Another thing to help you sleep better, aside from the hypoallergenic properties of your one is the proper support from your pillow. Silentnight Geltex is a pressure-relieving, supportive, breathable pillow that will not only have your neck and head rest in the optimal position but will also help you get rid of the annoying neck aches. 
Filled with super-soft hollowfibre surrounding a single block of breathable and responsive Geltex foam, this pillow will provide you with a fluffy comfort of a feather pillow, alongside great support you might find with a memory foam one. Geltex and hollowfibre are encased inside of a non-removable, specially designed, Cool-touch luxurious knitted cover with air mesh walls for maximum airflow.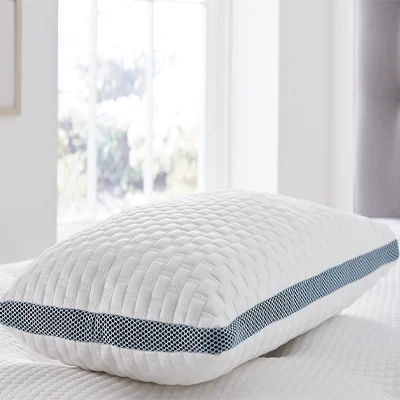 Comfortable and supportive
Cool and breathable
Good quality
Durable and long-lasting.
Non-machine-washable
Non-hypoallergenic
Non-removable cover.
What makes this product to stand out among other similar products?
We've said it once, and we'll say it again – Slumberdown Anti Allergy duvet is the best deal you're ever going to get on a 10.5 TOG duvet and it is highly suitable for allergy sufferers. Its more-than-competitive pricing is certainly one of the reasons why this one is the top-selling product in this category on the Amazon UK, but that's not nearly the end of the story.
It's the quality of a product, paired with an excellent price tag, that make this one better than any other similar product. We've already outlined all the positives like softness and comfort, hypoallergenic properties and excellent breathability, and when you pair all that up with its price tag – you'll see exactly what we mean when we say that this is the best deal you're ever going to get.
How did we test the product?
Testing duvets is pretty straightforward, but very enjoyable, if we might add. When we tested a 10.5, all-seasons duvet such as this one, we do our best to simulate all of the seasons in our office.
But, before we can do that, we have to get our hands on the duvet first. As is usually the case, free delivery and free shipping are available to all UK residents, so you won't have to worry about any additional charges (not that you'd mind considering how affordable this duvet is).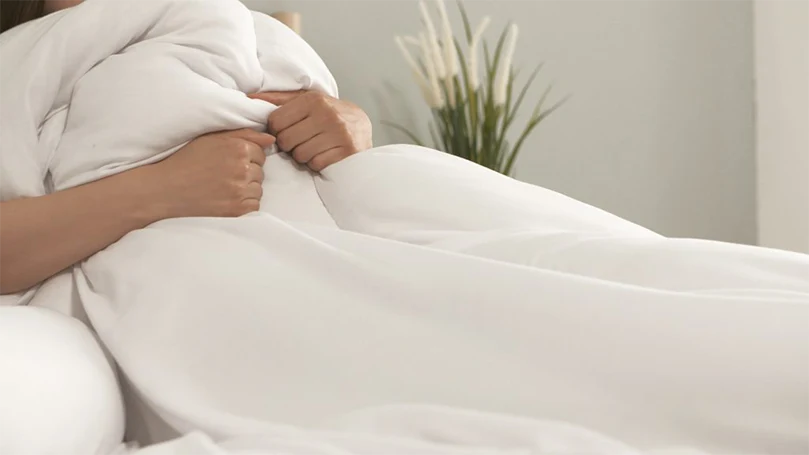 The first thing we did was inspect the packaging and the duvet for any signs of damage. As expected – there weren't any. This beauty was in perfect condition – from top to bottom. The cover was perfectly smooth, without any tears and nicks, and the fillings were properly distributed without any clusters or lumps.
After we did all that, it was time to play around with the thermostat and see how different conditions apply to this product. All of our team members spent several days and nights underneath this duvet, testing it in both very cold and very hot environments; and the ones in between, too. We've also washed and tumble dried the duvet to make sure the fillings stay intact after, and sure enough, they did.
FAQs about your Slumberdown duvet
As it is the case with all our reviews, we tend to offer the additional help and address some details to our readers. To wrap things up, we've decided to answer some questions that might've been left unanswered.
Is Slumberdown duvet good for hot sleepers?
Yes. This duvet is very lightweight and breathable, so if you're one of the people that sleeps hot –  hurry up to the store checkout as this one will be your friend.
How often should I wash my Slumberdown duvet?
If you use Slumberdown duvet every single day and you all year-round use it, we'd recommend washing it once every two months.
Can I tumble dry my Slumberdown duvet?
Yes. Thanks to the microfibre filings, this Slumberdown duvet can be safely tumble dried.
Is this duvet good for sleepers with asthma?
Yes, the leading experts allergy UK recommend this duvet as one of the best Slumberdown anti allergy products so it is highly suitable for people who suffer from asthma.
Do I get a refund for my purchase in case I am not satisfied?
Yes, Slumberdown store offers you 30-days refund period so make sure you check it before the trial period ends.
Do I pay for the delivery of my purchase?
If you are not based within the UK,  Slumberdown does not offer a free delivery. Once you come to the checkout in the store, the delivery fees will be applied and you will be able to see how much you need to pay for the delivery.