Simba Orbit Weighted Blanket Review - Forget The Sleepless Nights
The health benefits of weighted blanket have been proven, as it can trigger something called deep pressure therapy. That is why you will find a weighted blanket in the offer of most respectable sleep companies. Here is your Simba Orbit weighted blanket review by The Sleep Advisors in which you will be able to find all the necessary information about this product.  
Who is Simba Orbit weighted blanket for?
Simba Orbit weighted blanket will suit anyone who likes to have a heavier blanket. If it is your first weighted blanket, you should know that it is especially useful for those who suffer from various conditions such as attention deficit hyperactivity disorder (ADHD), post-traumatic stress disorder (PTSD), insomnia, sleep apnoea, restless legs syndrome (RLS), night worrying, waking nightmare and other similar conditions.
This weighted blanket will give them and everyone else a sense of security and make falling asleep easier as well as to achieve a deeper sleep. Also, it should be noted that Simba Orbit weighted blanket is for adults, as both available weights are too heavy for children. If you have any other medical concerns, contact your doctor.
What do we use this product for?
We use Simba Orbit weighted blanket to make it easier to fall asleep and sleep more comfortably. When you cover yourself with Simba Orbit weighted blanket you will have a feeling of complete safety, like when someone hugs you. So whether you suffer from some of the above mentioned disorders or just love the feeling of heavy blanket over you, this product is a great choice.
Also, you don't have to use this weighted blanket just when you sleep. Many customers said they get the most benefit from it when they use it after a stressful day at work, while relaxing and reading a book or watching a TV show. So, we can say Simba Orbit blanket is great in: 
PTSD treatment
ADHD treatment
Insomnia treatment
Sleep apnoea treatment
Restless leg syndrome treatment
Providing "extra weight"
Providing deep-pressure-stimulation.
Features you should know about Simba Orbit weighted blanket
Just a general review of any product, including Simba Orbit weighted blanket, would not be complete without saying something more about the most important features. In the case of Simba Orbit weighted blanket those features are nano beads, orbit technology and removable cotton cover.
Sleep companies are always faced with the dilemma of what to use as a source of weight for weighted blankets. Simba opted for nano bead technology, which is actually a very large number of glass nano beads. The fact that there are a lot of them and that they are so small, plus they are in quilted pockets, makes this weighted blanket very comfortable and the weight is perfectly distributed.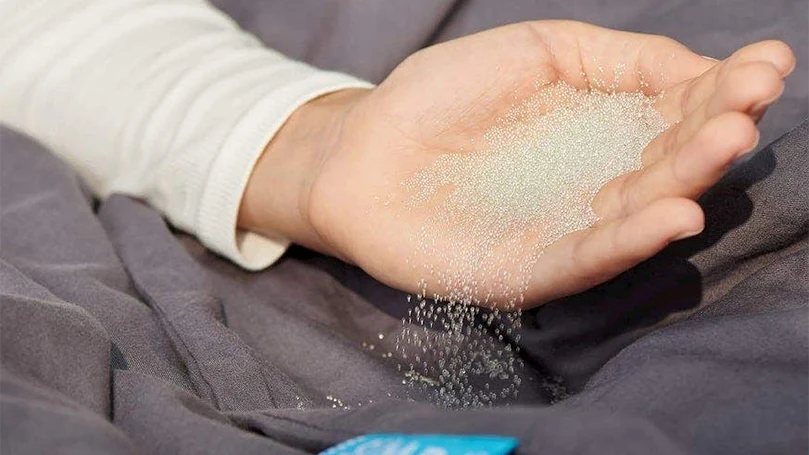 Nano beads are very durable, so the expected service life of Simba Orbit weighted blanket is very long.
Since Orbit is in the name of this weighted blanket you are probably wondering what exactly Orbit technology is. Orbit technology refers to the complete structure of Simba weighted blanket. The already mentioned quilted pockets fill the nano beads make center, while below there is a cushion layer that separates you and pockets with nano beads to make you even more comfortable. And in the end there is a cotton exterior and all of this together makes Orbit technology.
100% cotton removable cover
Simba Orbit weighted blanket itself is not machine washable. All you can do is wipe it with a wet cloth and remove stains. That is why a cover is necessary. Simba gives you a top quality cotton cover that is removable and machine washable. Cotton cover closes with a zip, so it is very easy to remove and put back in place later. Cotton is used to improve breathability and because it is a very soft and hypoallergenic material.
Review of Simba Orbit weighted blanket
Simba Orbit weighted blanket is a great product that will give you all the benefits of deep pressure therapy. Nano beads were used as a source of weight. As nano beads are very tiny, they would probably distribute the weight unevenly, but Simba company solved that by putting them in pockets.
You get a removable cover, which is made of cotton and is very breathable. It is machine washable at 30 degrees C. Two weights are available – 6.8 kg and 9 kg. Measuring 135cm by 200cm, it suits only one person.
Cover: Cotton (removable)
Fillings: Nano beads
Weight: 6.8 kg and 9 kg
Size: Single. 
Nano beads
Machine washable cover
Two weights available.
Not made for kids
A bit more expensive when compared to products in the same category
Only the cover is washable.
What we like about Simba Orbit weighted blanket
Nano beads placed in quilted pockets distribute weight perfectly
Cotton cover is very soft and breathable
Two available weights, so that everyone can find the right one for themselves.
What we didn't like about Simba Orbit weighted blanket
Although there are two weights available, both are too heavy for children
Hot sleepers will probably not be able to use it during the summer
Available in only one color and one size.
What makes Simba Orbit weighted blanket better than other similar products?
Quilted pockets containing nano beads and thanks to which the weight is always evenly distributed is the primary thing that makes this product one of the best on the market. Also, a removable cotton cover that will make it easy for you to keep your blanket clean should be mentioned.
How did we test the product?
The first thing to choose is the weight of your Simba Orbit weighted blanket. You have a lighter version that weighs 6.8kg and a 9kg version. It depends on your body weight and your preferences, we ordered both models to try them out.
We received our two weighted blanks within 2 to 5 working days, as Simba company immediately notified us. Delivery is done by a third-party company, DPD Local, and delivery was free, which is great, since these are not two small or light products. We liked the non-contact delivery and very accurate order tracking. Another great thing is that on the day of delivery, you'll also receive a 1-hour delivery window, so you know exactly when to be home. You can also let them know that it doesn't suit you then and that they will reschedule.
We had no doubt that the quality of workmanship would be great, and we immediately noticed that the 9 kg version is very heavy. The overnight test consisted of two nights because we had to try both weights. The lighter version of 6.8kg will suit everyone and will give you the benefits of a weighted blanket, although people heavier than 85kg may find to too light at times. The 9kg version is very heavy and we do not recommend it to anyone under 80kg body weight unless you like very heavy blankets. Cotton cover is very pleasant to contact with skin, and breathability is good.
Removing the cotton cover and washing in the washing machine is very simple, as is putting the cover back on the weighted blanket.
FAQs about your Simba Orbit weighted blanket
Weighted blanket at first glance does not seem like something that is suitable for summer, and also many are not sure if it is warm enough for the winter months. Also, customers are wondering how to clean their weighted blanket, so we will answer these questions and some others in the FAQs section.
Is Simba Orbit suitable for the summer time?
Simba Orbit weighted blanket is not too hot for summer time, but hot sleepers should probably avoid it during hottest months of the year.
Is Simba Orbit good for the cold winter days?
Yes, it is great for cold winter days when it will be ideal if you have central heating.
Does Simba Orbit weighted blanket come with a cover?
Yes, it comes with a removable, machine washable cotton cover.
How do I wash my Simba Orbit weighted blanket?
Removable cotton cover is machine washable at 30 degrees C, while you can spot clean blanket itself with wet cloth.
Is Simba Orbit weighted blanket suitable for people who suffer from insomnia?
Yes, Simba Orbit weighted blanket is suitable for people who suffer from insomnia, since insomnia is one of the main disorders for which weighted blanket is used.