Silentnight Anti Snore Pillow Review - Stop Snoring Today
Do you snore so much that it affects both your and your sleeping partner's sleep? If you do, you might want to look into getting a new pillow. Silentnight Anti Snore pillow promises to reduce snoring by 50%, and since that's a might claim – we wanted to put it to the test. Here's what we've found out.
Who is Silentnight Anti Snore pillow for?
As you can tell by the name, Silentnight Anti Snore pillow is directed toward those that have trouble sleeping due to excessive snoring or sleep apnoea. Silentnight is proud as the pillow reduced snoring frequency as much as 50% with regular use, and that is not something you should pass up on if you snore frequently.
But that's not all there is to. Due to its ergonomic design and memory foam/hollowfibre fillings, this pillow should also be considered as a go-to pillow for most back and side sleepers, regardless of whether they snore or not.
Add a header to begin generating the table of contents
What do we use this product for?
To put it simply, we'd use Silentnight Anti Snore pillow to reduce snoring. Since snoring is often caused due to obstructed airways, sleeping in a comfortable, ideal position could just affect just how much and how loud you snore, which is what Silentnight Anti Snore pillow aims to do.
Also, this pillow could help you release some tension from your neck and shoulders by providing you with the much-needed support while you sleep, so we guess you could say that this is a 2-in-1 pillow. It is an ideal choice for sleepers who:
Fight the sleep apnea 
Having problems with excessive snoring
Want more support for neck and shoulders.
Features you should know about Silentnight Anti Snore pillow
To gain a better understanding of just how and why this pillow manages to reduce snoring, we have to look at all the features that come with it.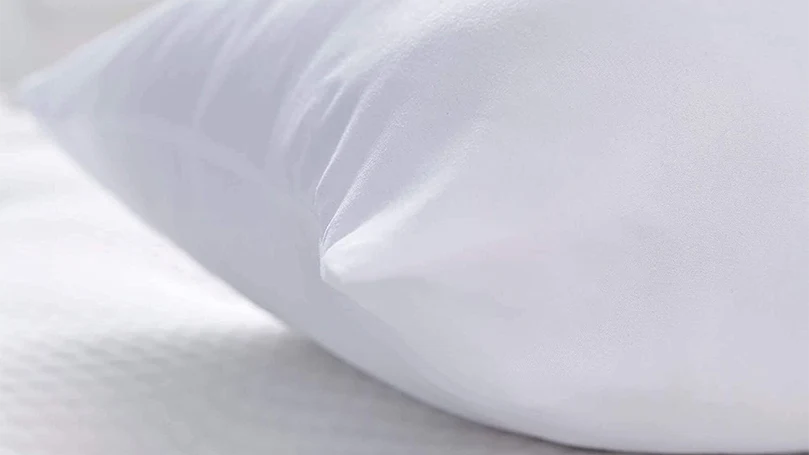 Lux quilted-microfibre cover with DuPont Cotrano fibres
The pillowcase of Silentnight Anti Snore pillow is very high-quality, despite being made from synthetic materials. DuPont Cotrano fibre is just a fancy name for a synthetic fibre design to mimic cotton. However, that doesn't take away from its quality.
The pillowcase is well-built, durable, and, as you can see – quilted. It's not the best at keeping things cool, but unless it is really hot outside, we don't feel like you're going to have to turn it over to the "cool" side.
The ergonomic design of this pillow allows it to be used by both side and back sleepers. The main feature of Silentnight Anti Snore pillow is the S-shaped memory foam insert surrounded by soft hollowfibre.
This unique, ergonomic design allows it to be both supportive and soft and comfortable at the same time, which is not something many memory foam pillows can do.
On the other hand, if you're sleeping on your stomach, you probably won't find this one as comfortable as you might want it to be. Ergonomically shaped foam core is much more oriented towards side and back sleepers and therefore it is not an ideal match for stomach sleepers.
Made for sleepers with sleep apnea & snoring problems
The main selling point of this pillow is its ability to reduce snoring and help people struggling with OSA. Silentnight's claiming that it can reduce the frequency of snoring up to 50% per cent, so it is safe to say that they've made this pillow with those folks in mind. Therefore, sleep apnoea association comes in first once we mention this pillow.
This is achieved due to Silentnight Anti Snore pillow's ergonomic design that promotes better posture during the night. Sleeping on Silentnight Anti Snore pillow should help keep your airways unobstructed so that you can breathe freely and snore-free.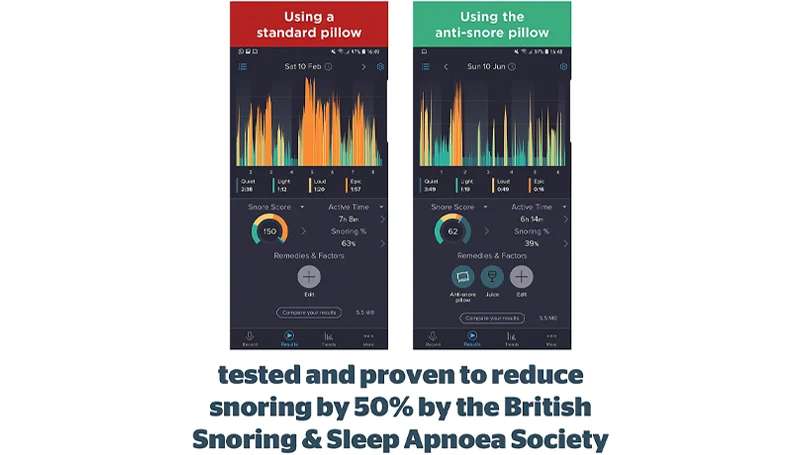 Thanks to the mixture of hollowfibre and memory foam, this is a medium-firm pillow, which means, in theory, it should be suitable for pretty much everyone.
Hollowfibre used to encompass the S-shaped memory foam insert is soft and fluffy to the touch, and even though we could feel the memory foam insert with our hands, we haven't been able to feel the same thing when we've lied down.
From that standpoint, Silentnight has managed to do a good job of combing support and comfort with this medium-firm pillow. Your job is to find just the right position and enjoy the good night's sleep.
Hypoallergenic and dust-mite-free
Another benefit of having a synthetic pillowcase are the hypoallergenic properties that come with this one. The DuPont Cotrano fibres aren't only soft and durable, but they're free of any potential allergens, and the way that they've been made has also made them anti-allergenic and dust-mite repellent.
As we all know, snoring can get even worse during the allergy season, or in people who suffer from dust allergies, so having this feature in a pillow such as this one is more than welcome.
The cover of Silentnight Anti Snore pillow is not removable, which would be a concern if the entire pillow wasn't machine washable.
Despite having a memory foam core, this pillow can be tossed in a washing machine and washed at 40°C on a slow cycle without any worries. When washed, it should be left to air dry, and it shouldn't be tumble dried as that could cause the hollowfibre filling to bunch and clump, which could ruin your new pillow.
Review of Silentnight Anti Snore pillow
First things first, we have to start with the main selling point of Silentnight Anti Snore pillow, which are anti-snoring properties. When it comes to reducing the frequency of snoring, we have to say we didn't notice any improvement in that department, let alone a 50% improvement. However, what we did notice was the reduction in volume. Our resident snorer has become significantly quieter, which is in line with what most of the customers who have already tried this pillow have said.
On the other hand, the pillow really feels well-built and comfortable. The memory foam core manages to properly support your neck and head regardless of whether you're sleeping on your back or head. The pillow is soft, fluffy and comfortable, and it easily adapts to your movements if you tend to switch positions during the night.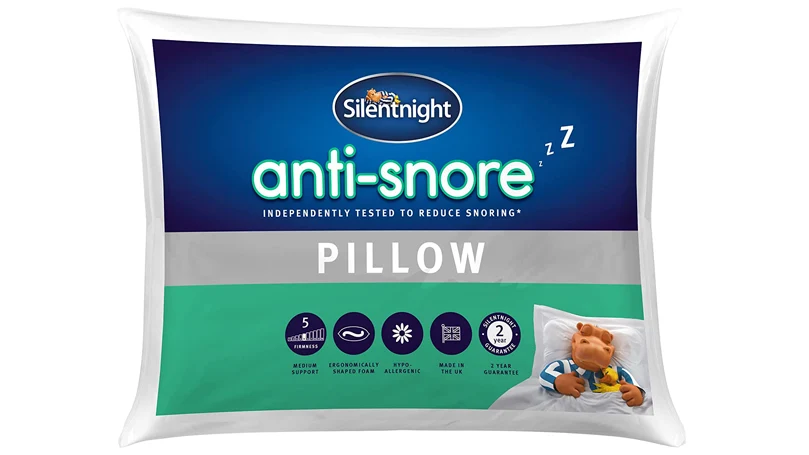 All of this, coupled with a more-than-competitive price tag, make this pillow a worthy investment. Although you might not stop snoring completely, you will reduce snoring frequency significantly.
Size: 74 x 48 x 15 cm
Material: Memory foam and hollowfibre
Type: Anti Snore
Cover: Not removable.
It helps reduce the volume of snoring
Supportive and comfortable
Hypoallergenic. 
It does not reduce the frequency of snoring
Not suitable for stomach sleeper
What we like about Silentnight Anti Snore pillow.
What we like about Silentnight Anti Snore pillow
It's an incredible value product
It is quite supportive and equally as comfortable
It helps prevent allergies.
What we didn't like about Silentnight Anti Snore pillow
It does not live up to its expectations
It does not help you snore less; only less loud
Not designed with stomach sleepers in mind.
What makes this product better than some other similar ones?
If you're wondering should you spend money on this product – don't. You absolutely should. This one's easily of the best value products on the market. Even though it might not "reduce snoring by 50%" like Silentnight claims it will do – it's not like it won't do anything. You will snore more quietly, which does translate to a healthier night of sleep, both for you and your partner.
But also, this is an overall good pillow. It is soft and comfortable enough for pretty much anyone to sleep on, but it is also supportive, which is something that we often ignore when it comes to pillows.
All in all, this pillow is a worthy investment by all means.
How did we test the product?
We were really looking forward to testing this one because when you sleep for a living, it can be quite annoying having someone that snores right next to you. We had a perfect tester for this one, and we also invited some outside helpers, or better yet, "test subjects", since most of us don't snore.
As per usual, the ordering process was easy – free delivery, fast delivery, and all that jazz. The package came in perfect condition, so, nothing out of the ordinary here.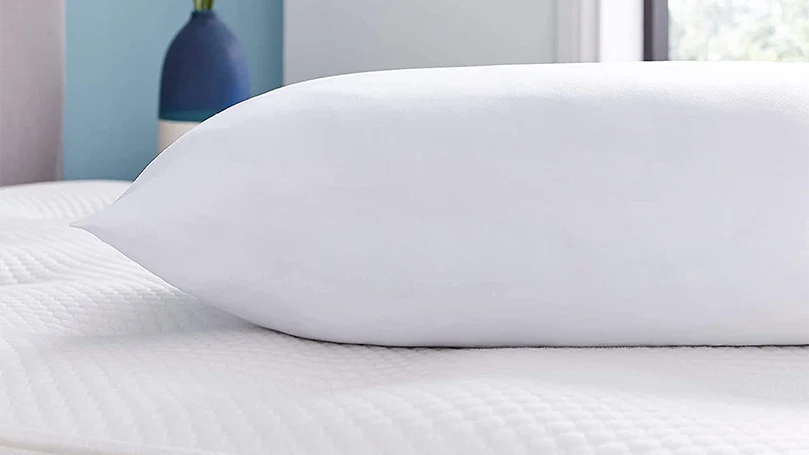 Testing Silentnight Anti Snore pillow was quite simple. A few of our team members focused on things like support and comfort, quality of build, firmness etc. But the more important part was recording our resident snorer and some outside helpers while they sleep.
This test took several nights to complete. Essentially, we needed to record our test subjects snoozing on a regular pillow in order to compare results once they've slept on Silentnight Anti Snore pillow. As we've already said, we haven't noticed any improvements as far as frequency of snoring is concerned, but our test subjects did sleep noticeably quieter, which is something both we and the app we've used had picked up on.
FAQs about your Silentnight Anti Snore pillow
We thought that an appropriate way to end this would be to answer some FAQs, so let's do that.
Is Silentnight Luxury Anti Snore pillow suitable for all types of sleepers?
Not quite. At 15 cm, the Silentnight Luxury Anti-Snore pillow is too thick for stomach sleepers.
How do I wash my Silentnight Anti Snore pillow?
Silentnight Anti Snore pillow is machine-washable at 40°C.
How long will my Silentnight Anti Snore pillow last?
It all depends, but on average, you can expect to get around three years out of this pillow.
Does Silentnight Luxury Anti Snore pillow come with a warranty?
Yes. Silentnight Anti Snore pillow comes with a two-year warranty.
Does Silentnight Luxury Anti Snore pillow offer a trial period?
Sort of. You get a 60-night exchange trial with this one, which means you'll be able to exchange it for another product if you don't find it enjoyable, but you won't be able to receive your money back.