Emma Original Pillow Review - The Best Pillow For All Sleepers
Great mattresses, for which Emma company is known, will not be useful to you if you do not have a quality pillow too. That is why Emma Original pillow is here so you can read Emma pillow review and learn more about it.
Who is Emma Original pillow for?
We will not exaggerate if we tell you that this Emma pillow is for everyone. Of course, one product cannot suit all people living on planet Earth, but due to the adjustable height and hypoallergenic materials, we cannot say that there is a group of people who should avoid it.
At the same time, it is one of the best premium pillows and it comes from the well-known company Emma Sleep. There is no need to praise their work as this is one of the top companies in the UK when it comes to sleep-related products.
The pillow is perfect for all sleepers who suffer from neck, spine, hip or shoulder pain and want to get a relief. With the adjustable height, premium construction, hypoallergenic cover and Visco-Elastic memory foam, you can be sure that this pillow will accommodate everyone's needs.
Add a header to begin generating the table of contents
What do we use this product for?
We use Emma Original pillow to make our sleep more comfortable and get rid of any pain within the neck, back, hip or spine area. As well as to prevent the appearance of pain in the neck, spine, shoulders and the rest of the body. Many do not know the importance of proper spine alignment, but with a good pillow this is achieved and it affects the complete body posture both while we sleep and when we get out of bed. In essence, this pillow is perfect for:
Shoulder, back, hip and neck pain relief 
Anyone who wants an adjustable pillow height 
Sleepers who have problems with posture 
Anyone who is labeled as "hot sleeper"
People with allergies.
Features you should know about Emma Original pillow
Usually pillows do not have as many features that you need to know more about. But in the case of Emma Original pillow, there are as many as 5 essential features that we will tell you more about. Those features are mainly related to materials, cover and height.
You know that feeling when you buy a new pillow and it generally suits you, but you wish it was just a little thinner, for example and then it would be ideal for you. Or when you go somewhere and the pillow is not at all suitable for your sleeping position. Emma Original pillow allows everyone to adjust the height according to their sleeping style and what is personally comfortable for them.
You can remove one or two layers and make it perfect for yourself. At any time you can return those layers inside the pillow.
There is no material that is perfect for every purpose, so the manufacturer opted for 3-layer construction. Each layer has its own purpose, so one is in charge of firmness, the next for breathability and the last one for support.
This is a very good concept because each layer is made for one purpose and is much more efficient than when trying to make one layer make up the whole pillow. The only thing you need to keep in mind is which layer to remove when adjusting the height. Know which layer has which purpose, so remove the one you need the least.
Memory foam pillows generally struggle with breathability and therefore often do not fit hot sleepers. That is why Emma introduced Airgocell foam which is very breathable and transfers heat away from your head.
This is the most important feature for all hot sleepers, so if you are a hot sleeper and want to reduce the height of this pillow, do not remove this layer.  That is not the only role Airgocell foam plays in this pillow. Airgocell foam also provides support by stabilizing your neck and head and constantly keeping them level with your spine.
Visco-elastic memory foam
Layer of visco-elastic memory foam which is officially called ZeroGravity foam is the bottom layer. Memory foam distributes pressure optimally and that is why this layer is in the service of pressure relief. Without this layer, the pillow remains firm and breathable, but it lacks pressure relief which is especially important for all those with neck pain.
Visco-elastic memory foam will fully mould towards your head due to both your weight and the heat that your body emits. ZeroGravity foam gives you the feeling of sleeping on a cloud.
Hypoallergenic removable elastane cover
Those who have already used Emma mattresses are well acquainted with the properties of the UltraDry cover. The cover is made of 98% polyester and 2% elastane and has moisture-wicking properties. Also, it is very breathable and does not interfere with air flow, which further makes this pillow suitable for hot sleepers and of course everyone else.
The covers are naturally hypoallergenic and also removable. It has a zipper, so you can easily remove it and return it later when you wash it in the washing machine at 40 degrees Celsius. Properties of cover won't be diminished if you use pillowcase too.
Review of Emma Original pillow
Emma Original pillow consists of 3 layers. Each layer has its role, and also each layer is removable. In order to be able to make a pillow that suits all sleeping positions, then the manufacturer decided that the layers should be removable and that it would be possible to adjust the height. The cover is removable and machine washable so this pillow is easy to maintain.
Emma Original Pillow is naturally hypoallergenic and therefore a good choice for sleepers with allergy problems. The pillow is non-toxic, no harmful chemicals are used, and it is also vegan friendly. It is very durable, and a 200 nights free trial is available.
Size: 70 x 40 cm
Weight: 1.3 kg
Materials: Cover-Polyester (98%) & elastane (2%) ; Filling-Memory foam.
Adjustable height
Suitable for all sleeping positions
Hypoallergenic cover.
Only one size
A little bit of off-gassing
A bit more pricey when compared to similar products.
What we like about Emma Original pillow
3-layer construction and the possibility to adjust height by removing one or two lawyers is truly fantastic
There are not many pillows on the UK market which are suitable for all sleeping positions like this one
200 night trial period + free delivery
Made in the UK
Cover is machine washable, so maintenance is easy.
What we didn't like about Emma Original pillow
Only available in one size (70 x 40 cm) which will not suit everyone
As we mentioned, off-gassing is really noticeable few days upon unpacking
Removing layers and returning them into pillow is not simple as you might expect.
Check the alternatives to Emma Original pillow
The best alternatives that you can find in the United Kingdom, in are opinion, are Simba Hybrid pillow and Panda Bamboo Memory foam pillow.
The Simba Hybrid Pillow is one of the best pillows when it comes to temperature control. It is highly breathable and also cooling, which is why it is a favorite choice of all hot sleepers who want a comfortable night's sleep. 
It provides a great support, but can be considered a softer pillow, which might be a great feature for side sleepers. The cold foam layer, based on Stratos space-technology, ensures you stay cool all the time!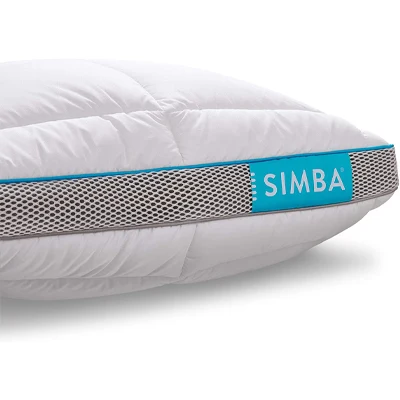 Breathable
Top quality materials
Adjustable height.
A bit of off-gassing
A bit pricey when compared to similar products on the market
Some can find it too soft.
Panda Bamboo Memory Foam pillow
Panda Bamboo Memory Foam pillow provides great support and is covered in soft-on-the-skin bamboo pillow cover. Panda pillow is eco-friendly and vegan-friendly and does not contain any toxic or harmful substances. 
Bamboo is naturally hypoallergenic and antibacterial, so it is a great choice for people who suffer from allergies but also for those who want to stay cool during the hot summer nights. It takes the shape of your head and copies it to the pillow so you could have a customized loft and firmness.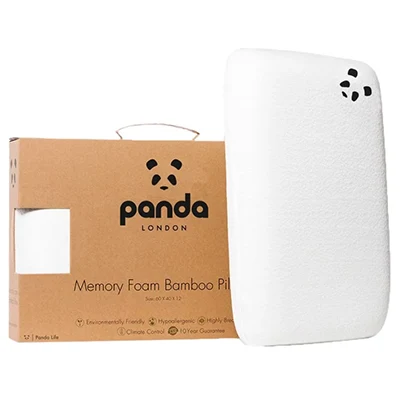 Eco-friendly
Support
Bamboo cover.
Bamboo smell
Only one size available
Not really suitable for stomach sleepers.
Consider Emma Original mattress if you are buying Emma Original pillow
Just as a great mattress won't mean anything without a quality pillow, it's also the other way around. So consider buying this Emma mattress that is a perfect fit with Emma Original pillow.
This foam mattress provides support and is very comfortable so anyone with a hip, neck or back pain will absolutely adore it. Like the pillow, this mattress is comfortable for all sleeping positions so it is a great all-around pick!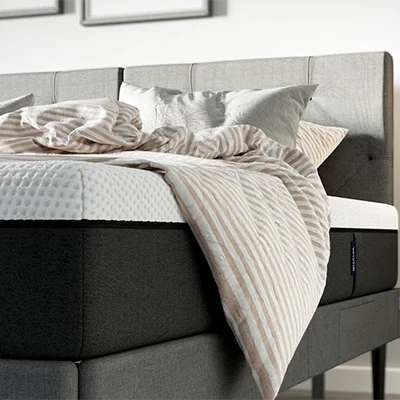 Great support
Motion transfer
Price-to-value ratio.
Too soft for heavier people
Off-gassing issues
Hot sleepers will struggle sleeping on it during summer.
What makes this product better than some other similar ones?
Adjustable height makes this product better than some other similar ones. While most pillows fit for two of the three sleeping positions, due to the adjustable height this pillow will suit everyone. It should also be emphasized that it is non-toxic, hypoallergenic and easy to clean. Vegans can use it too.
How did we test the product?
As we have already mentioned in some of our reviews of Emma products, the ordering and delivery process is very simple. The whole ordering process will be finished very quickly, and you will receive the pillow within a few working days. Delivery is free and no contact.
When we got our Emma Original Pillow, after unpacking, we first noticed a bit of off-gassing. Although we know that this is normal for products that contain memory foam, we have the impression that off-gassing is even more present here than with other memory foam pillows. Looking at the reviews, some other customers have complained about it. However, that is not a reason to worry, because the unpleasant smell will fade out after some 72 hours.
lasted as long as 3 nights. It was tested every night by a person sleeping in a different position. As the final result, everyone was very pleased. Although we rarely test a pillow that is equally comfortable for side, back and stomach sleepers, this one met everyone's expectations.
Finally we removed the cover and washed it according to the instructions. After drying, we put it back on the pillow where it is still perfectly fit, it did not shrink during the machine wash.
FAQs about your Emma Original pillow
The FAQs section is here to give you answers to some more questions we may have missed to address in the review. And also to repeat a few things that customers are most often interested in. That includes sleeping positions, maintenance, problems with neck pain as well as is it suitable for vegans.
What type of sleeper is Emma Original pillow suitable for?
Emma Original pillow is suitable for all sleeping positions.
How do I wash my Emma Original pillow?
You can machine wash removable cover and vacuum pillow itself.
Will Emma Original pillow be good for my neck pain?
Yes, because of the support it provides, Emma original pillow will be of great help in relieving your nick pain.
Is Emma Original pillow non toxic vegan product?
Emma Original pillow is completely non-toxic and vegan-friendly product.