7 Best Pillows For Back Sleepers
Many sleep experts agree that a pillow can have an even greater impact on sleep than a mattress. If pillow is not comfortable, it is almost impossible to have a good night's sleep. That is why it is necessary to choose the right one according to your needs.
You may think that it is enough to set aside a certain amount of money, check the websites of several of the most famous UK sleep companies and choose one of the pillows in their offer. 
Buying a pillow is more complex than that.
You need to consider your preferences, sleep position and body frame. 
Your friend's or partner's recommendation may be correct, but it should also be remembered that each person finds different things comfortable. 
What has the biggest impact on the choice of pillows is the sleep position. Everyone spends at least part of the night sleeping on the back and that is why we decided to focus this time on the best pillows for back sleepers.
Add a header to begin generating the table of contents
Our top pillows for back sleepers
We have reached the central part of our guide and it is the part that probably interests you the most – our top picks. We tested dozens of pillows from different manufacturers and with very different features before we came up with the following 7 models that The Sleep Advisors think will provide great night's sleep to back sleepers.
IMAGE
PRODUCT
DETAILS

KEY FEATURES:

Material:

Cotton and polyester

Fill:

Memory foam

Removable cover:

No

Support:

Medium

Height:

Adjustable

Weight:

2.7 kg

Adjustable loft:

Yes

Warranty:

1 year

Trial:

1 year

View Latest Price

KEY FEATURES:

Material:

Bamboo

Fill:

Memory foam

Removable cover:

Yes

Support:

Medium

Height:

12 cm

Weight:

1.8 kg

Adjustable loft:

No

Warranty:

10 years

Trial:

30 nights

View Latest Price

KEY FEATURES:

Material:

Sateen cotton

Fill:

Inner core: 15% down and 85% feather; Outer chambers: 90% down and 10% feather

Removable cover:

No

Support:

Medium

Height:

/

Weight:

/

Adjustable loft:

No

Warranty:

3 years

Trial:

No

View Latest Price

KEY FEATURES:

Material:

Polyester (98%) & elastane (2%)

Fill:

Memory foam

Removable cover:

Yes

Support:

Firm

Height:

Adjustable

Weight:

1.3 kg

Adjustable loft:

Yes

Warranty:

2 years

Trial:

30 nights

View Latest Price

KEY FEATURES:

Material:

Polyester

Fill:

Shredded memory foam

Removable cover:

Yes

Support:

Medium

Height:

Adjustable

Weight:

/

Adjustable loft:

Yes

Warranty:

1 year

Trial:

14 days

View Latest Price

KEY FEATURES:

Material:

Cotton

Fill:

Hollowfibre

Removable cover:

No

Support:

Soft

Height:

15 cm

Weight:

/

Adjustable loft:

No

Warranty:

2 years

Trial:

30 nights

View Latest Price

KEY FEATURES:

Material:

Cotton

Fill:

85% Goose Feather and 15% Goose Down

Removable cover:

No

Support:

Medium

Height:

/

Weight:

500 g

Adjustable loft:

No

Warranty:

/

Trial:

/

View Latest Price
1. BEST OVERALL: Simba Hybrid
Simba Hybrid pillow is a revolutionary product that is perfect for back and side sleepers.
There are so many different things we'd like to tell you about this pillow, so we don't know where to start. The first thing you need to know is that there are two completely different sides, which you will distinguish by colour. 
The gray stripe side is made of BCI sourced cotton, while the blue strip side features Stratos technology, astronaut-inspired temperature regulation. Simba Hybrid pillow core consists of nanocubes made of open-cell memory foam, and also has a mesh border. 
That's why this pillow gets 10/10 for breathability. You can add or remove nanocubes to get perfect loft and firmness, and Simba also offers to buy additional nanocubes if you need them. It is CertiPUR certified and TCPP-free sto it is eco-friendly.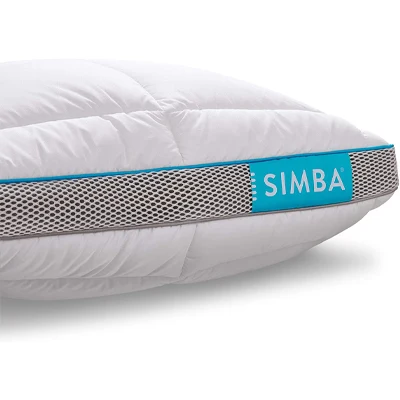 2. BEST VALUE: Panda Memory Foam Bamboo Pillow
It is impossible to find a better pillow in this price range than the Panda Bamboo pillow.
When we talk about Panda Memory Foam Bamboo pillow, we can't hide our enthusiasm. It was a very serious competitor to the Simba Hybrid pillow to win in the "BEST OVERALL" category, but due to the affordable price we decided to give it the title of "BEST VALUE". 
Breathable cover made from ethically sourced organic bamboo in combination with 3rd generation memory foam core make this product suitable for back sleepers, but also side sleepers, hot sleepers, allergy sufferers, as well as many others.
Cover is removable and machine washable at 40 degrees C. This is probably the only pillow on the UK market that comes with a 10 year guarantee.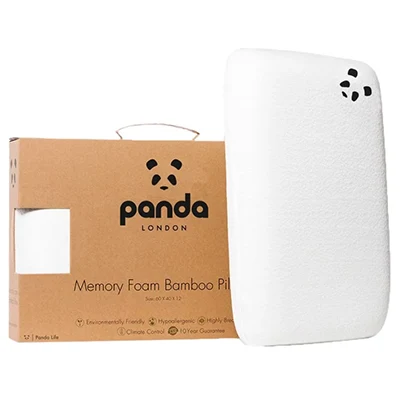 3. BEST ANTI ALLERGY: Scooms Hungarian Goose Down Pillow
Scooms Hungarian Goose Down Pillow comes with NOMITE, an anti-allergen standard, guaranteeing the safety of allergy sufferers.
The name of this pillow is a bit misleading, because it is not 100% down. It is much more complex than that. It consists of the inner core and outer chamber. 
The inner chamber is made of 15% down and 85% feather, while the outer chamber is 90% down and 10% feather. Our opinion is that this is the perfect ratio for both inner core and outer chamber. Feather in inner core for support and down in outer chamber for perfect cosiness. 
Do check our full review of Scooms Hungarian Goose down pillow.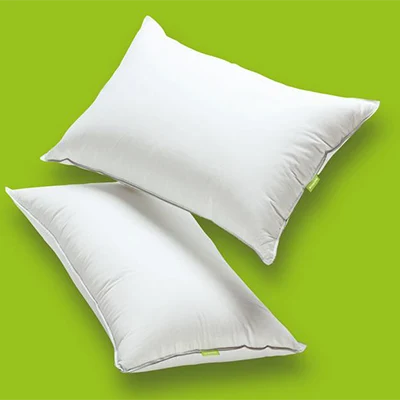 4. BEST SUPPORT: Emma Original Pillow
If you want your head and neck to always be in the same position, go with Emma Original pillow.
Do you struggle to maintain posture when sleeping on your back? If the answer is yes, then look no further. Emma Original pillow is designed to provide firm support. 
But this is not a classic firm support, because this is a memory foam pillow, so with firm support you get all the other features of memory foam that make it comfortable.
 Height and firmness are adjustable, but not in the same way as other memory foam pillows. It has three layers that you can add or remove. 
Airgocell foam is highly breathable as well as removable, washable polyester cover. Emma Original pillow je durable and comes with 30-night trial, 2-year warranty.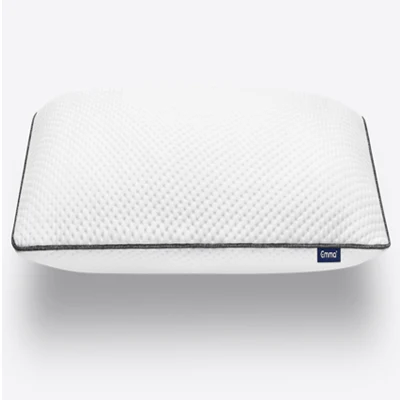 5. BEST ADJUSTABLE: OTTY Adjustable Pillow
Anyone can customize OTTY Adjustable pillow to get the perfect sleeping experience.
The only way one pillow can be suitable for all sleep positions, including combination sleepers, is to be adjustable. 
That's what OTTY did with this pillow. It is filled with memory foam pieces that are in a special bag, and there is a cover over the bag. Bag is implemented to help you avoid losing pieces when washing the cover, which can be machine washed at 40 degrees C. 
According to the manufacturer, this is a medium firm pillow, on a firmness scale of 1 to 10, it is around 5 and a half. It is hypoallergenic, and breathability is fine.
Don't forget to check our OTTY Adjustable pillow review.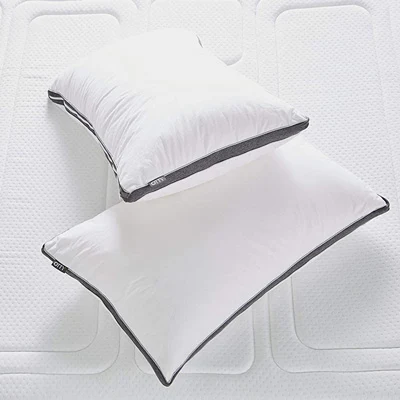 6. BEST LIGHTWEIGHT: EVE Snuggle Pillow
EVE Snuggle pillow lives up to its name, it is very soft and you will sink into it.
If you like the pillow to make you feel like you are sleeping on a cloud, we recommend Eve Snuggle pillow. 
Filled with soft hollowfibre and encased in 383 thread count cotton cover, it is perfectly comfortable. Eve Snuggle pillow is supportive enough for stomach and back sleepers. 
You certainly have 14 days to make sure of its features, and if you don't like it, you can return it. Maintenance is easy because the machine was fully washable at 40 degrees C. 
You can tumble dry it on low heat setting. Pillow is covered with 2 year warranty, so you don't have to worry about durability.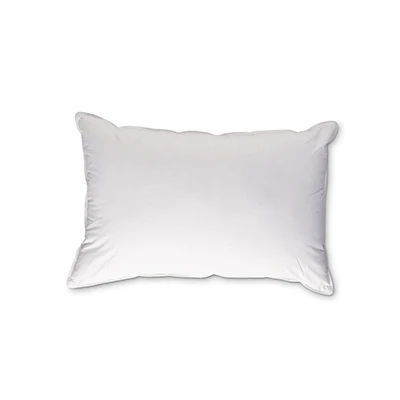 7. BEST DOWN & FEATHER: Snuggledown Goose Feather & Down
Surprisingly affordable, this one can offer you everything the same as other, much more expensive feather and down pillows.
When you check Snuggledown Goose Feather & Down pillow you will first notice the price. It costs as budget models, and you get 85% goose feather and 15% goose down natural filling. Soft cotton cover further enhances night's sleep. 
We were really thrilled after testing this pillow as we didn't expect to be able to find high quality natural pillow in the UK market in this price range. Cover is not removable, but the entire pillow is washable and dryer friendly, so allergy sufferers do not need to worry. 
Check our thorough reviw of Snuggledown Goose Feather & Down pillow.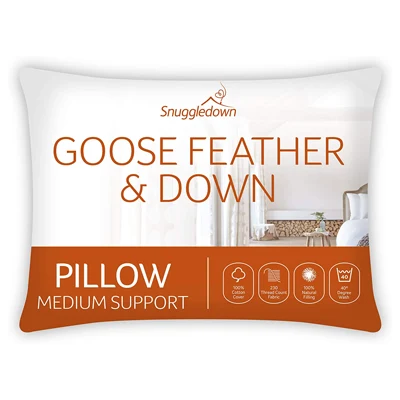 Before you buy a pillow for back sleepers
Before you continue reading, we must emphasize that there is no such a product that will be comfortable for every back sleeper in UK. We have singled out pillows that we think most back sleeper are going to like, but there are always exceptions. That is one of the main reasons why sleep companies usually offer trial.
Also, attention should be paid to medical conditions. If someone suffers from arthritis, fibromyalgia or has had neck and spine surgery, for example, he or she should consult a doctor before buying a mattress and pillow. Otherwise there is a possibility something will bother you and make your health problem worse.
Types of pillows for back sleepers
The British sleep market is very rich in different types of pillows. The advancement of the industry has given customers the opportunity to choose exactly what they need. You can find traditional types of pillows filled with feather and down, as well as currently the most popular options – memory foam and hybrid pillows.
No one can deny the many positive characteristics of microfibre and other types of polyester, such as hollowfibre. We call such materials down alternatives, because they have quite similar characteristics as down, primarily softness.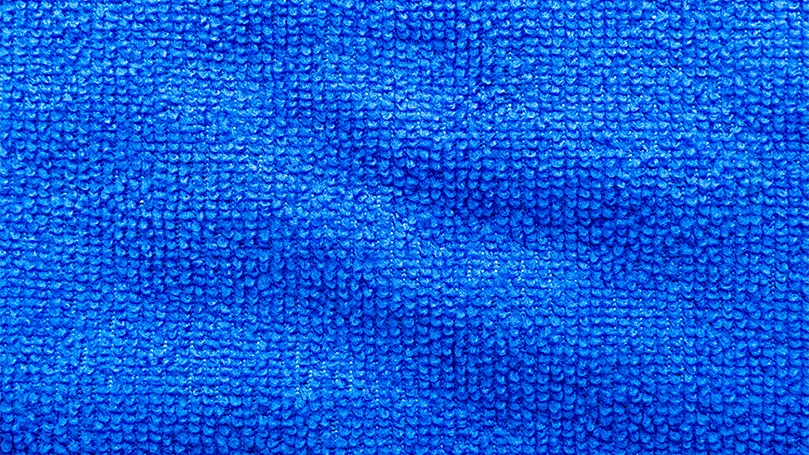 But what is significantly different compared to down is the price. Microfibre is inexpensive and easily accessible. Also, it's a vegan-friendly alternative to down. However, durability is average so such pillows tend to get flat and that is not ideal for back sleepers. You can expect to change polyester pillows every year or two, which shouldn't be major problem since they are affordable.
Memory foam was a new product on the sleep market 30 years ago, but until today almost everyone has had at least one memory foam mattress or pillow. This is not surprising when we know how suitable memory foam is for sleep products.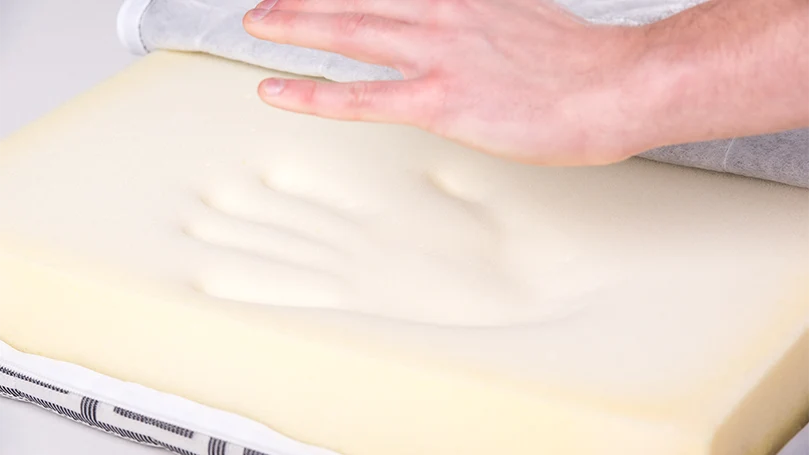 Best memory foam pillow provides perfect support because it is shaped towards each person individually. That is why it is a favorite choice of many side and back sleepers. Support is one feature, but memory foam is in general very comfortable and pressure relieving too. Only downside is heat retention, but hot sleepers can buy pillows filled with shredded memory foam cubes or open-cell foam.
Feather and down pillows have been used for centuries. We mention feather and down together, because pillows are mostly filled with a blend of feather and down, not just one. Feather should give firmness and support to the pillow, while down is soft and fluffy.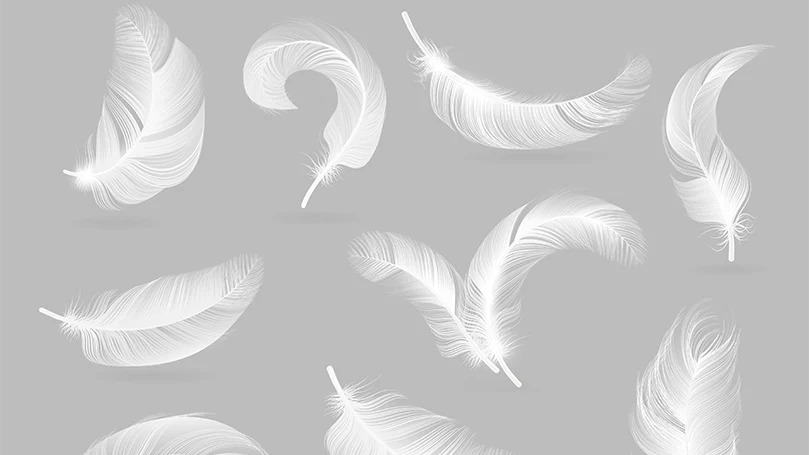 The most common ratio is 80 to 20 or 70 to 30. Then the characteristics of the pillow are versatile, and the price is not too high as it would be if it is 100% down filling. When buying a feather and down pillow, look for one that is ethically sourced. This means that the process of plucking was not cruel, since geese and ducks were not alive.
Related reading:
There are several misconceptions about wool that for some reason are believed to be true. First of all, it should be mentioned that wool, unlike feather, is a vegan-friendly material. Sheep, alpacas, llamas and other animals could not live without shearing, so it is necessary procedure for them and wool is what we can use after shearing.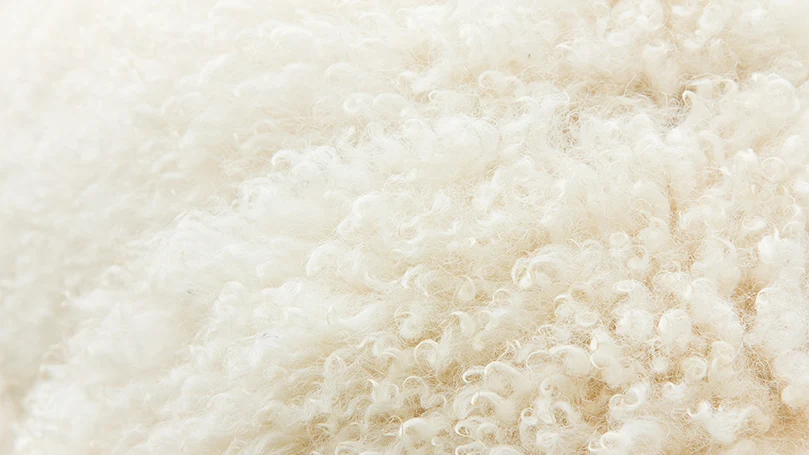 Another misconception is that wool is only good during the winter. Wool is actually a material that is suitable for all seasons, because temperature regulation is the main feature. Also, wool that is treated properly is 100% hypoallergenic. The itching that some people feel is not an allergy, but an irritation to the harsh texture of the wool.
Latex can be natural or synthetic. Natural is derived from rubber trees, while synthetic latex is petroleum based. Latex has generally similar characteristics as memory foam. Bounce, support and body adjustment are common for latex and memory foam.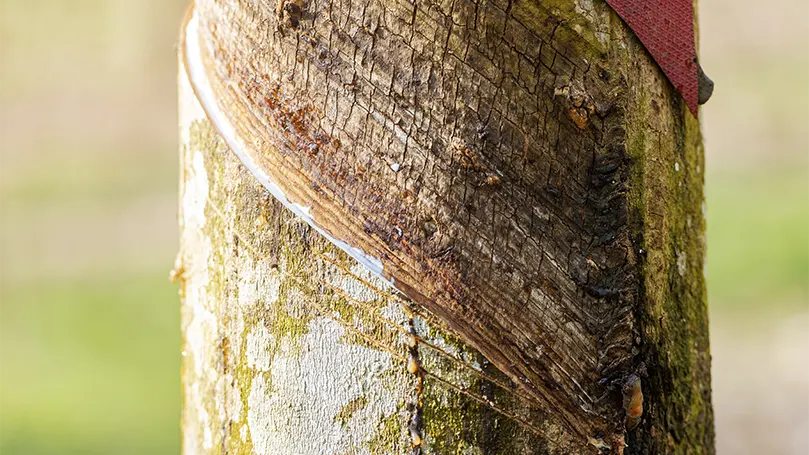 Latex is even more durable and is a better option for hot sleepers, especially natural latex. However, latex pillows usually do not have an ergonomic shape like memory foam ones and you won't find many of them on the market compared to the huge number of memory foam pillows.
What to look for when buying pillow for back sleepers
Choosing the type of pillow is only the first step when buying. Now is the time to think about some other important features. Loft and firmness certainly define what a pillow will be like and what type of sleeper it will suit.
The average height of the pillow is between 8 and 15 cm. Back sleepers in general have a greater choice of heights than side and stomach sleepers. So back sleepers can go with both 8 cm and 15 cm, depending on the preferences, shoulder width and other physical characteristics.
If the pillow is lower than average, then the head will be lower than the spine and so you cannot achieve spinal alignment because the position of the neck will be incorrect. On the other hand, if the pillow is too thick, then it will position the head too high in relation to the spine which implies back sleepers should go with medium loft pillow.
It is difficult to say which firmness level should be chosen by back sleepers. They certainly should not choose too soft or too firm pillow, but the exact firmness level is also affected by loft.
For example, if you buy a higher pillow, then it can be softer, so that head can sink enough and then spinal alignment will be maintained. If you take a lower loft pillow, then it should be medium to firm. Most people know their preferred firmness, but if you are unsure, it is best to buy a pillow that comes with a trial period.
Breathability & temperature regulation
Breathability and temperature regulation are not only important for hot sleepers. Just remember the last night when it was too hot for you and when you were sweating. Surely you could not fall asleep or you woke up every hour, and your sleep was shallow.
The choice of core material certainly plays the biggest role in breathability and temperature regulation, but one should not forget the importance of the cover. Choose a cover made of cooling materials such as cotton, bamboo and eucalyptus. These are durable, breathable and hypoallergenic materials, and all three of these characteristics are very important for pillow cover. Breathability contributes to better sleep for allergy sufferers, since it is harder for allergens to stick around in the breathable pillow.
Today you can find almost any shape you want. You can find a pillow with a classic shape, but also some other shapes like a wedge. Probably the most popular are ergonomic pillows that are made to support the part between the head and shoulders. Stomach sleepers prefer completely flat and rectangular pillows, while more and more manufacturers are deciding to launch a pillow that has two different ends to offer you 2 in 1.
Tips for buying and using pillow for back sleepers
The first tip we can give you when buying a pillow for back sleepers is to pay attention to each part of the pillow. If you like the shape, for example, that's not enough. You need to check the firmness and loft as well. Breathability and hypoallergenic features are a must too. If your pillow is comfortable, but you have an allergic reaction, then it is useless.
Maintenance is also very important. Polyester pillows are usually fully machine washable, while others have washable covers. You have to check whether the cover is removable or not. If it is not removable, you will need additional pillowcase since there is no other way to maintain it.
Loft, firmness and shape are equally important, and back sleepers should aim for a golden mean.
Choose pillow that has a warranty because in most cases this indicates that its service life is on average longer.
Removable cover or fully machine washable – one of the two is a big plus.
The advantages of owning pillow for back sleepers
There are numerous advantages of owning pillow for back sleepers. Good night's sleep is the main advantage which is certainly the primary role of every pillow. And how exactly does pillow improve night's sleep? Suitable pillow makes you comfortable. You will only be aware that you are comfortable, and during that time the pillow takes care of several things, such as support and pressure relief. Once you find the ideal pillow, the highlight of every day will be the moment you put your head on it.
There are other benefits, which are more related to the budget. High quality pillow lasts a long time, so once you buy it, you won't have to spend money on new one any time soon.
Pillow for back sleepers will contribute to the quality of sleep, and can even help with insomnia problems
You will wake up in the morning fresh, without pain and stiffness in the neck and other parts of the body
Premium pillows do not deteriorate fast, but keep their features for several years.
FAQs about pillow for back sleepers
If there is anything else you want to know about pillow for back sleepers, read the answers to some of the frequently asked questions.
What pillow firmness is the best for back sleepers?
Pillow for back sleepers shouldn't be too firm nor too soft, so medium firmness level is best.
What is an ideal loft for back sleepers?
To be comfortable to sleep in this position you should avoid very thin or thick pillows.
Should back sleepers use pillow?
Yes, pillow is necessary for back sleeping to give support to neck and keep spine aligned.
Do back sleepers suffer from neck pain?
Everyone may suffer from neck pain, so that depends on the pillow, mattress and many other things, including posture while sitting.
Should I sleep on my back if I am pregnant?
Pregnant women should not sleep on their back after their first trimester. The experts recommend sleeping on a left side
Is there a way to prevent snoring when I sleep on my back?