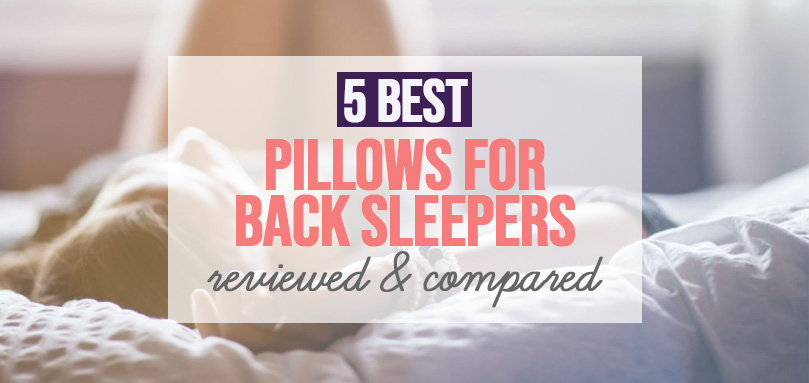 Best Pillow for Back Sleepers
Pillows for back sleepers somehow sound counter-intuitive, right? Considering a majority of people sleep on their back, at least. But, what you don't know is that even though you might sleep on your back, you can still pick a wrong kind of pillow. In case you've been waking up with a sore neck, having trouble adjusting the position you sleep in, or you just feel uncomfortable – perhaps it's time to take a look at some other pillows and consider replacing your old one. Here we are going to talk about some of the best pillows you can order in the UK for amazing prices, and most importantly, find one that can suit your sleeping position.
IMAGE
PRODUCT
DETAILS

Size:

60 x 12 x 40 cm

Weight:

1.5 kg

Materials: Cover: 60% polyester, 40% bamboo fibre Filling: 3rd generation memory foam

View Latest Price

Size:

74 x 48cm

Weight:

N/A

Materials: Cover: 100% cotton Filling: 80% Goose Down, 20% Down

View Latest Price

Size:

75 x 50 cm

Weight:

N/A

Materials:

Stratos (phase change technology applied to soft cotton)

View Latest Price

Size:

61 x 31 x 11.5 cm

Weight:

2.2 kg

Materials: Cover: 99% polyester, 1% elastane Filling: Tempur®

View Latest Price

Size:

26 x 18 x 5 inches

Weight:

1.76 pounds

Materials: Cover: 100% cotton, polyester fabric lining, Filling: polyester microfiber

View Latest Price
The 5 highest rated pillows for back sleepers in the UK
Panda bamboo memory foam pillow
We couldn't stop raving about this pillow – and for a good reason. Not only is it great for back sleepers, it's good for all positions. The materials used in the making of the pillow are ethically sourced, the bamboo cover is natural, hypoallergenic, and gentle to the skin and the pillow has the best support and comfort out of all the other pillows we've mentioned. Panda manufactures all their products and packaging using eco-friendly and renewable materials, which are much safer for you and the environment. The design of the Panda Bamboo Pillow aims for neck and shoulder pain reduction. Furthermore, this pillow has temperature regulating properties. That allows it to remain cool during the Summer and warmer during Winter.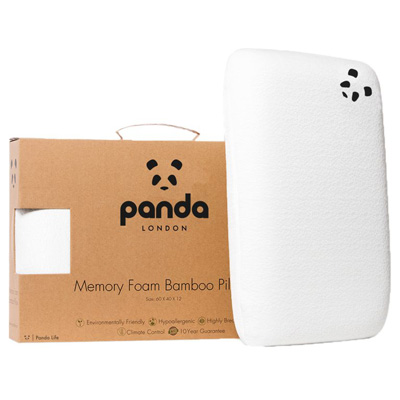 | | |
| --- | --- |
| MATERIALS | Memory foam pillow with a cover made from bamboo fibre (40%) and polyester (60%). |
| SUPPORT | Optimal support for all sleeping positions. |
| SMELL | Smell may occur, easy to dissipate and completely harmless. |
| PRICE – QUALITY RATIO | Best buy! |
Want to learn more about this product? Read our full review here!
Silentnight Hungarian goose down pillow
There's no better feeling than sleeping on a fluffy down pillow. That's why we chose to feature an all-down pillow, and not just from any down. Hungarian goose down is considered the softest and the best quality of down there is. The pillow's medium firmness allows it to be perfect for back sleepers and the materials are hypoallergenic. The pillow doesn't lose down or let them poke through and the 100% cotton case makes sure of that. The pillow conforms well to the body and supports your natural spine position. In case you are experiencing any discomfort during sleep, we highly recommend this pillow.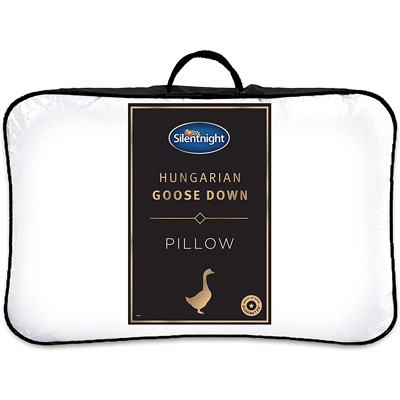 | | |
| --- | --- |
| MATERIALS | Hungarian goose down filling, 100% cotton cover, machine washable at mild temperatures. |
| SUPPORT | Great for all sleeping positions, especially sleeping on the back. |
| SMELL | The issue with the smell is extremely rare. |
| PRICE – QUALITY RATIO | Best buy! |
Simba Hybrid Pillow is designed to regulate temperature overnight and to provide ultimate comfort and quality support. The pillows core allows free air flow, which makes this product highly breathable. Due to its Nanotubes, this pillow has an ability to respond perfectly to pressure and various shapes. This means that Simba Hybrid Pillow can adjust its height to the one that the sleeper needs. Also, the pillow's immediate responsiveness to any change in pressure makes it a great choice for people who sleep on their back.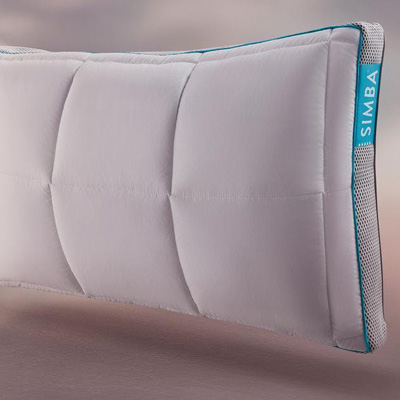 | | |
| --- | --- |
| MATERIALS | Soft, natural duck down, microfiber, memory foam Nanotubes and luxurious jacquard cotton. |
| SUPPORT | Adequate support! |
| SMELL | The issue with the smell rarely occurs due to the choice of materials. |
| PRICE – QUALITY RATIO | Just right. |
Want to learn more about this model? This is our in-depth review.
The Tempur Original pillow is everything you can as from a memory foam pillow. It's got an orthopedic design which can support your head and neck in a back-sleeping position, medium firmness and hypoallergenic properties. It's an overall awesome pillow for any people experiencing discomfort in the neck and shoulder area. The cover is machine washable (washable at 60°C), easy to remove, and the pillow is easy to maintain – no fluffing necessary. If you've never tried memory foam pillows, you might as well try with this one.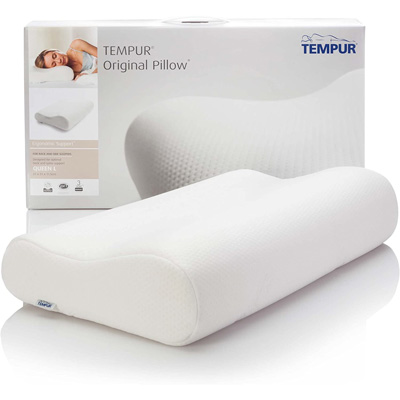 | | |
| --- | --- |
| MATERIALS | Made of special TEMPUR memory foam. The cover is removable and washable (you can tumble dry at low cycles or air dry) at mild temperatures. |
| SUPPORT | We give this pillow highest ratings for support. |
| SMELL | Memory foam smell might be present, dissipates after airing it out for some time. |
| PRICE – QUALITY RATIO | Just right. |
This fantastic pillow-in-pillow design will definitely have you amazed. Casper pillow is made to provide both adequate neck support and a cloudy, tender softness. With this pillow, you don't have to choose between healthy head-neck-spine alignment and enjoyment. The unique design allows you to have both. Due to its breathable materials and the cotton cover, this pillow always remains cool, fresh and pleasant to touch. The core of the Casper pillow's support lies in the gusset. This additional part inside of the pillow increases responsiveness and "live" reaction to motion and pressure. Thanks to the gusset, Casper pillow is great for back sleepers.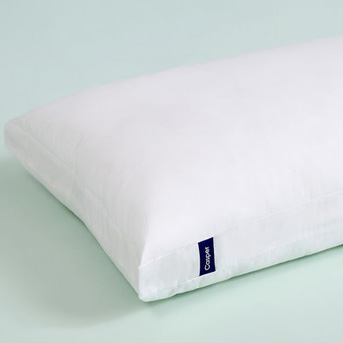 | | |
| --- | --- |
| MATERIALS | Made of Polyester and Polyester Blend. Due to its materials, the pillow doesn't get warm like the most of the foam pillows do. The cover is 100% cotton and highly breathable. |
| SUPPORT | In general, the pillow does offer adequate support, but it can be too soft for people who enjoy firmer pillows. |
| SMELL | In general, there is no issue with an unpleasant smell. |
| PRICE – QUALITY RATIO | Just right. |
FAQs about best pillows for back sleepers
We are positive that you will have some of the questions after you read our buying guide so we decided to prepare answers to some of the most frequently asked questions that back sleepers could have about their pillows.
What is a crucial consideration when looking for a pillow for back sleepers?
It is an appropriate loft. Most of the back sleepers prefer medium loft as too thick might lean a head forward. On the other hand, a loft that is too flat will create pressure on your neck and cause pain.
Should I sleep on my back if I am pregant?
Pregnant women should not sleep on their back after their first trimester. The experts recommend sleeping on a left side. 
Is there a way to prevent snoring when I sleep on my back?