OTTY Pillow Review - OTTY Adjustable Pillow & OTTY Deluxe Pillow
Otty pillows are one of the best very simple pillows that share highly similar design that allows these to suit a large number of different people and thus different sleeping positions. Find out exactly how you can adjust the height, what are the main features, advantages and disadvantages, as well as alternatives to the Otty memory foam pillow and Otty Deluxe pillow in the review by The Sleep Advisors.
Add a header to begin generating the table of contents
Who are Otty Adjustable pillow and Otty Deluxe pillow for?
According to the manufacturer, OTTY Adjustable pillow is best for side sleeping, because due to the adjustable height, each side sleeper can create an ideal loft to achieve a spinal alignment. However, precisely because it is adjustable, this product can also be used for back and stomach sleeping. The design of product allows unobstructed airflow, and the cover is also highly breathable, which makes it suitable for hot sleepers as well.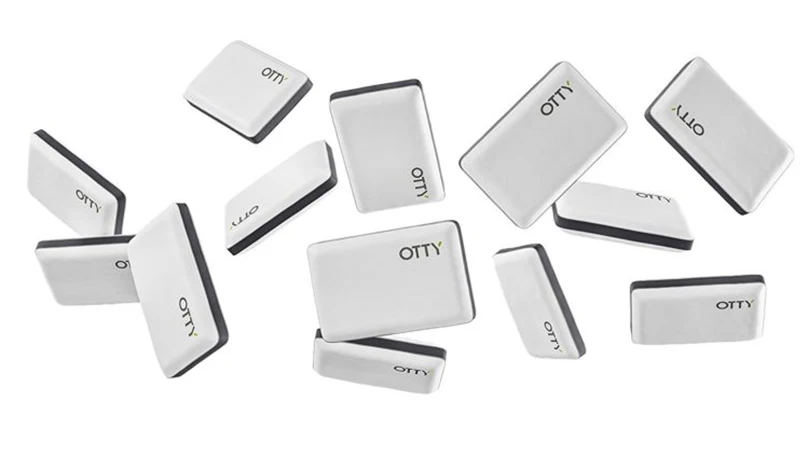 OTTY Deluxe Pillow is a soft and durable, great for everyone that is looking to find a solid support for your neck and head. Standing at 12 cm,  it should be great for all of you sleeping on your side and back. As for the stomach sleepers, it could work – but it is up to personal preference so we cannot guarantee it will suit all stomach sleepers.
What are these two products good for?
The primary purpose of these pillows, in addition to providing us with a comfortable sleep which is the goal of every similar product, is to help us achieve spinal alignment. Spinal alignment in particular can be tricky for side sleepers, so the OTTY pillow due to its adjustable loft is ideal for the side sleeping position. In combination with some of the Otty mattress options, you will achieve the perfect spinal alignment that will eliminate the annoying neck aches and headaches.
Features you should know about the Otty pillow
Adjustable loft height is definitely the most important feature you should know about these two Otty  pillow options. In addition, you should know about gel-infused memory foam as well as the hypoallergenic cover and 2 zippable pouches where you can keep the memory foam filling.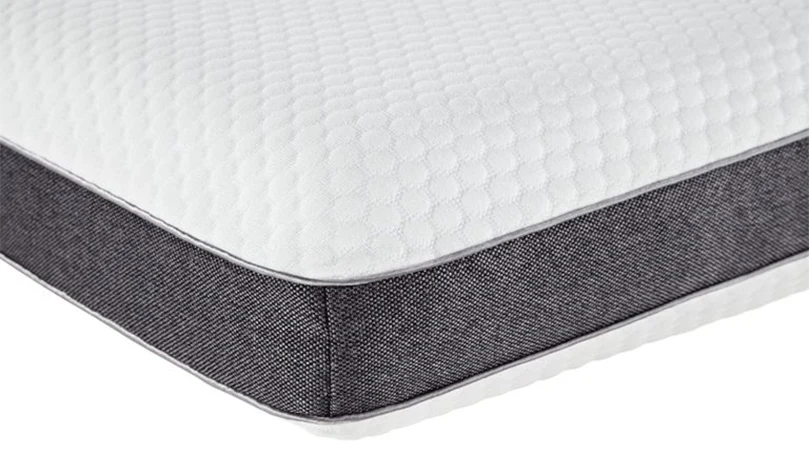 Each person likes a different height/loft, and it also depends a lot on the preferred sleeping position. That's why OTTY decided to make an adjustable pillow that has memory foam filling. But it does not consist of one block of memory foam, but of many small parts that you can remove if you want a lower loft or the loft can be 25cm if the complete filling is inside. This is certainly very useful feature that has made this product popular on the market because it will suit a much larger number of people than having just one loft.
When you get your product, you may not immediately realize what is the purpose of the 2 zippable pouches you get with it. These 2 zippable pouches serve to store in them a memory foam filling that you do not want to be in your pillow at that moment. In order not to lose part of the memory foam filling or to think about where to keep it until your or someone else return it to pillow, 2 zippable pouches come in handy.
The cover is so important for any pillow because it is the part of the pillow which your face has direct contact with. The cover also significantly affects breathability and it is important that it is machine is washable because the cover gets dirty easily. The cover that comes with the OTTY Adjustable pillow meets all of these criteria. You will easily remove it and then wash in the washing machine. The hypoallergenic material from which it is made is very high quality and it's very soft, so you will be comfortable sleeping. It's machine washable, at 40 C. Ultimately, you can buy a separate standard-size pillowcase to protect it additionally.
Otty always has a fair deal on warranties on their products and this is one of the reasons why they are rapidly increasing their status on the market. Warranty means security, and all customers love that.
So, if you buy the Otty Pillow, expect to have 3 years of warranty on it and much more time of cool comfort from your sleeping Otty buddy.
Otty provides trial periods but its length may vary from product to product. If you want the mattresses, the length can go up to 100 days. For additional info on this matter, when it comes to pillows, you may want to contact Otty customer support service.
For this product, there is Standard UK 24h Monday to Friday deliveries option available. Otty also offers a 2 men delivery option (which can be very handy if ordering a mattress). For certain locations such as Offshore, Highlands & Channel Island, the next day delivery may not be available.
Return and/or refund options that Otty offers are customer friendly and you can check all of the detailed info on this matter on their site. All in all, if you wish to return the Otty product you need to contact their customer support and they will assist you on the matter. There are different return terms and policies depending on the warranty or trial period status, the reason of return and your location.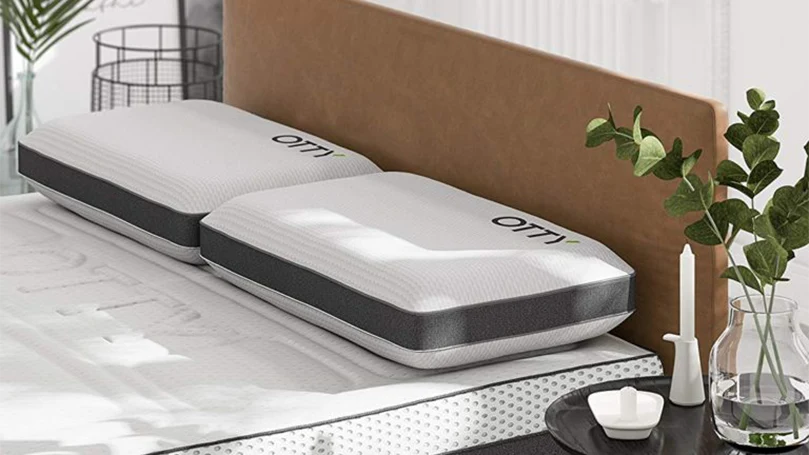 So, Otty Pillow doesn't have issues with durability, and the 3 years of warranty on this product are seriously backing this up. Due to its construction and design, Otty Pillow doesn't tend to lose shape, firmness or the level of the neck support. That's why we believe it can even surpass its warranty period and definitely give you your money's worth. Also, due to the materials, Otty Pillow doesn't suffer the reduction of its temperature control effect over time.
In this section, we can give one solid plus since the Otty Pillow proved itself as a long-lasting product. This is a nice, almost rare quality, for any product. You don't want your pillow to lose its firmness over a year of use and leave you stuck in the middle between not getting the earlier comfort and still not wanting to throw it out.
Two features to know about Otty Deluxe pillow
This version offers two additional things that set it apart..
The main body of OTTYy Deluxe pillow is made from memory foam, but not just any memory foam. The memory foam used in this product is infused with blue gel to keep it from overheating and help keep you cool during the night. This gel is what makes the memory foam blue.
The product really does offer a significantly cooler sleep than some other memory foam pillows we've reviewed, so the gel certainly seems to be working.
Hypoallergenic - Perfect for sleepers with allergy problems
Among the things that are quite important when looking for a pillow, hypoallergenic properties are certainly one of them. It is hypoallergenic, unlike the majority of regular, feather and down pillows, which is a big deal for everyone suffering from allergies. With this pillow, you won't have to worry about any dust mites or other allergens, which should help you get a good night's sleep.
Review of OTTY Adjustable & OTTY Deluxe pillow
Both versions are a gel-infused memory foam pillows perfect for side sleepers and anyone who wants to relieve stiffness and remain cool all the time. Memory foam filling is in the form of many small cubes, that you can remove and put back inside, depending on the loft you want. This makes it suitable for other sleeping positions. Such a construction is crucial for good breathability.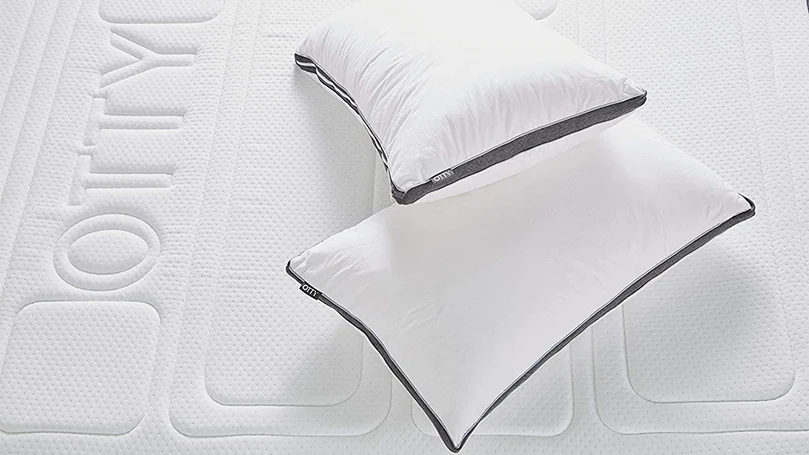 In addition, it keeps the perfect shape all the time so no matter what you do with your neck or head, the shape will stay the same.
High quality memory foam product
Adjustable height
Highly breathable 
Removable & washable cover
High level of durability
Slight off-gassing & smell
No free returns
Not ideal for a stomach sleeper.
Along with the construction, the breathable cover is also great and will suit both hot sleepers and others. It is also worth mentioning that the cover is machine washable and hypoallergenic. Otty Sleep company allows you 14 days to try it and decide if it suits you as it is the case for every Otty mattress or any other related product from Otty Sleep.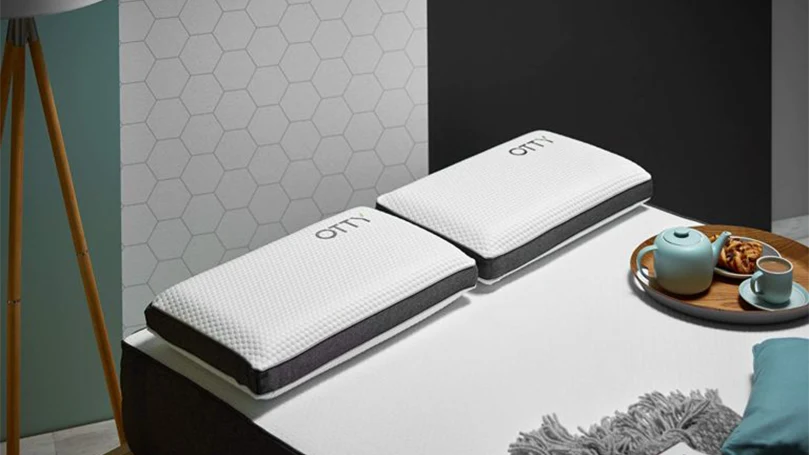 OTTY Deluxe pillow adds the much-needed support for your head and neck, making it ideal for all who like to sleep on their sides and suffer from a neck or back pain.
Blue Gel- cooling effect – good for hot sleepers
Perfect for side sleepers with head pain or neck pain
Shape-retaining
Hypoallergenic cover that is machine washable
The best pillow for its price.
Off-gassing & slight chemical-smell
Additional fee for returns
Not so great choice for front sleepers.
What we like about these two Otty pillow options
Adjustable loft is something we will encounter more and more often because it makes one model suitable for most customers
Highly durable
Fantastic neck pain treatment
It does not get hot( you get a cooler sleeping surface with Deluxe version)
Highly breathable thanks to construction and cover
14-night trial period is more than enough to decide whether to keep it or return it.
What we didn't like about two Otty pillows
Memory foam smell noticeable during first few nights
Although versatile, many stomach sleepers will find it unsuitable
Returns are not free of charge.
Check the alternatives to Otty pillows
Symba Hybrid and Snug Contour Memory Foam are best alternatives in our opinion.
The mixture of down and memory foam combines the best of both worlds in this model. Memory foam gives you perfect support and pressure relief, and down is used for breathability and softness. 
Like the OTTY models, Simba Hybrid pillow also gives you option to adjust loft and therefore can be a good choice if you are suffering from neck pain.
We already reviewed this high-quality hybrid pillow so take a look.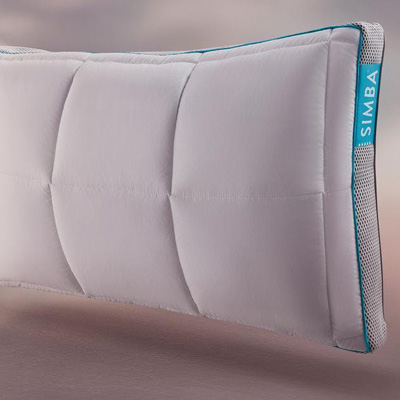 Adjustable height
High quality memory foam
Premium materials
Durability.
A bit more expensive when compared to similar products
One size
Some customers may expect more support.
Whether you sleep on your back or on your side, Eve Memory Foam model offers the superb comfort and support. Made of high quality foam, this model relieves you any tension while keeping your spine aligned. 
Increased breathability comes with the air holes that allow hot air to go out and prevent heat transfer. Therefore if you a hot sleeper who sleeps on side or back, this is the right pillow for you!
On top of all that, the maintenance is super easy and cheap as you get a removable cover that you wash in your washing machine.
Check our Eve Memory Foam pillow review to learn more about it.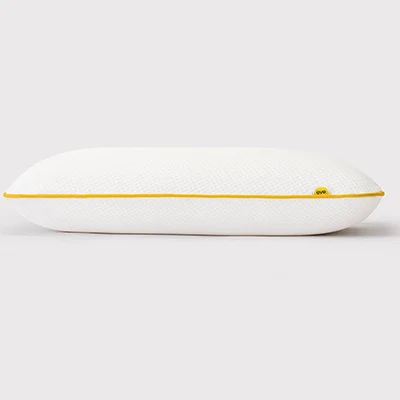 Good heat transfer
Increased breathability with air holes
High quality foam
Removable cover.
Slightly higher price when compared to similar products 
A bit of off-gassing upon unpacking.  
Consider Panda mattress topper if you are buying Otty pillow
Combine OTTY pillow and Panda mattress topper to get a perfectly comfortable sleep. This topper is high quality product that comes from a well known Panda company and will significantly improve any existing mattress.
Those who need pressure relief will benefit the most, and most customers find it very comfortable. Although it is a memory foam topper, it is not too hot. Since it is made of a bamboo that is grown in a sustainable way, it is eco-friendly and hypoallergenic. It is a great pick for slepeers with allergy problems. 
There is our new Panda mattress topper review so take a look at it.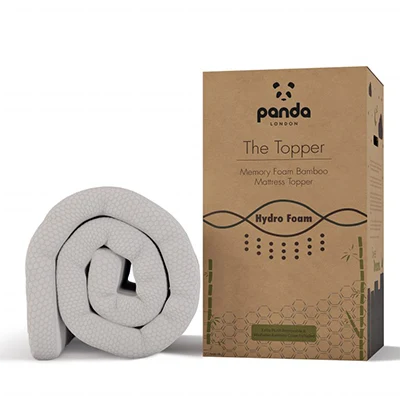 Hypoallergenic & breathable
Eco-friendly
Supportive.
Some off-gassing issues
Among more expensive ones
Cover washable only in cool water.
What makes these Otty pillows better than some other similar ones?
Now we come to the part with final thoughts. First of all – OTTY Sleep is a recognized company and well-respected in this industry. One size cannot suit everyone, that's for sure. Therefore, the ability to adjust the height is what makes this product better than some other similar ones. Also, the highly breathable cover and construction make it much less hot compared to other memory foam pillows. What makes this one so special is the ability to retain shape, even after using it for a while. 
Durability and the ability to bounce back to the default shape are one of the strongest points of this pillow. It feels nice to lay your head and shoulders on it as every feel of pain will vanish. Regardless of version of this Otty pillow – it is a great choice for anyone who wants to fall asleep easier while sleeping in the side position and keeping their spine aligned. In addition, the superb neck pain relief will delight side sleepers who are on the hunt for their most comfortable pillows for side sleepers with neck pain.
How did we test the products?
Before we ordered pillows for this Otty pillow review, we had found out that the OTTY pillow came with a 14-night trial. It means you will have plenty of time to try it out, and if it doesn't suit you, you can return it. You will have to cover the cost of the return. When it comes to ordering, it is very simple, and when you receive an email confirming the order, then you will be notified when it arrives. You can change that time if it doesn't suit you, and then you'll get a four-hour slot when it arrives. Also, at an additional cost, it can be delivered to you on weekends.
The items arrived to us in 3 days and were scheduled for 3 to 5 business days so everything was fine. Though a slight off-gassing was present, we noticed, straight out of the bag, that the quality and crafstmanship were on another level. As this is a type of pillow where you can adjust the height, we had to test it for more days than is usually the case with pillows, in order to get the right impression. After a few nights, a few different lofts, as well as types of sleeping positions, we came to all the necessary conclusions. These are ideal for side sleepers who will almost certainly be satisfied with these products.
The impression that stomach and back sleepers have varies according to the personal preferences. In general, the pillows were more praised by back sleepers than stomach sleepers. Stomach sleepers had divided opinions. What everyone is happy with is the quality of the pillows and breathability because they were not hot during the night.
Our team members took turns sleeping on Otty Deluxe pillow and the general consensus was – this one was really good. It was comfortable, it didn't sink too much, it was supportive, but not firm and rigid. Also, the gel-infused foam really seemed to be working well since none of our team members had any issues with the pillow getting hot.
Removable cover is very easy to remove and wash, and then return when it is completely dry. We washed it twice because we used it often while we were testing it and both times everything went smoothly.
The final conclusion of this pillow review is that both OTTY Deluxe and Otty Adjustable pillow proved to be great products – pain-relieving, comfortable, supportive, hypoallergenic and highly durable products from a recognized OTTY Sleep company.
FAQs about your new OTTY pillows
Before we wrap up this OTTY pillow review, we have to answer a few questions. A large number of customers have never used an adjustable pillow and then they always have a lot of additional questions about which sleeping positions it suits, whether it is good for hot sleepers and the like. Find the answers to all these questions in our FAQs section of this pillow review.
What are the dimensions of Otty pillow?
The dimensions are 60cms x 35cms, and the maximum height is 25cm, but that is subject to change because this is an adjustable pillow.
How do I wash my Otty pillow?
You have to remove the memory foam filling and then you can wash the cover in the washing machine at 40 degrees Celsius.
Is Otty pillow hypoallergenic?
Only the Deluxe version is a hypoallergenic pillow while the Otty Adjustable memory foam pillow is not.
Is an Otty Adjustable pillow good for back sleepers?
Due to adjustable height, OTTY Adjustable pillow can be used by back sleepers.
Is an Otty pillow good for people who sleep on their sides?
Manufacturer recommends this pillow for side sleeping, so OTTY Adjustable pillow is ideal option for people who sleep on their sides.
Is an Otty pillow appropriate for stomach sleepers?
Not all stomach sleepers will find it comfortable, but they should try it, because there is a chance that it will be suitable for stomach sleeping as well.
Should I use OTTY Deluxe pillow if I have a neck pain?
Yes, you should use it. It is the best pillow for side sleepers who have suffer from neck pain.
Can hot sleepers use Otty pillow?
Yes, hot sleepers will benefit from the deluxe version as this is a cool pillow that is a good choice for a perfect night's sleep of every hot sleeper. In addition, we recommend you checking Otty mattress with charcoal and bamboo for the best experience.