BedStory 2Pack Pillow Review
You don't have to spend a lot of money to buy a good pillow, and BedStory 2 Pack Pillow is the only proof you need. This affordable 2-pack is one of the most beloved pillows in the UK market, and we wanted to find out why. Here's our review!
Who is BedStory 2Pack pillow for?
BedStory 2 Pack pillow is a product that should be more than suitable for most people. It is a soft microfibre filled pillow, or better yet, a pair of sleeping pillows that are quite comfortable to rest on. 
However, the main selling point of this pillow isn't the fluffiness and comfort – it's the price. This is an affordable product that we believe anyone would enjoy.
Add a header to begin generating the table of contents
What do we use this product for?
Well, as is usually the case with many pillows – we'd use this one to get a good night's sleep, and perhaps get rid of some of that back pain. Now, we're not saying that these are real orthopaedic pillows, because they're not, but then again, some suffer from head and neck pain just because they sleep on a firm pillow. As you already know – these BedStory pillows aren't like that! This pack-of-two is ideal for people who want to:
Stay safe from allergies
Get rid of back pain
Sleep on a fluffy, yet supportive pillow
Enjoy easy cleaning
Enjoy a hotel-like pillows.
Features you should know about BedStory 2Pack pillow
Now, let us talk a little bit about what makes these 2 pack sleeping pillows special. Here are a few features we believe you should know a thing or two about.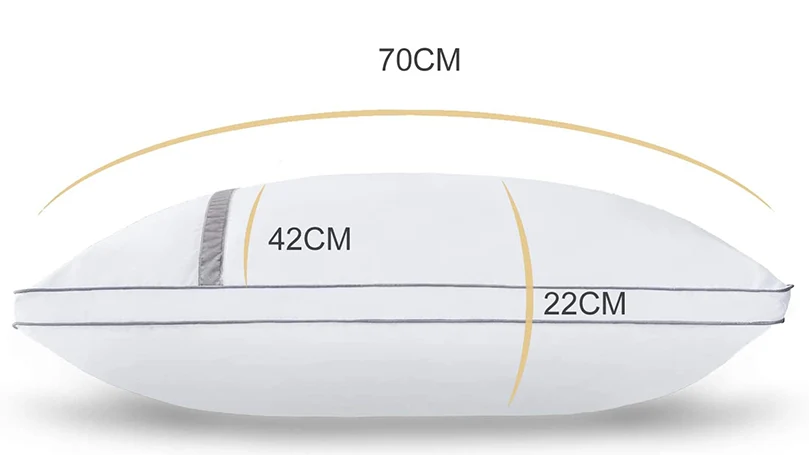 Ergonomic design and proper height are what make this pillow special. This is one is neither too big nor too small; but just thick enough to offer cushioning and support for your neck and head, regardless of your sleeping position. Now, as this is a reasonably plush and soft pillow, don't expect the same level of support you'd get from cervical or contour bed pillows.
Dual-layered sideband with 3D clusters of fibre fillings
Most microfibre-filled pillows suffer from a common problem, and that's sinking and becoming flat. To overcome this issue, BedStory 2 Pack pillows come with a dual-layered sideband with 3D clusters of plush fiber fillings. This helps the pillow retain the shape for a longer period of time, as well as bounce back to its original state when you're not sleeping on it.
BedStory 2Pack comes with a 100% polyester fabric cover. However, this cover is not removable. It's well-crafted, soft, and pleasant to the touch, and when you factor in the dual-layered sidebands – very eye-pleasing, as well. As you know, polyester is easy to maintain, doesn't get very hot and is also hypoallergenic, which is what we like to see in sleeping pillows.
You'll be pleased to know that BedStory pillows are hypoallergenic. Polyester cover is stuffed with super soft poly fibres that are not only plush, soft and comfortable but are also hypoallergenic, dust-mite resistant and anti-bacterial. Anti-bacterial and anti-allergenic properties are always welcome when it comes to pillows, and BedStory did not disappoint us this time.
Review of BedStory 2Pack pillow
First of all, this is an affordable product. You'll get two more than decent pillows for a fraction of the price of some of the most popular ones you'd see around. Just to be clear, this is not a cheap, low-quality product, but instead a pretty good one, only at a competitive price point.
As far as comfort is concerned, we're certain most of you would love to use it. It is ultra-soft, fluffy, comfortable, and it doesn't retain heat all that much. Sure, you might flip it over from time to time on a warm summer night, but then again – you'd do that with pretty much any pillow.
The size of this pillow is ideal, and it'll fit most regular pillowcases. This is important because this one does not come with a removable cover or a pillowcase of its own – so you'll need a separate one.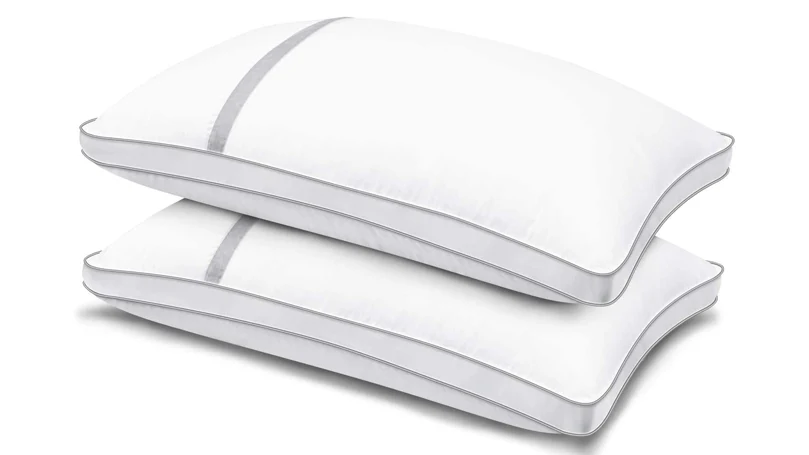 Furthermore, even though this one feels like feather and down – it isn't. It won't cause you allergies; it won't stab you in the cheek nor become smelly after prolonged use. It is machine washable and can be tumble dried. Just make sure your washing machine is big enough for this one.
Finally, we didn't really enjoy how this one felt when we were sleeping on our back. It's just not supportive enough for back sleepers. We've even tried stacking these on top of each other, but that just didn't work – as expected. The pillow gets quite flat after some time, but then again – this is a dream come true for every side sleeper out there.
Size: 42cm W x 70cm L
Washable: Yes
Materials: Poly fibre fill; polyester encasing
Firmness: Medium
Removable cover: No.
Ultra-soft and comfortable
Anti-allergenic and dust-mite proof
Ergonomically designed.
Lacks a little bit of support
It gets flat rather easily
It does not come with a removable cover.
What we like about BedStory 2Pack pillow
This two-pack is a really great deal. Absolutely excellent value for money
Soft and plush – just like sleeping on a cloud.
Hypoallergenic dust mite resistant sleeping pillows are something we always enjoy.
What we didn't like about BedStory 2Pack pillow
Even though they're advertised as such – these aren't really all that supportive
They go from 22 cm to less than 10 cm pretty easily
The lack of a removable cover is a bit of a disappointment.
What makes this product better than some other similar ones?
The greatest thing about BedStory 2Pack is its price to value ratio. This is a great value product. Rarely you can find a pillow of this quality at this price point, so we truly believe that this pillow is worth the investment – if you feel like you'd enjoy it from what you've learned so far.
How did we test the product?
As we usually do, before we could even get to testing, we had to order the product. We got free delivery and a fast one, too, so after only four days upon ordering – the pillows were ready to be reviewed.
The first thing we noticed was that you would need to leave these pillows out to fully expand for about 12 to 24 hours before you can use them. They're vacuum sealed for shipping, so it will take some time for the 3D clusters of plush fiber to fully develop and expand. Also, there is a little bit of a smell early on, so let it air out in a well-ventilated room.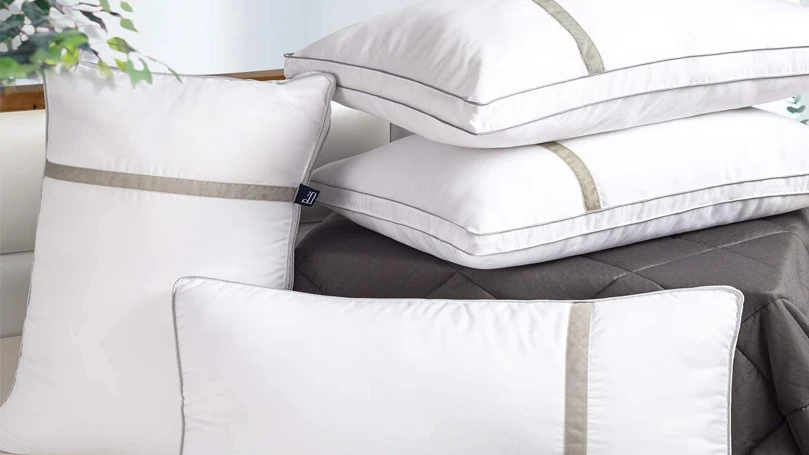 As far as the looks, design and quality of the build are concerned, we had no complaints. There were no stains, faulty seams or loose threads – everything was perfect.
As expected, the pillow was quite fluffy and soft to the touch. We noticed that it was very bouncy and that it reverted to its natural shape really quickly. We also noticed that as far as durability was concerned, the pillow seemed fine. There was no excessive bunching, and the flattening was at a reasonable level after a simulated long-term use test.
All in all, a really solid product for an absolute bargain.
FAQs about your BedStory 2Pack pillows
Finally, let's wrap things up by answering a few most frequently asked questions we've found online.
Do I get two pillows when I buy a BedStory 2Pack pillow?
That's correct. As the name suggests, you'll get two matching vacuum-sealed pillows when you make the order.
How do I wash my BedStory 2Pack pillow?
The 2 Pack sleeping pillows are machine washable at a slow cycle and up to 40 degrees Celsius.
Should I use BedStory 2Pack pillow if I have allergy problems?
Yes. Anti-allergenic properties make this one quite good for people suffering from allergies.
Is BedStory 2Pack pillow good for side sleepers?
Yes and no. It all depends. If you're a bit heavier and you already suffer from neck pain, then probably look for something else. Otherwise, it should offer the superb comfort and support.
Should back sleepers use BedStory 2Pack pillow?
Yes. This pillow, as much as any other one, will be a solid choice for a back sleeper.
Is BedStory 2Pack pillow recommended to stomach sleepers?
In a word – yes. This bed pillow gets quite flat when lied upon; therefore, it's ideal for stomach sleepers.