Dormeo Octasmart Hybrid Mattress Review
Dormeo Octasmart Hybrid is certainly one of the most popular and well-known hybrid mattresses from Dormeo, so we've decided to test it out and found out for ourselves does it really live up to its name. How did it fare? Well, let's find out together.
Who is the Dormeo Octasmart Hybrid mattress for?
With the Dormeo Octasmart Hybrid mattress being rated as medium-firm, it is safe to assume that this would be a mattress for everyone, right? 
Well, that is not far away from the truth since this mattress is powered by the multi-award-winning Octaspring technology developed by Dormeom, amongst many other neat features.
In addition, it ensures an optimal air flow for staying cool all the time as well as super-comfortable Ecocell memory foam base for pressure relief and comfort. 
Add a header to begin generating the table of contents
What do we use this product for?
As we would do with any other hybrid mattress, we'd use Dormeo Octasmart Hybrid mattress to sleep on it. However, thanks to the advanced technology provided by Dormeo, this mattress can also help you get rid of that annoying back pain and have you waking up feeling relaxed, rested and ready to take on a new day. This product is an ideal pick for:
Pressure relieving & pain relieving 
Increased breathability
Zoned support for all sleep positions
Hypoallergenic protection
Improved durability.
Features you should know about Dormeo Octasmart Hybrid mattress
To fully understand what makes this hybrid mattress different from the others, we have to take a closer look at some of the main characteristics that define this mattress. Let's begin!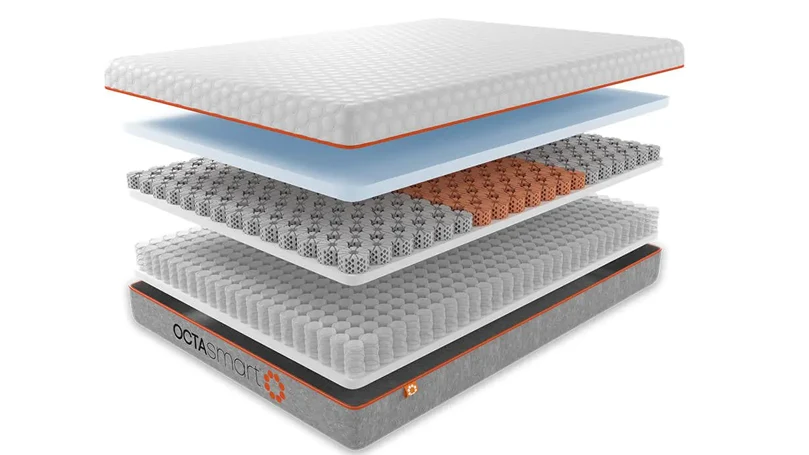 First of all, we have to take a look at the high-quality memory foam used in the manufacturing of this mattress. Dormeo has spent years perfecting its technology and working only with the finest foams.
All of the foams used in the manufacturing process of this mattress, Octasmart Hybrid, are completely free from harmful chemicals and emissions. You can be sure of it because all of the foams used in this product are OEKO-TEX certified, which means they're free of TPP, as well as the other toxic and harmful substances.
The top cover of Dormeo Octasmart Hybrid mattress is not your regular cover – it is a smart performance cover. Hundreds of comfort pockets are built right into it. These comfort pockets do not only allow the air to flow freely but also add another level of comfort and coziness to your mattress.
Not to mention, the smart performance top cover is also anti-bacterial and hypoallergenic, so if you're battling with allergies – this one could come in quite handy.
3 smart zones for 3 different pressure and firmness levels
The Octaspring springs inside Dormeo Octasmart Hybrid mattress are arranged in 3 smart body zones, allowing you to comfortably sleep in any sleeping position. These smart body zones create optimal support and a perfect environment for your core areas such as hips and shoulders, as well as provide perfect alignment to your spine, allowing you to rest and sleep in the natural position without experiencing any pain or discomfort.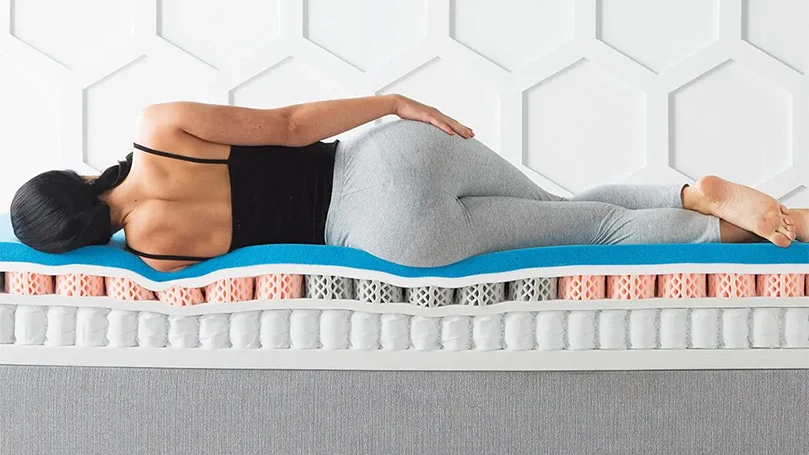 All of the layers of smart technology found in this mattress are lying on top of the Ecocell Foam Support layer, or Ecocell base, for short.
This breathable, signature Ecocell foam offers not only a substantial level of support for the whole mattress, but it also helps keep things cool, as well as improve the airflow, thanks to the innovative technology. On top of all that, the Ecocell foam also absorbs moisture, ensuring you stay dry all through the night.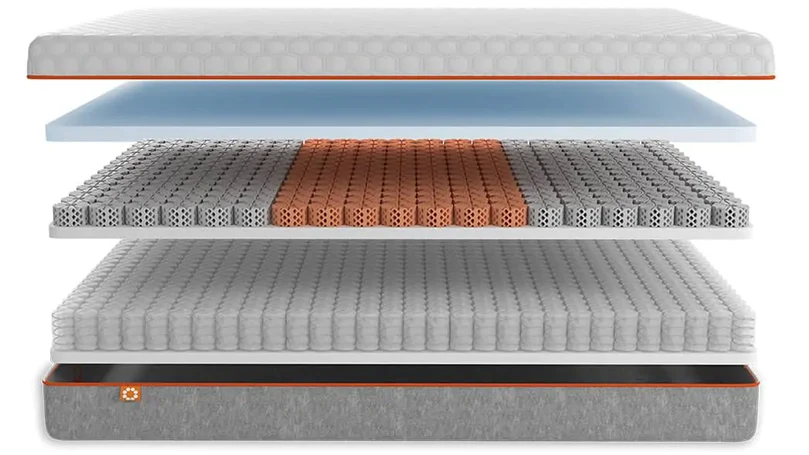 The heart and would of this mattress lies in the award-winning  Octaspring aerospace technology. Hundreds of comfort pockets or the 5 cm tall Octasprings can be found in every single Dormeo Octasmart Hybrid mattress. These flawlessly work together to provide you with much-needed support, as well as to relieve you off of pressure that is building up in your core areas such as hips and shoulders.
In their own words, "every single Octaspring comfort point adapts to your bodyweight", and that's is precisely how this layer can offer you substantial pressure relief, making you sleep like a baby.
Individual pocket springs
Another layer that we can find within Dormeo Octasmart Hybrid mattress is the layer of individual pocket springs.
Every 8cm tall pocket spring works effortlessly combined with the award-winning Octaspring technology to help prevent sagging and add extra support, as well as the bounciness to the mattress. Not to mention, having 8cm tall pocket springs also help improve the airflow, which leads to a cooler mattress.
Just underneath the Smart performance cover, we have a layer of Aerocell foam. This innovative Aerocell foam layer, not only helps with temperature regulation and ventilation, but when paired with the rest of the smart layers of Dormeo Octasmart Hybrid mattress – it also helps add to the overall comfort and the support of this hybrid mattress.
The Octavent Air system is said to improve the overall breathability of the mattress up to 8 times, which could make a world of difference with a hybrid mattress. To put things into perspective, this could mean a decrease in the bed temperature of up to 3°C.
This patented system harmonises award-winning Octaspring technology with a smart performance cover to bring a more pleasant, cool sleeping experience by allowing the hot air to escape the mattress, leaving you only with the cool air circulating inside Dormeo Octasmart Hybrid mattress.
Review of Dormeo Octasmart Hybrid mattress
Now for the cherry on top – the review of Dormeo Octasmart Hybrid mattress.
You could make a case for this hybrid mattress being the perfect marriage of memory foam and pocket springs, and you wouldn't be too far off. Dormeo Octasmart Hybrid mattress is truly a great mattress.
The combination of technologies and innovative materials create outstanding performance and comfort in this mattress. Aerospace technology, Octaspring technology, Ecocell supportive memory foam layer and every other aspect of this mattress is just exemplary.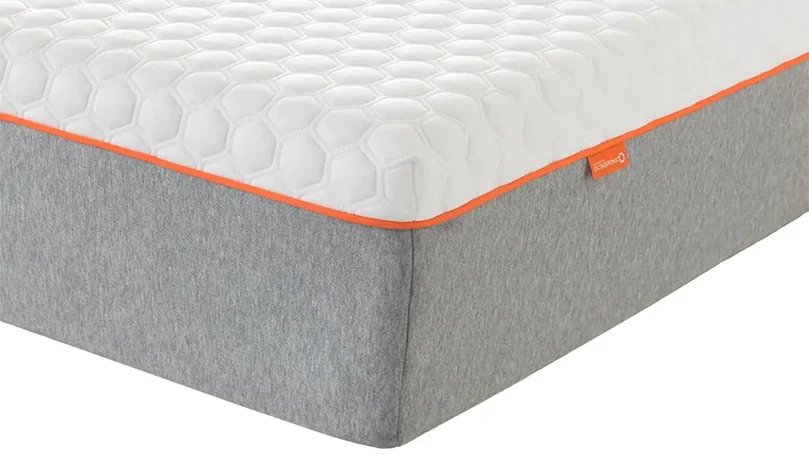 The comfort and support level are off the charts, which is no surprise given the fact that this is truly a medium-firm mattress. Aside from being super comfortable, zoned support and the innovative technologies really make a difference when it comes to pressure and pain relief with this one, especially around the extra sensitive support points, improving your sleep, and allowing your spine to take its natural shape.
Furthermore, this mattress is hypoallergenic. The cover protects against dust mites and other allergens, so you never again have to worry about those.
On the other side, you only get a 60-night trial with this one. Granted, in most cases, that should be enough, but then again, most competitors offer 100, or even 200-night trials for their high-end, premium mattresses.
Also, it is safe to say that edge support and motion isolation could be improved upon, given the overall quality of product. They're not bad, per see, but they do leave much to be desired.
Type: Hybrid
Firmness: 6/10
Thickness: 22 cm
Sizes: Single, Double, King, Super King
Warranty: 20 years. 
Very comfortable and supportive
Excellent pain and pressure relief properties
Great value when on sale.
Only a 60-night trial
Higher price tag, when compared to similar mattresses
Below average motion isolation and edge support.
What we like about the Dormeo Octasmart Hybrid mattress
Dormeo Octasmart hybrid mattress is one of the best mattresses we've ever tested
It is very durable and long-lasting, which is to be expected from a mattress with an 20-year warranty
Different firmness Octaspring springs allow for great pressure relief.
What we didn't like about Dormeo Octasmart Hybrid mattress
We would love to see some side handles on Dormeo Octasmart Hybrid mattress
Motion isolation and edge support leave a lot to be desired
Unless on-sale, Dormeo Octasmart Hybrid mattress is very expensive.
What makes this product better than some other similar ones?
If we had to focus on one thing, and one thing only, what makes Octasmart better than any other mattress on the market is probably its durability. This mattress, Octasmart Hybrid, is made to last you a really long time. Sure, it is very expensive, but when you factor in the longevity – you can see it paying out in the long run.
How did we test the product?
When we review mattresses or any other products, we do our best to stay objective and detail-oriented, and that was once again the case.
We've placed an order, and one working week and a free delivery later – we had our new mattress, Octasmart Hybrid, ready to roll.
The first thing we noticed when we rolled out this bed-in-a-box is the lack of the pungent memory foam smell. It was present, but far from overwhelming. We've left the mattress to fully expand for 24 hours before we began our testing.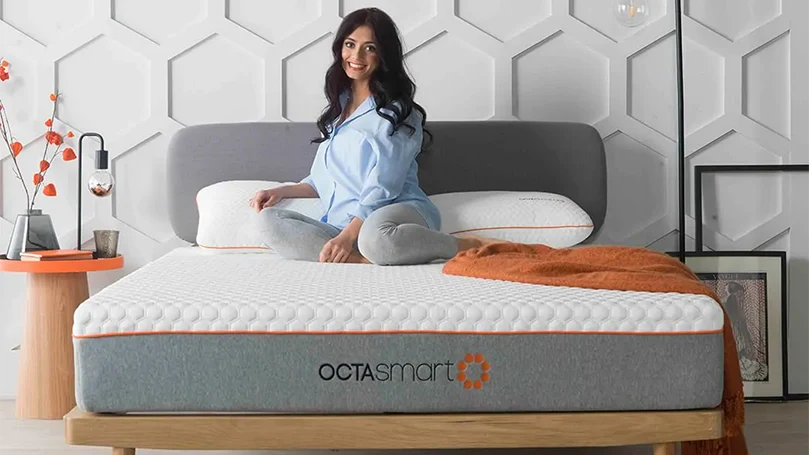 Each of our team members had the pleasure to spend 10 nights sleeping on this mattress, and that has allowed us to come up with an objective review of this one. We've compared everyone's notes, and here's what we've agreed on.
The mattress was very pleasant to sleep on. There were no problems or discomfort experienced by any of our team members. The mattress worked great on both slatted and flat bases. It didn't get hot, it didn't sag or dip, and the overall quality of product was where we have expected it to be for such a premium item.
Finally, the Octasmart Hybrid passed our roller test with flying colours, which made us realize why Dormeo is offering an 18-year warranty with this one.
FAQs about your Dormeo Octasmart Hybrid mattress
Finally, allow us to wrap things up by answering some of the most frequently asked questions about Dormeo Octasmart Hybrid mattress.
How deep is Dormeo Octaspring Hybrid mattress?
The Dormeo Octasmart Hybrid mattress is 22 cm deep.
How to clean Dormeo Octaspring Hybrid mattress?
You can clean your Dormeo Octasmart Hybrid mattress by vacuuming or washing the cover with a damp cloth.
Does Dormeo Octaspring Hybrid mattress come with a warranty?
Yes. Dormeo Octasmart Hybrid mattress comes with an 18-year long warranty.
Does Dormeo Octaspring Hybrid mattress have a trial period?
Yes. Dormeo Octasmart Hybrid mattress comes with a 60-night trial period.
Does Dormeo take the old mattress away?
Yes. Upon delivering the new mattress, Dormeo will take your old mattress away, entirely free of charge.