Air Mattress 101: Everything You Need To Know
Whether you go camping, to the beach, to a festival or guests come to you, an air mattress is always a good solution. 
It functions as a practical bed that is easy to pack and carry, and at the same time it is soft as a sleeping pillow. A good air mattress offers all the comfort you need during the night hours. 
So, the idea of an air mattress is very simple. It's more like having a container filled with air, closing it and sleeping on it. This way you get a perfectly soft base if you choose the right material, size, etc. 
This would be the simplest explanation of the air mattress or what it does. Of course, it is much more than that. This means that it includes many advantages that make it a simple sleeping solution.   
Add a header to begin generating the table of contents
Before you buy an air mattress
The air mattress is mainly used as a guest bed or as a temporary bed for travel or camping. However, that does not mean that they suit absolutely everyone. Despite the fact that there are a large number of materials, sizes and different models, the construction of this mattress can bother many. For example, this refers to inadequate support compared to traditional types of mattresses.
It can also happen that air mattresses leak or get punctures, after which he will need to recover. If you use rubber or vinyl, you will surely encounter an unpleasant sound. These materials are a little noisier than others when you shift your weight. Another thing that irritates many is the frequent filling of the mattress with air.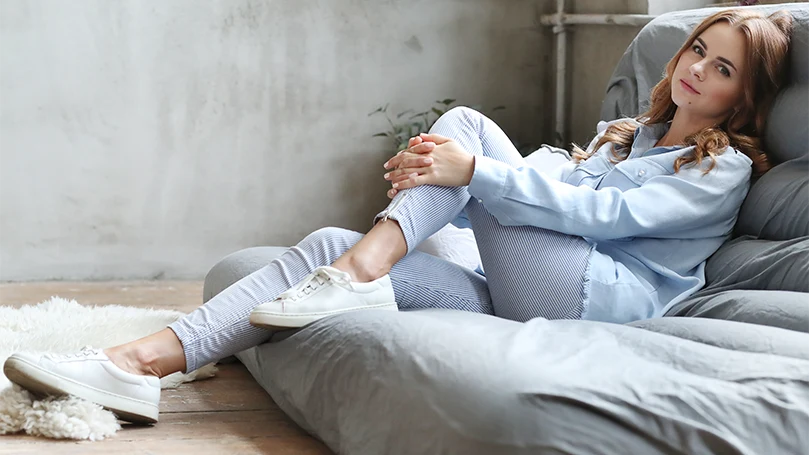 The difference between air bed, air mattress and inflatable bed
The difference between air bed, air mattress and inflatable bed is not significant. However, there is a difference when it comes to the situations in which you use them. For example, everyone requires an inflatable before use and then you will use a pump. On the other hand, there is a difference in price that varies. They depend on their size and other characteristics as well as accessories.
The air bed can be used in a variety of situations. For example, it is an excellent choice for long car driving conditions. Then it would be good to have this option next to you, because that way you make yourself more space to rest and sleep. He is robust and durable. They are mostly made of high quality material such as PVC. In that case, the fabric is resistant to tearing and you get a comfortable and luxurious bed.
However, it is also quite difficult. Its spaciousness allows more people to sleep in one place. It is quick to install and easy to store. Probably the child would only be able to cope with it. Many of them use it while traveling by car, because it effectively blocks noise from the bottom of the vehicle and thus creates a good sleeping environment.
So, the inflatable mattress is intended for camping or as an extra bed for guests. It is designed in the dimensions of a French double bed, which means that it offers enough space for two adults. It functions as a practical bed that is easy to pack and carry, and at the same time it is soft as a sleeping pillow.
However, that does not mean that they suit absolutely everyone. On the other hand, they have a lot of options for the types of materials involved. This means that you will easily find one that fully suits your lifestyle and needs. That is why it is very important to pay attention to several key things during the purchase, such as size, material, etc.
Since there is a great similarity between air bed, air mattress and inflatable bed, the main difference is that the inflatable bed is intended for indoor use. So, without a suitable bottom layer, an inflatable mattress will not be the best choice for sleeping outside. Inflatable bed may vary depending on the manufacturer. Inflatable mattresses have all the layers and so the mattress is placed above the ground.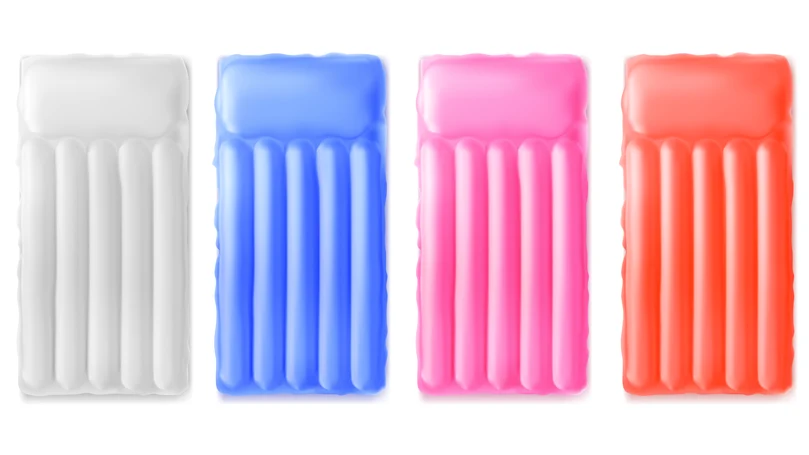 What should you keep in mind when looking for an air mattress
Although there are some minor differences in performance between the models, most are made of puncture-resistant PVC or polyvinyl chloride. Before you buy, think about who will be who will use the air mattress and how often, which material is most suitable for your needs, what kind of sleeping mat suits you best and so on.
When it comes to the right size air mattress, the rules are the same as with a regular mattress. When choosing the size of the mattress, it is necessary to take into account the number of people who will sleep on it. If it is two people, it is recommended to use a larger mattress. However, consider storage after use.
You need to know right away where you are going to put it and whether you have enough space for a bigger mattress. Fortunately, these mattresses will not require much space when not in use. Of course, before that, it is important to take into account the space in which you plan to lay the mattress or the size of the room.
Air mattresses are made of inflatable materials. PVC or polyvinyl chloride is most often used. Although a lot of people connect PVC with pipes, it's not the same. PVC in mattress which is significantly softer. You can also look at them as vinyl air mattresses. However, they can be made of tons of different materials. So, they have a lot of options for the types of materials involved and that means you will easily find one that fully suits your lifestyle and needs.
Although there are a lot of potential materials, they do not differ that much. For example, you can find a velvet-like top or a velvet layer that does not allow slipping. That way you will sleep quite peacefully and you won't have to worry about slipping off the mattress in your sleep. There is also a rubber air mattress. It is a little less stretchy compared to PVC, but also lasts longer.
A healthy and comfortable sleep can revive you overnight, but only if the bed is comfortable and adaptable. Sleep is not a waste of time or a state of unconsciousness, but a necessary process for the regeneration of mind and body. A good sleeping pad must keep the sleepy body in a natural position, ensure good distribution of the surface load, conduct heat and moisture well, etc.
The cause of back pain and severe headaches can be a bad bed that does not give the body proper support and does not allow good circulation. The air mattress enables complete muscle relaxation and natural body position. Since the calf is most sensitive to the part of the bed that is in direct contact with it, an adjustable surface and an elastic core are key. However, the materials and other characteristics of the air mattress play a big role.
Inflatable vs Closed-Cell foam
This is one of the most common questions when choosing a mattress. It is important to note that both options have their advantages and disadvantages. The choice will depend solely on your individual preferences. Therefore, their individual characteristics are usually carefully considered before purchase. For example, closed-cell foam is lightweight while bulky. They have a lower R-value and are more compact to carry. However, they are not so pleasant to sleep.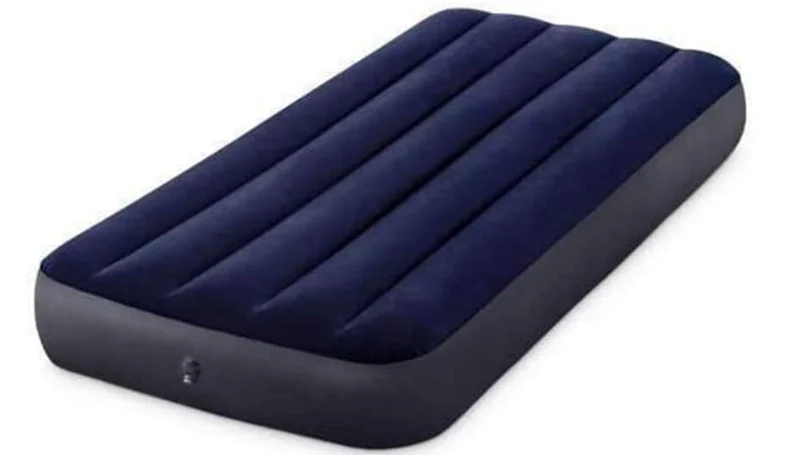 On the other hand, an inflatable foam means light insulation or reflective materials in the interior. This means it provides greater protection from cold soil. They are easy to put in a package, but they must be inflated every night and inflated in the morning. They are not that durable.
You can find different models on the market with different characteristics. Some of them are really fun. For example, some models have a blue LED light on the bottom. This way, your guests or you will have a great time during the night, because it acts as a built-in night lamp. There are also those models with a USB port and they allow you to charge phones, tablets and other devices.
Many also have sensors that look for drops in pressure during the night. During this process, they automatically pump more air into the mattress if too much pressure is applied to it. So, lowering the mattress too low makes it impossible and so there is no change in the strength of the mattress. Depending on your needs, you can opt for many other accessories.
Tips for buying and using air mattress
Choosing an air mattress can sometimes be quite a difficult decision. This is often due to the often bad reputation that comes from other people's negative experiences. That is why it is very important to pay attention to a few key things when shopping. Today there are modern upgrades that can meet your specific needs, but for a completely comfortable sleep you need to look at the bigger picture. So, consider the size you need. The same rules apply here as for all other assholes.
If your budget and space allow it, consider a larger mattress. Don't forget the storage space you must have. It is also necessary to take into account the guests who would sleep on the mattress. If they are mostly children or young people, a basic air mattress that is closer to the ground is certainly enough for you. Of course, the higher quality mattress you choose, the more comfortable it will be to sleep.
    Think about size.
    Number of people sleeping on it.
    Pay attention about bedding.
The advantages of owning an air mattress
If your guests are coming, you are preparing for camping, a vacation in nature, an inflatable mattress is the right choice for you. You will inflate it quickly and easily and you will have a quality vacation. Air mattresses are undoubtedly suitable – they can add extra sleeping space everywhere and do not take up much space when not in use. They are also suitable for traveling and hiking. Modern products are needed by every house as a spare bed. Inflatable sleeping mattresses are often called air beds, this name appeared because of the high degree and complete comfort.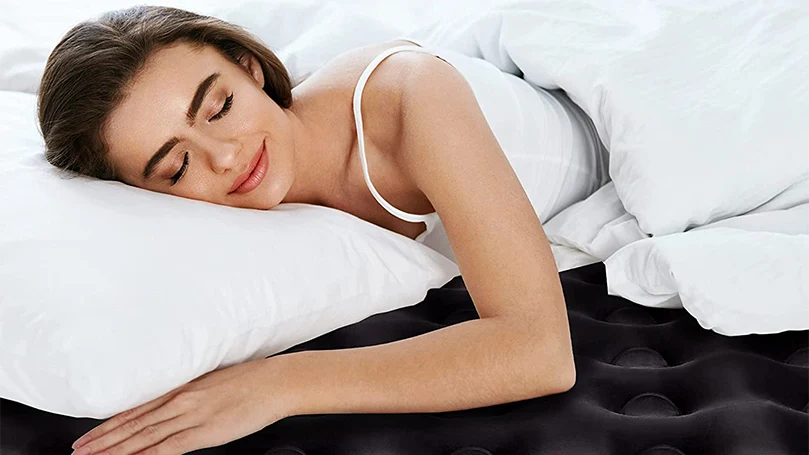 However, you should take into account the fact that models with a built-in pump have a lot of weight and are not very suitable for transport. However, the surface of the product has a different surface, which prevents it from slipping on it.
    Air mattress is very light.
    They take up very little space.
    You will find huge offer at the market.
FAQs about your air mattresses
So, when choosing the ideal air mattress, you should take into account several important factors. This applies to size, material, orthopedic effect, color, pump, accessories, price and everything else. However, you may be interested in learning some more equally important information. Therefore, you can read some of the most common questions of people who have decided to buy this mattress.
What is an air mattress used for?
They can be used for camping, temporary or permanent home use. There are also those that are optimized to combine several uses.
Can I sleep on my air mattress every day?
This will depend on the quality of the mattress itself, and on factors such as body support, mattress maintenance, comfort level, the number of people sleeping on it.
How do I maintain and clean my air mattress?
It is necessary to check the air level in the mattress often and quickly patch the holes if they appear. Use a soft brush or hand vacuum cleaner to clean.
How long will my air mattress last?
Depending on how often you use it, it can take years before it develops a leak.