Vesgantti Gel Memory Foam Mattress Review
Who says you have to break the bank to buy a high-quality memory foam mattress? Vesgantti Gel Memory Foam mattress is more affordable than some duvets or mattress toppers, yet it still feels like it could do all that an expensive mattress could. Today, we're going to put that to the test.
Who is Vesgantti Gel Memory Foam mattress for?
To put it simply, this Vesgantti mattress is a medium-soft/medium-firm, gel memory foam mattress that is suitable for all sleeping positions and all kinds of sleepers. 
It is a very affordable mattress that is meant to be used regularly by pretty much everyone. No matter if you are a side, back or front sleeper, or someone who toss and turn all night – you will be more than satisfied with this pick!
Considering the features, price and price-quality ratio, we guess that it's safe to say that if you're in the market for a great affordable mattress – this one is for you!
Add a header to begin generating the table of contents
What do we use this product for?
Unlike many other foam mattresses in this price range, this is not the one you'd shun in your guest room. This mattress is actually a mattress that you can use on a regular basis without worrying about it breaking after a few months. Since this is a double-sided mattress, the softer side will be an excellent fit for your little ones if you're transitioning them from a kiddy mattress to an adult-sized one. It comes in 3ft Single, so you'll even be able to use it as a bunk bed mattress.
7 features that distinguish Vesgantti Gel Memory Foam mattress
Now, let's talk a little bit about what makes this mattress stand out. Here are a couple of mattress features that you should know about if you intend on buying this one.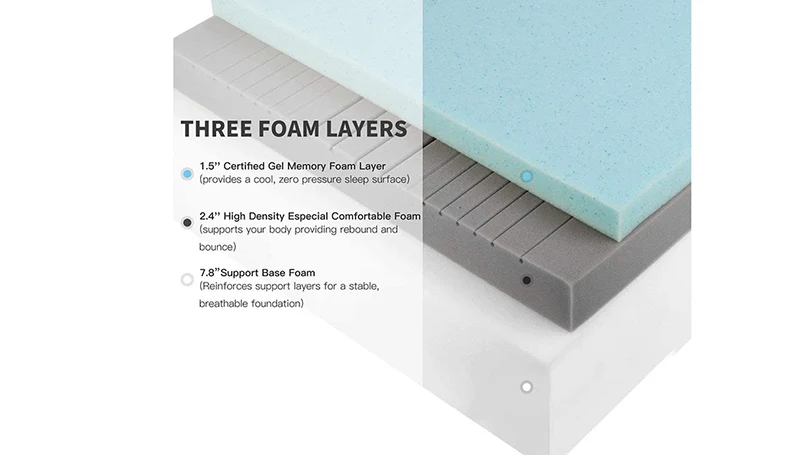 3- zone memory foam layers
The mattress  comes with three foam layers stacked on top of one another, looking to bring you a good night's sleep.
The first of three foam layers is the certified gel memory foam layer, responsible for providing you with a cool, comfortable sleeping experience. Gel-infused foams are known as being better at regulating temperature compared to regular memory foam.
Underneath it, we have High-Density E-special Comfort foam, supported by the High-density support foam layer. Both of these are primarily there to offer support, but since this is a double-sided mattress, both of these are also quite soft and comfortable.
Breathable foam top cover
Not only does this mattress come with a removable double-coloured cover, but this cover could also help you stay cool during the night.
The breathable foam top cover is made from a special cooling and moisture-wicking fabric, ensuring that you sleep cool and dry all through the night.
Furthermore, the breathable fabric cover is also dyed white and grey, so you can easily distinguish medium-firm from a medium-soft side of the mattress.
Removable & washable cover
As you already know, this breathable fabric cover is also removable and machine washable. All it takes to remove this fabric cover is pulling on the conveniently placed zipper. Unfortunately, the cover is not hypoallergenic, but considering that you can easily wash it in any washing machine at 40 degrees Celsius, that shouldn't be much of an issue.
Separating the outer cover and the memory foam layers is the dust-proof inner cover.
This thin, protective cover is a fantastic add-on to help keep the inside layers of your mattress clean and free of any dust and allergens, which, when paired with an easily removable and washable cover, almost results in a hypoallergenic mattress.
Supportive memory foam layer
What makes this Vesgantti memory foam mattress special is its supportive memory foam layer. This specially-cut high-density memory foam provides relief around the vital pressure points, ensuring that you lie comfortably in any position. The supportive foam is truly the focal point of this mattress.
There are four support zones for improved pressure relieving – Extra, Flex, Ultra and Normal, in that exact order. The extra support zone is the one under your head and going downwards, and we finish with the Normal support zone under your hips. As you would expect, the zones continue in the opposite direction right to the bottom of the mattress, which allows you to comfortably rotate this mattress head to toe and still have the same experience.
Mattress-in-a-box-delivery
As you could expect, you will get free shipping inside the United Kingdom when your order this bed-in-a-box.
As is the case with all other foam mattresses, this one will also come in a box. It will take a few days for the mattress to arrive at your doorstep and a few more until you take it out of the box and comfortably sleep on it.
One thing you may not have seen coming is the 100-nights trial, 10-year warranty package that comes with this one.
That's right, you have a 100-night trial period with this one, and if you end up not enjoying it, you can easily return it, and you'll get your money back. On the other hand, if you do end up enjoying this medium-firm/medium-soft mattress, you will have a 10-year warranty to fall back on in case something goes wrong with your new mattress.
Review of Vesgantti Gel Memory Foam mattress
Now, let's hear the final verdict! Here's the review of this Vesgantti mattress.
First of all, if you're looking for great value for money, you should really look no further. It is improbable that you'll find anything as close as good as this one for this amount of money. Now, it's not only us that are saying this. If you were to take a look at customer reviews of this thing – people love it!
Next up, there are two different depth options for this one – a 23 cm deep one and a 26 cm deep one. Apart from the noticeable difference in thickness, we haven't noticed any other significant differences between the two.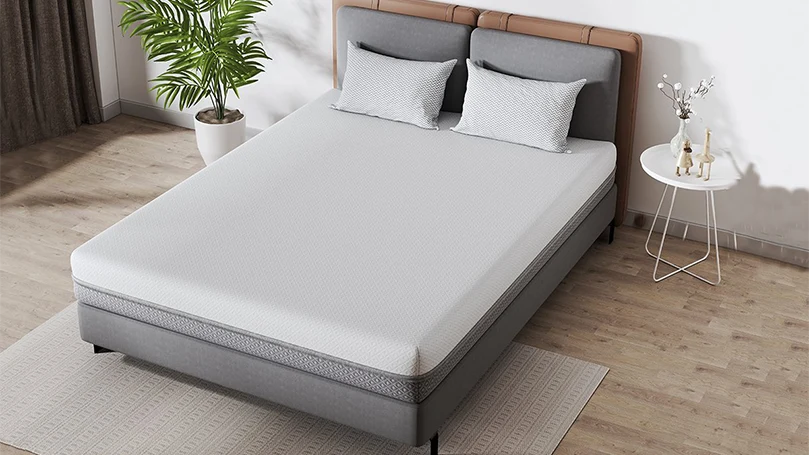 As far as comfort and support are concerned – we have no complaints. This is a good, quality mattress. Sure, you can't expect anything mind-blowing at this price point, but this mattress is double-sided, comfortable, offers support for your entire body, is pressure-relieving, has a removable, machine washable cover and also comes with a 100-night trial and a 10-year warranty. Is there anything else you could ask from it?
Well, sure. The edge support could be better, the gel foam isn't as cooling and breathable as you might expect it to be, and honestly, the white, medium-soft side is noticeably more comfortable than the other, even though it is quite a bit soft.
But then again, we have to remember that we're dealing with a value-pick. There's only so much a mattress can do at this price point.
Type: Memory foam
Firmness: 4.5-5.5/10
Mattress depth: 23, 26 cm
Size: 3ft Single, 4ft Small Double, 4ft6 Double, 5ft UK King, 6ft Super King.
Feels great around core areas and common pressure points
Great value for money
A three-layer design that is also double-sided.
Some may find it to be too soft
Edge support could be improved upon
Some durability concerns.
Why do we like Vesgantti Gel Memory Foam mattress?
Absolutely great value for money
Comfort foam really makes a difference providing you with ideal firmness around the core areas of your body
We love that it's double-sided so that you can find the perfect fit for you.
Why don't we like Vesgantti Gel Memory Foam mattress?
This is not a mattress for heavy sleepers
Sleeping near the edge could make you feel like you're slipping off the bed
Not the most durable mattress on the market.
Two ideal alternatives to Vesgantti Gel Memory Foam mattress
If you aren't sold on this particular Vesgantti mattress, maybe you'll enjoy some of the alternative picks we've prepared for you.
Silentnight 7-Zone Memory Foam Mattress
The first alternative comes from Silentnight kitchen –  Silentnight 7-Zone is another medium-firm hybrid mattress we have for you. It comes rolled in a box, with a fantastic zoned support that you can rarely find anywhere else.
Similarly to our reviewee, the Silentnight 7-Zone mattress provides a lot of pressure relief and a pleasant level of comfort, even though it has some pretty apparent disadvantages to its name.
Still, being hypoallergenic, it is the first pick for many allergy sufferers who need a bit more pressure relief and comfort while sleeping.
Make sure you check our detailed review of this 7-Zone Silentnight mattress.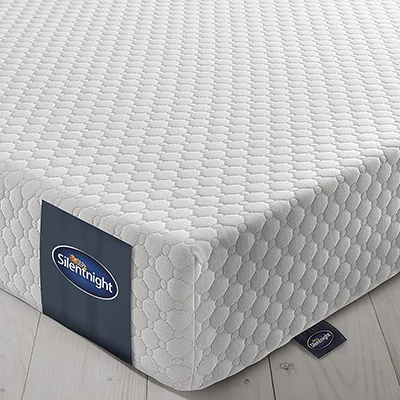 Very comfortable
Great at relieving pressure
A good fit for all sleeping positions
Good choice for people with allergies.
Some durability concerns
Known to sink in the middle
Excessive off-gassing.
Dormeo Memory Classic Mattress
Here we have another reasonably priced mattress, although a bit more expensive compared to Vesgantti mattress we've reviewed. 
All in all, this is a solid, all-around mattress that will serve you for many years, wthout any issues. It's comfortable, supportive – the mattress gives good value for money and will also fight off the allergens. 
While begin a bit expensive, this is a fantastic mattress from a known brand you shouldn't miss if you are not on the budget.
We have a full review on Dormeo Memory Classic model so take a look.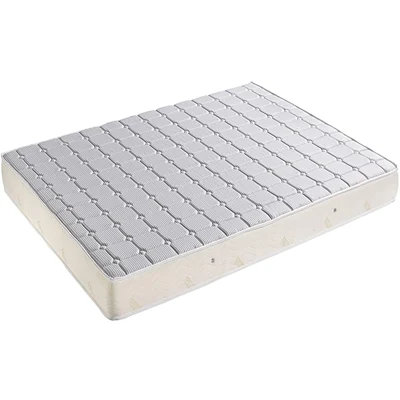 Great value for money
Quite breathable for a memory foam mattress
Hypoallergenic.
Some will find it too thin
No removable cover
Some edge support issues.
Consider Panda Luxury Memory Foam Bamboo Pillow if you are buying Vesgantti Gel Memory Foam mattress
If you want comfort and support in the same package, you have to go with a Panda Memory Foam Bamboo pillow. It comes with a bamboo-infused layer that will keep you free from sweating, while giving you enough support and comfort to sleep well.
Made from 3rd generation memory foam, this Panda pillow will not only help you prevent neck and headaches, but it will also help you battle allergies. Thee is a removable cover that you  can wash easily and keep it clean all the time. This is genuinely what a pillow should feel like.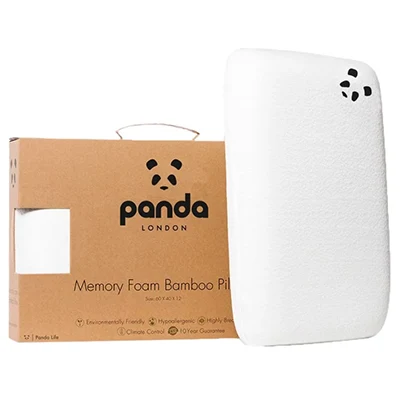 Hypoallergenic and antibacterial
Very supportive and comfortable
10-year guarantee, 30-night trial and a free shipping.
Not suitable for stomach sleepers.
What makes this product better than some other similar ones?
During the testing for our review, Vesgantti memory foam mattress has proven to be one of the best value picks in the United Kingdom, as far as memory foam mattresses are concerned. At this price point, there really aren't many mattresses that come even close, so we feel like it's safe to say that what gives this one an edge over some of the similar mattresses is the competitive price tag.
How did we test the product?
Before we could review this one, we had to place an order for it. To purchase this one, we simply had to visit Vesgantti website and place an order. But you could also order this one off of Amazon.
We've ordered a 4ft6 Double, which is the size most people go for. Of course, since we're based in the UK, we got free delivery, and after four days, we've had the mattress in our office.
The first thing we've noticed is that the mattress was well protected in plastic wrap and a cardboard box. To be fair, there was a little bit too much inner plastic for our liking, but honestly, it wasn't a big deal.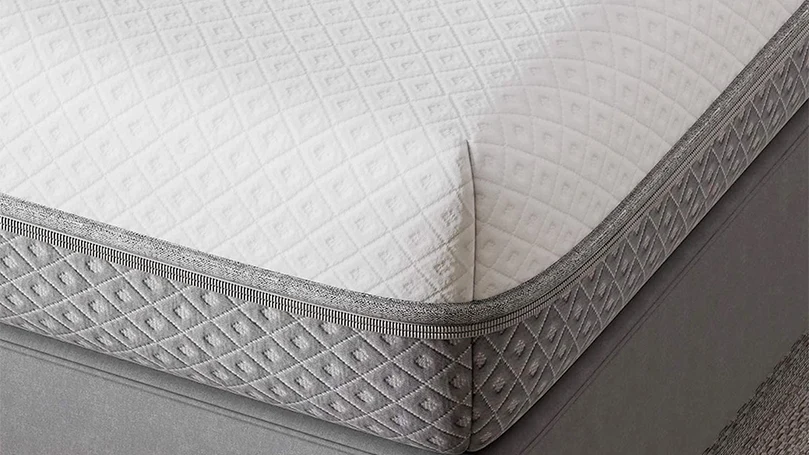 Upon unwrapping, there wasn't too much off-gassing, but we did notice that the mattress had started to expand only 10 seconds after unpacking, which we thought was terrific. However, it took almost three days for it to expand fully and for us to start testing it – the similar effect that we've seen in OTTY Bamboo Charcoal memory foam mattress.
The testing process was the same as always. We've all spent ten nights with the mattress, noting down our impressions and reactions. We've also done the durability, roller test and kettlebell test. According to our findings, Vesgantti memory foam mattress didn't really prove to be the most durable, but it wasn't horrible by any means. It will last you a few years, but don't expect to come anywhere near the 10-year warranty.
FAQs about your Vesgantti Gel Memory Foam mattress
Finally, let's wrap things up by answering some questions about this Vesgantti memory foam mattress.
How thick is this Vesgantti mattress?
There are two options here. This mattress comes at 23 and 26 cm thick.
What certifications does this Vesgantti mattress have?
This mattress is CertiPUR certified, meaning it's completely safe to be used by humans.
Does this Vesgantti mattress have a weight limit?
Yes. The weight limit for this particular Vesgantti mattress is 300 lbs or just over 135 kg, which is really low.
Can I use this Vesgantti mattress without a bed base?
It is not recommended to use any mattress without a bed base, mainly for hygienic reasons, but also for comfort and support.
Does this Vesgantti mattress come with a warranty?
Yes. This mattress comes with a 10-year warranty and a 100-night trial.
Do I pay a shipping/delivery fee for this Vesgantti mattress?
No. Shipping and delivery are completely free if you like in the UK. Just use one of your preferred payment methods to pay and you can expect the mattress at your door.