Visco Therapy 5000 Mattress Review
Ever since memory foam became available to general population, and it was originally designed for NASA missions, it has been the most frequently used material for sleep products. A large number of customers opt for memory foam mattresses and pillows. The Sleep Advisors reviewed one more memory foam mattress for you – Visco Therapy 5000 mattress.
Who is Visco Therapy 5000 mattress for?
If you are looking for entry level memory foam mattress, then you should definitely consider Visco Therapy memory foam 5000 mattress. 
Not everyone needs premium mattresses that cost even over £ 1,000, but many customers want an affordable, entry level memory foam mattress that will provide them with the comfort and support necessary for a good night's sleep at only a fraction of the price.
And Visco Therapy 5000 mattress fits into that category perfectly because it offers all you need at a lower price.
Add a header to begin generating the table of contents
What do we use this product for?
We use Visco Therapy memory foam 5000 mattress for support, pressure relief and comfort. People who suffer from chronic joint pain will greatly benefit from using this mattress that is recommended by chiropractors and doctors alike.
The mattress shapes towards your body, allowing you to sleep comfortably and while keeping your spine aligned, which is the first prerequisite for not waking up in pain. So, in essence, this mattress is ideal for:
Sleepers who suffer from joint, neck, shoulder & back pain
Sleepers who want a full contouring from their mattress 
Sleepers who don't want to spend a fortune on a mattress to sleep well
Sleepers who often wash their mattress covers. 
Features you should know about Visco Therapy 5000 mattress
The two different types of foam used for making Visco Therapy memory foam 5000 mattress, as well as the removable cover are the most important features you should know about this mattress. We will tell you more about hypoallergenic properties too.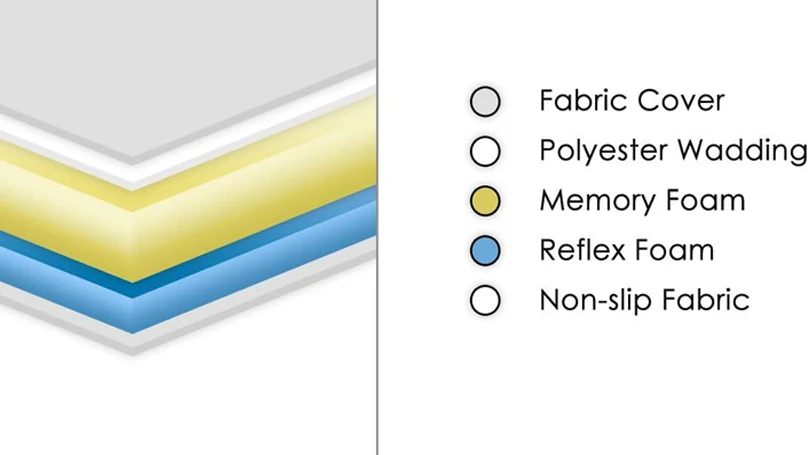 2cm top memory foam layer
Memory foam layer is a unique upper layer that is closer to your body and is 2 cm thick. Memory foam is heat sensitive, so the heat and weight of your body will cause that layer to mold and thus fit your body perfectly. This is why the high density Visco elastic polymer layer is placed so that it is closer to your body.
You will sink comfortably into this Visco elastic polymer gel layer, but you will not sink too much since the memory foam layer of high density is only 2 cm thick, and it also provides support to you during sleep, once it takes shape of your body.
Below the 2 cm thick top memory foam layer is a reflex foam layer that is 13 cm thick and forms the core of this mattress. Reflex foam is much firmer than memory foam and that is why this layer gives firmness to the mattress and is the main one for support. Without this layer, this mattress would be too soft, and above all it would not be able to support you, which is certainly not what you want when you buy a therapy mattress.
Easy removable & washable cover
You probably don't know how much dirt is on the sleeping surface. Sweat, dead skin cells and much more stays on the sleeping surface every night and that is why it is necessary to maintain it regularly.
This is very easy when the mattress, like Visco Therapy memory foam 5000 mattress has a zip off cover that you will remove quickly and then take it to dry cleaning. The downside is that it is not machine washable, but you will at least know that it is completely clean after dry cleaning. All you have to do is put it back on the mattress and sleep in a clean environment.
Hypoallergenic & Anti-dustmite properties
Foam and other polyester materials are used not only for comfort, durability and support, but also because they are hypoallergenic. When you buy a foam mattress, you can be sure that you will not have allergy problems, nor will your child if he or she use it. It is also suitable for people with asthma and allergy sufferers alike. Anti-dustmite properties are very important because dust mites are one of the most common allergens around us.
Review of Visco Therapy 5000 mattress
Visco Therapy 5000 mattress is an entry level memory foam mattress, which is very affordable. That doesn't mean it's poor quality mattress. Visco Therapy 5000 mattress has two layers of foam, the first layer 2 cm thick which is made of memory foam which is shaped towards your body under the influence of your temperature. The second layer is 13 cm thick reflex foam that gives support and firmness.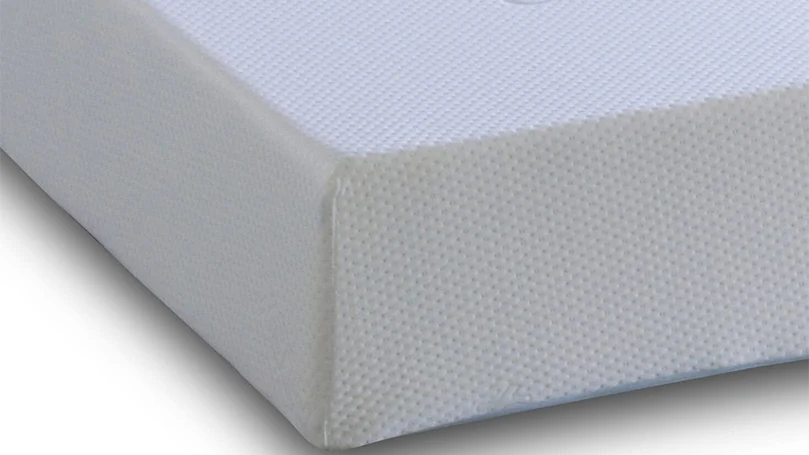 It has removable and dry cleanable cover. You can choose between regular and firm model, and your choice depends on your sleeping position. It is available in 7 sizes, including Small Single, which means you can buy it for a child.
Type: Memory foam
Firmness: 8/10
Thickness: 15 cm
Sizes: Single, Small Single, Double, Small Double, King, Super King, UK King
Warranty: 1 year. 
Affordable
7 available sizes
Removable, hypoallergenic, anti-dust mite cover.
Single sided
Slight breathability issues
Minor durability problems.
What we like about Visco Therapy 5000 mattress
Since it is an entry level memory foam mattress that is very affordable, Visco Therapy 5000 mattress is good quality mattress
Removable and dry cleanable cover will help you easily keep your sleeping environment clean
Suitable for all sleeping positions
Sleep trial & warranty. 
What we didn't like about Visco Therapy 5000 mattress
It is single sided mattress which means you can't turn it when dents appear
Breathability is not great so hot sleepers will find sleeping on it uncomfortable
Don't expect it to last 10 years or more like some premium mattress.
Check the alternatives to Visco Therapy 5000 mattress
If you do not want an entry level mattress, but want to spend more money on that purchase or you want a hybrid instead of a memory foam mattress, we recommend that you check the alternatives to Visco Therapy memory foam 5000 mattress, and these alternatives are Silentnight Miracoil Mattress and Emma Original Hybrid Mattress.
Silentnight Miracoil Mattress
If support is most important feature to you when buying a mattress, then you will be very happy with this mattress because Miracoil technology provides great support. 
Hot sleepers might also want to consider buying Silentnight Miracoil Mattress because it is surely among the 5 most breathable memory foam mattresses on the United Kingdom market. 
If we look at the price to quality ratio, this mattress is very affordable and it's an investment that is worth your time and money as well.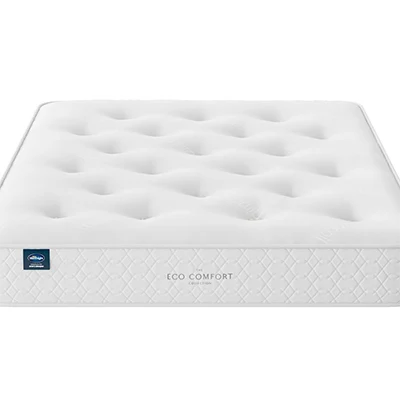 Support
Pressure relief
Hypoallergenic. 
Cover is not removable
Too firm for some customers
Single sided.
Emma Premium Hybrid Mattress
The combination of springs and memory foam layers makes hybrid mattresses an increasingly popular option. Since Emma is one of the premium UK sleep companies, no need to to go too much in details about the company and materials. 
Original Hybrid mattress is definitely worth your attention, especially if you want to get more pressure from your pillow.
 It is supportive and comfortable, also pressure relieving because it suits your body perfectly and it is so durable. It would not surprise us if it lasts you more than a decade.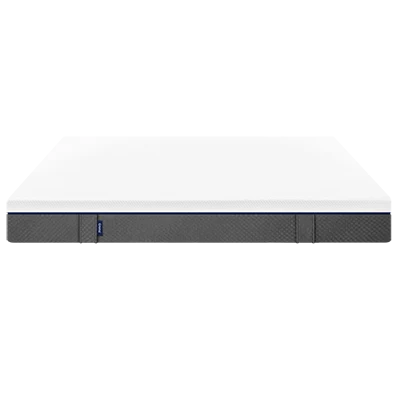 Durable
Pressure relieving
Free delivery.
Not great if you have slatted base 
High price tag when compared to similar products
Not for hot sleepers.
Consider Eve Memory Foam Pillow if you are buying Visco Therapy 5000 mattress
This pillow is made of very responsive memory foam, so it will be able to meet the requirements of a large number of different customers. 
It is very supportive and comfortable, so we recommend it to people with pain-related problems. It will give you enough support for your neck or shoulders, which will result in a comfortable and pain-free sleep. 
The Eve Memory Foam pillow is durable and comes with a 2 year warranty. It is available in only one size – 50×75 cm.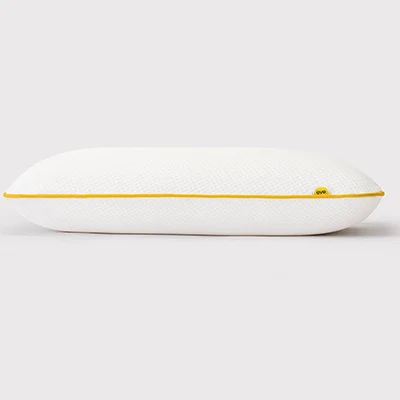 Removable cover
Durability
Support.
Only one size
More expensive when compared to similar pillows
Avoid it if you want soft pillow.
What makes this product better than some other similar ones?
Visco Therapy 5000 mattress stands out for its price. While, of course, there are certain shortcomings compared to more expensive mattresses, these shortcomings are much smaller than the price difference. That is why it is one of the best entry level mattresses on the market and in terms of quality and support we would say that it is close to midrange products.
How did we test the product?
Delivery of Visco Therapy 5000 mattress is free of charge and it is usually dispatched within 6 to 10 days. That period can be even longer, and we would otherwise consider that as minus if it was a more expensive mattress. In this case, it is worth waiting for those few extra days.
The mattress arrives rolled and vacuumed, and if you have ever bought a mattress in a box, you know that after that you have to leave it for 48 to 72 hours before you can sleep on it in order to fully expend. After unpacking you will feel off-gassing, but don't worry, it's the usual smell of memory foam. The mattress is made in the UK in accordance with British standards regulations so it is free of harmful chemicals and meets all fire regulations.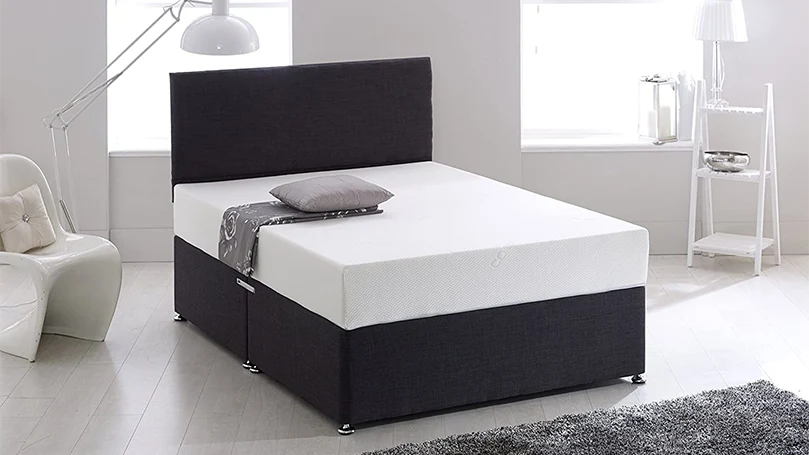 At the very beginning of testing we could not feel any difference compared to premium mattresses. Nevertheless, during the overnight test we felt a lower level of support compared to premium mattresses, but the support as well as the comfort were at a satisfactory level. We're not going to say you'll sleep on it better than ever before, but it's definitely a good upgrade over the old mattress you currently have. Breathability is not great and it will be felt primarily by hot sleepers, while for others it will be a problem only during the summer.
The zip off cover is very easy to remove and put on the mattress.
FAQs about your Visco Therapy 5000 mattress
If you still have second thoughts about whether Visco Therapy 5000 mattress is the right choice for you or not, we will do our best to solve these dilemmas by answering some of the most common questions customers have, in our FAQs section.
How do I clean my Visco Therapy 5000 mattress?
You clean your Visco Therapy 5000 mattress by taking removable cover for dry cleaning and vacuuming the mattress.
Is Visco Therapy 5000 mattress good for side sleepers?
Visco Therapy 5000 mattress is good for side sleepers if they choose "regular comfort" model.
Should back sleepers sleep on Visco Therapy 5000 mattress?
Back sleepers will find this mattress very comfortable and they can choose both regular or firm model.
Can stomach sleepers use Visco Therapy 5000 mattress?
Stomach sleepers are going to enjoy sleeping on Visco Therapy 5000 mattress if they buy "firm comfort" model.
Is Visco Therapy 5000 mattress good for sleepers with back pain?
Yes, Visco Therapy 5000 mattress is recommended by chiropractors and doctors alike for people with back pain. In addition, people with neck and shoulder pain can benefit from this mattress as well.