Best Mattress for Kids And Youngsters - Top 6 2022 Picks Reviewed
A high-quality mattress can help your child sleep better and we all know how important sleep is for proper development…
It's common knowledge that all of us can benefit from a good night's sleep, but kids are dependent on it more so than us. A healthy sleeping regimen and schedule will help them grow, learn and develop the way they should. Furthermore, youngsters need a lot more sleep than adults do, which makes finding the perfect mattress even more important.
In the following paragraphs, we'll try and crown the best mattress for kids and youngsters and guide you through the selection process of a single be with mattress, covering all the important features and properties one might look for in a mattress. We won't add bunk beds with mattresses as we have a selection of the best bunk beds with desks. Let's get started! 
Add a header to begin generating the table of contents
Finally, it's time to take a closer look at our top picks for the best mattresses for kids. We've done our best to stay objective, compare all important features, listen to customer feedback and provide you with an unbiased image of a product, so you can make the decision knowing you've been informed correctly. Let's take a look at our picks!
IMAGE
PRODUCT
DETAILS

KEY FEATURES:

Size:

120x60 cm & 140x70 cm

Thickness:

10 cm

Type:

Hybrid

Warranty:

5 years

View Latest Price

KEY FEATURES:

Size:

6 different sizes

Thickness:

18 cm

Type:

Hybrid

Warranty:

No warranty

View Latest Price

KEY FEATURES:

Size:

170x75cm (Available in King as well)

Thickness:

10 cm

Type:

Memory foam

Warranty:

No warranty

View Latest Price

KEY FEATURES:

Size:

3 sizes

Thickness:

16 cm

Type:

Hybrid

Warranty:

5 years

View Latest Price

KEY FEATURES:

Size:

3 sizes

Thickness:

24 cm

Type:

Hybrid

Warranty:

5 years

View Latest Price

KEY FEATURES:

Size:

190x90 cm (Single)

Thickness:

23 cm

Type:

Pocket Sprung

Warranty:

No warranty

View Latest Price
1. BEST OVERALL: Panda Kids Memory Foam Bamboo Cot & Cot Bed Mattress
A perfect toddler bed mattress!
This mattress from Panda is arguably one of the most complete mattresses for kids under the age of 5. It's a six-layer, bamboo/foam mattress that uses several patented technologies like Hydro Foam and AirFlow Foam to provide the ultimate comfort, stability, support and breathability.
On top of all that, we're looking at a mattress with a hypoallergenic cover and a waterproof layer – making it ideal for small children who still occasionally wet the bed. All in all – this is a great all-around product.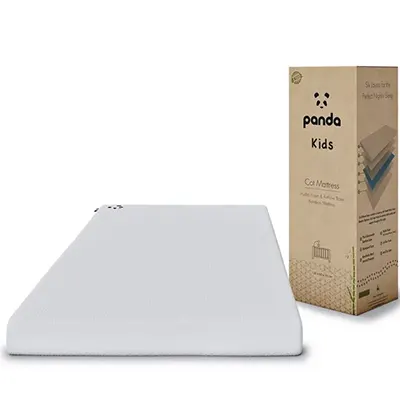 2. BEST VALUE: Extreme Comfort Cooltouch Essentials Mattress
A value option for those shopping on a budget!
Shopping on a budget can be quite taxing, but luckily, this toddler mattress offers more than you could ask for at an affordable price. It's a hybrid mattress, which means it's quite solid in both support and contouring.
It's 18cm thick, which is slightly more than ideal for small children, but at this price range – that's not something that should be worrying you. Unlike our top pick, this one does not have a removable cover.
3. BEST FOAM: Visco Therapy Memory Foam Mattress
This is what a foam mattress for kids is supposed to feel like!
If you're simply in the market for a regular, memory foam mattress – this is the one. Visco Therapy's memory foam mattress for kids is just that – mattress for kids. Even though you can get it in king size – it's too soft for any adult.
But the kids will love it. It's plush and comfortable, offers great alignment for side sleepers and is hypoallergenic, as well. Unfortunately, there's no warranty for this model, but judging by the build quality it should last just like any regular mattress. One of the best beds for 2 year olds.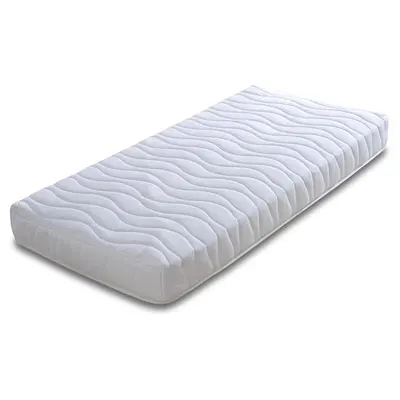 4. BEST HYBRID: JAY-BE Simply Kids Mattress
Simply Kids, simply for kids! Best firm mattress for kids!
This beautiful, two-coloured mattress will be your kids' favourite thing in the room – after all the toys and fun stuff, of course. This hybrid mattress brings a lot to the table. The innerspring layer provides great support, even for teenagers and the memory foam makes it quite comfortable.
In addition to those two, we have a sustainable, eco-friendly, e-Fibre comfort layer for moisture and temperature regulation, as well. All in all – a solid, all-around product.
5. BEST FIRST BIG KID BED: Silentnight Kids Foam Free Mattress
 A mattress for the smoothest transition from a kid to a teen!
Silentnight provides us with a great hybrid that puts together traditional, pocket springs for support and proper alignment with natural, chemical-free memory foam for odourless comfort.
The outer layer is made from Eco Comfort Fibre for added breathability and temperature regulation. The cover is non-removable, but since we're talking about a "big-kid" mattress – that's not as important as wet accidents rarely happen at this point. We can say safely it is one of the best  beds for 3 year olds!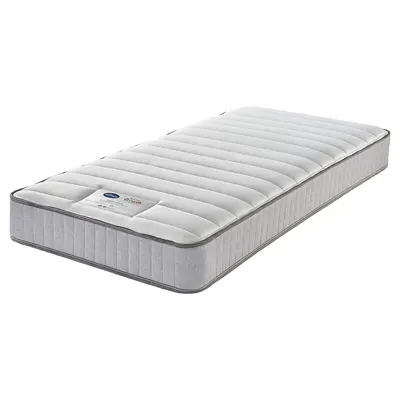 6. BEST COOLING: BedStory Pocket Sprung Mattress
For kids that sleep hot!
If your kid frequently gets hot during the night and you're constantly finding the covers around its feet instead of over its body you should probably get them this bed. Pocket sprung mattresses have been known to be the best at regulating body temperature and this one is no different.
Compared to the others on our list – it's definitely the best at it. On top of all that, its memory foam outer layer adds a nice touch, providing comfort, on top of the support provided by pocket springs.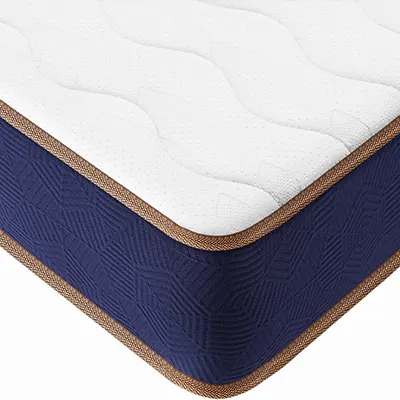 What to consider when buying best mattress for kids?
Before we get into our picks, we need to tell you more about the defining features of a mattress. As you already know, not all mattresses are the same – just like not all the kids are the same. On that note, here are some of the key features we've paid special attention to when we were making our list
The type of mattress defines the mattress in more ways than one. It defines how firm or soft the mattress is, it defines how bouncy or isolating it is, it defines whether it gets hot or not and so much more.
In general, there are four main types of mattresses – memory foam, innerspring, latex and hybrid. In addition to these four, we can find airbeds, as well, but those aren't nearly as good or as popular as the main four.
As you might've guessed, there is no "right" mattress size for your child. Your kid will outgrow the cot mattress and grow into a regular-sized one, so it's important to choose a mattress accordingly.
The sizes of these mattresses vary quite a lot, but in most cases, you'll look for a small single or a small double, unless you're buying a mattress for a child under the age of five, at which point you should consider even smaller form factors.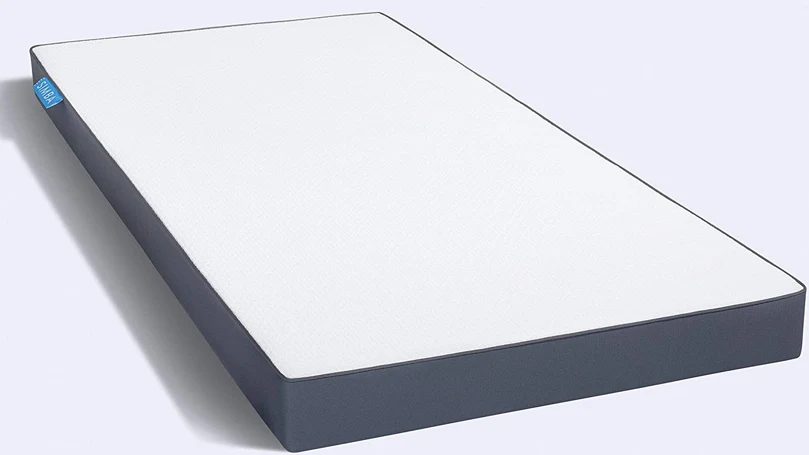 When choosing the right size, you should look into the future, especially if the kids are very young. They'll grow quickly and you wouldn't want to waste a perfectly fine mattress after only a year or two.
Kids sleeping position will greatly affect which kind of mattress you go for. In this case, we're talking mostly about the mattress type.
For example, children sleeping on their backs generally have it easier when it comes to mattresses as pretty much any level of firmness will be satisfying, so you can choose any of the four types we mentioned before.
On the other hand, if your kid sleeps on the side, they need a softer mattress, so you should probably steer in the memory foam direction to allow for better contouring and alignment during the night.
Finally, if your child's a stomach sleeper – a medium-firm innerspring or a hybrid should do the trick.
Contouring refers to mattresses' ability to adapt to the kid's body. Naturally, the better the mattress contours around the body – the better it distributes weight and relieves the pressure from sensitive areas like hips and shoulders. Once again, memory foam mattresses are quite good at this, but hybrids can also do a pretty sound job.
Now, kids usually don't suffer from sleep-related aches and pains, but they do grow and that can hurt quite a bit. In those situations, mattresses for kids can come quite in handy in relieving the child from the annoying growing pains.
Additionally, a contouring mattress can replicate a hug feeling, making it easier for your child to fall asleep on their own.
Motion isolation can be quite useful if your kids are sharing a bed or if your kid's just a restless sleeper.
In a case where your kids sleep together, it can be quite beneficial if they can't feel the movement of the other kid. They won't wake up during the night and they'll get up in the morning feeling fresh and restless.
Related reading: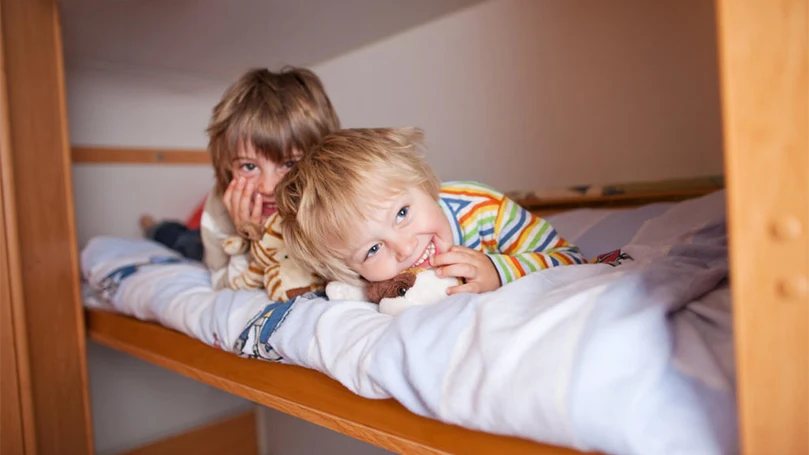 Any kind of medium soft mattress will be good at this, regardless of the type, but pocket sprung and memory foam mattresses are known to be the best at motion transfer isolation.
The firmness of the mattress is one of the features that's partially subjective, but still, there's a general set of rules that work pretty much all the time. Namely, the firmness of the mattress should be chosen, at least when it comes to kids, based on their age and sleeping position.
When they're very young, under the age of 3, the mattress should be as firm as possible, to prevent any mishaps from happening. Later on, you can pay attention to how your child sleeps and choose accordingly. In general, memory foam mattresses are the softest and the innerspring mattresses are the firmest.
Edge support in mattresses is very important when the kids are transitioning from a cot to a regular bed. Since regular beds don't have their sides up as a cot bed does, kids will need some form of "edge" in order to feel secure laying on the mattress.
A soft, mellow edge might give out the feeling that they'll fall off the bed if they move too close to the edge, which might make your kid insecure and frightened to sleep alone in the bed. However, edge support is not only about a "feeling". A quality, firm edge will offer substantially more support to anyone in bed while also making it easier for kids to get in and out of bed.
Some mattresses trap heat and those are the ones you ideally want to avoid unless your kid gets very cold during the night. But even then, we'd suggest trying a new blanket or upping the temperature in the room.
A quality mattress for kids should dissipate heat, not trap it. if a kid gets warm or sweaty during the night, the last thing you want is the mattress making it even worse. In general, latex and hybrid models are the best at temperature regulation, followed by the innerspring, with the foam mattresses in the last place. However, many modern memory foam mattresses for kids have temperature regulating properties, as well.
Tips for buying and using best mattress for kids
Before we move on to our top picks, we should probably stop and take a look at some additional tips for buying and using mattresses for kids.
First of all, you don't have to break the bank to buy a mattress. Even though higher-quality models will come at a higher cost, keep in mind that your child grows and that they won't use the same mattress for 10 years like an adult might do.
Next up, if you're not certain whether to get a soft or firm mattress – get a firmer one. You can always use a mattress topper to make a mattress more comfortable, but you can't make it firmer and more supportive.
Finally, if your child's a light sleeper, you might want to choose memory foam or a quality hybrid mattress. Most mattresses for kids won't make too much noise, but just to be sure, avoid getting traditional innerspring mattresses for your kid.
Don't overspend on a mattress
When in doubt – choose firmer
Avoid innerspring mattresses if your child's a light sleeper.
The advantages of owning best mattress for kids
As we've said in the beginning, sleeping on a quality mattress is especially important for kids. Here's why.
First of all, a quality mattress usually translates to quality sleep and we all know how important sleep is for children and their development. Depending on their age, kids usually need somewhere between 9 to 13 hours of sleep, per day.
Next up, kids, just like adults, can suffer from allergies. Therefore, a quality, hypoallergenic mattress can help alleviate their symptoms.
Finally, keeping the body properly aligned is very important at an early age. It's been shown that an appropriate sleeping position lowers the chance of spinal deformities and helps the body develop in the right way.
Improves sleep quality
Can help with allergies
Helps with the development.
FAQs about your new mattresses for kids
Finally, we went online to check if there are some questions that needed answering and we haven't covered them so far. Sure enough, there were a few, so, let's hear them out.
What type of mattress is the best for kids?
In general, you'd ideally look for a medium-firm foam or a hybrid mattress for kids over the age of 5 and a firm memory foam mattress for younger children.
What is the ideal mattress thickness for kids?
Ideally, we'd recommend using low-profile mattresses for kids, no more than 5 inches thicker.
Does the type of frame matters when it comes to choosing a mattress for kids?
The frame will dedicate how big of a mattress you can buy, especially if you're shopping for a cot or bunk beds.