What Is A Hybrid Mattress & How To Find A Good One?
Have you ever considered the fact that you spend a third of your life on a mattress? Although this is true for 99% of people in the world, most know very little about the different types of mattresses, and even about the basic importance of mattresses.
It is clear that people who are not part of the sleep industry cannot know every characteristic of mattresses, pillows and other products. The sleep industry has advanced so much in recent decades that you need a NBF course to learn even basics. But when it comes time to buy a new, perfect mattress, it is important that you do not make a decision lightly.
When you start searching online stores and websites you will be overwhelmed by the market size. You probably won't know where to start. But that is not a reason to give up, on the contrary. You need to dedicate time to familiarize yourself with basic materials, sleep industry terms and models. Let's start with hybrid mattresses! We will explain to you what hybrid mattresses are and how to find good one.
Add a header to begin generating the table of contents
How can I recognize a hybrid mattress in the first place?
Hybrid mattresses are a newest addition to the sleep market, although they have been around for more than two decades as well. Sleep experts devised this type of mattress shortly after memory foam became available for commercial use in the early 1990s. Memory foam brought a revolution when it became the material from which mattresses and pillows are made, not just cushions for NASA astronauts.
A hybrid mattress is easiest to define as a mattress that contains more than one support system. Classic mattresses have a support system made of memory foam, innersprings, latex and so on. While hybrid mattresses are a combination.
Combination is the only way to get best of both worlds. The most common combinations are springs and memory foam, but there are other combinations that we will talk more about in the next paragraph. Another type to mention are semi-hybrid mattresses, although they are not as common in the UK sleep market. Semi-hybrid mattresses have a so-called pillow-top cover over the basic support system and the feeling is quite similar to when you lie on a hybrid mattress, although it is not the same. There are also hybrid mattresses with pillow-top cover where pillow-top cover has the function of a third support system, primarily to further improve comfort.
What is a hybrid mattress made of?
There is no clear definition of a hybrid mattress. So we don't know exactly what a mattress must be made of to be considered a hybrid. Some manufacturers and retailers classify only those that contain springs and memory foam as hybrid mattresses. There is a different approach too, so any other combination, such as springs and wool, is considered a hybrid likewise.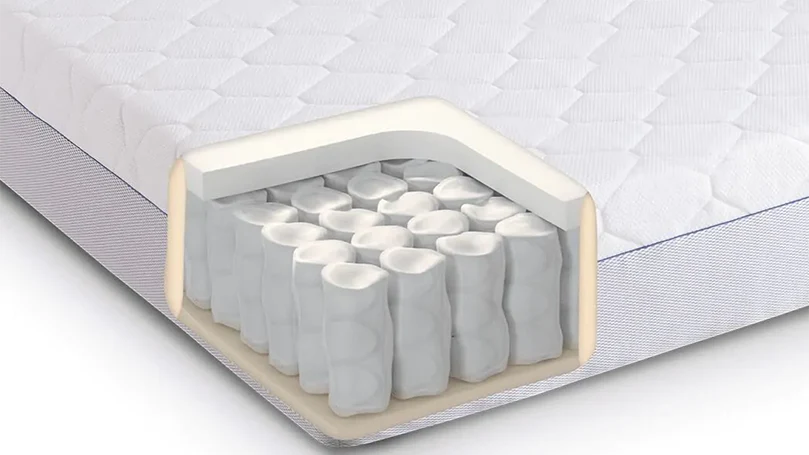 You will certainly find a combination of metal coils or some other type of springs and memory foam most often. Some hybrid mattresses are practically all-foam because the springs are also made of foam, but they can be considered hybrid because they have two different types of support system. Semi-hybrid mattresses that have a pillow-top cover usually contain gel, foam or some natural material such as wool and cotton. Microfibre and hollowfibre are increasingly popular options as well.
What is the difference between sleeping on a hybrid mattress and on a memory foam mattress?
There is not just one type of memory foam mattress and a hybrid mattress. The models have significant differences even though they belong to the same category. Therefore, we cannot say that support, firmness or some other characteristic are always different and that is the major difference between sleeping on a best hybrid mattress and on a best memory foam mattress.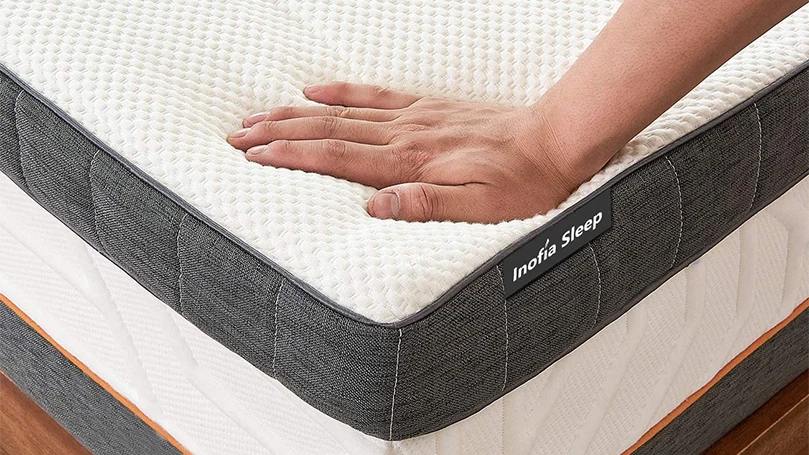 But in general we can find some differences. Hybrid mattresses tend to be more expensive and firmer. Premium hybrid mattress is around 20% more expensive than premium foam one. Memory foam mattresses can be firmer compared to hybrid ones only if ultra high density memory foam is used for the core. In other cases, the hybrid mattress is usually firmer. Hybrid mattresses often have better edge support and bounce, while foam mattresses are best in motion isolation. 
Due to body moulding and softness side sleepers usually prefer all foam mattresses, while back, stomach and combination sleepers find hybrid one comfortable. However, until you try a few models you will not be sure which is ideal for you, as both foam and hybrid can be suitable for any sleep position.
Hybrid mattress VS Innerspring mattress
Innerspring mattress is a traditional type of mattress and is not versatile as foam and hybrid models. Support layer of innerspring mattresses usually consists of continuous coils or some other type of coils like bonnell. Apart from pocket coils, all other types of coils are characterized by poor motion isolation. Innerspring mattress is firm and bouncy, so it is suitable for stomach sleepers and for people with higher BMI. Also, hot sleepers like it due to breathability and most innerspring mattresses are significantly cheaper. But side and back sleepers as well as average users will benefit much more from a hybrid mattress.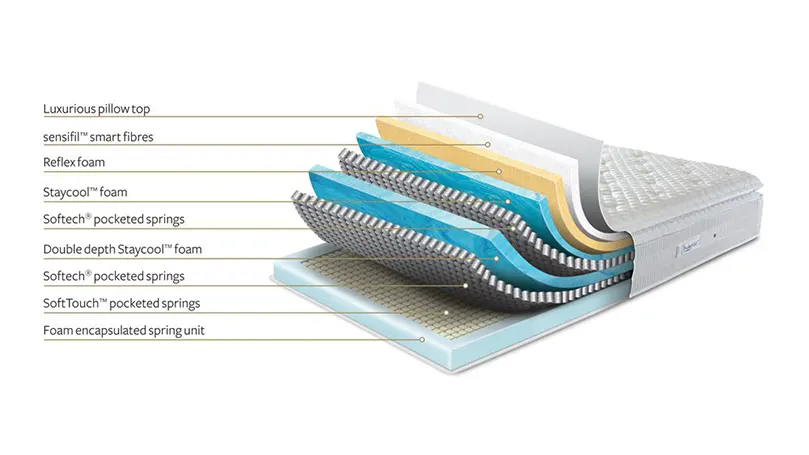 Do I need a box spring for my hybrid mattress?
The primary roles of box spring are to increase height and improve support, which means you don't need box spring when you buy a hybrid mattress. This type of mattress excels in those categories. However, if you want, you can continue to use box spring. Box spring will certainly not spoil the performance, on the contrary, it can only further improve them.
That is why the decision is up to you. Don't forget to calculate the height of the mattress and box spring, as it can happen that the bed becomes too high for someone who has certain health problems. In other cases, that is your call, and box spring is certainly not a mandatory addition to your new hybrid mattress.
7 reasons why you should get a hybrid mattress
Buying a mattress in general is not a small investment. It should definitely not be your goal to save, because the mattress is so important and also lasts a long time. The average service life of a hybrid mattress is longer than 8 years. Nevertheless, when you see the price of one of the better hybrid mattresses, it can make you think about whether it is really necessary to spend so much money on one product.
We certainly think that no mattress is too expensive, when we consider how positively it affects your daily life. And it can also have a very negative effect if it is uncomfortable. To convince you that a hybrid mattress is worth your money, we have selected 7 things hybrid mattresses offer.
They are generally more comfortable than other types of mattresses
Memory foam mattresses are very comfortable, but sometimes you could use a bit more support and bounce. Innerspring mattresses will keep your body in line, but most likely they will not give you perfect comfort. That's why hybrid mattresses were invited in the first place. They combine the best features of different types of mattresses and then you get the best possible comfort. After a few nights, when your body gets used to the new mattress, you will wonder how you could ever sleep on another type of mattress.
They are great for pain treatment
If you are over 30, you have probably experienced pain in some part of the body after long and hard day. Chronic pain is also caused by diseases such as arthritis, degenerative changes in the spine and rheumatism. A hybrid mattress will help you sleep comfortably and wake up pain free. Thanks to the pressure relief foam comfort layer and support of springs, your body will not be exposed to strain during the night.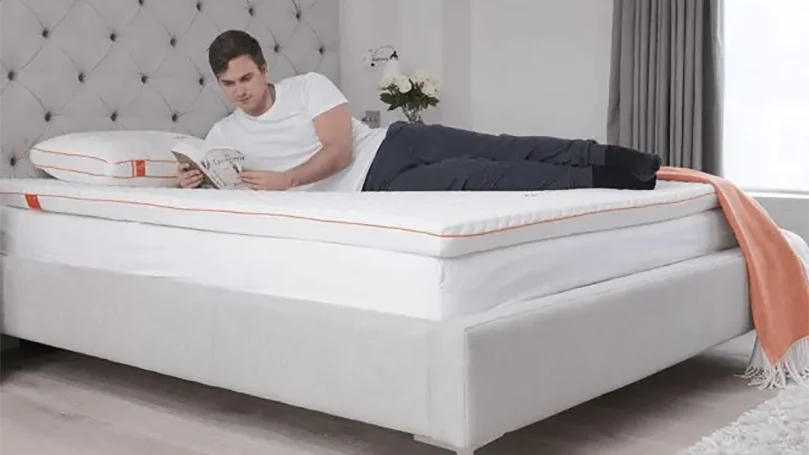 They come with various firmness levels
It is almost impossible to find a very firm memory foam mattress or soft innerspring mattress. This limits your choice. But that is not the case with hybrid mattresses. You can find quite soft models as well as firm ones, depending on your needs. By combining different coil gauge and foam density, manufacturers can achieve virtually any end product they want.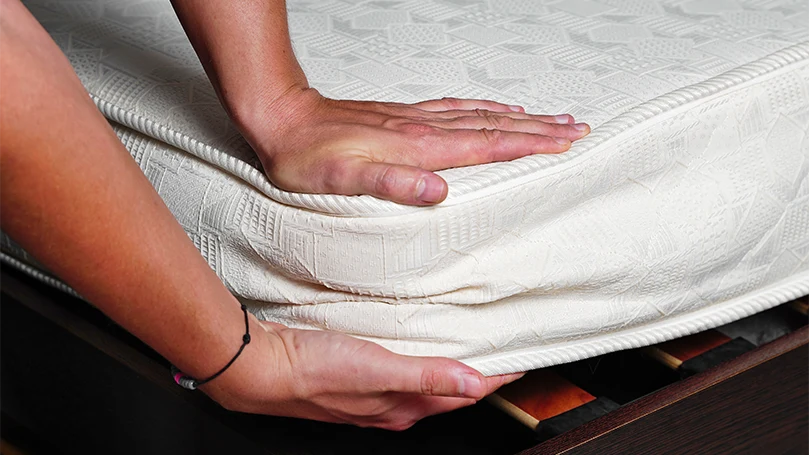 They are almost 100% suitable for all sleeping positions
This brings us to another advantage of hybrid models. We have already mentioned the types of sleepers that choose foam or innerspring mattresses. We also talked about characteristics that disqualify 99% of innerspring mattresses for side sleepers, for example. On the other hand, every type of sleeper can find a hybrid mattress that offers exactly what he or she is looking for. Versatility of hybrid mattresses is unparalleled.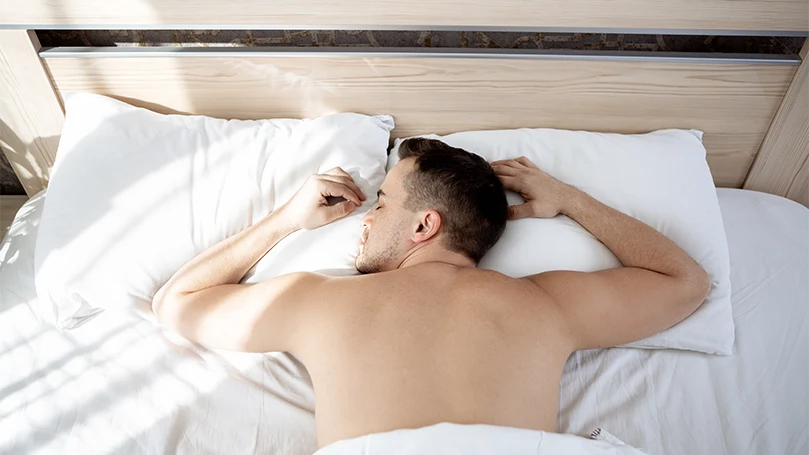 They don't have motion transfer
We can't say that hybrid mattresses beat memory foam mattresses in this category, but they certainly don't lag behind. The foam layer is enough to neutralize the tossing and turning of your partner. Pocket sprung mattress is known to provide topnotch motion insulation too, and usually hybrid mattress features pocket springs. So if you are not sleeping alone and especially if you are light sleeper, don't worry, you will have peaceful night's sleep without roll-together.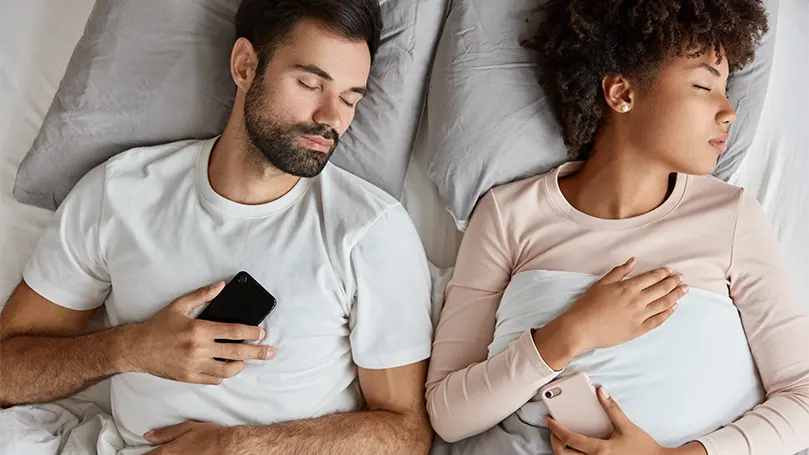 They are easier to care for
You have to maintain the mattress to prolong its service life. But you certainly don't want to spend a lot of time to maintain it. Traditional mattresses require a lot of maintenance to last, while hybrid mattresses are not demanding. Most of them are one-sided which means rotating once in a while is all you need to do. There is no need to flip them, which is not easy at all if the mattress is heavy, even if it has side handles.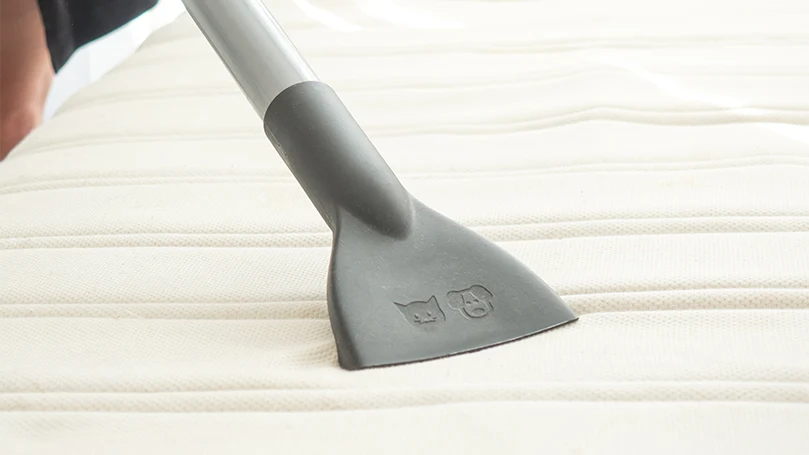 They are more eco-friendly
Eco-friendliness has become one of the features that customers pay the most attention to. This is certainly a great trend, because pollution has reached such a level that we need to start paying attention to our environment while we can still reverse the adverse effects of pollution. Most modern hybrid mattresses are eco-friendly, vegan-friendly and carry some of the certificates such as CertiPUR, which guarantee that no harmful chemicals are used during production.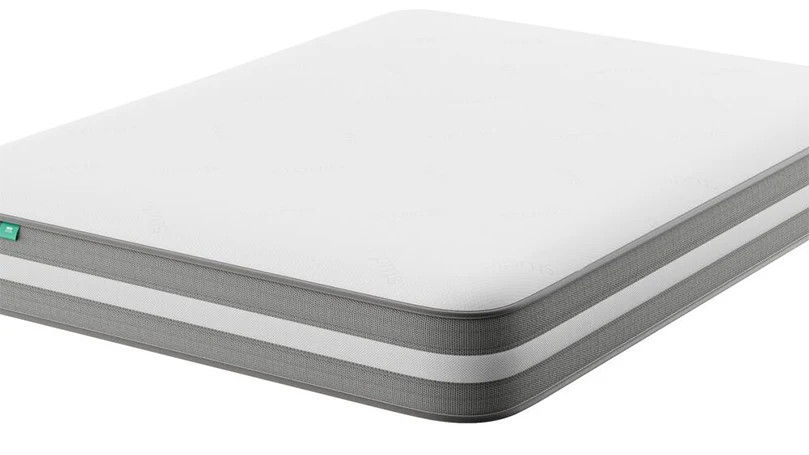 Are there any downsides of hybrid mattress?
Can you name one thing in the world that is perfect? That's what we are talking about. Everything has its advantages, but also its disadvantages. Thus there are certain downsides of hybrid mattress too. When they first appeared on the market, these mattresses had significantly more downsides than today. The manufacturers have managed to overcome most of these downsides and now only a few remain, none of which are major.
They tend to get hot quickly
Traditional memory foam is one to blame for this. Polyurethane foam is nothing short of revolutionary, but heat retention and breathability have always been a problem. As most hybrid mattresses contain at least one foam layer, then they also have a problem with heat retention. We think you won't feel this if you are not hot sleeper.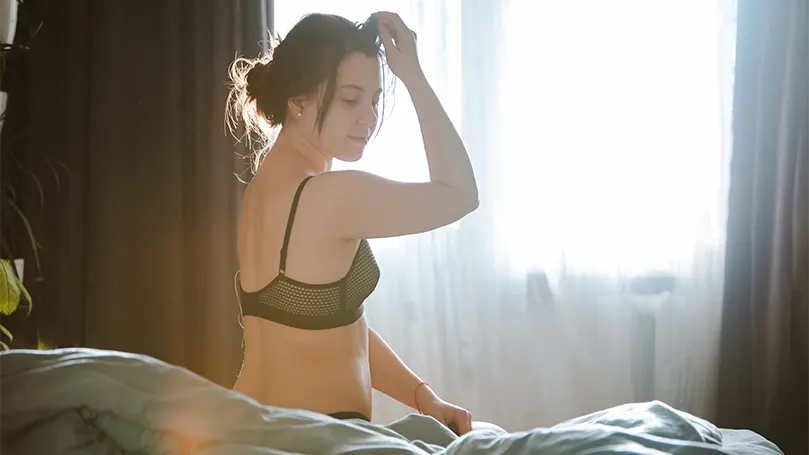 We have already mentioned the price tag several times. If you have a small budget, then the price of some hybrid mattresses may be too high for you. We still believe that you should invest in one premium mattress. Most sellers and manufacturers offer installment payments, so that is your chance to buy a mattress that might otherwise be too expensive.
How to solve hybrid mattress overheating problems?
We have already offered you a solution for the price, which are monthly payments. Also, you can wait for the holiday season because then many products will be on sale. Now let's focus on ways to solve hybrid mattress overheating problems.
Look for models with air vents
More and more hybrid mattresses come with air vents. You will surely notice the air vents, as these are large vents that are arranged on the side of the mattress. There are models with air vents just on one side and models with 6 or more vents. Air vents significantly improve breathability.
Look for models that have climate control (removable) covers
The role of cover is much bigger than one would think. It is certainly very important that the cover is removable and washable in order to always sleep in a clean and allergen-free environment, free of dust mites and similar pests. But don't forget to pay attention to whether the cover has climate control features.
Look for models that use cooling materials and gels
Many memory foam mattress manufacturers have decided to implement a cooling gel. The gel absorbs excessive heat and thus makes sleeping comfortable. Gel is not the only solution, as there are cooling materials such as bamboo and eucalyptus that also make memory foam and hybrid mattresses much cooler.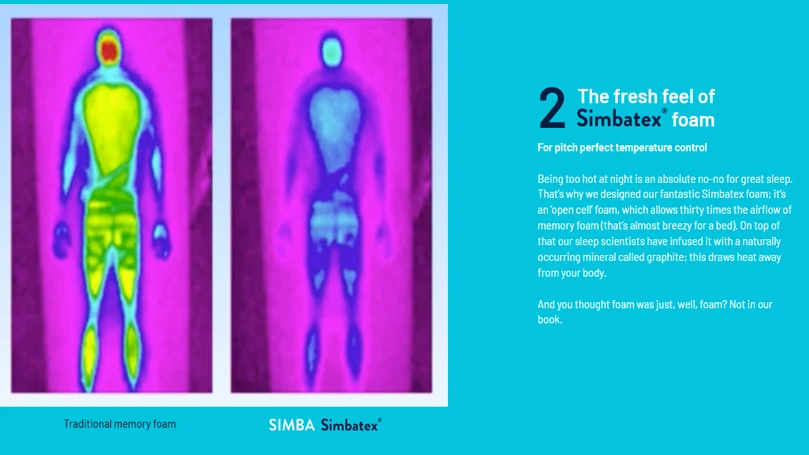 Conclusion - who should use hybrid mattresses?
Finally, we can conclude that more than 95% of customers should use hybrid mattresses. Many different models of hybrid mattresses are available on the UK sleep market, so everyone will find exactly the features they are looking for. Also, hybrid mattresses are in general very versatile and even combination sleepers have no complaints.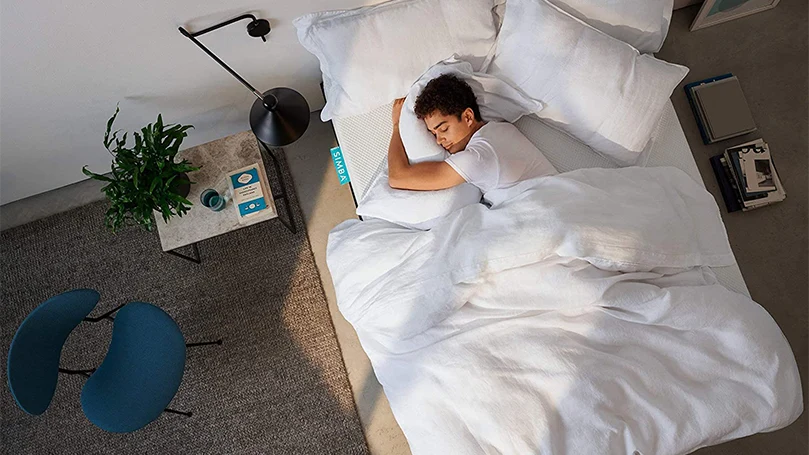 They give us the best of both worlds. Spring system provides support, bounce and breathability, and foam layers are shaped towards our body, they are comfortable and neutralize the motion of the partner in bed. Manufacturers have also solved the problems of hot sleepers with foam layers by adding air vents, gel or some of the natural cooling materials.
The price is usually higher than average, but buying worthy hybrid mattress is a well-worth investment. They have a long service life, and most manufacturers give a 5+ year warranty so you won't have to think about a new mattress anytime soon.