Sleeping in fresh bed linen is everyone's favorite feeling. But are you tired of having to change duvet covers often? If the answer is yes, then you are certainly happy to see more and more coverless duvets on the UK market. Night Owl duvet is also coverless, but that's certainly not the only reason we decided to test it. Let's find out together what is product has to offer.
Who is Night Owl duvet for?
It was hard for us to find a group of customers for whom Night Owl duvet would potentially not be good. So it can be said that Night Owl is a duvet for practically everyone.
Available in two warmth and four sizes, hypoallergenic and home washable, it can give everyone a great night's sleep. You can choose between five different colours, so it will once again meet the expectations of most customers. Of course, one-size-fits-all does not exist, but this duet is very close to that.
Add a header to begin generating the table of contents
What do we use this product for?
What we use Night Owl duvet for depends on whether you choose the year round 10.5 TOG version or the summer 4.5 TOG version. We use the year round model to keep us warm in winter, but also to make us feel comfortable when it is warm. The summer version is a light duvet, which is ideal for the hot months.
We use it for versatility
We use it for breathability
We use it for hypoallergenic features
We use it for easy maintenance
We use it for preserving our environment.
Features you should know about Night Owl duvet
So far, we have told you some general characteristic of this product. However, we know that is not enough for you to create valid opinion about Night Owl duvet. Now comes part of our review where we break down each important feature individually.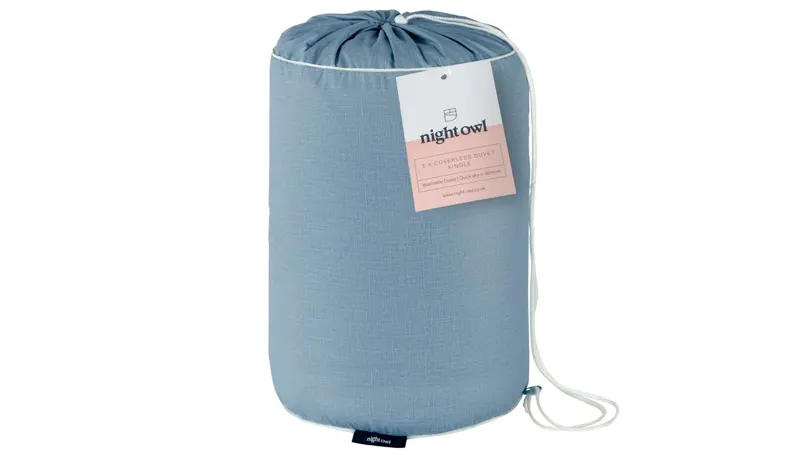 The manufacturer has decided to offer two versions of this duvet – summer and all season. First let's explain what TOG is. TOG stands for thermal overall grade and is used in the textile and similar industries to show thermal resistance. For summer and warmer days, a TOG rating between 3 and 7 is recommended, all season duvets have a TOG rating between 7 and 12, while over that the TOG rating is suitable for winter.
You can buy 4.5 TOG summer Night Owl duvet and 10.5 TOG all season Night Owl duvet. That's usually enough for the winter because the climate in the UK is mild and most people have central heating. However, in colder regions, a warmer duvet than this may be needed for the winter.
Soft printed polyester cover
Polyester cover is very soft and comfortable so we think it will suit even those customers who prefer cotton. It is very gentle on the skin and you really don't need a separate duvet cover.
Printed polyester cover looks nice no matter what color you choose, and what is even more important is durability. We don't expect wear and tear to appear any time soon, although you will wash it often.
100% Smartfill polyester from Recycled PET bottles
We are always happy when we have the opportunity to test an eco-friendly product, because it shows us that more and more manufacturers are thinking about preserving our environment and using sustainable materials. This duvet is filled with Smartfil polyester.
Smartfil polyester is obtained from recycled PET bottles. So remember when you buy a Night Owl coverless duvet you participate in the efforts to reduce the huge pollution since less plastic get to the ocean when PET bottles are recycled. Smartfil polyester filling is sofy and cozy just like microfibre.
Night Owl Duvet is a great choice for all people who suffer from allergies. It is made of hypoallergenic materials and is not a suitable environment for dust mites and other common allergens. Also, because you can fully wash it, it will always be perfectly clean, free of dust, dead skin cells, body oils and other dirt.
Even if you do not have allergies, do not forget that allergies can occur in any part of life. Many people did not have allergies until they were exposed to allergens, but then they developed allergies. So surround yourself with hypoallergenic products, especially when it comes to sleep products.
Machine washable at 40 Celisus degrees
We have already mentioned several times that the duvet is fully machine washable. This is necessary since it is coverless. You can wash the Night Owl duvet in cold water or up to 40 degrees Celsius. Our recommendation is to use eco-friendly detergents both for environmental protection and to make duvet last longer. It is suitable for standard washing machine.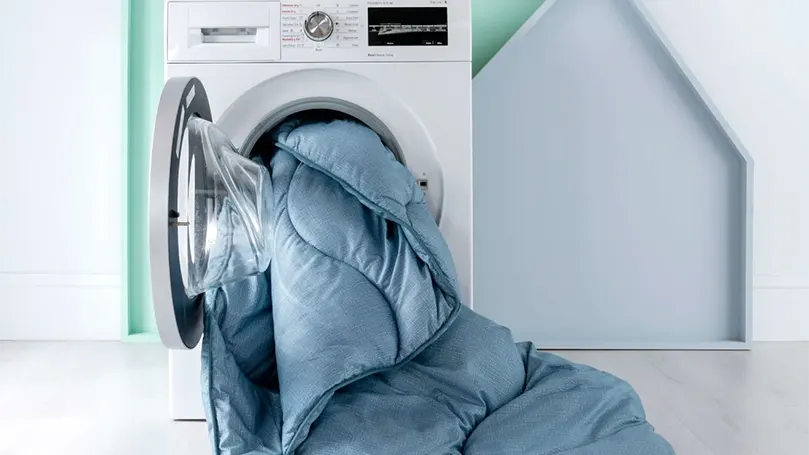 You must not use bleach or dry clean this product.
Quick drying time of 90 minutes
Since you will wash it whole every time, you are probably wondering how much time it takes to dry because you don't want to be without your duvet for a few days every time you wash it.
You will be thrilled to hear that it only takes 90 minutes to dry completely and be ready to use. So you can use it same day when you wash it. Tumble dry it until thoroughly dry, so that mold does not appear. Use a low heat setting.
Review of Night Owl duvet
Night Owl duvet is a premium duvet made by The Fine Bedding company, well-known for duvets and pillows, but also other sleep products. It is available in both summer 4.5 TOG and all-season 10.5 TOG. It is up to you to choose which one you want. Both duvets are coverless which means there is no tedious task, and that task is changing the duvet cover every week. Instead of changing the duvet cover, just put the duvet in the washing machine and wash it at 40 degrees Celsius. Then dry it in a tumble dryer and in a few hours you have a clean and dry duvet ready to use.
It is filled with eco-friendly filling – Smartfil polyester, and encased in polyester cover making it incredibly soft. Nigh Owl coverless duvet is 100% hypoallergenic.
Size: Single, Double, King, Super King.
Material: Polyester
Fill: Smartfil polyester
TOG rating: 4.5 / 10.5
Cover: Polyester.
What we like about Night Owl duvet
Night Owl duvet is very soft and comfortable
Very easy to maintain since it is fully machine washable
It is hypoallergenic which is very important both for allergy suffers and rest of the population.
What we didn't like about Night Owl duvet
Although the 10.5 TOG version should be year round warmth, hot sleepers may find it too hot during the summer
It is more expensive than the average duvet on the UK sleep market, but the price is realistic considering product quality
The smallest size is Single, so there is no size for children.
What makes this product better than some other similar ones?
The quality of craftsmanship is what definitely makes Night Owl duvet better than some other similar ones. As soon as you take it in hand and check all the parts, it will be clear to you that quality materials have been used, but also that the processing is at a high level. After that we would single out what is hypoallergenic to eco-friendly. Both features are of utmost importance although they are often overlooked when buying a duvet or some other sleep product. We like that it is available in two TOGs and that you can choose between 5 very beautiful colors – Dusk Pink, White Seersucker, Aurora Green, Twilight Blue and Cloud Grey.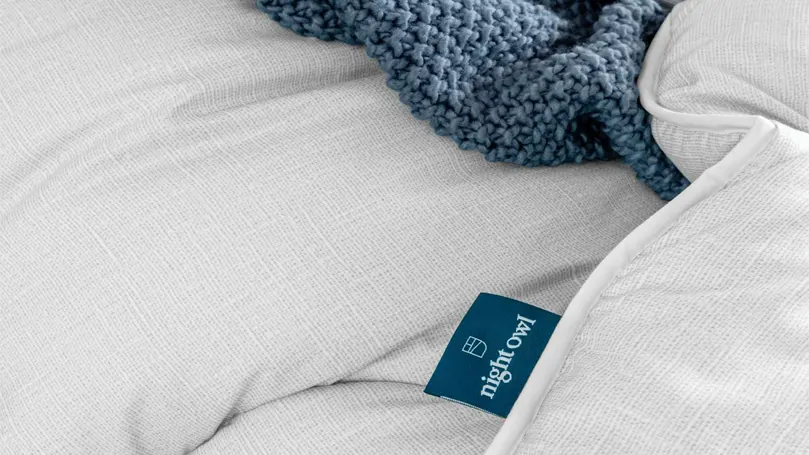 How did we test the product?
The country of origin of this duvet is Estonia, but it is made in accordance with all standards and regulations of the UK. You can choose between "Standard UK Delivery by DPD" or "Priority Next Day UK Delivery by DPD". The standard delivery price for the UK Mainland is £ 4.65 if the order is less than £ 50. This means that you will pay for delivery only for Single size, while delivery for Double, King size duvet and Super King Size is free. Priority costs £ 5.65 for UK Mainland while it is not available for Northern Ireland, Scottish Highlands and Islands.
Standard delivery is also very fast so duvet arrived in a few days. We first checked for a defect before washing it. Then we conducted a maintenance test and prepared them for future testing.
Since we tested both 4.5 TOG and 10.5 TOG Night Owl coverless duvet review took a little longer than usual. We tested both models several nights, and we changed the room temperature, as well as the ones tested, to see the impressions of cold sleepers, hot sleepers, allergy sufferers and so on. Our test team is very diverse.
FAQs about your Night Owl duvet
Find out the answers to some of the frequently asked questions about your new Night Owl duvet. We expect that the answers to the FAQs will help you make the final decision whether to buy this product, if you have not decided so far.
Can I tumble dry my Night Owl duvet?
Yes, Night Owl duvet is suitable for tumble dry, buy use low heat cycle.
Is Night Owl duvet suitable for anxiety treatment?
This duvet is not weighted blanket so it should not be considered beneficial for anxiety treatment.
Can Night Owl duvet be used by children?
Generally speaking, it can be used by older children and school age kids if they do not mind size of it.
Are Fine Bedding duvets generally good?
Yes, Fine Bedding company duvets are very popular among customers in the UK.
How to wash Duvalay mattress topper's cover?
All you have to do is to remove the cover and wash it in the washing machine at 40 degrees C.