Nectar Duvet Review - All-Around Premium Duvet
All-season duvets are very popular because having two different ones takes up space and costs you money. The new materials greatly contribute to all-season duvets being very comfortable and efficient. Nectar is company known for quality mattresses and bedroom furniture, but they also decide to offer one all-season duvet to their customers. Here is your Nectar duvet review.
We can say that Nectar is a duvet for all those who live in parts of the world where summers are not tropical and winters are not polar. 
If you live in a place where all seasons are moderate, this all-season duvet will surely satisfy your requirements. It is comfortable, regulates the temperature, it is hypoallergenic and everything else that makes one quality duvet. 
You will wake up feeling refreshed. Nectar duvet is also for all customers who want to buy an affordable duvet.
Add a header to begin generating the table of contents
What do we use this product for?
We use this product for all seasons. Anyone who doesn't want to have a few different duvets, and has central heating and air conditioning can use Nectar duvet for every day of the year. It is lightweight, and that is something most customers are looking for. We use this duvet for:
The entire year round
Ensuring a good protection against allergies
Staying comfortable and cozy.
Features you should know about Nectar duvet
Since Nectar duvet is an all-season duvet and you will use it 365 days a year, you should know as much as possible about it before you decide to buy it. We have singled out 5 features as the most important. These are Smartfil technology, microfibre design, hypoallergenic structure, TOG rating and maintenance.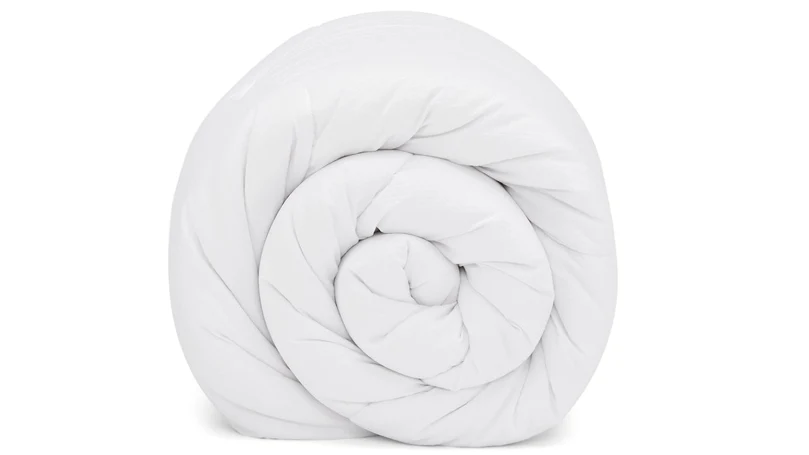 Smartfil technology is responsible for making this duvet so suitable for all-seasons. Smartfil fibers will give you a very similar feeling as if the duvet is filled with down, as it is equally light, breathable and gives you a cloud-like feeling while sleeping. But, Smartfil fibers are hypoallergenic, vegan-friendly and cruelty-free unlike down.
In addition to Smartfil fibers, Nectar has added something called Modal. It is a special material that is derived from natural wood pulp. Modal further enhances breathability, and also wicks moisture away from the body which is crucial for temperature regulation.
Microfibre textured design
Filling is most important because it affects duvet performance. But the duvet cover is equally important, because your body will have direct contact with the cover, so if it is made from unpleasant material, it will negatively affect your sleep and you will have to buy an additional cover. But don't worry, the cover that Nectar duvet has is great.
It is made of microfiber which is very soft and comfortable. It is also hypoallergenic and durable. The textured design is there to further beautify your bedroom and complete your Nectar set, in case you own a Nectar mattress.
Since there are a large number of people who are prone to allergies, less and less materials are used that can cause allergies, and microfiber and the like which are hypoallergenic are used more. Nectar wanted this model to be suitable for everyone, so they used microfibre, Modal and everything else that is hypoallergenic, instead of down and similar materials that many people cannot use.
Duvet gets dirty easily. You use it every night, and many people use it while resting during the day and watching TV or reading a book. That is why it is very important to check if the duvet machine washable when you buy it. Nectar duvet is machine washable, and what's great is that you can wash it at 60 degrees Celsius.
This is a high temperature at which usually only cotton can be washed, but the manufacturer suggests that Nectar duvet can also be washed at that temperature, which we tested. This guarantees that you will be able to clean it completely, even if you spill something on it or otherwise soil it.
TOG rating can tell you a lot about the product you are buying. TOG below 6 is for summer, from 6 to 11 is all-season and over that are winter duvets. Nectar duvet has a 10.5 TOG rating which sounds like too warm for summer, but due to the fantastic breathability, this duvet is really suitable for whole year.
The Necat duvet has a TOG rating of 10.5 and the manufacturer emphasizes that it is an all-season duvet. It is very high quality, and Smartfil technology as well as Modal material make it breathable and suitable for all seasons. The duvet filling stays in place all the time so you won't experience any uneven weight distribution. Even though this is not a cotton duvet, the microfibre cover is very soft. You will be comfortable sleeping using Nectar duvet.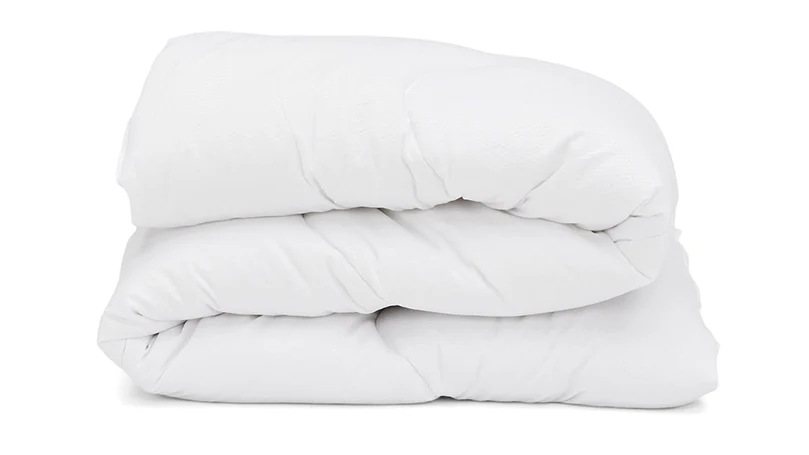 It is a machine washable at 60 degrees C, and you also get a two-year warranty. It is affordable, so it is bought by a large number of people. Combine it with some of the memory foam mattresses and you'll achieve a good night's sleep, even during the cold winter nights. 
Cover/casing: Microfibre
Fillings: Advanced Smartfill technology; 20% Modal
TOG: 10.5
Size: Single, Double, King, Super King.
Suitable for all seasons
Affordable
Machine washable.
Can be too hot for summer
Not the best option for hot sleepers
No trial period.
What we like about Nectar duvet
It is very convenient to have only one duvet that you can use throughout the year
It is affordable even if it is not an all-season duvet, and if we look at the price to ratio the quality is one of the best on the UK market
It is very easy to maintain because it is machine washable.
What we didn't like about Nectar duvet
5 TOG will not suit you in summer if you live in warmer regions
It is not an all-season duvet for hot sleepers, but they will also be able to use it for at least 6 months a year, probably more
There is no trial period, which although disappointing, is common when buying duvets.
What makes this product better than some other similar ones?
The price and the fact that it is suitable for the whole year or at least most of the year is what definitely makes Nectar duvet better than some other similar ones. When we consider other synthetic duvets, price to quality ratio is one of the best on the UK market because you will buy a duvet at a very affordable price that will suit you all year round.
Even though summers are warmer or winters are colder where you live and you can't use it all 12 months, it's likely that you'll be able to use it for at least 8 to 10 months, which is great considering the price. Some sleepers found this duvet to be a good mattress protector – it is cooling at the summer and warm at the winter so some sleepers decided to sleep on it as well. Still, the duvet isn't made for this purpose so we suggest you looking at the mattress protectors to protect your mattress.
How did we test the product?
We have to say that Nectar website does not offer you an abundance of information, so we did research for you when we ordered our copy of Nectar duvet. You will choose the size you want, choose a delivery location and pay, which is the usual procedure. You should know that boredom is free and that you do not have a trial period. The warranty is valid for two years. The good thing is that they offer no contact delivery, so just indicate that you want the driver to leave your package in front of the door.
After we unpacked the Nectar duvet, we didn't smell the chemicals, which is great. Overall, this is a quality duvet and it is immediately easy to notice that great materials were used, as well as that the quality of workmanship is very good. Since this is an all-season duvet, we had to simulate several conditions in the room where we performed the overnight test.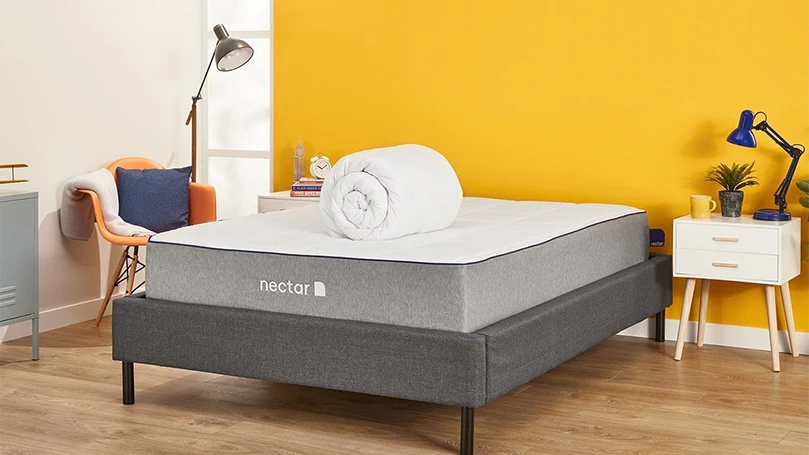 Sleeping at the usual room temperature was an extremely pleasant experience with this duvet. It is very soft, comfortable and perfectly regulates the temperature. Sleeping in a colder room, as is often the case in winter, also went great. We were very comfortable and did not feel cold, so this 10.5 TOG duvet met our needs.
After we heated the room to the temperature present in the summer, each member of our team had a different comment. For some, this duet suited perfectly even in such conditions, while for others it was too hot. It depends on whether you are a hot sleeper or not.
We washed it three times due to a lot of use and we were surprised how well it tolerates washing at 60 degrees Celsius, which is quite a high temperature for washing duvet.
FAQs about your Nectar duvet
The questions that customers have never stop to pile up because everyone wants to buy the best possible product for their money. In order to answer these additional questions, we have singled out the most important ones in our FAQs section. We hope that the answers to these questions will fully clarify whether you should buy Nectar duvet.
Is Nectar duvet good for the summer?
While it may seem that the 10.5 TOG duvet is too warm for summer, it is highly breathable and will be appropriate during summer in most cases.
Can I use Nectar duvet during the winter?
You can certainly use your Nectar duvet during the winter, since it is warm enough if you have central heating or you live in place with mild winters like UK.
How do I wash my Nectar duvet?
Nectar duvet is machine washable at 60 degrees C.
Does Nectar duvet come with warranty?
Yes, Nectar duvet comes with 2 year warranty which is quite long warranty for duvet.
Does Nectar duvet come with a trial period?
Unfortunately, there is no trial period for this duvet but we can say that it is common for duvets.