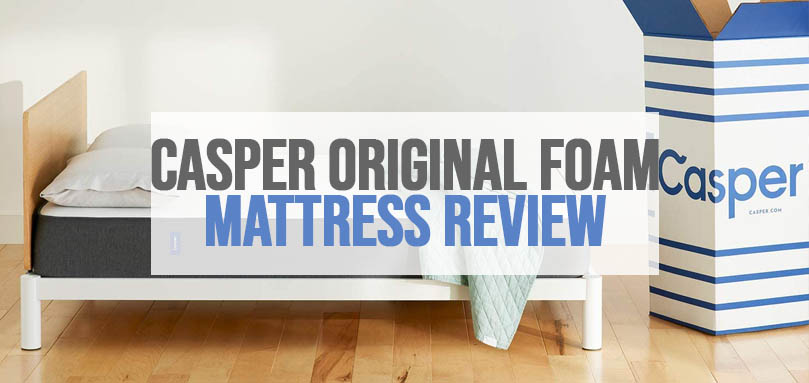 Casper Original Foam Mattress Review
Do you prefer foam mattresses, but don't enjoy the extra firmness that some have? If so, you are going to find this review pretty interesting. This time, we are talking about the foam mattress that is made to spoil you with softness! Meet the Casper Mattress, a well-designed breathable mattress that plays on comfort more than anything. The mattress offers gentle softness and breathability that almost has a cooling effect. But, these nice things come at a certain price. And we don't mean the money, Casper always offers reasonable deals on their products. We are talking about the support level of this mattress. So, if you have back pain, pay attention to this review. This mattress can either be great for you or, be something that you should carefully try out first. Caper offers a 100-night trial, so, don't worry about that.
Add a header to begin generating the table of contents
Did you know that the materials used for mattresses and pillows undergo some serious testing? At least at Casper, they do!
Casper company loves to test everything, from the material, design to the structure of foam layers. They study various materials' behaviour when exposed to pressure or heat in order to choose the best ones for making breathable and comfy products!
Casper designs various products, such as pillows, mattresses, sheets and dog beds. All products are safe and tested and come with long warranty and trial periods.
Casper Original Foam Mattress features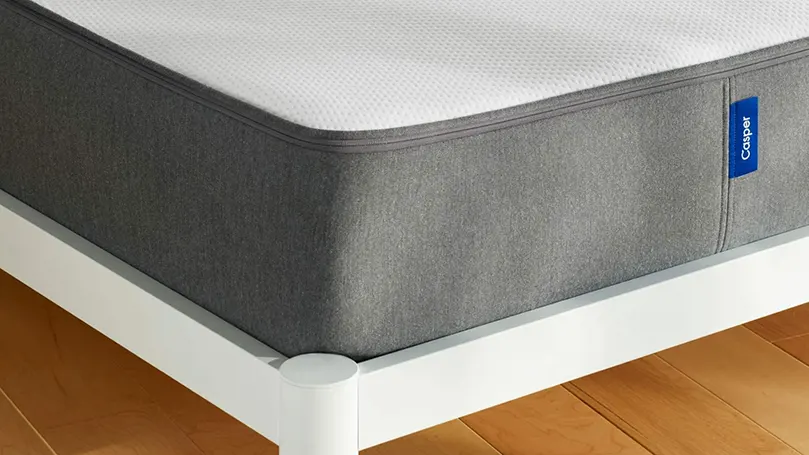 The Casper Original Foam Mattress is a foam type of mattress designed to provide gentle comfort and breathable sleeping surface. The mattress is made of two types of foam, so that support and softness can be balanced.
The cover is quite easy to wash and put back on. Depending on a size, the mattress can weigh from 19 kg to 40 kg. It is not difficult to flip, but you can use some extra hand. Since it has 4 various breathable foam layers, the airing is easy and fast.
Now, let's jump into the review and learn about this product's details!
The Casper Mattress is made of the combination of latex foam and memory foam the cover of the Casper Mattress is removable and easy to wash. 99% of the cover is polyester, while the 1% elastin. Thanks to this small amount of elastin the cover fits perfectly around the edges of the mattress. Also, this makes the cover easy to remove and put back on. The foam used for this product is highly breathable doesn't retain heat.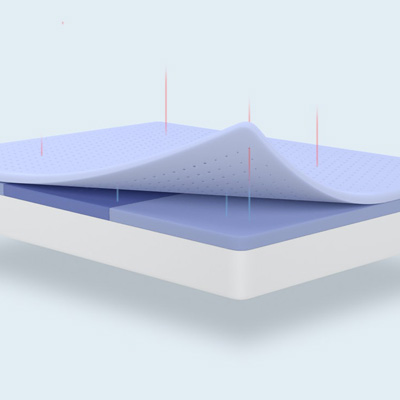 The Casper Mattress falls into a category of medium to low firmness mattresses. This means that this product still acts as a quality memory foam mattress (adjusts to the shape of your body) while being softer and less supportive. This trait can be both a positive and negative thing, depending on who's using it.
People who require firm and highly supportive mattresses due to the medical reasons are advised to use the trial period first. Now, people who enjoy softer, snuggly mattresses, they can really fall in love with this Casper Mattress.
As we said before, this mattress has a moderate firmness level and provides a unique, tender feeling of support. So, if you feel a bit unsure about the softer mattress, use the Casper trial period! Maybe this firmness level is right for you.
For the end of this section, we must mention that the weight of the person who is using the mattress can influence the level of the mattress' support noticeably. So, the higher the weight of the sleeper – the bigger softness of the mattress. Foam reacts to body heat and pressure so you will probably get a kind of sinking feeling if you lie down on it. Of course, there could be many variations of this effect. Other sleeping habits can also influence this feature. You may not experience this at all, but, as we said, the trial period is long and risk-free.
The comfort level of the Casper Mattress comes from its gentle support, softness and breathability. The Casper Mattress isn't one of those mattresses that will make you feel uncomfortable due to the firmness. This mattress aims for a more tender approach towards the support. It will act as a supportive sleeping surface, but, it will retain some softness. People who are tired of too firm foam mattresses may like the Casper Mattress for this quality!
Besides moderation and balance in firmness and softness, this mattress offers another comfy thing! Due to the breathability of the Casper Mattress' layers, sweating or feeling to hot overnight can become the part of your history. The Casper Mattress allows free airflow and this way prevents accumulation of heat or moisture. Mattresses that have high breathability can significantly reduce various irritabilities that lead to disturbed sleep or frequent waking up. Also, the breathability of a mattress can shorten the timespan needed to fall asleep.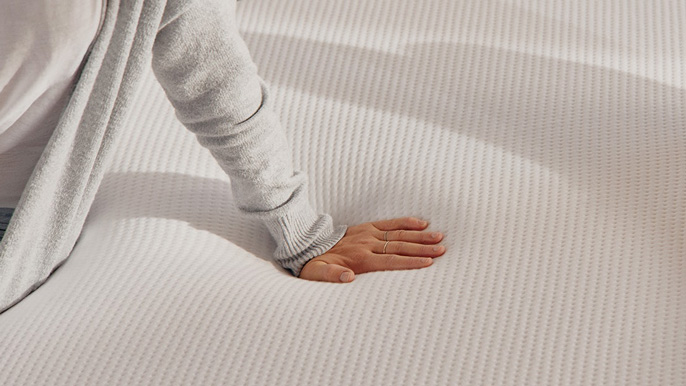 Those who like neither to be pushed up by a firm mattress nor to sink into a soft one, will enjoy The Casper Original Foam Mattress. This product is designed to maintain the balance between the softness and firmness and to be somewhere "in between". The same happens with bounce. If you like the moderation you will be pleased. If a partner decides to get up before you, you probably won't feel a thing.
The product is highly breathable, but it's not hypoallergenic. You are not going to be sweaty or feel too hot on this mattress. But, if you do have a sensitive respiratory system, you should try the product out first. All the layers of the mattress allow the free airflow. So, this product is good news for those who can't stand when their mattress gets too warm. Since the Casper Mattress doesn't retain heat, it's a great choice for the summer months. Make sure to use lightweight covers.
The issue with smell does happen with this product, but it is not hard to get rid of it. You can air the mattress as soon as you unpack it, just in case. If you do sense the chemical smell, leave the mattress for a whole night, or two – that much needs to air thoroughly. Washing the cover can also help if you can still sense the traces of smell after the airing. This issue is unfortunately quite frequent with foam products. So, don't be discouraged if you experience it, too. Just let the airing do its job.
Casper company offers a 10-year warranty on this product, so, it's clear that we are talking here about one pretty durable mattress. But, the durability of this product depends on many factors, such as airing, the weight of the sleeper, proper care of the cover and frequency of flipping.
Casper Mattress is one of those products that some will simply love while others wouldn't benefit from them at all. This mattress aims for the balance in softness and support. To some extent, this is exactly what it offers. But, the problem lies here: the mattress has a unique softness level that can be recognized as good or bad only by personal preference. So, if you like soft mattresses without spring core, for you the price-quality ratio of the Casper Mattress is just perfect! If you like firm, supportive mattresses, then, we advise you to test the product yourself first. This especially goes if you have bigger bed frame.
| | |
| --- | --- |
| MATERIALS | The mattress is made of four various foam layers. There are two main types of foam in the mattress: latex foam and memory foam. The cover is made of 99% polyester and 1% elastin. |
| SMELL | The issue with smell is frequent |
| PRICE – QUALITY RATIO | Think about it. |
Trial period, warranty, shipping details, refunds
Trial period on this product is 100-night. Shipping and returns are free for the UK. Also, you can choose the delivery date. Besides free shipping, the company also offers a service of removing your old mattress for you. The warranty period on The Casper Mattress is 10 years.
| | |
| --- | --- |
| Size | Dimensions |
| Single | 90 x 190 cm |
| EU Single | 90 x 200 cm |
| Small Double | 120 x 190 cm |
| Double | 135 x 190 cm |
| EU Double | 140 x 200 cm |
| King | 150 x 200 cm |
| EU King | 160 x 200 cm |
| Super King | 180 x 200 cm |
The Casper Mattress is somewhat a softer version of standard memory foam mattresses. So, it's a good choice for those who prefer a softer sleeping surface, but still, wish to enjoy a memory foam feel. This mattress retains pleasant softness, while not letting you to "sink in" the mattress. Thanks to this feature, The Casper Mattress can really be appreciated by those who are looking for cloudily, gentle comfort.
On the other hand, for the same reason, people who have serious back pain issues may not benefit a lot from this product. This mattress has a unique combination of various foam layers. Due to this, this mattress is very pleasant to sleep on. But, at the same time, some people who need firm, stable support from a mattress might not find it here.
Since every back problem is different, some people with back, or even neck pain, can find the Casper softness very appealing. It all really comes down to taste and personal preferences. Luckily, there is a long trial period, so you can test The Casper Mattress yourself!