How To Make A Bed The Right Way?
Learn how to make your bed properly, start your day right, and avoid getting home to an unmade bed, only to ruin your day just before you go to sleep.
Everyone should learn how to make their bed. Some people are firm believers that making the bed is optional, but we're not one of them.
First of all, there is no better way for you to start your day than making your bed. It makes you feel like you've accomplished something right from the get-go, which sets the tone for the rest of your day.
Think of making the bed like putting on clothes in the morning. You start with the essentials, the base, and slowly move on to layering until you're left with a finished product. Sounds good?
If it does -great. You're in the right spot. Why? Well, because, today, we're going to teach you how to make a bed the right way
Add a header to begin generating the table of contents
How many layers of a bed do I need?
First, let's start with some bed basics. From foundation to decoration – this is all you'll need for your bed to look fantastic.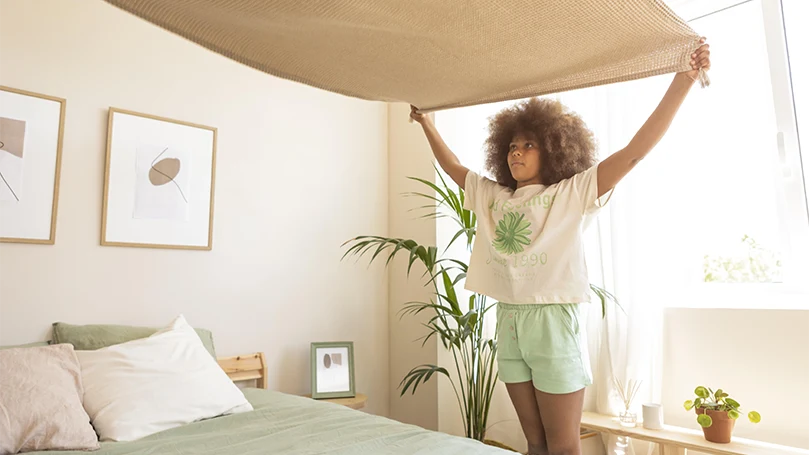 The foundation of the made bed lies in something people like to call a bed skirt. It is essentially a piece of cloth that covers your bed base, protects the mattress (especially if you have a box spring base), and ties the whole bed together.
Naturally, if you have a good-looking, high-quality bed frames – you may skip this step, but we would still advise placing a piece of cloth underneath your mattress, simply in order to protect it.
Mattress pads and toppers are also optional, but they can be a great addition to your bed. If you need to make your mattress softer or a bit more supportive, or if you're simply trying to preserve it from wear and tear – a good mattress pad or a mattress topper will certainly come in handy.
Next up, you're going to need a fitted sheet. Or, if you don't have a fitted sheet, a regular, traditional flat sheet will suffice.
This is a piece of bedding that you can't make your bed without. It is there to protect your mattress but also to help you sleep soundly and cosy all through the night.
Naturally, you'll want to make sure you get the right size. If you have a king-sized bed – get king-sized sheets. If you have a queen bed – get queen-sized sheets. You get the gist.
Next up, you're going to need a top sheet. The top sheet could be optional, but we'd still advise you to have it. The more layers, the merrier – that's our motto.
A top sheet will cover your entire body, but its primary purpose is to "protect" you from a duvet or a blanket. It will serve as a comfy middleman between you and your main cover, and it will undoubtedly feel great on your skin.
A blanket is another item that you could need, but you could also live without it.
Essentially, a blanket will be a great addition to your bed if you sleep in a cold room, and you need an extra layer to keep warm during the night. But, it is often just a top layer on your bed and is there for cosmetic reasons.
Some folks would even switch out their duvets for a blanket, but for breathability reasons – we wouldn't be the ones to do that.
A duvet with a duvet cover will be the main piece when making your bed.
Not only will this piece of bedding keep you warm and cosy all through the night, but it will also be the main piece of your made bed.
Depending on how you fold it, your bed will either look made or messy. You can probably get by with messy sheets, but a crumpled duvet is not something you'll want to see.
Finally, you'll need pillows. You'll need both sleeping pillows and decorative pillows, but the latter are optional. Sure, decorative shams could make the entire bedroom look a certain way – but they're not a necessity.
Sleeping pillows, on the other hand, are. After all, you'll need something to rest your head on – won't you?
Gather all of these – and you'll have yourself a made bed to get some good night's sleep in.
How to make a bed in 6 steps?
Now that we've learned what you'll need to make your bed properly – let's learn how to make a comfy bed in just six simple steps.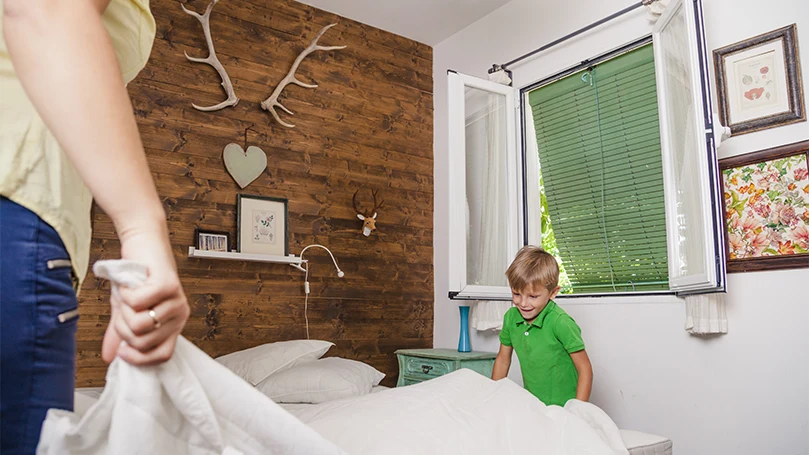 Put everything aside first & prepare
Remove everything from your bed before you start making it. Leaving the bedding on the bed will just make it harder for you to make your bed, and you won't ever do a proper job.
So, gather all the things, and set them aside on a clean surface. Don't put them on the floor! Once you do that, you're ready to make the bed!
The first task is to put on a fitted sheet over your mattress (and a mattress pad). If you have a mattress protector, put it underneath the fitted sheet. Fitted sheets might be a drag to fold, but they'll be easy to put on. Put one corner of the sheet over the top edge of the mattress, and then stretch it until you've reached all four corners.
However, traditional sheets are the complete opposite. Since you don't want the sheet hanging off of your bed, you'll want to learn how to make hospital corners. And, don't worry, hospital beds aren't the only ones with neatly tucked bed sheets – hotels beds are, too.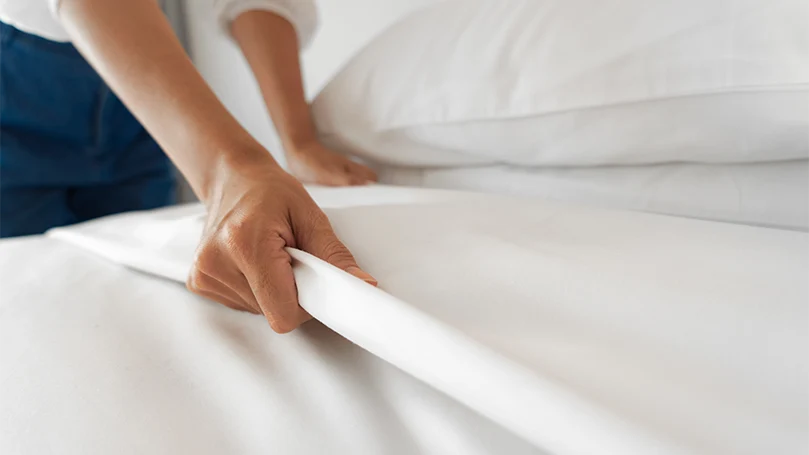 Making hospital corners might be hard in the beginning, and not a lot of people know how to create hospital corners, but we're sure you'll get the hang of it after a few tries. After you master this technique, you will be able to tuck the hanging edge of the sheet smoothly between mattress and box springs or slats, all the way along the side of the bed.
Next up, you'll want to lay your top sheet onto your bottom sheet. Lay it flat, hand-iron all the creases, and that's it. If you've got a sheet set – your top sheet should match the bottom sheet.
This is probably the easiest bed making step we can think of. However, it is also one of the most essential ones if you want to make your bed perfectly.
For top sheets and fitted sheets, you'll want to make good bedding choices. Get yourself something with a high thread count for the best and the most luxurious feel. We'd usually go cotton sheets, but silk or other materials work great, too.
Once you're done with your top sheet – add the duvet. Unless it's a comforter, you'll want your duvets in a duvet cover. Duvet covers both protect your duvets and make your sleeping experience a lot more pleasant.
If you want to fold the top of your duvet or slightly uncover one side of the bed – that's up to you. We prefer our duvets inside of the duvet cover and neatly spread across the entire mattress.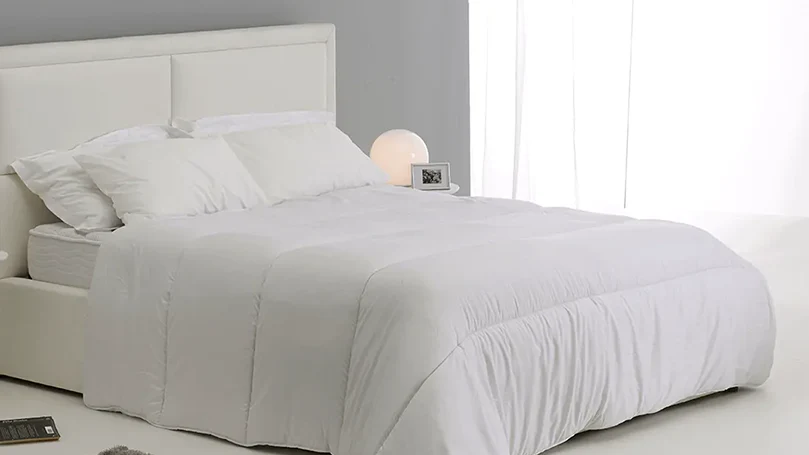 A bonus tip! If you want to make your bed look extra fluffy – get yourself some duvet inserts. That'll help. To insert them into duvet covers, place your duvet cover flat on the bed, place the duvet and the insert on top of it, and just pull the cover over from one side to the other.
Finally, it is time to add your pillows. You can either place your pillows on top of the duvet or underneath it – entirely your choice. We like to place our sleeping pillows underneath the duvet but keep the decorative pillows on top.
Now, whatever you do, don't just throw pillows onto your bed in a haphazardous manner. Place them the right way. It will make a world of difference in the way your bed looks.
Folding blanket at the end of a bed
For a clean, layered look – add a blanket to the foot of the bed. Once again, don't just throw blanket onto your made bed – neatly fold it at the end of the bed.
Most of the time, you'll want to see the fabric hanging on the edge of your bed. It sounds odd, but most people use their blankets for decorative purposes rather than to cover themselves.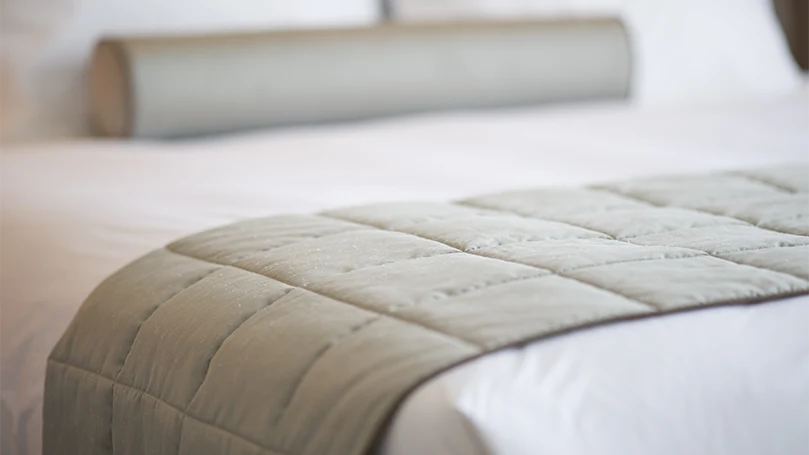 Once you do all of this – you'll have yourself a well-made bed.
Don't forget these healthy bed habits
Now that you know how to make a bed, we thought that it would be good to share a few healthy bed habits with you, too.
You should always start your day by making your bed. It is a simple task, but it is a task that will help set the tone for the rest of your day. You will start your day with a feeling of accomplishment, and even better – you'll come home to a made bed in the evening.
We feel like we can all agree that coming home to a messy bed isn't our favourite scenario. Making your bed before you go to sleep will only wake you up, so do it in the morning.
Change your beddings every week
You'll want to change your bedding at least once a week. Otherwise, you'll share your bed with dust mites and other common household allergens.
Also, it's not just allergens you should be worried about. We shed skin during the night, and we also sweat, so unless you want to sleep in dirty sheets – we suggest your wash them regularly.
Finally, a good way to make your bed comfier and have it last longer is to get a mattress pad or a mattress topper.
Since there is no such thing as a perfect mattress, you'll have to do your part in order to make yours feel as close to perfect as possible. And, a mattress pad might just help you achieve that.
There you have it. If there was ever a great way to make your bed- it is this one.
If you follow our simple instructions and tips, we're sure you will always have a perfectly made bed in our bedroom.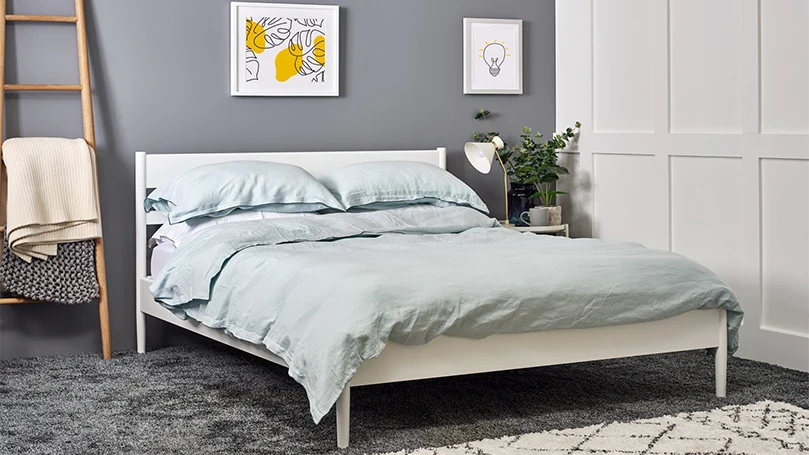 And, remember, if you ever feel like you don't want to make your bed in the morning, just imagine what it will feel like in the evening once you're tired and ready to go to sleep.