Bed Frame Sizes Guide - Know Your Bed's Dimensions
What we call a bed usually consists of two parts – a bed frame and a mattress. Bed frames are both functional because they support the mattress and therefore you, and they can also be highly decorative. Bed and mattress size must be compatible.
Basic bed frames have only legs and a mattress section, while some others have a headboard, footboard, storage and much more. Whether you need a bed frame just for the primary purpose or you need extra storage space or you want the bed frame to be the central piece of the bedroom is up to you.
What you need to know is that the bed frame has a big impact on the quality of your night's sleep. Many think that only the mattress is important, but if the mattress does not have a proper base, then it will not be as comfortable and supportive as it would otherwise be. 
So bed and mattress are equally important. Bed frames are most often made of wood or metal, and there are many different types. Different types of bed frames differ in shape and size. Our guide will help you better understand bed size.
Add a header to begin generating the table of contents
Are all bed frames the same size?
No, just as not all mattresses are the same size, neither are bed frames. Since they are practically a mattress foundation they have to be the right size to accommodate any type of mattress. When buying a bed frame, it is important to check the size of the entire bed frame as well as the part where the mattress will be placed.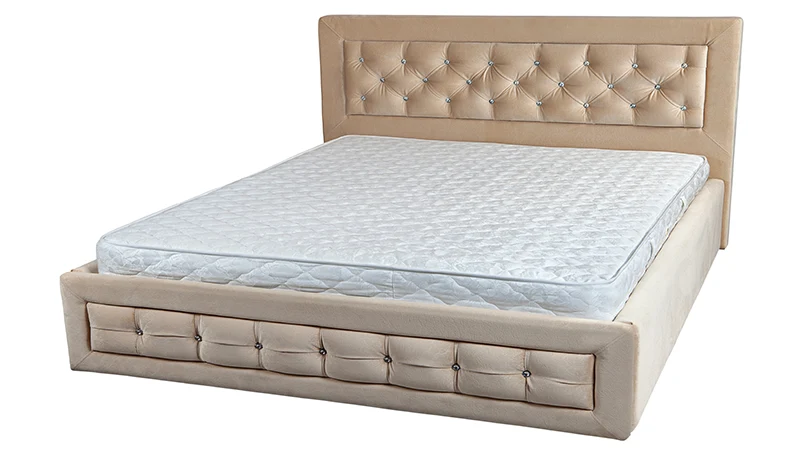 Part of the bed frame intended for the mattress must fit the size of the mattress perfectly. If it is bigger, then the mattress will move during the night and you will not be able to sleep comfortably on an unstable surface, and if it is smaller than the mattress, then it is clear that you will not be able to use that mattress with that bed frame. 
Another important thing is the size of the whole bed frame. Since the bed frame can have a headboard, footboard and other parts, make sure you have room big enough for all that. Many make a mistake and only check whether it is compatible with mattress.
UK sizes are prevalent in the UK and most bed frames are made to standard UK bed sizes, even when not indicated. If it is made according to EU or US sizes, then it is always indicated. There are a very large number of sizes on the market, but we will go through the most popular bed sizes.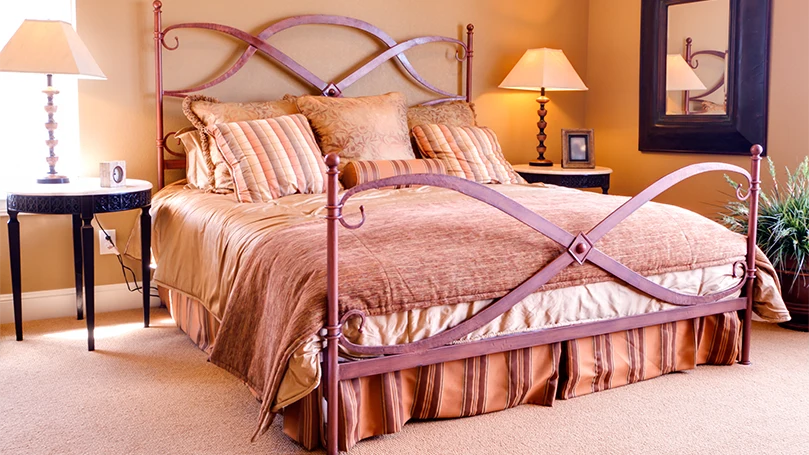 Single size is 190 x 90 cm and is one of the best-selling sizes, because it suits a large number of people. All those who sleep alone will probably opt for single beds. Also, single size does not take up much space in the room and is therefore very convenient.
Small Single measures 190 x 75 cm, which means that the length is the same as with Single size, but it is narrower. Small Single is generally suitable for all people of average body frame, but also for children and teenagers. Customers opt for Small Single usually when they have very limited space available.
Small Double bed is 190 x 120 cm, so it can be comfortable for both couples and solo sleepers. Couples who don't mind sleeping in a bed where there is a little less space buy this size. Also solo sleepers who like to have plenty of sleeping surface without taking up much of the room often opt for Small Double. Small Double beds are sometimes called Queen beds.
Double is the best-selling bed frame size and measures 190 x 135 cm. Most couples opt for standard Double bed, because it leaves enough space for both partners, and the price and space that the bed takes up are not the same as with the King size.
King size bed dimensions are 200 x 150 cm and offers premium comfort. While it doesn't seem to you that 10cm in length and 15cm in width compared to Double is significant, it makes a big difference and you'll immediately notice the extra space that the King size beds offer.
Super King size bed, often called Emperor, measures 200 x 180 cm, although sometimes the Emperor bed is even larger than that, up to 215 x 215 cm. This is an ideal choice for all those who like a really big bed. When you buy a Super King size, it won't matter which body frame you and your partner have. Super King bed frames are often very expensive and you need a really large bedroom to fit one.
Our advice is to choose the size first, and only then start looking for the ideal type. If the size is not suitable for your mattress and room, then your bed frame will not be functional. The UK market is full of different types, ranging from the very simple ones that fit into Scandinavian design to the fancy, flamboyant ones.
Panel bed frame is one of the simplest types and resembles a box spring. It usually has a headboard, and in some cases a footboard. Two side panels along the headboard make a mattress foundation, and slats give support, which is often not great when you buy a panel bed.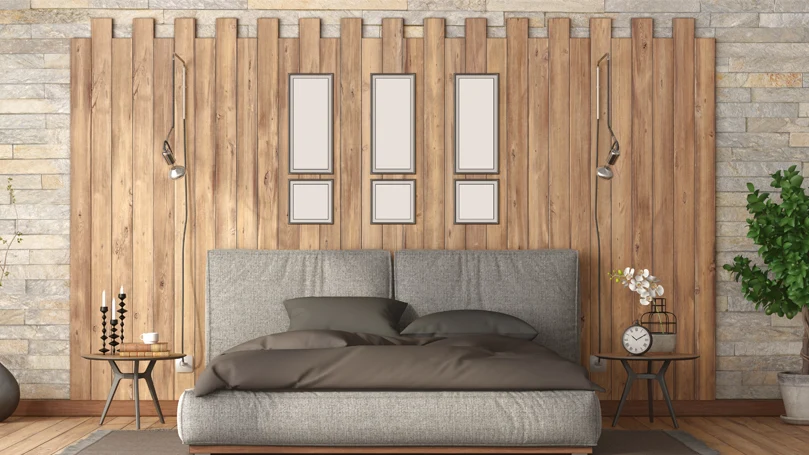 Unlike the panel bed, the platform bed has a sturdy base that gives great support to your mattress and prevents it from sagging. When you buy a platform bed no additional foundation is needed. The distance between the slats is usually 5 to 6 inches, so it distributes the weight evenly. Stability is great because this type of bed is very low, and the minimalist design fits into any interior.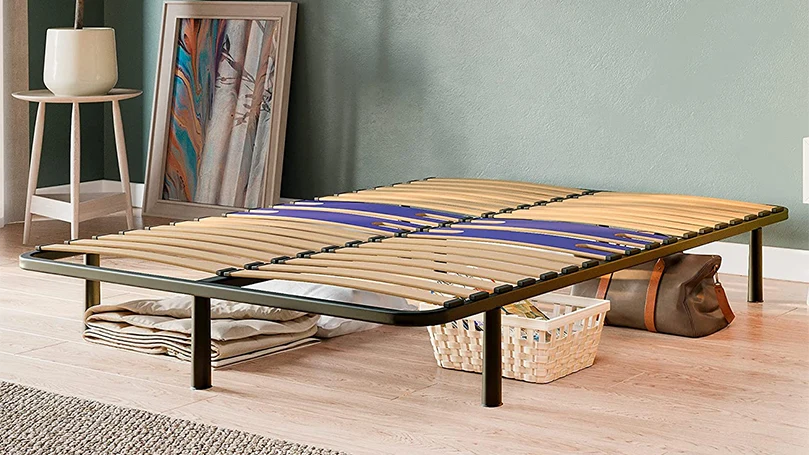 In case you don't know bunk beds are two beds that are located one above the other, so they take up space as one single size bed, and two people can sleep. In some cases there are even three bunk beds, but you will rarely find such models. Small ladders allow you to climb to the top bed, and a rail prevents a person from falling out while sleeping. Bunk beds are an ideal choice for children's rooms, hostels and dormitories.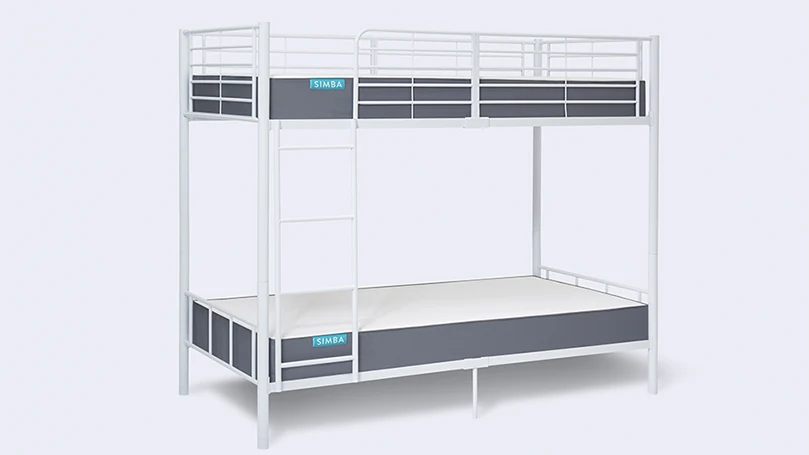 Loft bed frame is a very functional type of multipurpose furniture that is a favorite of children and young professionals, since children's rooms and studios are usually small. It resembles a bunk bed, but instead of two beds, there is only one bed located above, and below is a space that you can use to add a desk, storage space or something else. Often the desk and closet are already implemented in the loft bed.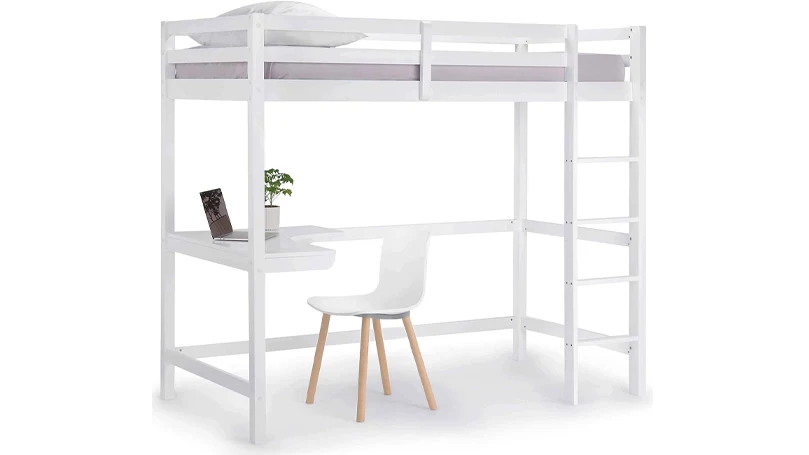 The sleigh bed is usually very large and heavy, and there are various models, from lavish ones to some whose design is simpler. Sleigh bed frame is made of solid wood, and sometimes upholstered. It has a headboard and a footboard similar in shape to the sled, so it is called a sled / sleigh bed. This type of bed frame is not for the guest room, but for the master bedroom where it will be a focal point.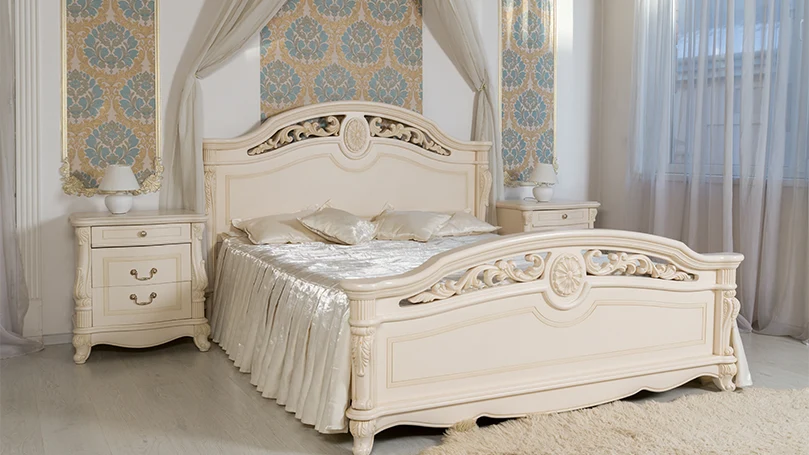 Adjustable bed frame gives you the ability to adjust the angle of the upper and lower part of the bed. It is a very useful option for people with various health problems, such as sleep apnea. Also, an adjustable bed will make reading a book, working from home and watching TV much more comfortable. Adjustable beds come with a remote control, and some models have many other additional features.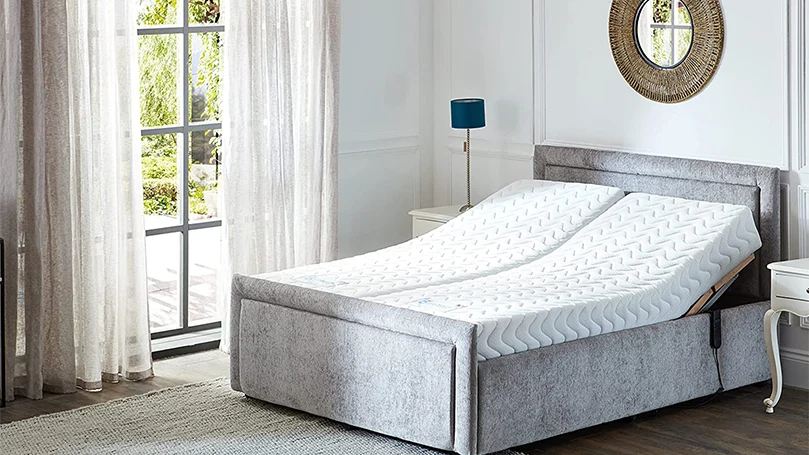 The construction of the four poster is very similar to the panel bed, but unlike the panel bead which has only a headboard, footboard and two panels, the four poster also has 4 columns in each corner. You can use these columns to make canopy. Four poster bed is made of metal or wood.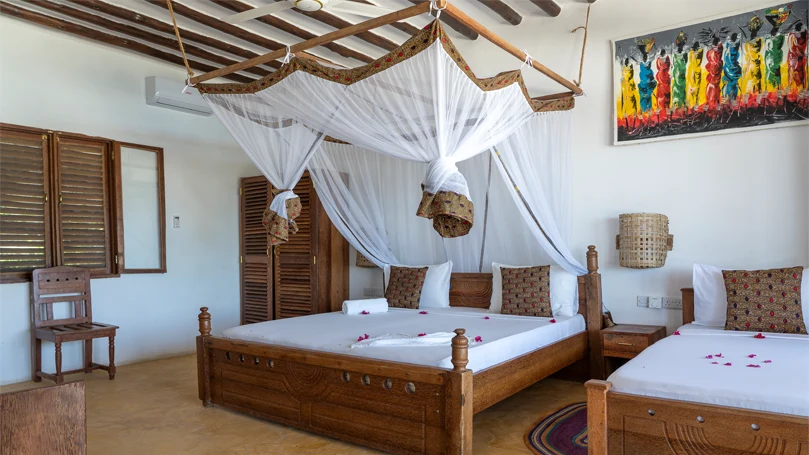 Storage bed frame is any bed frame that has storage space. These can be divan beds with drawers or beds with storage space like the Ottoman bed has. Ottoman bed differs from other storage bed frames because it has gas-lift hydraulics thanks to which the bed can be raised, and you can put away or take something from storage without having to keep the bed from falling.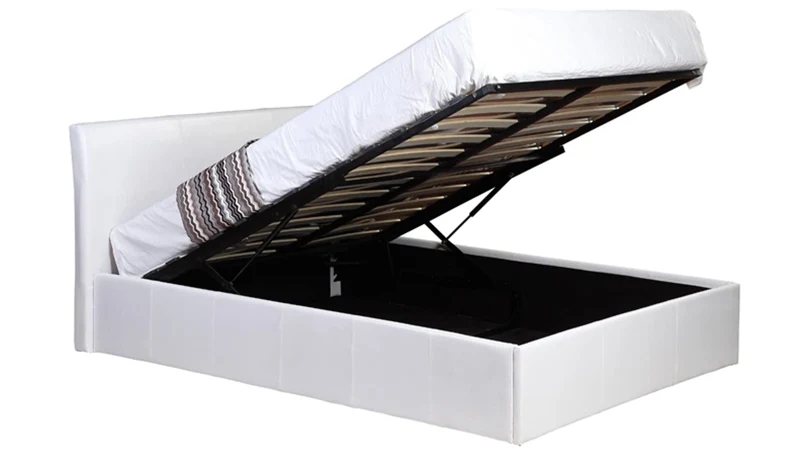 Types of mattress foundations
There are two types of mattress foundations, significantly fewer options you have available compared to when choosing a bed frame type.
With the adjustable base from each bed you can make adjustable ones. Adjustable base is usually quite an expensive option compared to adjustable bed, but it is very useful. It works the same way by adjusting angles using wired or wireless remote. It is important to buy an adjustable base of the same size as the frame.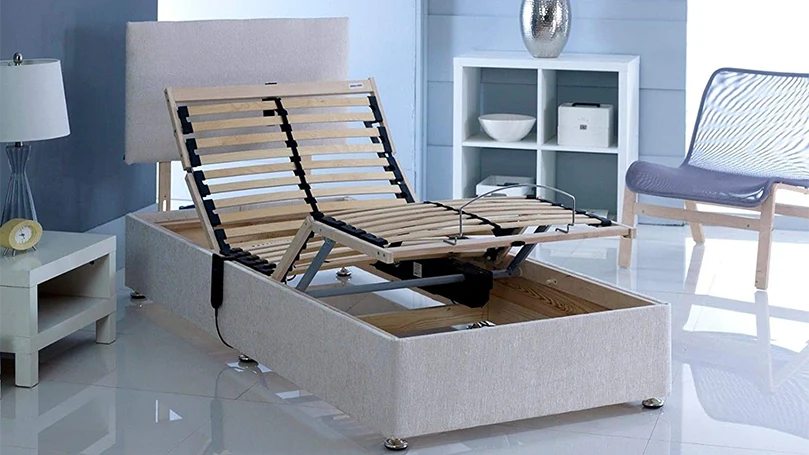 Most bed frames have a solid mattress foundation, which consists of wood or metal slats. There are models where slats are covered with fabric, and also a premium option when slats are flexible to make you more comfortable. Solid foundation can be used separately, but usually legs are attached to lift the foundation off the floor.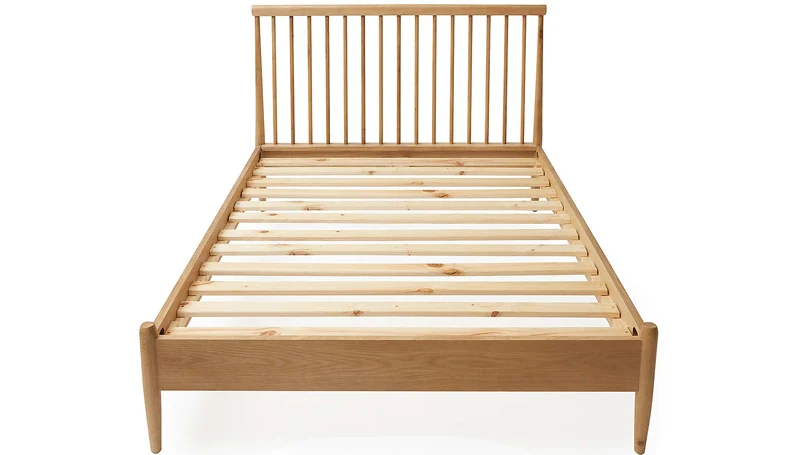 Do all bed frames have the same height?
The average bed is about 60 cm high. The ideal height of the bed is determined when you sit on the edge of the bed. At that point, your knees should be at a 90-degree angle to the floor. Remember that you need to measure this when the mattress is on the bed, because the mattress will add at least 20 cm. In case you do not have physical limitations that prevent you from climbing on a higher bed, the choice is up to you.
Which bed frame size is for me?
If you already have a mattress that you don't want to change, then choosing a bed frame is definitely not rocket science. You will buy a bed that matches the size of the mattress and that's it. But if you have moved, for example, or just decided to replace a complete bed, then the search for the perfect bed frame can be more complicated than it seems at first.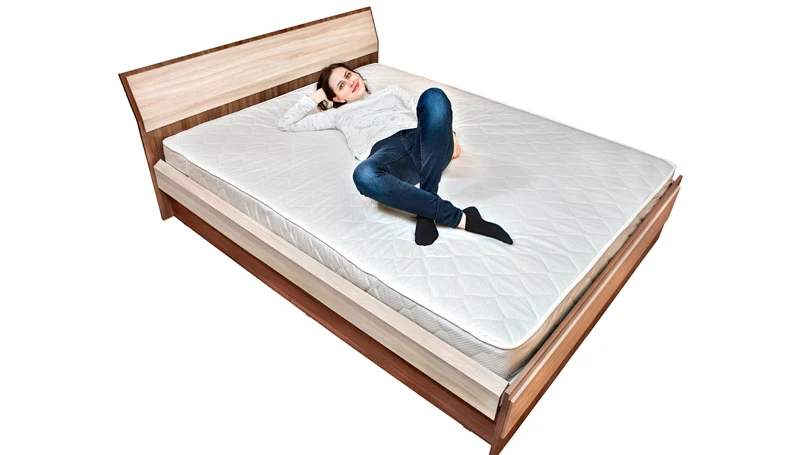 You need to consider a few things. Let's say you don't have a mattress yet and you won't buy a mattress until you choose a bed frame. But the size of the rooms will not change, so first consider whether there is enough space for the bed you want. It's hard to fit a Super King size into a small bedroom. Then think about your needs.
Although it is nice to sleep alone on a King size bed, realistically you don't need it and you will spend a lot of money and space. If you have a sleep partner then the choice of size of the bed is affected by whether any of you are restless sleep as well as body frames.
Health problems must also be considered. For example, if you have problems with your spine and skeleton in general, a very high bed will not be suitable for you.