Best Sleep Masks For An Undisturbed Sleep
These comfortable eye masks will make you sleep like a baby – anytime, anywhere
Sleep masks are an essential item for everyone having trouble falling asleep. They're comfortable to wear, kind to your skin and most importantly, they're going to block all that unnecessary light that might be interrupting your quality sleep.
Sleep masks can be made from various soft materials, but it is widely accepted that the best sleep masks are made from silk and cotton. Furthermore, they also come in various shapes and sizes, so we understand how it would be overwhelming to choose the perfect one.
Since there are so many options to choose from, we wanted to test and review a number of eye masks so that you don't have to. Therefore, we've done our best to select and test a handful of high-quality masks that we feel confident you would enjoy using.
Without further ado, here are the results of our testing – the best sleep masks your money can buy.
Add a header to begin generating the table of contents
Finally, we've come to the main portion of this article – the top 10 best sleep masks on the UK market! We've personally tested all of these masks to provide you with an objective review of every product on this list. With that in mind, we're certain you'll be able to enjoy at least one of these 10 masks we've handpicked for you!
IMAGE
PRODUCT
DETAILS

KEY FEATURES:

Material:

Silk

Strap:

Elastic

Light blocking:

9/10

View Latest Price

KEY FEATURES:

Material:

Polyester & cotton

Strap:

Elastic

Light blocking:

7/10

View Latest Price

KEY FEATURES:

Material:

Silk

Strap:

Adjustable

Light blocking:

8/10

View Latest Price

KEY FEATURES:

Material:

Silk and memory foam

Strap:

Adjustable

Light blocking:

9/10

View Latest Price

KEY FEATURES:

Material:

Cotton and memory foam

Strap:

Velcro

Light blocking:

10/10

View Latest Price

KEY FEATURES:

Material:

Polyester and polyurethane foam

Strap:

Velcro

Light blocking:

9/10

View Latest Price

KEY FEATURES:

Material:

Cotton

Strap:

Adjustable

Light blocking:

9.5/10

View Latest Price
1. BEST OVERALL: Slip Silk Sleep Mask
This 100% pure mulberry 22 momme silk sleep mask will make you fall asleep in seconds!
Out of all the masks we've tested – this is the best one. Not only is it made from pure mulberry silk, but it's 6A 22 momme mulberry silk. That's as high as it gets when it comes to silk.
This beautifully crafted sleep mask will sit gently around your nose and eyes, blocking pretty much all the light coming your way.
It is quite cool and soft, as any silk product should be and the elastic band is quite nicely fitting, without being too loose or too tight.
Finally, if looking chic while you sleep is important to you, you'll be glad to know this one comes in 18 different styles, so you'll certainly be able to match your pyjamas or a nightgown.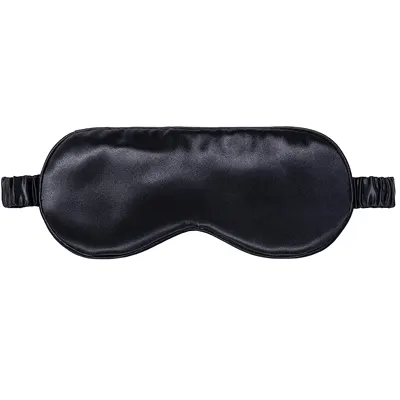 2. BEST VALUE: DressFan Eye Mask
At almost half the price of a regular sleep mask, this one is a great value pick!
With a price point well below average, this is one of the most affordable models we've encountered while testing the masks.
This eye mask is made from artificial silk and cotton. The outer layer is made from soft, artificial silk, and the mask's interior is filled with cotton. It offers a delicate feel, although not as premium as a pure silk sleep mask.
The band is elastic, so it should comfortably fit every head.
Finally, it blocks the light quite decently if you choose some of the darker coloured models.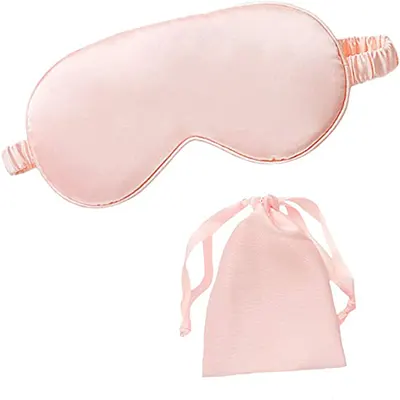 3. BEST SILK: Alaska Bear Natural Silk Sleep Mask
This is what a foam mattress for kids is supposed to feel like!
If you're simply in the market for a regular, memory foam mattress – this is the one. Visco Therapy's memory foam mattress for kids is just that – mattress for kids. Even though you can get it in king size – it's too soft for any adult.
But the kids will love it. It's plush and comfortable, offers great alignment for side sleepers and is hypoallergenic, as well. Unfortunately, there's no warranty for this model, but judging by the build quality it should last just like any regular mattress. One of the best beds for 2 year olds.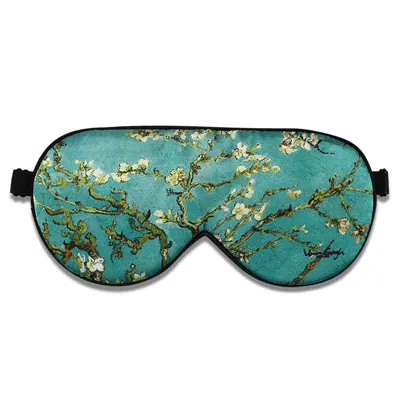 4. BEST FOR TRAVEL: Alaska Bear Luxury Sleep Eye Mask
Whether you're on a plane or the bus – this sleep mask will be your perfect travel companion!
Contoured eye feel makes this mask feel quite gentle on your eyes, allowing you to open your eyelids without any problems, making it ideal for travelling where you would often wear makeup when you go to sleep.
The interior of this mask is lined with silk, while the contoured eye-piece is made from memory foam, ensuring the best and most comfortable fit around the nose and eyes, as well as a pitch-black environment for you to sleep in.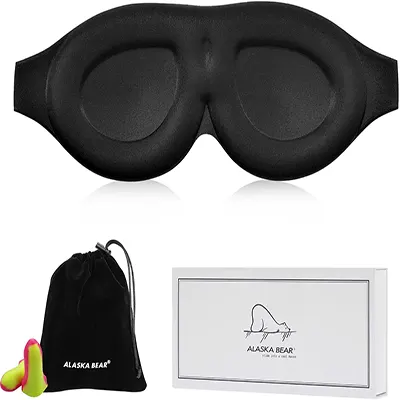 5. BEST LIGHT BLOCKING: Manta Sleep Mask
Want to block out light? This mask has got you covered!
If you want to rest in a very bright environment – this mask will make that happen. We've tested over 40 different masks and not a single one came close to creating a pitch-black environment as this one did.
If you're looking for a contoured sleep experience alongside fully adjustable, extra-deep eye cups – you're in the right spot. The adjustable cups make it feel like there's no pressure around your eyes and the velcro strap makes the mask fit perfectly around your head.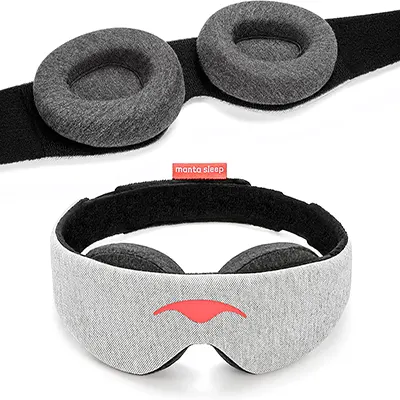 6. BEST FOR BACK SLEEPERS: Bucky No Pressure Eye Mask
Lay on your back, relax and enjoy a full night of sleep with this comfy sleep mask from Bucky!
Bucky No Pressure Eye Mask is a surprisingly high-quality polyester sleep mask. The eyecups are made from polyurethane foam covering your eyes quite nicely, blocking the light from every angle, making it perfect for those of us who like to sleep on our backs.
Furthermore, if you're a fan of colourful sleep masks, Bucky makes this one in 17 different styles and they can be easily matched with the rest of your night outfit.
The only noticeable drawback we noticed with this one is that your hair does get stuck in the velcro strap, but that's about it.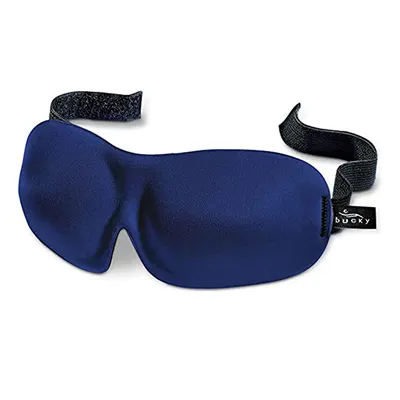 7. MOST COMFORTABLE: Mavogel Cotton Sleep Eye Mask
Less pressure! More comfort! Better sleep!
In the end, we have a Mavogel Cotton Sleep eye mask. This is one of the best selling masks on the market and for a good reason.
Mavogel Cotton Sleep is ultra-soft. It sits nicely around your nose, and out of all the masks we've tested, this one was the most comfortable. In addition, it's entirely handmade so that you can expect the utmost quality from this product.
Furthermore, Mavogel Cotton Sleep does an excellent job isolating the light without any gaping around your nose, making your fall asleep quite easily.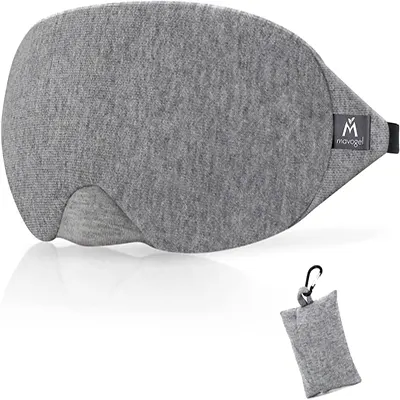 Features to look for in best sleep mask
Like any other product, a sleep mask has its own set of defining features. We feel like it's important that you know what makes an eye mask good or not, so you can choose the best one for yourself. Furthermore, we want you to know what criteria we had in mind when we were doing our testing. On that note, here are the main features to look for in a sleep eye mask.
Excessive light can be an issue for quality sleep. It could disturb your body's ability to achieve REM sleep and it could easily wake you up in the morning, leaving you grumpy and tired all day long. That is why the most important feature of every sleep mask should be its ability to block out light.
A thin mask might be very comfortable to wear, but if the fabric is too thin, you could be looking at a see-through mask, which pretty much defies the purpose of a sleep mask at that point.
To us, this is the number one thing you should look for in a sleep mask. It has to be able to protect your eyes from all light so that you can stay asleep for as long as you want.
That is precisely why we paid the most attention to this feature when we were testing the sleep masks and why we feel you should, too.
As we've said in the intro, an eye mask can be made from various materials.
Arguably, the most popular material for mask manufacturing is cotton. Cotton is super-soft, sits nicely on your face, is breathable and blocks out light quite well. It is also inexpensive and easy to wash, making it that more popular.
The next most popular material would be pure silk. A silk sleep mask is somewhat a luxury item, but its unparalleled softness, comfort and cooling abilities make it arguably the best material from which the masks are made of.
The most affordable option would be a polyester sleep mask. Polyester is an inexpensive fabric, mostly used to make eye masks that mimic the feel and look of silk.
Naturally, they're not as good as the pure silk masks, but they do manage to get the job done.
Finally, you could even get a foam or beads-filled sleep one, if you prefer a contoured mask or the one that cools or warms you up. These are arguably the best at blocking out light, but they do pack some extra weight, so you should keep that in mind.
Some masks are more comfortable than others – that's just the way it goes. Some cover only your eyes, while the others cover over half of your face, sometimes even in its entirety.
As you could imagine, some would much gladly use the sleep mask that doesn't cover their entire face, but that's pretty much down to personal preference.
Be that as it may, the fabric from which the sleep mask is made will greatly affect how comfortable the mask is. Silk will undoubtedly feel better on your face than polyester, but that's not the end of the story when it comes to comfort.
The band that keeps the mask in place will also affect how comfortable the mask will feel on your face. In addition, eyecups in some contoured masks will also play a significant role in the overall comfort of a sleep mask, as well will the shape or weight of the mask.
Contouring refers to mattresses' ability to adapt to the kid's body. Naturally, the better the mattress contours around the body – the better it distributes weight and relieves the pressure from sensitive areas like hips and shoulders. Once again, memory foam mattresses are quite good at this, but hybrids can also do a pretty sound job.
Now, kids usually don't suffer from sleep-related aches and pains, but they do grow and that can hurt quite a bit. In those situations, mattresses for kids can come quite in handy in relieving the child from the annoying growing pains.
Additionally, a contouring mattress can replicate a hug feeling, making it easier for your child to fall asleep on their own.
Finally, keep in mind your sleeping position when searching for the best sleep mask. In general, there are three rules to follow. Back sleepers should look for a contoured mask with a deep cup that will block the light from all angles. Furthermore, since your face will entirely support the mask's weight, you should probably avoid weighted models.
On the other hand, side sleepers should avoid contoured models, as they may be interfering with the pillow and causing some discomfort around the eyes. A light, soft mask should do the trick here.
Finally, stomach sleepers should also look for a mask that's light and soft to prevent creases and squishes as they sleep.
Tips for buying and using best sleep mask
Before you go out and buy an eye mask, you should take your time to get familiar with some tips and tricks to help you find the best one. Here are three.
First up, read the reviews. There are so many options out there and it would be easy just to get the first one you come across, but the chances are, you're going to get stuck with an uncomfortable, lousy product that way. Instead, read the reviews, both user and expert, and find out what they have to say about a particular product you're interested in.
Next up, you have to keep in mind your sleeping position. Not every mask is fitting for every sleeper, as we've mentioned earlier, so make sure to find one that will fit perfectly.
Finally, don't forget to wash your mask. Dead skin cells will certainly build up on your mask during the night. Therefore, you must clean your eye mask at least twice a week, if not more often. If you want to save time, we'd advise getting a couple of masks and just batch-washing them at the end of the week.
Read the reviews
Choose a properly fitting mask
Wash your eye mask regularly.
The advantages of owning best sleep mask
There are numerous advantages of owning and using the best sleep mask.
Being exposed to artificial light (TV, computer screen) can lead to the decreased melatonin production, and lack of melatonin can lead to sleep disorders such as insomnia. Therefore, using an eye mask can prevent those issues from ever happening.
Next up, having an unhealthy sleep regimen has been directly linked to obesity. People who sleep 6 hours or less are more prone to develop eating disorders since short sleep has been known to affect hunger hormones leptin and ghrelin, making those sleep-deprived more hungry than usual. Therefore, in a way, an eye mask might help you stay in shape.
Finally, a night of deep quality sleep is essential for your overall health. Therefore, not only will a sleep eye mask help you sleep better – but it'll also make you healthier.
It might help prevent sleep disorders such as insomnia
It might help you stay in shape and possibly even lose weight
It improves your overall health and well-being.
FAQs about your best sleep masks
We thought we should end things by answering some of the most frequently asked questions about sleep eye masks. Sometimes, you could know just about everything about the product from a technical standpoint but still, have some doubts. So, on that note, here are some answers you might find useful.
Is wearing a sleep mask bad for your eyes?
In a word - no. Unless a sleep mask is on too tight, it is perfectly safe to wear one. It won't affect your eyes or your eyesight in any harmful way.
How long should I wear a sleep mask?
In general, you should wear an eye mask for as long as you're asleep.
What material is the best for a sleep mask?
It all depends on your preference, but many would argue that the best material for a sleep mask is pure silk. A silk sleep mask is soft, comfortable, easy on the eyes, and it will work well regardless of your sleeping position.