18 Modern Bedroom Ideas You'll Fall In Love With
The most important thing is to create optimal conditions in your bedroom in order to have a great night's sleep. But one should not neglect the design of the bedroom, which can be one of the most beautiful rooms in the home.
It is not a novelty that the bedroom is the focal point of a house or apartment. Let's take a look back at ancient Rome, Egypt and Greece. Back then, wealthier members of society had lavish bedrooms in their villas. 
Nothing changed during the Renaissance and later during the Age of Discovery. If you visit the Palace of Versailles near Paris or the Royal Palace of Madrid you will see that the bedrooms are flamboyant, with lots of gold and other precious materials.
Today, bedrooms no longer look like that, but bedroom design has not lost its significance. You have so many different ways available so you can decorate a bedroom that it is both attractive and suitable for restful sleep. 
We have selected for you some modern bedroom ideas that we think you will really like.
Add a header to begin generating the table of contents
Wooden night table with a drawer
Nightstand, bedside tables, daystand or whatever you call it is a very practical piece of bedroom furniture. It should be placed right next to the bed, so that you can put a glass of water, a book, a smartphone or something else on it. When you buy a night table with a drawer, then it is even more useful, because the drawer gives you extra storage space.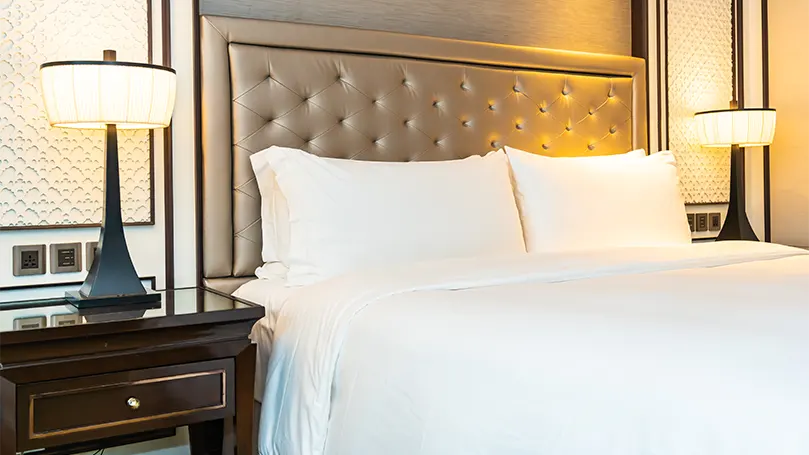 Nightstand can also significantly improve the look of a room. Depending on the type of bed you have and other furniture in the bedroom, you can choose a modern nightstand or a more traditional look. It is best to buy wooden one, because it looks the great and is very stable. The night tables give modern aesthetics and they are often the first pick when it comes to bedroom furniture (except beds, of course).
For some reason, few people decide to paint the walls white, although this can be a great choice. White walls will certainly give a modern look to your bedroom, but they have many other advantages. White significantly enlarges the space visually, and also reflects light, so the room will suddenly look bright and large.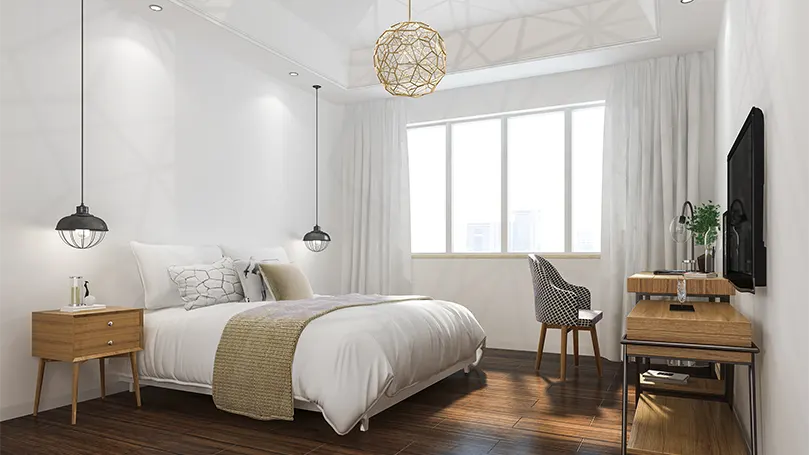 White gives you the opportunity to change the style whenever you want, and you can fit practically all furniture, carpets and curtains when the walls are white. We should not forget that white is not just one, but has many shades, so you can find exactly the shade you want. If you think that it too much of a white – you can consult an interior designer.
Darker wood floor will make the space a bit smaller, but if you combine darker wood floor with white walls you will achieve a great effect. The room will look big, and the dark wood floor will give an elegant, sleek look. Another advantage of the darker wood floor is that not every unevenness or installation error can be seen on it.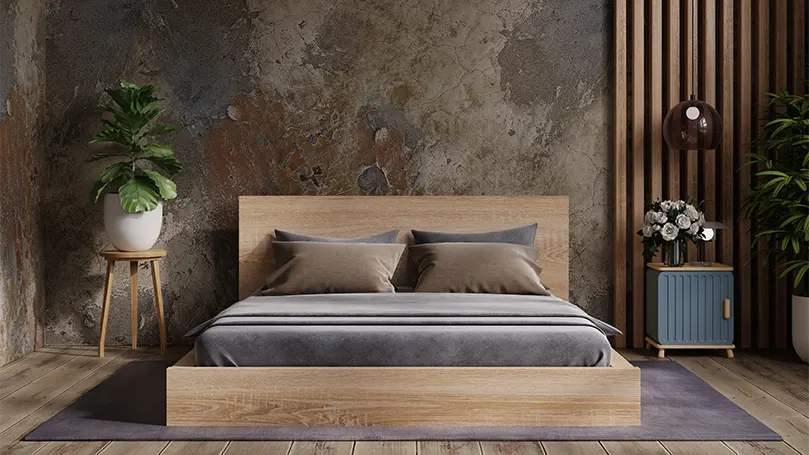 On the other hand, dust and scratches will be seen on such a floor rather than on a light floor. Also, if you have a pet, the darker floor can be tricky. However, darker wood floor does not mean that the floor should be almost black, but you can choose a lighter tone.
It is amazing that four poster beds have maintained their popularity for so long. From several thousand years ago until today, four poster bed has been used. It can very easily fit into both Renaissance style and contemporary. This poster bed frame looks much simpler nowadays and you will mostly find such four posters on the market.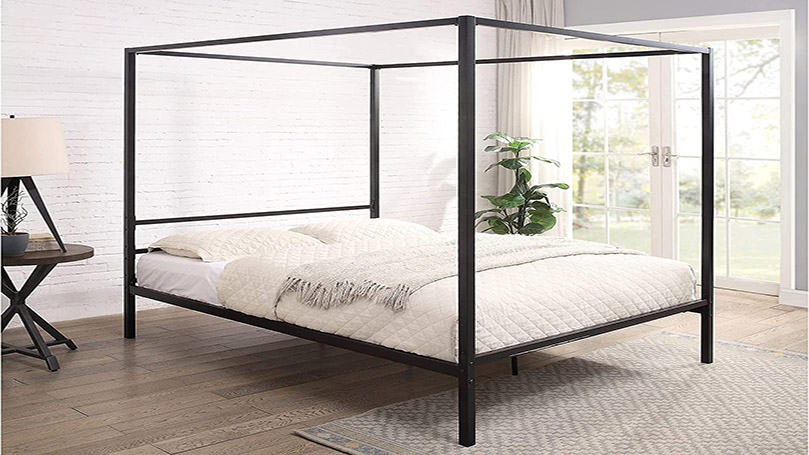 Decoration is certainly important, but a four poster bed has many other things to offer. For example, you get increased privacy. Generally speaking, the four poster bed frame fits better in large and modern bedrooms.
Whether to keep flowers in the bedroom is a topic on which you will find completely opposing views. While some claim that it is very healthy, others say that it is almost poisonous. You don't have to worry, because there's nothing dangerous about having plants in your bedroom.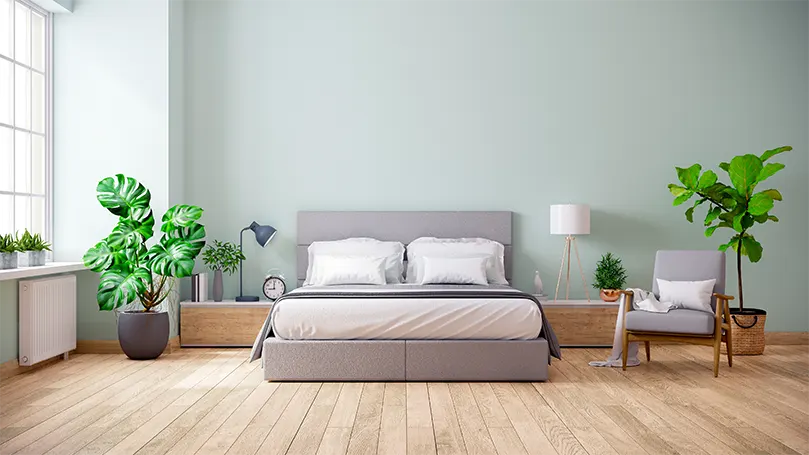 Choose plants that are suitable for the bedroom because of their size and characteristics. Of course, it also depends on the size of the bedroom, because the bigger the bedroom, the more options you have available. The room will look very nice when you arrange the flowers in the corners.
Blue bed linens or blankets
Bedding allows you to significantly change the look of your room every few days. Every time you change the bedding, the bedroom can take on a completely different vibe and you'll see all the difference. For 2022, we recommend blue bedding, because blue is the most popular color for this year and it provide your room with a modern vibe.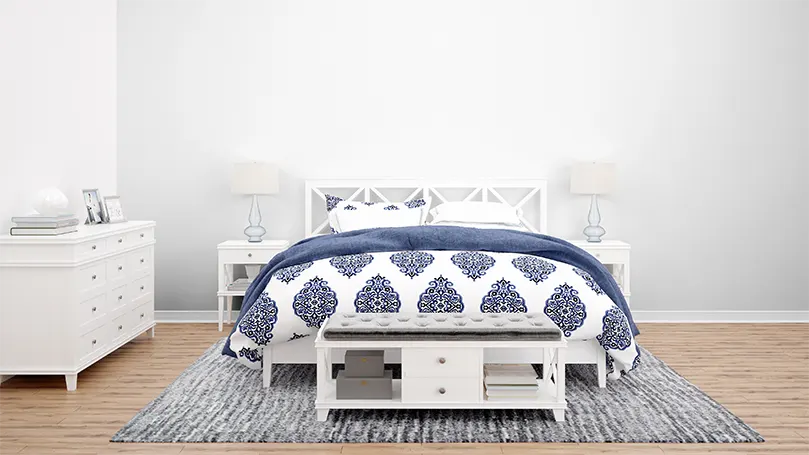 The combination of blue and white is always very beautiful and reminiscent of navy. Depending on the material and the rest of the room, you will choose perfect shade of blue, and blue can be combined very well with many other colors. So if you don't want to have only blue bedding, you can opt for blue blanket, and then you can buy bedding of different colors.
You've probably noticed that concrete walls have been a hit for years. Most modern homes have at least one concrete wall in the living room or bedroom. You need to do the same. Not only because of fashion, but because concrete walls are perfect for any type of interior.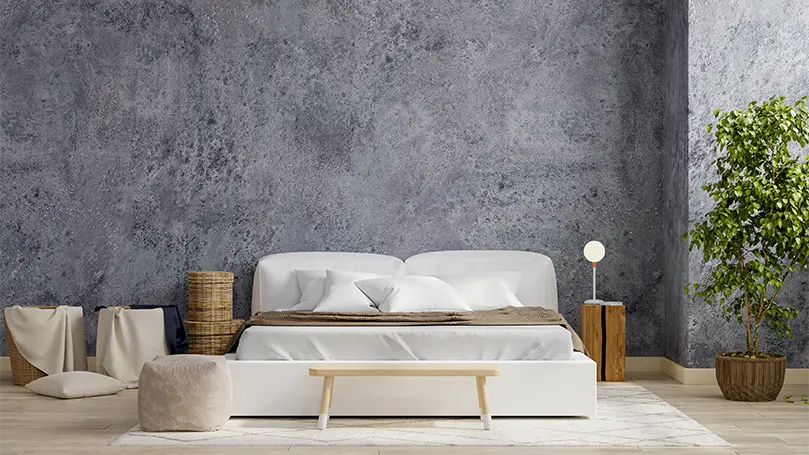 Follow Scandinavian design principles
A little over 50 years ago Scandinavian design principles became very popular and to this day it is one of the favorite styles of people in the Western world. Scandinavian design principles can be applied to the whole home or only to a specific room. It is up to you to decide what you want.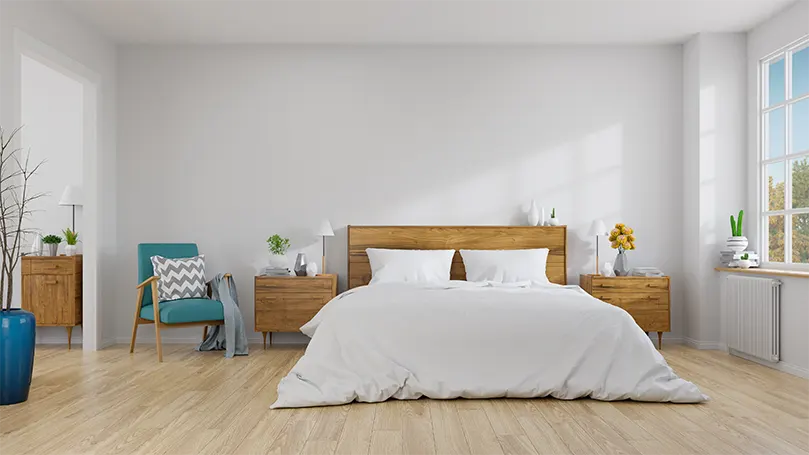 If you want only one room to look Scandinavian, then it is best to arrange the bedroom that way. Scandinavian style is generally very minimalist bedroom and is characterized by clean and simple lines, as well as natural colors and lighter tones. Wood is the main material for both floor and furniture. Functionality is very important, but appearance is not sacrificed. Since winters in Scandinavia are very cold and nights are long, then this style is warm and cosy to make it easier for people to get through that time of year.
Don't be scared to mix colours. In order to blend the colours that match each other, you need to pay attention to the details. If you have 10 completely different colors in the bedroom, it will not be an optimal sleeping environment, but it will look more like a nightclub.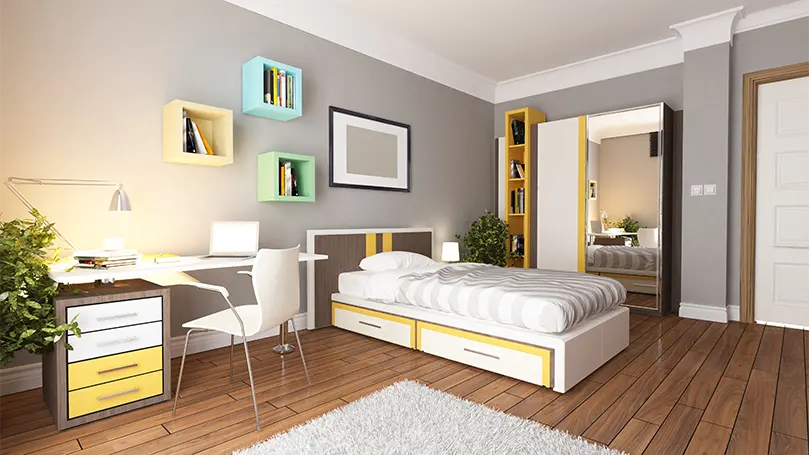 But that doesn't mean that everything in the room should be the same color. Think about which part of the furniture you want to be the focal point of the whole room and then choose more striking colour, and for the rest choose some gentle colors or shades.
The chandelier gives you many options. A chandelier can be an absolute centerpiece of a bedroom. If you decide to buy a large chandelier with a striking look, it is certain that you and everyone else will first notice it when you enter the bedroom and only then the furniture, curtains and carpets.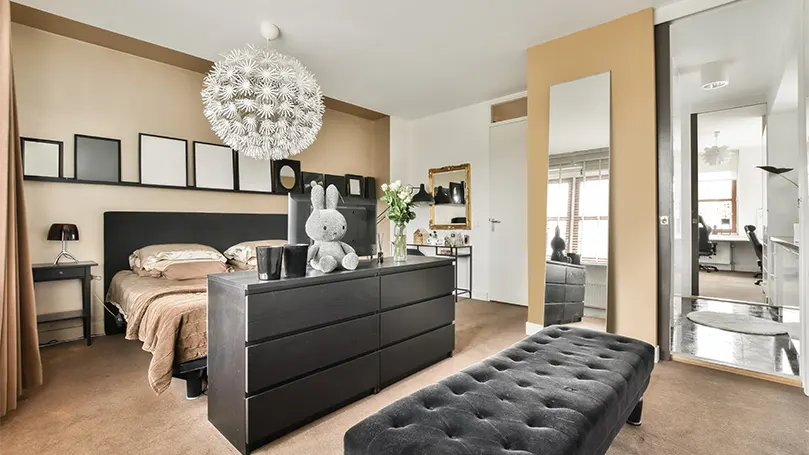 But the chandelier can be less noticeable and complement the look of the room, instead of being a centerpiece. The size is not the only thing that affects how noticeable the chandelier will be, but also the style, so if you choose a flamboyant one, even if it is an average size, it will be the centerpiece.
Mirror in the bedroom is very useful, especially if your main closet is located there. When you get dressed for work or night out, you have to check if it looks nice and you need a mirror there. Also, in the morning when you wake up, the first thing you will see is your reflection. In addition to being useful, the mirror, and especially the large mirror, is very attractive. What most affects the look of the advertisement is the frame, so carefully choose a frame that fits into your bedroom. If you can get it to "catch" a bit of natural light and make a reflection, that is going to be perfect.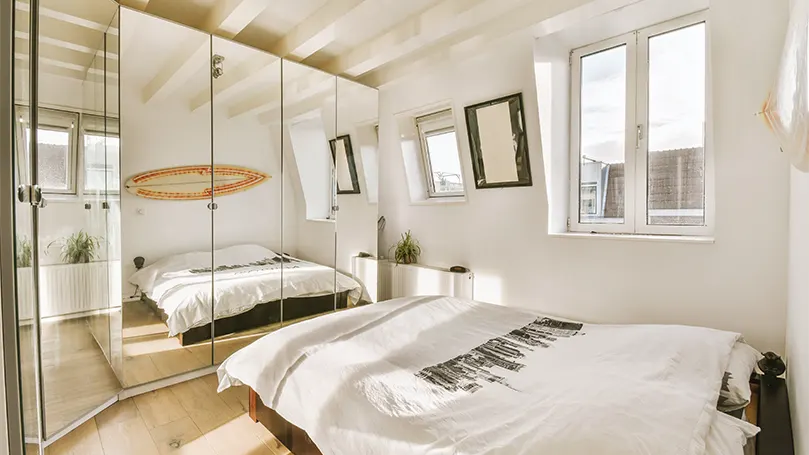 Keep in mind, if you want to arrange the room according to Feng Shui rules, then the mirror must not face the entrance door because it will disrupt energy flow. Vastu Shastra principles also tell us that the wrong placement of mirrors will negatively affect our night's sleep.
Monochromatic means that the color scheme consists of only one color, and in some cases only one shade, although of course this is not mandatory. We have told you that there's no reason to be afraid to use different colors and that's certainly true, but even a monochromatic color scheme can make your bedroom look great.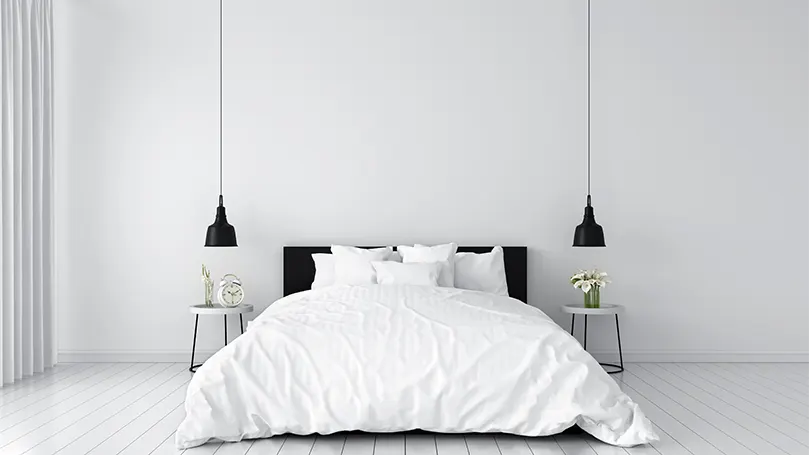 If you think that the walls, floor and chandelier are striking enough, for example, you can choose the furniture and bedding to be the same color. Be creative, because only thing that matters is your satisfaction. Monochromatic tone is often a part of a modern bedroom design.
We have already mentioned minimalist look when we talked about Scandinavian design principles, but this is certainly not the only way to make the space minimalist, yet very functional. The entire room, once set for a minimalistic look, can turn into a contemporary bedroom.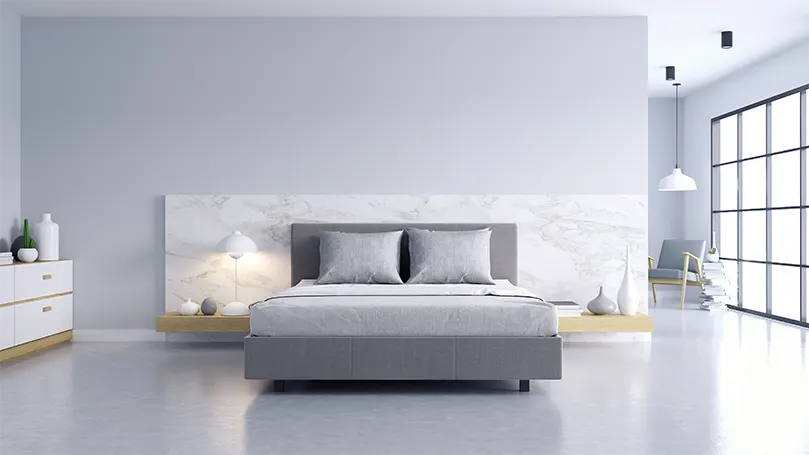 Today it is easier than ever to find furniture that fits the minimalist style. When it comes to colors, it is best to stick to white, gray and black. This is a sure way to achieve a modern bedroom look. 
There is no denying that minimalism is very popular, if not the most popular style in recent years. But there will always be many people who do not like such a design, primarily because it looks cold and because they want to arrange their bedroom completely differently, to make it look warm and cosy.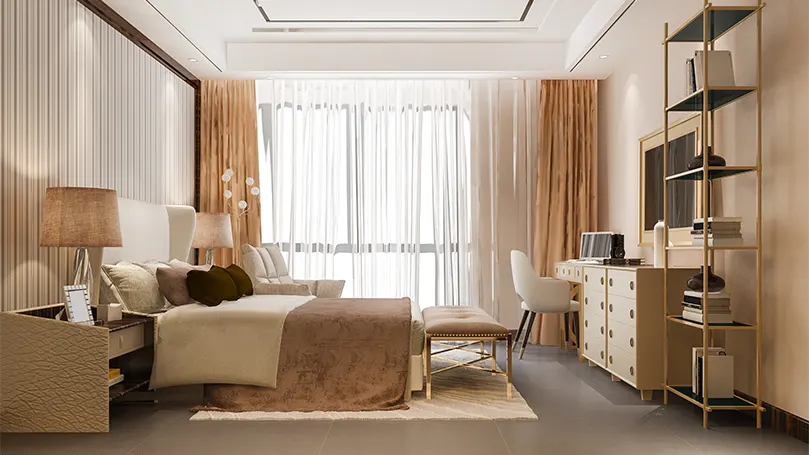 Then retro design is what we recommend. While retro and modern may sound like two opposite styles to you, retro is actually very modern, as strange as it may sound. Take advantage of warm, yellow bedroom lighting and upholstered furniture, such as a bed frame with upholstered headboard and footboard.
If you want to go monochromatic, all white looks amazing. Your room will look modern and attractive, like a room in a 5-star hotel in the Maldives or some other exotic destination.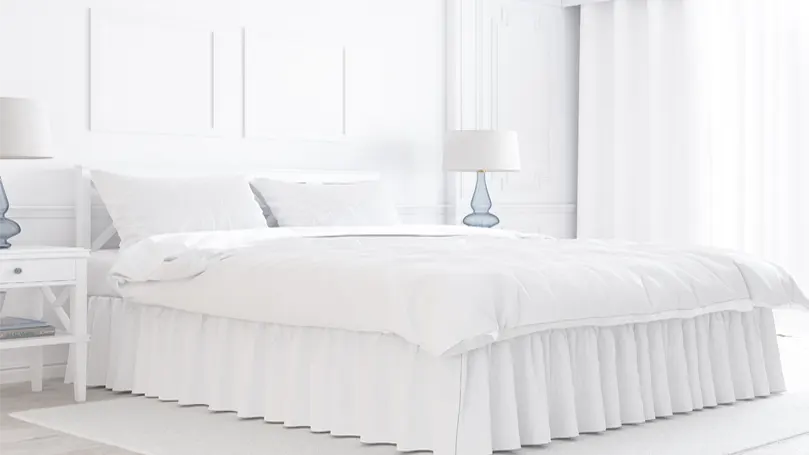 It can be a little tricky if you want everything to be snow white, but you don't have to opt for just one tone. Combine different shades, because as we have already said, white has many different shades. All white bedroom is soothing and it is definitely a great sleeping environment.
We know that not everyone can have a bedroom overlooking the sea. If you are one of the lucky ones who can witness this, take advantage of it and make yourself an oasis. Large windows are a must so you can look out over the open sea.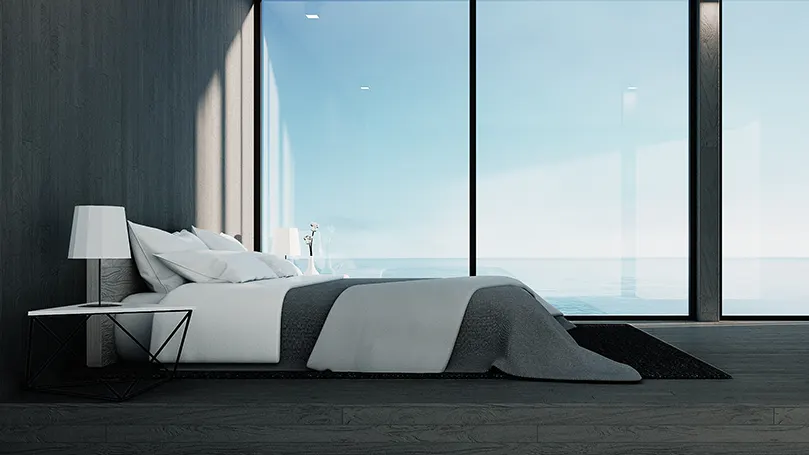 Choose colors and materials that fit into the seaside environment. If you can't have a seaside view, and you really want to, consider one of the very realistic 3D wallpapers.
You can't go wrong if you add a bit of greenish hue – it is always good, especially for modern space look. Green is a natural color, one of the most common in nature and therefore it is very pleasing to our eyes and brain. The brain finds green calming. You don't have to make the whole bedroom green, like you are in sleeping in the woods.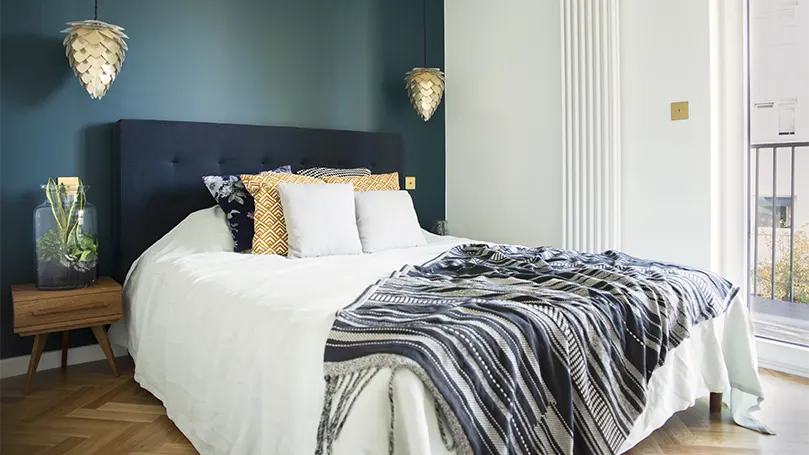 It is enough to paint one wall in a darker shade of green. Or choose bedding and curtains. For bedding and curtains, we recommend lighter shades of green. If you add flowers to the corners, then you will complete the natural look of the room.
Brick wall is a good choice for any type of interior. Whether you go with a completely modern, minimalist look or you have opted for a retro bedroom, you can have a brick wall. Brick wall does not have to be the color of brick, you can paint it in any color you want.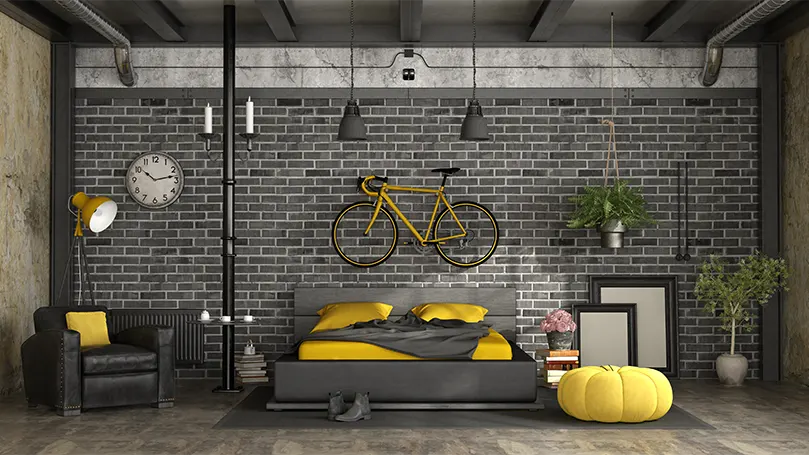 You need to add some additional decoration to the brick wall, to make it even more attractive. It is usually chosen that the brick wall is behind the TV, and facing the sofa. However, you can opt for a different option as well. One bonus tip – try to use natural materials only if possible as you will have an elegant space.