Feng Shui Bedroom Tips For A Comfortable Night's Sleep
The bedroom decoration, when implemented Feng Shui principles, allows the flow of good energy while you are in the bedroom. This means that you will enjoy sensual and nourishing energy that encourages restful sleep.
Feng Shui is a philosophy that comes from the East, more precisely from China. Feng Shui bedroom is a decoration of the room in accordance with nature and your temperament. During this process, ancient principles are respected without disturbing the harmony of nature. This philosophy is made up of several elements that should be in your home. 
If you want your own bedroom to be a space for rest and relaxation, then you have to pay attention to the details. Here you relax and renew your energy, which means that your interior must give you the impression of social peace. In order to properly arrange your room, you must be guided by the yin principle.
Focus on choosing colors, choosing beds and other furniture, paintings, plants and other elements. We will help you adopt Feng Shui perspective without hiring Feng Shui consultant.
Add a header to begin generating the table of contents
What is Feng Shui exactly?
Feng Shui is the principle by which the home is arranged in order to establish a good energy flow within the body. In that case, it has a positive effect on general health. Proponents of this method believe that the energy flow within space determines the quality of life. For example, the energy flow within the business premises affects the business of the firm.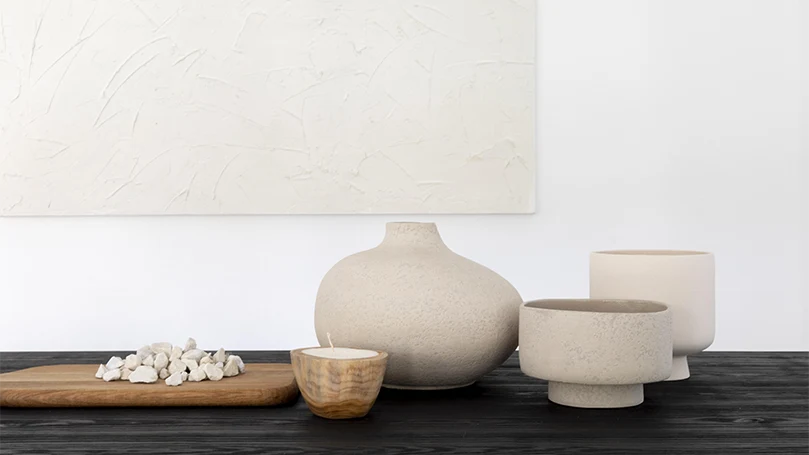 Thus, objects are placed in certain places in order to establish dominance over the energy of the environment and space. The main goal is our well-being, which means that Feng Shui represents the harmony of a person with the space and environment we use.
The bedroom is a room intended for relaxation, so bedroom Feng Shui practices are so important, but don't forget other rooms too. Bedroom must be arranged so that it meets all the conditions of quality night and day rest. Only in this way will you be able to accumulate the energy you need for everyday events and activities. You can take full advantage of the energy of the environment and the space at your disposal. But on the other hand, negative energy can also accumulate if you don't pay attention to optimal Feng Shui arrange of the bedroom.
The key element of the bedroom is the bed. Pay attention to its characteristics already during the purchase, and then place it in the appropriate place. Whether you sleep alone or with a partner, it should be big enough. This will make you feel comfortable and relaxed. The bed should be placed so that the headboard rests against the solid wall, while access from the other three sides is available.
The headboard must be on the opposite side of the door and window. However, if you have no other solution, you can cover the window at night with a thick opaque curtain. During sleep, your feet should not be turned to the bedroom door, because that way you can bring conflicts in the relationships. Make your bed every morning and keep it tidy.
The headboard is a very important element, because it has a psychological role in your well-being. It affects your relationship with your partner. For example, if you get a solid headboard, you will give your mind psychological security. In that case, you will feel that everything is fine while you sleep. Avoid vertical bars or horizontal ladders, open space is a bad choice.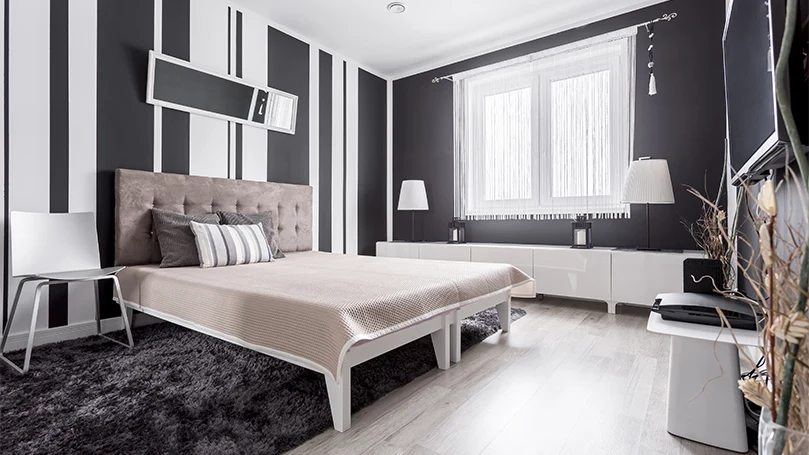 You need a solid piece of wood behind you, and many are wandering around for parawood. If you can't afford a headboard right now, there is another solution. An alternative option would be two large pillows behind the sleeping pillow.
According to the Feng Shui expert, it is not just figures, turtles, etc. It is the energy flow within the space that affects the energy flow within the organism. So, as much as our space is, so is our life. That is why a messy space is unacceptable if you want nothing to stand in the way of happiness and success. This also applies to other unnecessary items such as large boxes under the bed or other items.
Do not keep anything under the bed, especially items that are not related to sleep. Otherwise, defy the energy of wind and water. It is necessary to release the flow of air under the bed so that mold does not form. Mold is a consequence of the oil and moisture that your body releases.
Remove any electronics from the room
Electrical devices are also not desirable generally, not just in Feng Shui. This means that you should remove the smart phone,  TV, and even the computer from your bedroom. While using a cell phone alarm to wake you up, take advantage of alternatives. For example, use classic clocks as alarm clock.
Using electrical appliances in this room is a very bad habit, because they disrupt the energy necessary for rest and health. Since these devices radiate, they have a bad effect on the function of the nervous and immune systems, which means that rest has a lower quality.
Almost every bedroom contains a nightstand, because it is a very useful and beautiful piece of furniture. However, the good Feng Shui method involves the symmetrical placement of bedside table that is always paired.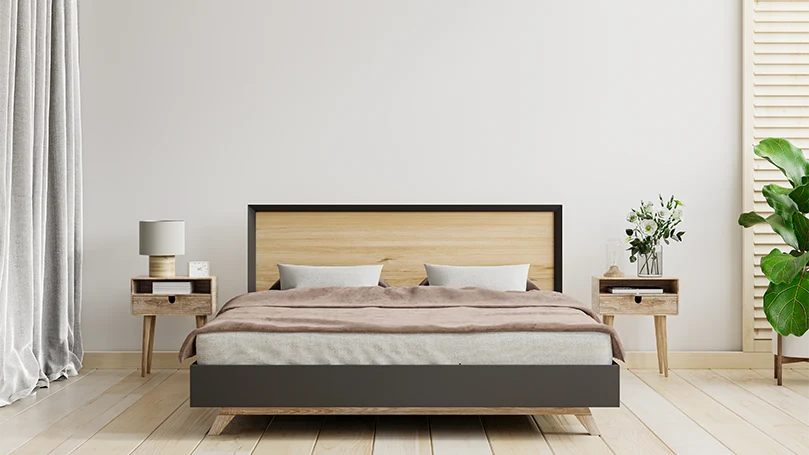 This way, the harmony of the relationship will not be disturbed, and the same procedure is performed with night lamps if you have them. If you are buying cabinets with shelves, find ones that close. Open shelves are forbidden, because they contain sharp corners that cut the space and symbolically threaten the sleepers. 
Colours are a very important part, so we will give you Feng Shui tips about colours in bedroom. When choosing the colours of walls, decorations and furniture, it is important to choose shades that you can find in nature. This means that colours such as strong red, orange or yellow are not recommended. Focus on shades that are less saturated, because the point is to avoid irritability.
You also need to pay attention to the colour combination. While you love the complexity of the colors, choose soothing colours that will match. Otherwise you are working against your interests. In the bedroom, it is necessary to balance the energy through a combination of soothing, warm tones of the earth and fiery colors.
Another important element is plants. They connect you with nature, beautify the space, purify the air. They also raise the energy of the space, and some plants have a positive effect on sleep problems. Plants will help you fall asleep and establish a firmer sleep, but they also remove toxic gases from the air. In addition, it is a great way to bring the beauty of nature into the interior and enrich the space.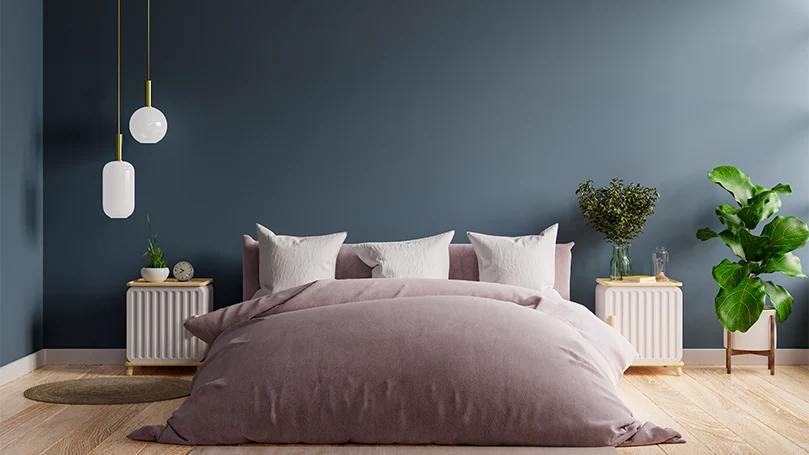 In that case, you can opt for Jasmine, Lavender, Sanseveria, Valerian or Gardenia. These plants are resistant, easy to care for and maintain. Many plants have a wonderful scent that is known for its calming effect on those who inhale it. This means that it will contribute to the relaxation of your body and brain.
Spice up the room with the essential oils
Essential oils not only achieve a beautiful room scent but much more than that. They are known for bringing happiness and money. However, oils have different meanings. For example, lemongrass is used for energy and money. Bergamot attracts happiness that brings you money. When it comes to business prosperity, Peony is used. If you want to attract abundance and money, set Incense in the bedroom. Another great plant for promoting prosperity is ginger.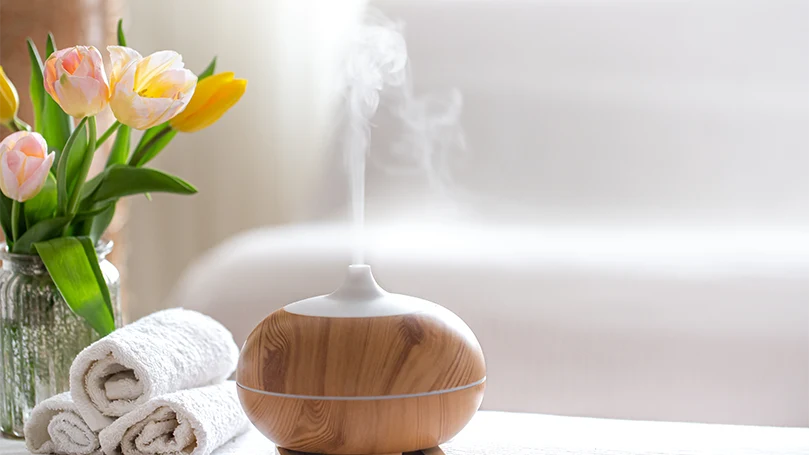 Cypress is recommended for successful projects and work tasks. Rosemary has a positive effect on concentration and focus. Peppermint is a great way to mentally stimulate and improve communication with others.
A healthy, clean interior environment means environmentally friendly decoration. You can still achieve the perfect look and feel of peace, harmony and renewal of energy. This concept promotes a healthy and clean indoor environment, because it is based on nature. You can use several popular environmental techniques for this purpose, such as declutter.
You must also choose colors that do not contain VOCs, it is desirable to use calm tones. Soft lighting is recommended, because such lighting means less energy consumption. Pay attention to the bedding, choose only natural cotton or silk. The colors should be vegetable based. The furniture in the bedroom must be simple, sustainable and green decoration is recommended.
Lamps with rounded shade, illuminating either orange or red are the perfect choice. Lighting can greatly affect your success. For example, lamps with a vertical, linear shape are not recommended. With this choice, you can stifle success. To avoid this, pay attention to its shape and light intensity. Choose low light, natural candles and natural light.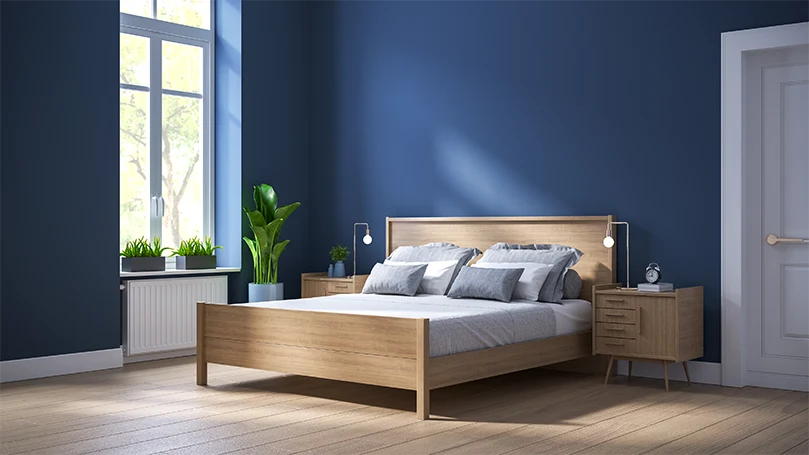 Candles will not emit toxic elements into the air and are a more energy efficient option. Light is used to balance Chi, life force energy. Don't let your home get too dark, as it will get more yin energy. Windows will help you a lot in establishing energy balance.
So, how does a Feng Shui bedroom layout help you?
For followers of this ancient Chinese art , harmony is the most important thing. However, harmony is important in every segment of our lives. Whether it's a job, a partnership, health or something else. Everything we want to achieve should be seen visually in some way. That is why this method is applied, because it helps us to better manage our energy and thoughts.
This creates a pleasant environment, which means that you will be able to sleep carefree. Since quality sleep is a prerequisite for a healthy life, the Feng Shui method automatically improves the quality of life.