How Does Lavender Sleep Spray Promote Better Sleep?
Lavender's soothing and relaxing reputation precedes itself, but can lavender sleep spray actually help you sleep better? Well, let's find out.
Lavender sleep spray actually does work. There have been countless studies of lavender and its sleep aid properties, and at this point, we are absolutely certain that if you were to use lavender pillow spray, pillow mist, room spray or lavender essential oil – you would most definitely sleep better.
Here's a question – are all lavender pillow sprays and essential oils the same? No, of course not. Some of them will help you achieve a peaceful night's sleep, while the others will cause serious eye irritation, so it's best to know which ones to use. But, don't worry, we'll give you a few suggestions in just a few moments.
Add a header to begin generating the table of contents
What is a lavender sleep spray?
To put it simply, a lavender sleep spray is a natural remedy that helps promote a restful night's sleep.
Made with genuine lavender essential oils with no artificial fragrance or colour, lavender sleep spray can be sprayed directly onto your pillows or bedding. Even a light mist of lavender sleep spray should do the trick.
 The calming presence and pleasing scent of lavender essential oils should help you get rid of the stress, fall asleep faster, and drift away into a full night of restful sleep.
They often come in small bottles, up to 100 ml, but even at such a small package – a bottle of pillow spray can last you quite a long time.
Tips for buying and using lavender sleep spray
Even though lavender sleep spray is quite easy to use, we still feel like we have an obligation to give you just a few tips – just in case.
First of all, avoid direct contact with your eyes. Despite its soothing properties, lavender oil can cause irritation and swelling if it comes in direct contact with your eyes or even skin. If this does happen, wash your eyes with clean, lukewarm water. If the irritation doesn't subside, seek professional advice from your physician.
Next up, keep your pillow spray close to your bed – preferably in a drawer of your bedside table. Not only will you always have it within arm's reach, but in order for your sleep aid to last a long time, it must be kept away from the sunlight.
Also, while it is true that you can easily make your own DIY lavender pillow spray with some essential oils, we would really advise buying the pillow mist from a reliable seller and manufacturer.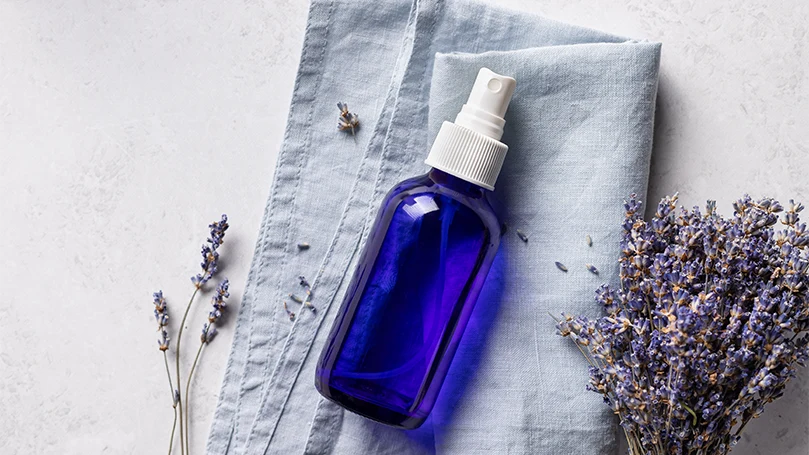 Finally, don't overdo it. Spraying a ton of sleep spray all over your pillow will not help you fall asleep faster. In fact, all that scent is probably going to keep you awake for longer instead of making you calm and relaxed.
Avoid direct contact with your eyes
Keep it in a dark spot away from the sunlight
Buy your products from reliable sources
Use the recommended amount of pillow spray.
Our top 3 lavender sleep spray picks
Now that we have learned a few things about this lovely thing called lavender sleep spray, we wanted to share with you some of the best and most frequently bought lavender pillow mists and sprays.
Lavodia Lavender Sleep Spray
Genuine, natural lavender oil for a good night's sleep!
Thanks to the sweet, fresh scents of Lavodia's pillow spray, you should be able to drift away into the dreamland, minutes after your head touches the pillow. It is made from natural lavender grown in Bulgaria. 
There were no artificial fragrances or chemicals used in the manufacturing of this product. Lavodia's Sleep Spray is vegan and non-GMO, and it hasn't been tested on animals.
Just spray the mist onto your pillowcase before you go to sleep, and experience all the benefits of this German-made pillow mist.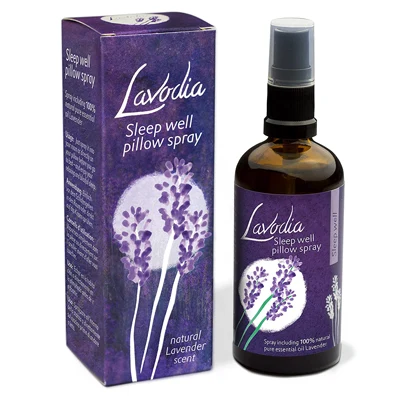 Smells lovely
Soothes and relaxes
100 ml bottle
Vegan-friendly.
Might cause eye irritation
May cause an allergic skin reaction.
Feather & Down Sweet Dream Pillow Spray
Achieve the next level of relaxation with this dreamy pillow spray!
Feather and Down's Sweet Dream Pillow Spray will help you experience sleep as you've never known it before. This lavender pillow spray helps calm an anxious and stressed mind, allowing it to drift away into the land of dreams.
Aside from lavender, you'll find a hint of chamomile essential oils with this one, as well. The product is vegan, non-GMO, and completely natural.
Unlike the other ones on our list, this one actually comes in a variety of sizes – all the way from a 50 ml bottle to a large, 200 ml one.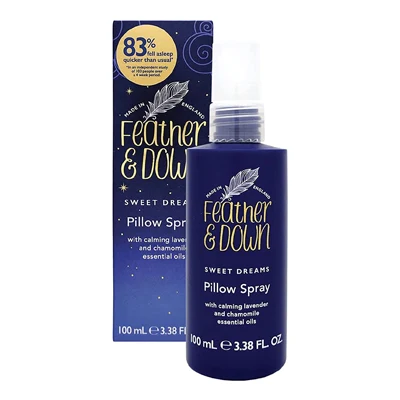 Smells beautifully
Soothes, relaxes, and promotes better sleep
50ml, 100 ml and, 200ml bottle
Vegan-friendly.
Might cause eye irritation
May cause an allergic skin reaction.
Rest your mind and body and drift away to the land of dreams!
Deep Sleep Pillow Spray from This Works will actually have you shout "This works!" after only a few nights. Lavender essential oils have been mixed with chamomile and vetiver, for an even better, more relaxing soothing experience.
This award-winning combination of lavender, vetiver and chamomiles will certainly soothe you to sleep and have you sleeping for full eight hours. You'll wake up rested and refreshed.
We also have a review on Deep Sleep Pillow spray so take a look.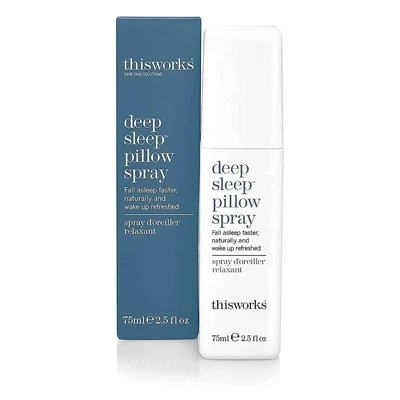 Smells beautifully
Soothes, relaxes, and promotes better sleep
50ml, 100 ml and, 200ml bottle
Vegan-friendly.
Might cause eye irritation
May cause an allergic skin reaction.
Features to look for in a lavender sleep spray
When shopping for a lavender pillow mist or spray, you shouldn't just buy the first thing that you come across. You should know what you're looking for.
On that note, we've decided to make a mini-guide to help you choose the perfect pillow mist for your bedroom.
Since these products aren't regulated by the MHRA or any other agency, you will have to read the label on the back of the lavender sleep spray and check for any potentially allergy-inducing ingredients.
Some of you may be even allergic to the lavender itself, so it is important to take all the necessary precautions.
Your safest bet would be to go with a product with no artificial scents or colours.
As we've said, it would be best if you were only buying the sprays without any artificial scents or aromas. That way, you will be certain that the lavender essential oil inside of the spray isn't diluted.
However, it is not uncommon to find a lavender pillow spray with additional aromas and scents, like chamomile.
At this point, it all depends on what you prefer and how you want your bedroom to smell.
Finally, you'll want to make sure you buy the bottle that will last you a long time.
Most of the time, lavender pillow mist sprays will come in 75 ml or 100 ml bottles, which is the standard size for a spray of this kind.
You could find these in both smaller and bigger bottles – with smaller usually being travel-sized.
The advantages of owning a lavender sleep spray
As we have said, lavender's soothing properties are well known, and most of them translate right to pillow sprays. Here are just some of the advantages and benefits you'd get out of these.
First of all – you will fall asleep faster and stay asleep for longer. Overall, a lavender essential oil found in these is known to promote better quality sleep, and seeing how these are actually called sleep sprays – this is the most important advantage.
Also, the lavender essential oil is known as a natural remedy for treating insomnia, so it's safe to assume that lavender pillow mist might help as well.
Next up, the soothing aroma of the pillow mists and sprays is known to reduce anxiety levels. According to research, using lavender essential oil has shown a decrease in anxiety levels in almost every tested subject.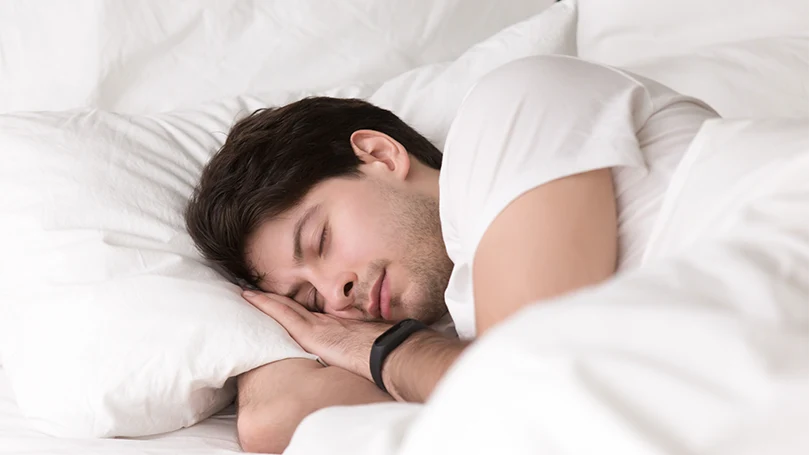 Furthermore, lavender is known to help relieve headaches, and since most people tend to lie down when their head hurts – this might just be the remedy you didn't know you needed.
Finally, you can't argue with the fact that your room is going to smell heavenly. Add some pillow mist on your pillows, maybe put some lavender essential oils into a humidifier, and your bedroom will smell like the world's greatest spa.
Improves sleep quality
Helps treat insomnia
Reduces anxiety and eliminates stress
Could help cope with migraines and headaches
Your bedroom will smell amazing.
Does lavender sleep spray promote better sleep? The answer is yes. From everything that we've learned about essential oils, especially the lavender essential oil, it would be ludicrous not to think that a lavender pillow spray wouldn't help you sleep like a baby. Albeit, without all the crying and waking up during the night.
Lavender and its essential oils have been used in alternative medicine for millennia at this point. There is evidence of many great ancient civilizations using lavender for all kinds of purposes- from improving sleep to easing menstrual pain.
And, according to some modern-day research, inhaling lavender proved to be quite beneficial in reducing blood pressure, heart and respiratory rate – all of which are directly tied to our body relaxing and falling asleep. Not to mention all the positive effects in reducing anxiety and depression, which can also cause you to lose sleep.
All in all, we feel like it is safe to say that lavender sleep spray will definitely help you sleep better. You will drift away faster, you won't wake up during the night, and you will stay asleep until the sun shines through your blinds or your phone alarm goes off. And, that's not something we do all too often these days.
FAQs about your lavender sleep spray
In the end, allow us to wrap this up by answering some FAQs.
Is lavender sleep spray safe to use?
Yes. As long as you use high-quality, tested, natural lavender sleep spray - you shouldn't worry about safety.
How much lavender sleep spray can I use?
You shouldn't use too much. Just spritz the spray once or twice over your pillow or the duvet cover each night before you go to sleep and leave it be.
Does lavender sleep spray have an expiration date?
Yes. On average, a lavender sleep spray will last between 2 to 4 years.
How many times can I spray lavender sleep spray?
You shouldn't spray the lavender sleep spray on your pillow more than three times per day.
Is lavender sleep spray dangerous for pregnant women?
No. In fact, lavender essential oils are known to help pregnant women cope with insomnia, especially during the second and third trimesters.