What Is A Sleigh Bed & Why Should You Have One?
Your priority should be to buy a bed frame that is both functional and attractive. A sleigh bed is a type of bed frame that has been popular for hundreds of years and has all the necessary features.
Bed frame is the focus of attention in almost every bedroom. It is certainly the most important piece of furniture because you sleep on it, and it has a big impact on the quality of your night's sleep. Also, its appearance should set the tone for the whole room.
But choosing a bed is not always easy. You need to think about the functionality, the budget, as well as the style you want. Sleigh bed is available in so many different shapes and styles that you will almost certainly be able to find suitable one if you opt for this type of bed.
A sleigh bed has a headboard and a footboard that are curved in a way that resembles a sled (sleigh), hence the name. This type of bed frame was the most popular during the 19th century, but it has remained very popular today. Most sleigh beds you can buy today are less flamboyant than 200 years ago.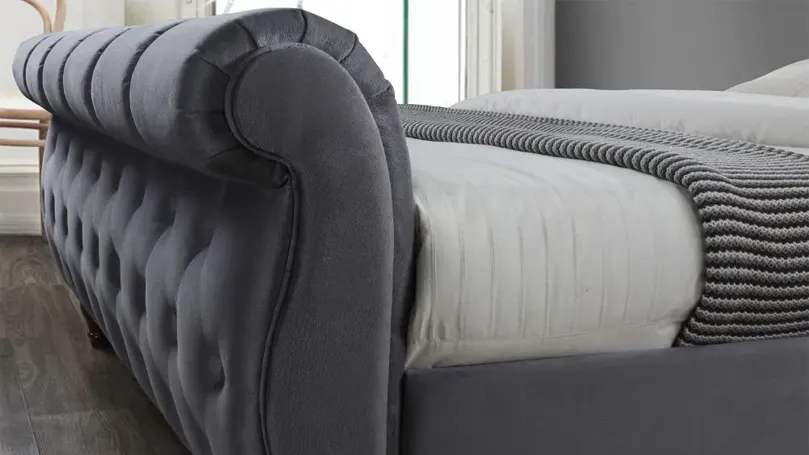 There is a great variety of styles so you can choose between classic sleigh bed, Nordic-style, upholstered, farmhouse style, American Empire style and many other styles.
Are sleigh beds good for master bedrooms?
We consider sleigh bed to be a great option for a master bedroom for many reasons. Sleigh bed will be the focal point of master bedroom because it is big and high since it has curved headboard and footboard. Since you can choose between different styles, you can fit it into any master bedroom, because you will find the right one for the interior you want.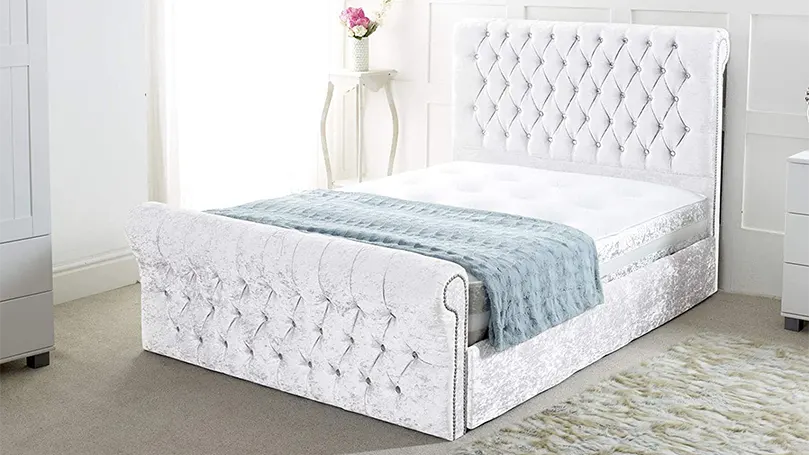 Are sleigh beds made of wood only?
Back in the days when sleigh bed frames were most popular on the market, they were made exclusively of wood. In most cases, oak, mahogany, maple or some other hardwood was used, so the beds were attractive, stable, long-lasting, but also bulky and quite expensive. Today it is possible to buy a sleigh bed that is made of steel or aluminum as well as some types of softwood although wooden sleigh beds are still most popular among customers. Changing the material changes the characteristics and appearance so it is up to you to decide whether you want to stick with wood or go with some more modern option, like metal.
Do sleigh beds come with storage space?
Storage sleigh bed is one of the types of sleigh bed so we can't say that all sleigh beds come with storage space, but it is definitely a popular option. In that case, the storage is part of the bed and it will most likely be drawers as the most common of all storage options. Also increasingly popular are ottoman sleigh beds. If you do not want drawers nor ottoman, but want to have additional storage space then buy one of the higher models, so you will have space underneath. Some sleigh beds are very low, so make sure not to buy one of those models if storage is important to you.
Why should you have a sleigh bed in your bedroom?
If you are still not sure which bed you want and a sleigh bed is just one of the options you are considering, you will be interested in the reasons why you should choose this bed frame.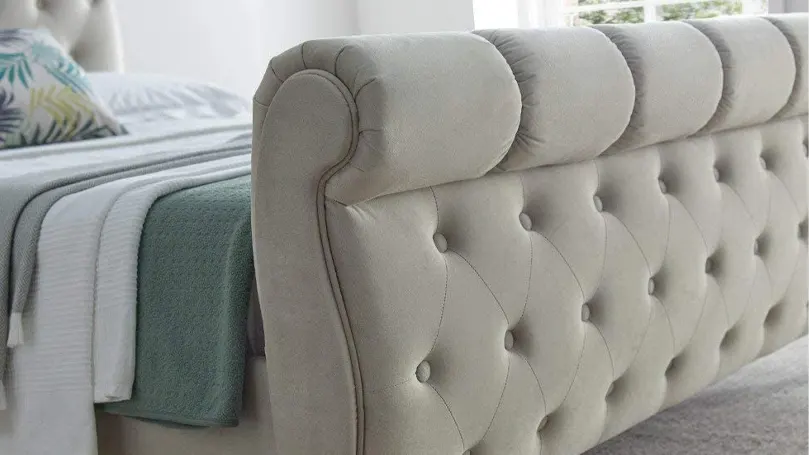 Abundance of styles & material combinations
Probably no other type of bed frame is available in an abundance of styles and material combinations such as sleigh bed. Whether you want your house to look like from the movie "Gone with the Wind" or you want a contemporary design scheme, you will find just the bed frame you need. The same goes for materials, as hardwood, softwood and metal are available if we have already mentioned.
Fabric sleigh beds are an increasingly popular option because it gives a warm look to the bedroom. Instead of a bare wooden or metal frame, the type of fabric you choose will make the frame soft. Upholstery also gives you plenty of options to choose a color.
We come to the storage space again. But built-in storage space is certainly one of the main advantages a sleigh bed can have. Nicely fitted drawers will be great for storing duvets, bedding and many other things. If you opt for, for example, American Empire style sleigh bed, then the drawer handles will be very noticeable.
No matter which sleigh bed frame you choose, you can be sure that your bedroom will look elegant. Curved headboard and footboard are credited for this.
Do sleigh beds come in all sizes?
Yes, sleigh beds come in all sizes, even single sleigh beds, although single size is not always available. Sleigh beds are mostly large beds for the master bedroom and not for a single person living in a studio. Double sleigh bed, King and Super King are the most common sizes you will find on the UK market when you opt for this bed frame.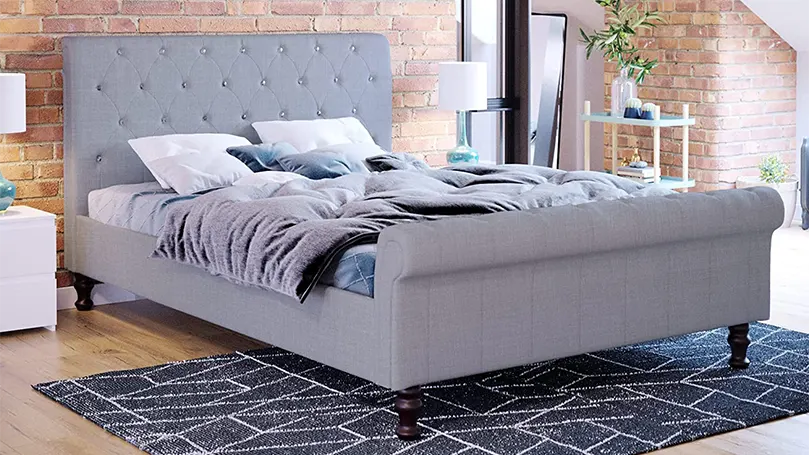 Tips for using sleigh beds in a small bedroom
If you still like the sleigh bed so much and you don't want any other type when buying new bed, but you are limited by space, don't despair. There are ways to fit and use a sleigh bed even in a very small bedroom.
Although the footboard also affects the look of bed, the headboard is definitely more important. So if you don't have enough space, you can consider removing the footboard. This will make the bed less bulky and then it will be a better fit for a small bedroom.
Get bed raisers to get more under-bed storage
Anyone who has lived in a small apartment knows that more storage is always needed. One very simple trick to give yourself a bit more storage space is to buy bed raisers. You will put them on a sleigh bed legs and you will raise it even more, which will mean bigger capacity of storage space.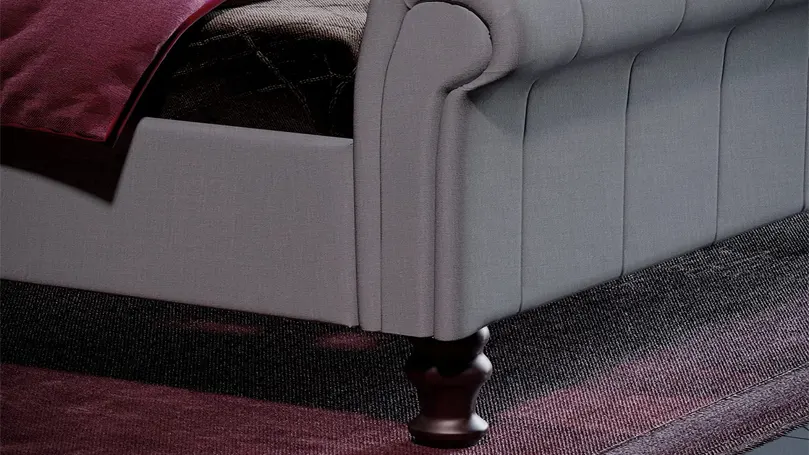 Hide under-bed storage with sheets
Since the sleigh bed will be the centerpiece of your bedroom, then you don't want the space under the bed to look messy. But of course you need storage space and you can't sacrifice it just for the sake of looks. Then the best solution is to hide under-bed storage with sheets. That is very simple to do and your bedroom will look neat.
Add canopy frame to create illusion of space
Of course, you can't make a canopy bed from a sleigh bed nor do you want that. But you can install a frame on the ceiling and place curtains there. Then curtains will fall all the way to your bed and create both illusion of space and privacy.
Go with single-color bedding to enhance space illusion
Single-color bedding can certainly help you to enhance the space visually. Also, choose a bright color, because then the space will look even bigger.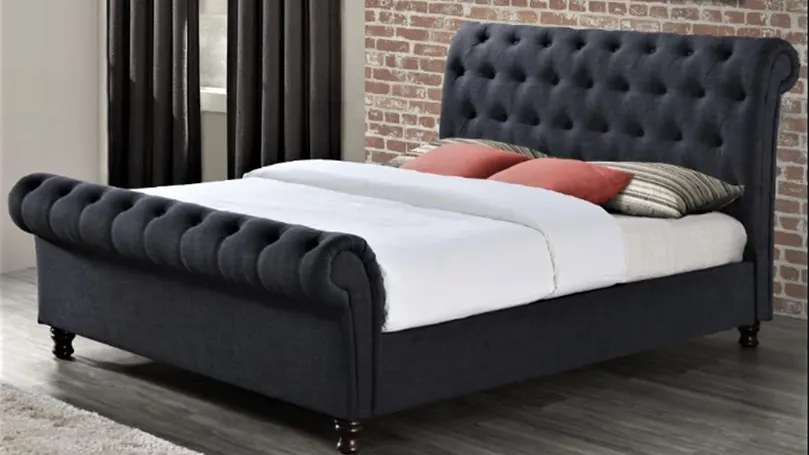 Are sleigh beds a bit outdated?
One could think sleigh beds are a bit outdated but that can't be further from the truth. This is still one of the most popular types of bed frames. The huge number of styles in which a sleigh bed is available is the main reason why this is so. You can choose the color, material and overall look so that everything looks just the way you want it. Don't forget that you can make a sleigh bed even more modern by adding certain details.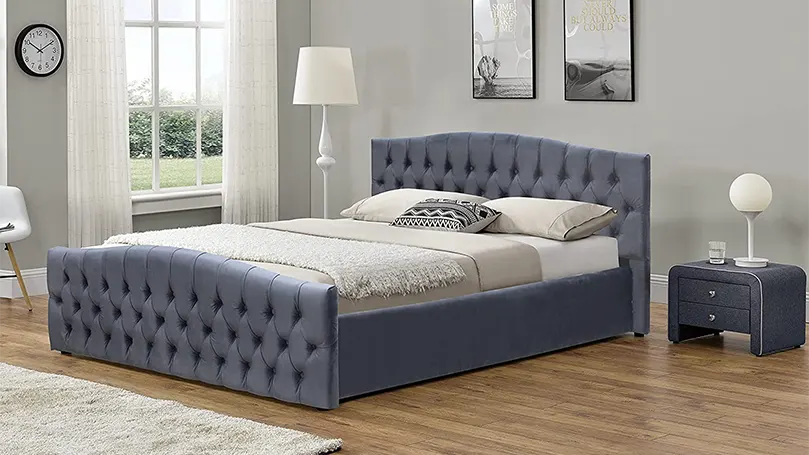 We should not forget the functionality when we talk about the popularity of sleigh bed frames. It is certainly important that the bed looks nice since it is the focal point of the bedroom, but it must also be highly functional. Sleigh beds are usually made of hardwood or metal, which guarantees durability and long service life. And also stability and support which are the most important characteristics of every bed frame. Sleigh bed doesn't need a box spring, so you don't have to spend extra money on it.