Best Dehumidifier: 7 Picks for Better Sleep
If you're someone that regularly suffers from allergies, you know how annoying and exhausting it can get. Staying in humid spaces doesn't help either. You see, humid spaces are like Disneyland for many common allergens like dust mites(learn how to get rid of them), mildew, mould etc. With that in mind, one could argue that the best way to get rid of all of them is to lower the humidity in your room.
Now, that may sound rather hard, because what are you going to do? Take the moisture out of the air? Well, that's exactly what you're going to do. Using this neat device called a dehumidifier can help you improve the state of your allergies significantly. However, you shouldn't just grab any device you lay your eyes upon, you should choose the best dehumidifier there is – and here are a few of them.
IMAGE
PRODUCT
DETAILS

KEY FEATURES:

- LED touch panel

- Customizable performance modes

- Very energy efficient

- Great set of wheels for easy manoeuvrability

View Latest Price

KEY FEATURES:

- LED touch panel

- Dedicated laundry drying feature

- Very energy efficient

- Very accurate hygrometer

View Latest Price

KEY FEATURES:

- As quiet as it gets

- Very powerful for such a small device

- 6 operational modes

- Auto-shutoff and various other options

View Latest Price

KEY FEATURES:

- Great capacity

- Whole-house adaptable

- HEPA filter

- Digital display

View Latest Price

KEY FEATURES:

- Anti-bacterial filter

- Easily removable tank

- Very energy efficient

- A great carry handle

View Latest Price

KEY FEATURES:

- Simple and elegant

- Quite good in low temperatures for a refrigerant model

- Very quiet

- Accurate and efficient

View Latest Price

KEY FEATURES:

- Small and portable

- Remarkably quiet

- Auto-shutoff

- Easily removable tank

View Latest Price
If you're just getting familiar with dehumidifiers, it's important to understand that there are different types of them on the market. In general, there are three main types of dehumidifiers. Understanding the differences between these types of devices is very important as it will greatly impact which of these ones will be the best fit for you and your condition.
Desiccant dehumidifiers are relatively new to the market. In essence, how they work is they absorb and collect the moisture from the air using a desiccant – hence the name. Now, a desiccant is not some fancy tool or a piece of machinery, it's just an absorbent material, similar to the silica gel you might find in the boxes when you're shopping for tech.
These ones can come in real handy in some cold rooms, as they can operate at a much lower temperature compared to the other types. So, if you like sleeping chilly, this might be the best option for you.
The way this thing works is rather simple and safe. There are no refrigerants used, so they're more environmentally friendly. They're also quite slimmer, quieter, odourless and all of the trapped moisture is being evaporated and turned into water that is either drained straight from the device or into a tank.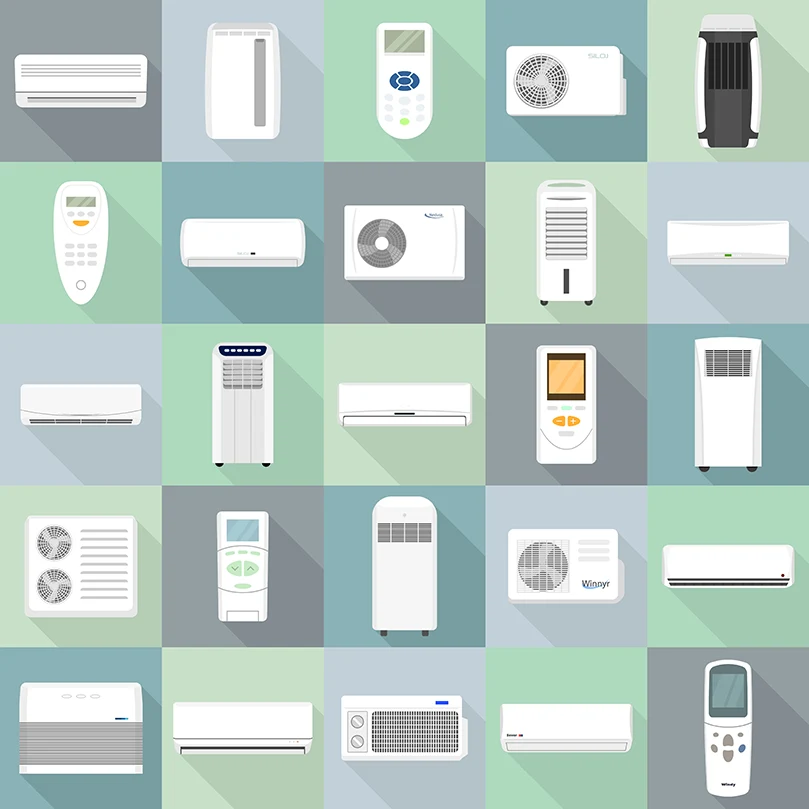 Refrigerant dehumidifiers are the classic, traditional type. They're most commonly found in households and they're very effective in the right conditions. Once again, how they work is really simple. They draw in the moist air over the chilled metal plates, over and over again, until all of the moisture from the air condensates and drips down into a water tank. However, because they use chilled metal plates to trap the moisture, they're not very effective in the 'cold' rooms and by 'cold' – we mean anything below 17 or 18 degrees Celsius.
What happens in those instances is that the water tends to freeze on the cooling coils and that affects the performance of the device significantly. However, some beefier models can handle lower temperatures, but in those instances, you're much better off with a desiccant dehumidifier.
Whole-house dehumidifiers are basically upgraded ventilation systems that remove damp and moisture from your house. The obvious benefit of this system is that it's far more effective, which is to be expected considering how big and powerful it is.
In addition to that, whole-house dehumidifying systems are remarkably quiet and inexpensive to operate. You will, of course, have to invest more money initially, but from that point on, it's virtually free.
They're low maintenance, they will last you at least a decade and believe it or not, the installation is quite quick and easy, as well.
Features to look for in the best dehumidifier
Knowing what to look for in a humidifier when you're about to buy one will make your decision a lot easier. Knowing what pint capacity or hydrostat is will make a significant difference. For that reason, we have highlighted some of the most important features of these devices, so, here's what you need to know.
When we talk about the size of the dehumidifier, we're basically talking about its ability to remove excess moisture from the air. So, the size of the dehumidifier is defined by how much moisture it can remove from the air and it is measured in pints. Pints per day, if we're being exact.
So, how do you choose a proper one? Well, you'll need to calculate the square footage of your space and how damp it is. So, for instance, if you're looking to dehumidify a moderately damp space that's about 500 square feet – you should be looking for a 30-40 pint dehumidifier.
A water tank or a collection tank is just what it sounds like. It's an internal tank used to collect moisture from the air. Once the tank gets filled, you have to empty it out. This is a rather simple process, so don't worry too much about it. Naturally, the models with bigger capacity will come with larger water tanks and most of the newer models come with an auto-shutoff feature that will disable your dehumidifier until the tank has been emptied, so you don't have to constantly check whether the tank is full or not.
If you don't want to bother with emptying the water tank every now and then, you can find the model that can be drained through a hose. Basically, these models don't need a water tank, as they're constantly flushing out the water through the hose.
In most cases, you can just use a regular hose that you attach to your dehumidifier. It's really easy to do and many prefer to do it so they don't have to worry about the water tank and they can just leave their devices running whenever they want to.
Filter-cleaning Indicator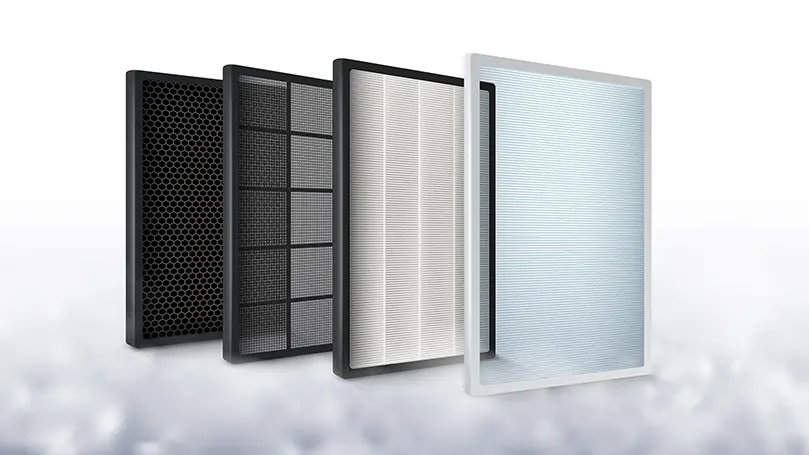 In case you didn't know, dehumidifiers have air filters, too. Those filters, naturally, have to be cleaned from time to time. Now, to avoid guessing when the time is right, you can find a model with an indicator that informs you when the time to clean the filter is.
Cleaning the filters is easy. You remove the filter from the device according to a manual and you just hand-wash it with warm water and mild soap. Dry the filter thoroughly after the wash and put it back where you've found it.
To avoid over-drying the air and to make sure everything's in the ideal range, most newer models use humidistats or hydrostats to measure the humidity in the air and set up the device accordingly. It's a pretty neat feature most of the newer models have as it eliminates the hassle of manually setting up the dehumidifier and turning it off and on whenever you feel like there's something off with your air. With an auto humidistat, you just set it up the way you want it and that's it.
If the device doesn't come with a humidistat, you can purchase it separately, but we'd advise looking for a model that already has it built-in.
Naturally, for the best experience, you'll need a device that will be able to correctly measure the relative humidity of the air in the room. That's what's hygrometer is for. Most of the newer devices come with a very precise built-in hygrometer, which can detect and display relative humidity very accurately.
It's important to pay attention to this feature, because if the hygrometer's readings are off, you won't ever reach the desired humidity levels if the device can't detect them properly.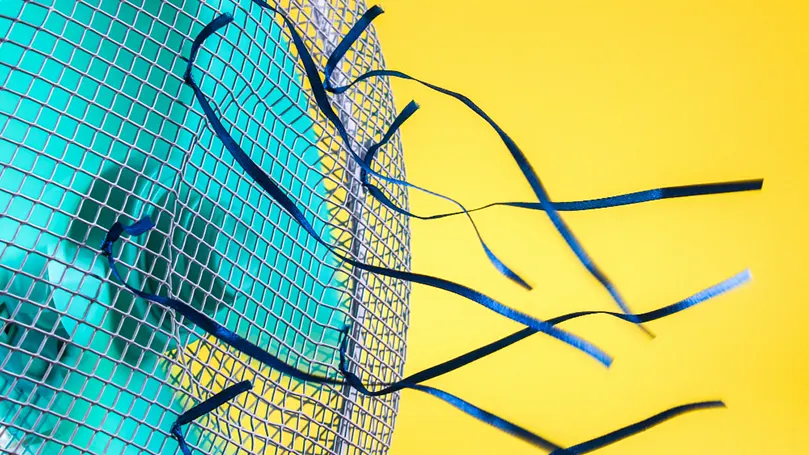 Most dehumidifiers have three basic settings when it comes to fan speeds – low, medium and high. The low setting allows for more efficient moisture retention, as low speeds allow for more time to draw out the moisture from the air. Higher fan speeds will pump more dry air into the room, but they will make more noise as well. A safe bet is to keep things in the middle and tweak your other settings, like preferred humidity levels and just leave the fans be.
Tips for buying and using best dehumidifier
Before you buy a dehumidifier, make sure you ask the right questions. Why do you need it? How humid is your room? Do you need it just for your bedroom or your whole house? All of these will affect your decision when it comes to choosing a dehumidifier.
For instance, if you're only planning on using a dehumidifier in your bedroom, you might want to think about the air filters or noise levels. Some people prefer sleeping in silence and others prefer some white noise in the background. Also, if you want cleaner air – the additional filters could come in handy.
Also, if you're planning on moving around your device from room to room, you might want to consider finding a model with caster wheels for improved portability.
Consider noise levels based on the room you plan on using it in

Make sure you consider portability if you plan on moving it around

Air filters are always a welcome addition.
Now that we are familiar with all the important features of dehumidifiers, let's take a look at which models check all the boxes and represent the best ones on the UK market. Before we proceed, we'd just like to say that all of these are great products, so, whichever one you end up choosing, we're sure you'll be more than satisfied. So, without further ado, let's take a look at our picks!
BEST OVERALL: Pro Breeze 20L/Day
The absolute best in class!
When it comes to dehumidifiers and extreme conditions, it doesn't get much better than this. Pro Breeze 20 can reduce the humidity levels of very damp places by 30% in just a couple of hours. It can drop the moisture level of any room down to 40% in about half a day and all that you have to do is set it up. Bonus points for a great LED touch panel.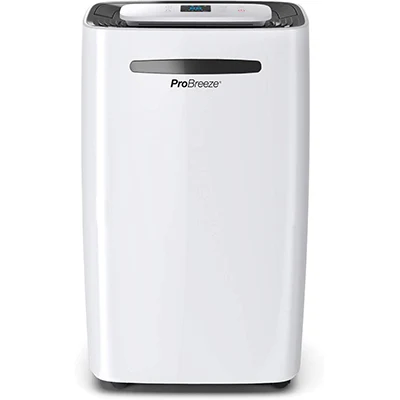 LED touch panel
Customizable performance modes
Very energy efficient
Great set of wheels for easy manoeuvrability
Reservoir removing and re-attaching takes some practice
Carrying handle is not trust-worthy
BEST VALUE: Pro Breeze 12L/Day
Looking for the best deal? Look no further!
Another variant of the Pro Breeze, only this time in a slightly smaller and far simpler package. This one comes with 3 basic operation modes (auto, continuous and sleep) which you can select from an LED display on top of the device. What you can expect from this one is more than decent performance and energy-efficiency for a reasonable amount of money.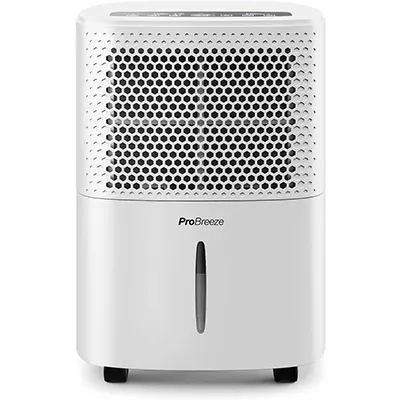 LED touch panel
Dedicated laundry drying feature
Very energy efficient
Very accurate hygrometer
Easy to use
Not the quietest thing in the room
BEST FOR BEDROOM: Inventor Rise True-Zeolite Desiccant 8L/Day
Your best friend for a night of quality sleep!
If your bedroom is damp and the air feels hard and heavy, but you can't stand the noise – pick this one! The Inventor Rise is the quietest dehumidifiers your money can buy, which makes it ideal for your bedroom. It's very lightweight and portable, so if you wish to move it from the bedroom from time to time – you can. It has a small tank, but it can be drained through a tube as well.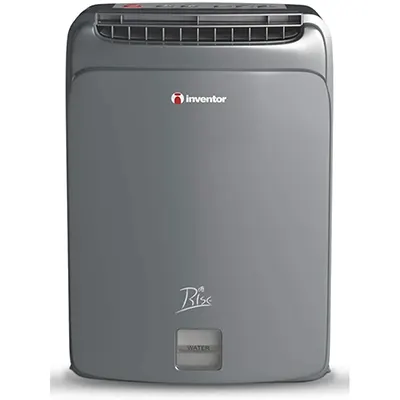 As quiet as it gets
Very powerful for such a small device
6 operational modes
Auto-shutoff and various other options
Must be close to an outlet because of the short power cord
Does not show actual air humidity levels
Short drainage hose
BEST WHOLE HOUSE: Meaco 20L/Day
Powerful product for your whole house!
This is possibly the best dehumidifier on the market and because of its large capacity, it's suitable for your whole house. What's even more awesome about this product is that it comes with a HEPA filter which pretty much cleans the air of all pollutants and allergens which is splendid.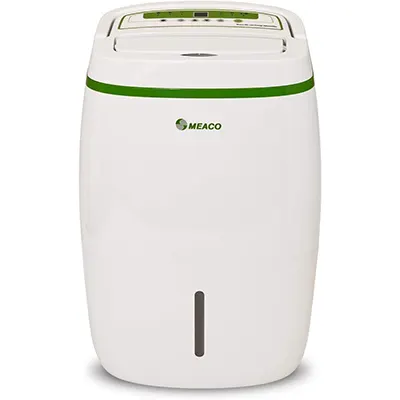 Great capacity
Whole-house adaptable
HEPA filter
Digital display
Variable Humidistat
A bit on the noisy side
Water tank removal can be a little tricky
BEST DESICCANT: EcoAir DD122 7L/Day
A small dehumidifier that does big things!
The EcoAir DD122 is our pick for the best desiccant dehumidifier. It's very efficient, even though it comes in a rather small package. It boasts an anti-bacterial filter, which makes it a great choice for those struggling with allergies. The tank is small, so you'll have to empty it out more often, but on the bright side, it's really easy to remove and you don't have to worry about any spills.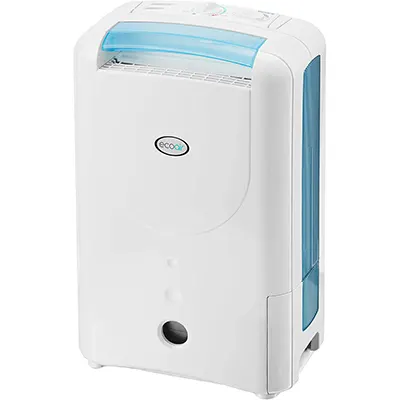 Anti-bacterial filter
Easily removable tank
Very energy efficient
A great carry handle
Lightweight
Small condensation tank
Does not read the humidity levels
No wheels for easy moving
BEST REFRIGERANT: MeacoDry ABC Range 12L/Day
One of the best refrigerant dehumidifiers ever made!
Meaco knows how to make a quality product and MeacoDry ABC is the proof of that. It's a very efficient and remarkably quiet refrigerant dehumidifier. Unlike many others, this one even looks good and clean. It's powerful enough to dry clothes and drop the humidity levels down to your liking in just a few hours.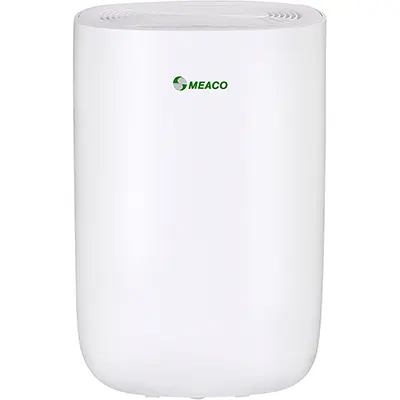 Simple and elegant
Quite good in low temperatures for a refrigerant model
Very quiet
Accurate and efficient
Easily removable tank
The handle is not the greatest
No wheels
BEST COMPACT: Pro Breeze 500ml
Quite possible the most portable dehumidifier ever!
If you're looking for something small and portable, but still good enough so that it actually does the job it's supposed to do – look no further. Pro Breeze 500ml is the best portable device on the market and is ideal for small rooms, such as a dorm room or a bathroom. Don't expect it to perform miracles in large spaces, as it's not designed to do so.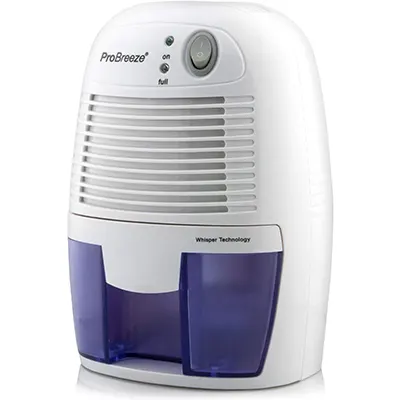 Small and portable
Remarkably quiet
Auto-shutoff
Easily removable tank
It's slow even in the very compact spaces
Must be near an outlet because of the short power cable
The advantages of owning the best dehumidifier
Owning a dehumidifier isn't solely about controlling the level of humidity in your home. It's about a lot more than that. There are many advantages that come from owning this product, because, believe it or not, humidity is one of the worst problems.
First of all, you're getting rid of mould. Humid conditions are ideal for mould to thrive in. Mouldy ceilings or other areas not only look horrendous, but they pose a health risk as well. It can cause cough, eye and throat irritation, sneezing, skin irritation and so on.
In addition to removing excess moisture from the air, the dehumidifiers are also getting rid of all kinds of various toxins and allergens from the air as well. Naturally, it won't do the same job as the air purifier, however, it will do a pretty solid job of improving the air quality in your home.
Mould prevention
Gets rid of allergens and improves air quality
It's suitable for any space
Finally, we just want to sum up all of the things we've learned so far and maybe answer some additional questions that are on everyone's mind.
How do I know the right size of my dehumidifier?
Measure your room square footage and humidity levels and choose accordingly.
Where should I place my dehumidifier?
Any place will work, as long as nothing's obstructing the airflow.
Do fans continue to run after my dehumidifier reaches a certain level of humidity?
Fans run for as long as the unit is on.
How often do I need to replace/change filters in a dehumidifier?
You can change your filters annually.
How much would cost me to install a dehumidifier?
Depending on the type, it will cost anywhere from 1000 to 2500 pounds.
Can I run a dehumidifier all the time?
It is not necessary to run it all the time.