Inofia Memory Foam Mattress Topper Review
If your mattress is causing you trouble sleeping and back pain – you need to find the right mattress topper for it. On that note, let's see if Inofia Memory Foam mattress topper is what you need.
Who is Inofia Memory Foam mattress topper for?
This Inofia mattress topper is made for everyone that wants to turn their existing mattress into something a lot more cosy and comfortable.
There really isn't a perfect sleeper for this Inofia mattress topper, and not because this one won't suit anyone, but the opposite. You'll get a nice, medium-firm sleep surface with pressure relief capabilities that should satisfy just about anyone.
After all, this is a topper. If your mattress is in a really bad state, a topper won't help a lot. With that in mind, we can't really see why anyone wouldn't want to try this one out.
Add a header to begin generating the table of contents
What do we use this product for?
So, what is this
Inofia Sleep
mattress topper good for, and what should we use it for? Well, for starters,
this topper should breathe some new life into your current bed.
However, the thing that really sets this one apart from all the other, similar toppers is the latex foam layer, which not only contours to your body's curves perfectly, but
is also riddled with small holes for improved air circulation.
In other words – it's there to stop you from overheating. All things considered, we can:
Use this mattress topper to get a good night's sleep
Use this mattress topper to relieve pressure from core areas like hips and shoulders
Use this mattress topper to improve your old mattress
Use this mattress topper to prevent sweating and overheating during the night.
Features you should know about Inofia Memory Foam mattress topper
Now that we know what we can use this one for, let's take a look at what makes this one special, and different, from say, Inofia Naturbrown mattress topper.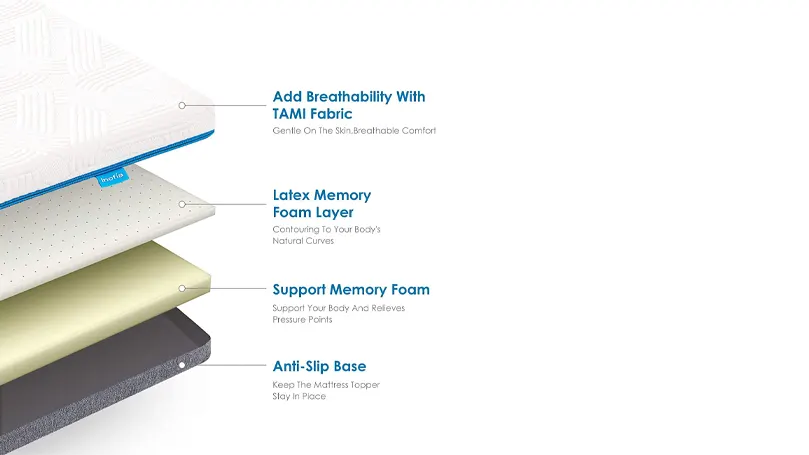 This Inofia mattress topper consists of two layers, one of which is the natural latex, LATEXCH memory foam layer. As you can tell from the name, this one's made of natural latex and memory foam – a perfect marriage of comfort and breathability.
Latex is known for being very thermally stable, so to speak, so you can expect this mattress topper to provide you with a nice and cool sleep surface. But, just in case that wasn't enough, Infoia designed this one full of tiny little holes for improved circulation and airflow.
In addition to all of that, this latex foam will also provide you with a comfy, supportive, hypoallergenic sleeping surface.
Breathable & removable cover
As is often the case with high-quality mattress toppers, this one also comes with a removable cover. This makes maintenance super easy and hassle-free. All you have to do is remove the cover, put it in a washing machine at 40 degrees Celsius, and you're good to go. Your topper will be fresh as new.
Another thing that's going to make this topper fresh is the breathable Tami fabric from which this cover's made of. As far as we can tell, this is a polyester cover with some infused charcoal material, which is great, because polyester isn't known for retaining heat or soaking up sweat, which is precisely what Inofia has tried to do with this one.
What good is a mattress topper if you have to chase it all over the bed? Thankfully, that shouldn't be a problem with this one. Inofia LATEXCH topper not only comes with four elastic straps to keep this topper securely in place all night long but the bottom side of this removable machine-washable cover will latch on to your mattress and never let go.
All jokes aside, this topper comes with an anti-slip base – just in case your mattress to too thick or thin for the standard elastic straps.
100% contouring to your body
Underneath the natural latex/memory foam layer, we can find a high-quality memory foam support layer that offers brilliant contouring and pressure relief to help you achieve a great night of comfortable sleep.
Both this memory foam and the latex foam layer perfectly contour to your body, meaning that regardless of what sleeping position you prefer to rest in, you can expect brilliant pressure relief all throughout the body.
But, that's not all. The bottom layer of this mattress topper is also a tad firmer than the top, latex one, and is, therefore, more supportive of your entire body.
OEKO-Tex Standard 100 Certified
Inofia LATEXCH Memory Foam topper is OEKO-Tex Standard 100 certified. Loosely translated, this means that no harmful chemicals were used in the manufacturing of this mattress topper and that the product is in compliance with UK's safety standards. In other words, this is a safe and eco-friendly memory foam topper anyone will be able to enjoy.
100 days of trial & 10-year warranty
If all of this wasn't enough to show you that you're dealing with a high-quality memory foam topper, maybe a 100-day long trial period and a 10-year warranty will do?
It is pretty much unprecedented for anyone to offer a 10-year warranty on a mattress topper, but Inofia sleep does: This alone speaks volumes on the durability and longevity of this topper.
As for the 100-night trial, well, that speaks for itself. Where else will you find a 100-night trial to test your new mattress topper? Inofia Sleep really did an excellent job with these two.
Review of Inofia Memory Foam mattress topper
It's time for the main event – Inofia Memory Foam mattress topper review.
From the design standpoint, this is an excellent topper. It has it all. It is an 8 cm thick latex and memory foam topper, with an excellent non-slip base, a well-crafted breathable, Tami fabric cover that is also removable and machine-washable. And, to top things off, you'll also find 4 elastic corner straps.
Performance-wise, you'll get exactly what you'd expect from a mattress topper like this. It will make your mattress feel better and more comfortable – that's for sure. The topper feels soft and comfy, but supportive at the same time. It gently cradles you as you lie down, perfectly contouring around your body and allowing you to comfortably sink into it. However, you won't feel like you're sinking into an ultra-soft memory foam mattress. It will be comfortable.
Pressure relief is also something you'll immediately experience. Both latex and memory foam layers will relieve some of the tension from the core areas, allowing you to sleep in every position, completely pain and pressure-free. And oh, it also eliminates motion transfer.
Furthermore, the brilliant hole design of the latex foam layer makes this topper surprisingly breathable. The latex layer undoubtedly increases air circulation and improves sleep quality.
Finally, if there was ever a topper that fits virtually every bed and mattress – it is this one. This one's available in every standard UK size.
As for the drawbacks – well, at this price point, there really aren't any. Sure, there will be some initial off-gassing, and you might have a hard time buying this one because it's often sold-out, but other than that – we don't see any problems with this one.
Material: Memory foam, latex, polyester
Thickness: 8 cm
Support: 8.5/10
Firmness: 5.5/10
Removable cover: Yes
Hypoallergenic: Yes
Warranty: 10-year warranty
Trial: 100-night trial
Size: Single, Small Double, Double, King.
What we like about Inofia Memory Foam mattress topper
Truly one of the best toppers the human body could ask for
Surprisingly breathable considering all the memory foam inside of this one
It eliminates pressure and pain, as well as motion transfer
Extremely durable and long-lasting.
What we didn't like about Inofia Memory Foam mattress topper
Minor off-gassing upon unpacking
Often sold-out.
What makes this product better than some other similar ones?
One of the strongest points of this topper certainly has to be its breathability. If you were to pair this topper with a gel memory foam mattress, we're sure it would feel like you're sleeping on a breathable cloud.
All jokes aside, the thing that makes this better than some similar ones is the fact that this mattress topper has no virtual flaws. Everything about it is great.
And, even if by some chance you don't happen to enjoy this one – there is always a 100-night trial and full refund to fall back on, so, what do you have to lose?
How did we test the product?
Testing the toppers is always fun. As per usual, the testing and reviewing process always starts with an order. In this case, you can order this one off of Amazon or Inofia Sleep's official website. In both cases, you'll get free delivery, so the choice is yours.
As for the testing process itself, well, it was very straightforward, but methodical. Everyone in the office took turns testing this topper for a few days. During that time, we've made sure that everyone got to test the topper in different environments. What we mean by that is that we've tested the product in both hot and cold rooms, and on foam, pocket sprung, open coil, and hybrid mattresses- We've also tested this one on a sofa-bed, just to see how it feels.
Once we were done with the testing, we got together, discussed our findings, and we wrote this review.
FAQs about your Inofia Memory Foam mattress topper
Now, let's wrap things up by answering some FAQs.
Is Inofia Memory Foam mattress topper a good choice for side sleepers?
Absolutely. This topper should provide enough comfort and support, as well as pressure relief for side sleepers.
Is Inofia Memory Foam mattress topper a suitable choice for back and front sleepers?
Sure. Both back and front sleepers will enjoy this topper, provided that you use the topper on a decent mattress.
Will I get hot if I sleep on Inofia Memory Foam mattress topper?
Not at all. Thanks to the brilliant hole design of the latex layer, this topper does not retain heat.
How do I clean my Inofia Memory Foam mattress topper?
You simply unzip the removable cover, toss it in a washing machine, and you're done. Just keep the temperature under 40 degrees.
How long will my Inofia Memory Foam mattress topper last?
From what we could see during our tests, this topper should last you a really long time. With proper care, we can see this one lasting at least 7 to 8 years.