Slumberdown Airstream Topper Review by The Sleep Advisors
Toppers have a notorious reputation for making bed very hot overnight and that is why many people avoid buying them. Even though that was true when mattress toppers appeared on the market, this has not been the case for a long time. Especially when it comes to models that are designed to be breathable and prevent overheating. One such mattress topper is Slumberdown Airstream topper that The Sleep Advisors reviewed for you.
Who is Slumberdown Airstream topper for?
Slumberdown Airstream mattress topper is for all those who need extra touch of comfort, support and breathability. It showed fantastic results in improving the comfort of the existing mattress while it is protecting the mattress and extends its lifetime.
If you bought a mattress that is not comfortable for you or after a few years you notice poorer performance, and you do not want to buy a new mattress, then this luxury mattress topper can transform it.
When it comes to sleep positions, side and back sleepers will benefit more from using it than stomach sleepers. We can't say it's completely unsuitable for stomach sleepers, but for most it will be a bit too soft.
Add a header to begin generating the table of contents
What do we use this product for?
We use this product for improving our current sleeping experience. If your existing mattress can't give you good night's sleep, then this topper can. It will make sleep surface softer and give you cuddly soft fillings, without sacrificing support. Also, if your existing mattress is too hot, which is especially common when you have a memory foam mattress, then this topper will make mattress significantly cooler.
We use it for improved comfort on firm mattresses.
We use it for extra support.
We use it for breathability.
We use it for hypoallergenic properties.
We use it to prolong service life of our mattress.
Features you should know about Slumberdown Airstream mattress topper
In this part of our review you can find relevant information about the main features of Slumberdown Airstream mattress topper.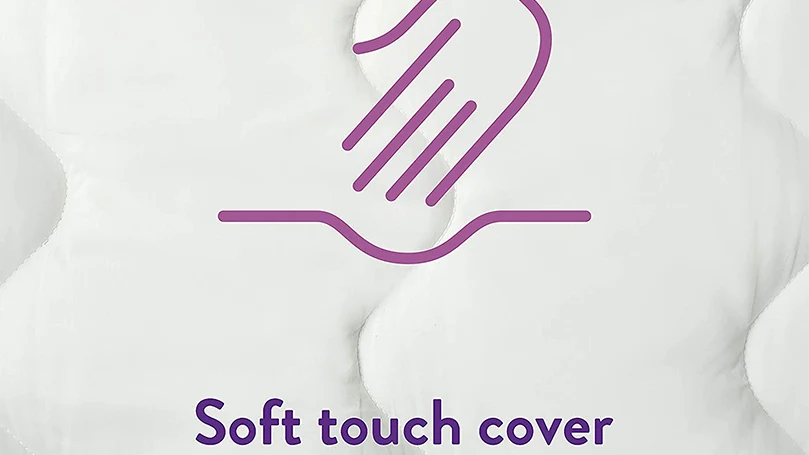 Breathable AirStream technology
We have already mentioned that this topper is cooling and that many use it if their existing mattress is too hot. It's all thanks to breathable AirStream technology that will keep you cool and dry every night. Even if it is very hot and you sweat, topper wicks moisture away from you.
Special fibres make this topper comfortable, but also breathable, so it will not prevent fresh air from reaching you. When you lie down on this topper, you may at first have the impression that it is filled with down, but these are actually synthetic fibres that are highly breathable, supportive, yet soft and bounce is also great.
If you too are among the 20% of the United Kingdom population suffering from allergies, you will be happy to hear that Slumberdown Airstream mattress topper is hypoallergenic. No material likely to cause allergies has been used in the production of this topper. Also, no harmful chemicals were used. It is mold resistant, and also resistant to bed bugs and dust mites.
Even if you are not allergy sufferers, these are very important characteristics because no one wants bed bugs and dust mites in their bed. And it's also possible to develop an allergy at any time in your life, so try to surround yourself with hypoallergenic sleep products.
Slumberdown Airstream topper is an average thick mattress topper. Depth is 4.5 cm which is enough to make your mattress more comfortable and to give you extra support, but not to 100% change the feeling you have while sleeping on an existing mattress. That is why we recommend it if you have a firm mattress that is not comfortable enough for you. Then the mattress will give firmness, and the topper will give you comfort and breathability. It's the perfect combination.
We have already talked about the hypoallergenic structure and how it is resistant to dust mutes and bed bugs, but you should also know that it is machine washable. You can wash it in the washing machine at 40 degrees C. This way you will be sure that it is always fresh and clean. Also, it is tumble dryer friendly, so you don't have to wait a few days for it to dry, but you will be able to put it back on the mattress the same day you wash it.
Review of Slumberdown Airstream mattress topper
Slumberdown Airstream mattress topper is not one of those 10 cm thick toppers and even more that act more like a mattress than a topper. The depth of this topper is 4.5 cm, which means that it will be most useful if you have a mattress that is in good condition, but it is too firm for you. Then this topper will provide you with a layer of comfort and also added support so it will be much more comfortable for you to sleep. 
Also, if you have problems because your mattress is too hot, the Airstream topper is a great solution because it is highly breathable due to AirStream technology. It has elasticated corner straps that will hold the topper firmly in place so you won't even feel like you have an extra layer over your mattress. Straps are suitable for mattresses up to 35 cm deep, and you will probably need deep fitted sheets.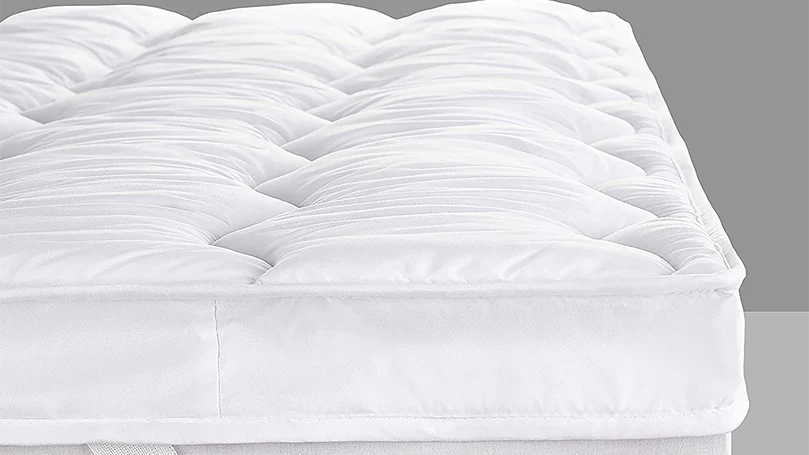 It is made of materials that are safe for people who have allergies, and it is also machine washable and tumble dryer friendly. It is available in 3 sizes and does not come with a warranty or trial period.
Size: Single, Double, King
Material: Microfibre
Machine Washable: Yes
Straps: Yes
Depth: 4.5 cm.
Machine washable
Hypoallergenic
Elastic straps.
Not the best for stomach sleepers
In some cases, depth won't be enough
No Super King size available.
What we like about Slumberdown Airstream topper
Maintenance is very easy since it is machine is washable and tumble dryer friendly
It is very comfortable and also provides extra support
Breathability makes it a favorite choice of hot sleepers.
What we didn't like about Slumberdown Airstream topper
It can potentially be too soft for stomach sleepers
If your existing mattress is in very poor condition, then you will need a thicker topper than this
It is available in Single, Double and King size, but not Small Double and Super King.
Check the alternatives to Slumberdown Airstream topper
Whether you want to opt for another topper because you didn't like our reviewee for some reason or you just want to compare Slumberdown Airstream mattress topper with similar products, this section of our review will be very useful.
Silentnight Eco Comfort is 100% filled with Eco Comfort fibres obtained from recycled materials, and it is also not chemically treated so it is an eco-friendly product and therefore deserves your consideration. 
Of course this is not the only reason because it is soft and comfy, so it will rejuvenate your mattress and protect it from further wear and tear. It has easy fit straps that just need to stretch over your mattress and the topper is ready to use.
It is fully machine washable at 40 degrees C but there is no removable, washable cover. It is made in the UK and it comes 2 year warranty. 4 available sizes – Single, Double, King and Super King.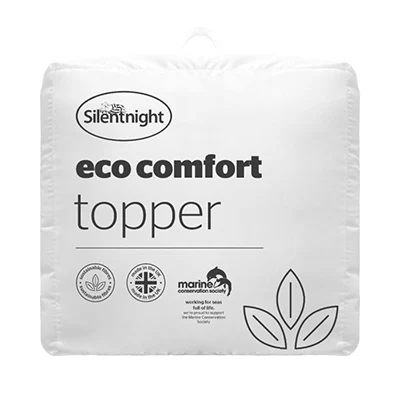 Machine washable
Eco-friendly
Straps.
Cover is not removable
Too thin for heavier people
Not for stomach sleepers.
Visco Therapy Mattress Topper
Visco Therapy Mattress Topper is 7 cm deep memory foam mattress topper, so it will significantly change the feeling you have while sleeping on your mattress. 
It is made of high quality memory foam and it is medium firm. It is comfortable, supportive and pressure relieving. 
The cover is made of a mixture of wool, cotton and synthetic fibers so you can expect it to be soft, cool and wicks moisture away. 
However, since it is made of a single block of memory foam, it can be too hot for you, especially during the summer.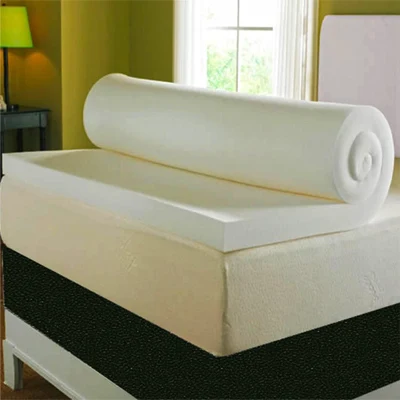 5-year warranty
7 cm deep
Made in the UK.
Not the best one for hot sleepers
Only for double bed
Zip-off cover only suitable for dry cleaning.
Consider OTTY Pure Bamboo & Charcoal mattress if you are buying Slumberdown Airstream topper
This is U.K.'s first bamboo memory foam with charcoal infused layers. OTTY Pure Bamboo & Charcoal mattress is a hybrid mattress that has 6 layers. 
The first layer closest to you is a foam-filled, charcoal-infused embroidered cover that wicks moisture away and underneath is bamboo memory foam with charcoal. After that comes high density memory foam, below which is up to 2000 encapsulated pocket springs.
 How many pocket springs there are depends on the size you buy. At the bottom is HD base foam, and it also has airflow side support. All foam layers are CertiPUR certified.
It is suitable for all sleeping positions. You can try it for 100 nights and return it if it doesn't suit you, and it comes with a 10-year warranty.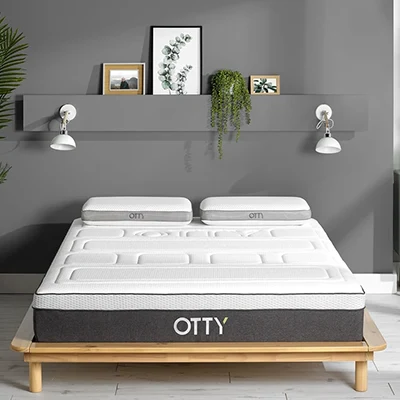 Supportive
Hypoallergenic
Great temperature regulation.
Slight off-gassing
No handles
Non-removable cover.
What makes this product better than some other similar ones?
We are huge fans of Slumberdown Airstream mattress topper but we have singled out a few features that make it better than some other similar ones. First of all, it is breathability that is so good that it will make even a very hot mattress comfortable to sleep. 
Also, this mattress topper is very cozy because it is soft to medium firm, but you will also feel extra support and you won't sink too much. We also like that it is hypoallergenic and easy to maintain.
How did we test the product?
This topper is made in the standard UK sizing, so it will fit on any mattress that is single, double or king. However, we advise you to measure the mattress and compare it to the size of the topper, just in case. Free delivery is included.
Slumberdown Airstream topper will be delivered to you within a few working days in a fairly large plastic branded bag. Since it is rolled up, when you take it out of the bag, you will probably think that you bought some low end topper because it is very thin and lumpy. However, all you have to do is leave it for a few hours to regain its full size and then it will be ready to use.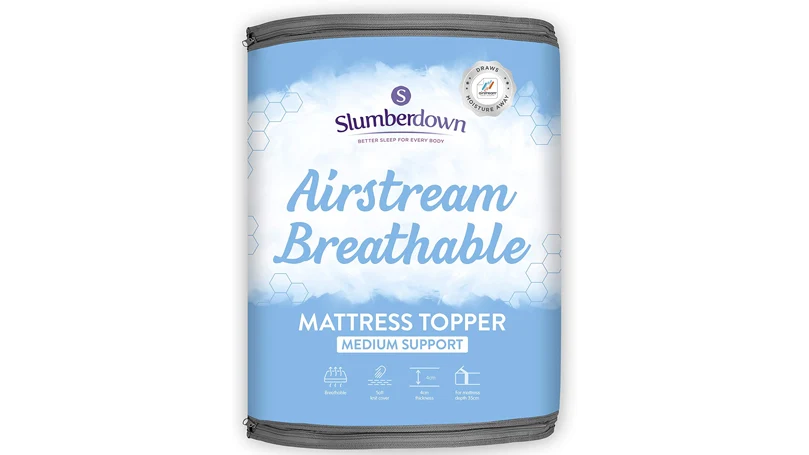 We washed it before use as part of a maintenance test and then dry it in a tumble dryer. We didn't notice any off-gassing which is great.
We placed it on a firm mattress (7 on the firmness scale) and although it is a thick mattress, the straps responded to that challenge with no problem. During the few nights we tested it, the topper did not move an inch. In terms of comfort, the members of our test team were very satisfied. When evaluating breathability, they said that this is one of the best toppers we have tested so far when it comes to air circulation.
FAQs about your Slumberdown airstream topper
The best way to complete Slumberdown Airstream topper review review is to take a look at some of the most frequently asked questions and to give you the answers to those questions.
How firm is Slumberdown airstream topper on scale 1 to 10?
Although that depends on your body weight as well as preferences, on firmness scale from 1 to 10, we will rank this topper somewhere between 4 and 5.
Should sleepers with hip pain use Slumberdown airstream topper?
We consider Slumberdown airstream mattress topper to be good option for sleepers with hip pain, because it is soft and comfortable.
Does Slumberdown airstream topper come with a warranty?
We could not find reliable information on the subject, so we assume it does not come with a warranty.
Can I get a trial period for Slumberdown airstream topper?
No, you don't get trial period for this topper and generally there are not many toppers that come with trial period.
How long does Slumberdown airstream topper last on average?
No one can provide a 100% accurate answer to this question, but given the company's reputation, material quality and workmanship, we expect it to take at least 2 years, probably longer.