10 Best Pillows for Neck Pain in 2022
Neck pain is a very serious problem that, in addition to discomfort, can have long-term consequences for our health. This problem can be solved or significantly alleviated with the help of a a pillow for neck pain.
As many as two-thirds of people complain of neck pain. And most often they feel pain in the neck after waking up. Also, improper sitting position during the working day causes this problem to occur. For some, neck pain occurs for a short time and passes in less than a few days. But for many it becomes a chronic problem which can cause even more serious symptoms like dizziness because of the bad circulation. One of the best pillows for neck pain UK is going to sort this problem out! But…..
The position in which you sleep plays a big role. If you sleep on your stomach, you are much more likely to experience neck pain than if you sleep on your back. However, if you have some of the best pillows for neck pain, even sleeping on your stomach will not be a problem. You just have to find the right one for you.
IMAGE
PRODUCT
DETAILS

KEY FEATURES:

Filling:

Memory foam

Cover:

Bamboo

Trial period:

30 nights

Free delivery:

Yes

View Latest Price

KEY FEATURES:

Filling:

Reflex foam

Cover:

Cotton

Trial period:

100 nights

Free delivery:

No

View Latest Price

KEY FEATURES:

Filling:

Bamboo memory foam

Cover:

Bamboo

Trial period:

14 nights

Free delivery:

No

View Latest Price

BEST FOR STOMACH SLEEPERS

BEST FOR STOMACH SLEEPERS

KEY FEATURES:

Filling:

Polyester microfibre

Cover:

Cotton

Trial period:

30 nights

Free delivery:

Yes

View Latest Price

KEY FEATURES:

Filling:

Memory foam

Cover:

Hypoallergenic

Trial period:

14 nights

Free delivery:

No

View Latest Price

KEY FEATURES:

Filling:

Goose feather & down

Cover:

Cotton

Trial period:

30 nights

Free delivery:

Yes

View Latest Price

KEY FEATURES:

Filling:

Memory foam

Cover:

Coolmax cover

Trial period:

100 nights

Free delivery:

Yes

View Latest Price

KEY FEATURES:

Filling:

Latex

Cover:

Polyester blend

Trial period:

No infos

Free delivery:

Yes

View Latest Price

KEY FEATURES:

Filling:

Memory foam

Cover:

Fabric

Trial period:

No infos

Free delivery:

Yes

View Latest Price

KEY FEATURES:

Filling:

6 layers

Cover:

No

Trial period:

200 nights

Free delivery:

Yes

View Latest Price
After testing pillows made of all materials that can be found on the market, we also analyzed all the things to consider that are important when you buy a pillow and you have a neck problem. That allowed us to narrow down our choice to the following 10 models and each one of them is a winner in a particular category. Let's check the pillows for neck support that we found to be great choices!
BEST OVERALL: Panda Memory Foam Bamboo Pillow
With Memory Foam Bamboo Pillow, you will get everything you need for comfortable sleep without neck pain.
Panda is a respectable company that uses bamboo the most in the production of its products, including this pillow that has a breathable bamboo cover. This hypoallergenic cover will give you comfort and also will not trap heat like the memory foam from which the pillow is made. 3rd generation memory foam is used which is very durable and will provide you with comfort and support at the same time. In addition to providing great neck support, it must be noted that you get a 10-year guarantee which is definitely a guarantee of quality.
Panda strives to make everything eco-friendly, which includes organic, vegan-friendly, pesticide-free, the use of recyclable boxes and that is truly admirable.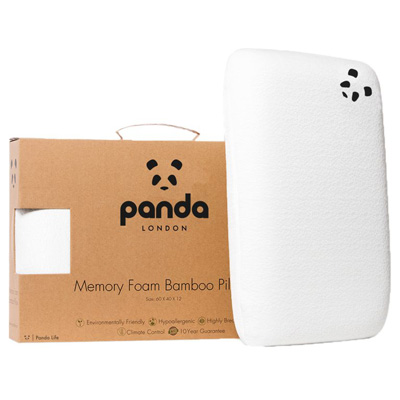 3rd generation memory foam
Support
Comfort
Bamboo cover
Eco-friendly
10-year guarantee
Smell of the bamboo and memory foam
BEST VALUE: Classicpedic Orthopedic Memory Foam Pillow
Ideal balance of support and comfort plus price makes this pillow best value choice.
If you have less money at your disposal or you just think that a pillow should not cost 100 pounds, then Classicpedic Orthopedic Memory Foam Pillow is the right choice for you.
This orthopaedic pillow is designed to help you take and maintain the correct position of the neck and spine during sleep. It is made of high-quality orthopaedic memory foam, for which the manufacturer guarantees will last for years. The cover is made of 100% cotton which is a favourite choice of many.
Check our Classicpedic Orthopedic memory foam pillow review.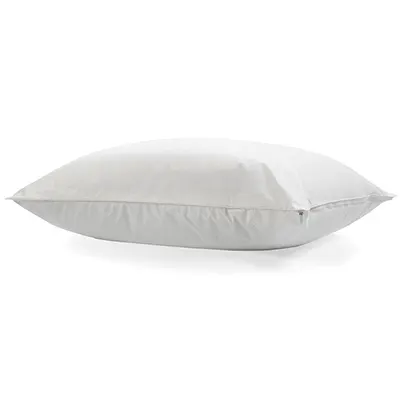 Affordable
Orthopaedic memory foam
Cotton cover
Hypoallergenic
BEST FOR BACK SLEEPERS: OTTY Deluxe Pure Pillow
Sleep comfortably on your back with the OTTY Deluxe Pure Pillow
This is the first pillow in the UK made of bamboo and charcoal. Materials guarantee you anti-bacterial features, then eliminating odours and moisture, as well as great temperature regulation. Due to all its characteristics, it is ideal for those who have allergies, asthma and similar problems. It has a removable cover that is machine washable.
It is an ideal thickness for all back sleepers, and the memory foam will shape perfectly towards your contours to get the support you want. You have 14 days to test it, and even if it doesn't suit you, you can return it.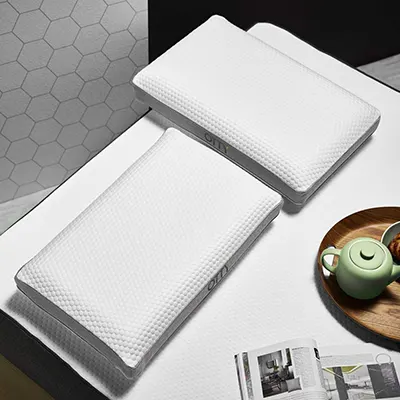 Bamboo and charcoal
Removable cover
14-day test period
Ideal for back sleepers
BEST FOR STOMACH SLEEPERS: The Mela Pillow
Sleeping on your stomach is the sleeping position most commonly associated with neck pain, and The Mela Pillow can help you reduce that problem.
Mela company claims that The Mela Pillow is suitable for all sleep positions and we believe that to be true, but we find this pillow most suitable for stomach sleepers because it is soft yet supportive. High quality polyester microfiber fill will give just enough support without placing the neck in the wrong angle. No harmful chemicals were used in the production of polyester microfiber fill, and the whole pillow is cruelty-free, hypoallergenic and anti-bacterial.
The cover is made of cotton and it is the machine washable. The cover is breathable so you won't be hot during the night.
Read our in-depth Mela pillow review to learn more.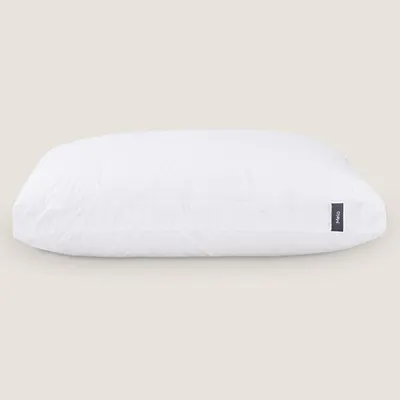 Quality polyester microfiber fill
Hypoallergenic
Cruelty-free
Anti-bacterial
Machine washable cotton cover
BEST FOR SIDE SLEEPERS: OTTY Adjustable Pillow
The best pillow for neck pain side sleeper!
When buying a pillow, look at whether the manufacturer has emphasized if the pillow is intended for one type of sleep position or is universal. The OTTY Adjustable pillow is designed for side sleepers and there are several reasons why this is so. First of all because the loft is adjustable. The manufacturer believes that everyone should adjust their ideal loft and this is achieved by stuffing or removing some of the memory foam pieces.
It is not made of one piece like most memory foam pillows but of many pieces that are in the bag, over which goes the removable cover. The pillow is a medium firm which is ideal for side sleepers.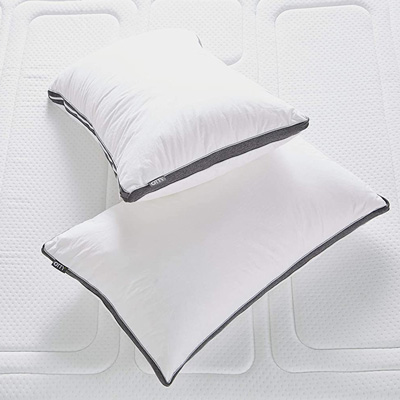 Adjustable loft
Medium firm
Hypoallergenic
Breathable
A bit more expensive compared to other pillows from the same category
BEST DOWN: Scooms Hungarian Goose Down Pillow
If you want a natural material, not polyester go with Hungarian Goose Down Pillow.
Nothing can be as soft and fluffy as top quality down. This pillow is filled with a mixture of Hungarian goose down and feathers and has two chambers. The cover is made of 300 thread cotton which ensures that the down and feathers will not fall out. The pillow is available in two sizes, so you can choose what suits you best.
Although very soft, it provides enough support and keeps the neck in proper angle. It is very breathable because these are naturally breathable materials. It comes with anti-allergy reassurance which allows everyone with allergies to sleep on a perfectly comfortable down pillow which they weren't able to do before.
Check our review on Scooms Hungarian Goose Down pillow to learn more about this fantastic pillow.
Down and feathers mix
Cotton cover
Two sizes
Anti-allergy
Breathable.
BEST MEMORY FOAM: 4G Aircool Contour Memory Foam Pillow
The 4G Aircool Contour Memory Foam Pillow is our choice among many memory foam pillows on the market.
As you may have noticed, memory foam is the most popular material for filling pillows, so it was not easy to choose the best, but this model stood out for several things. High density memory foam has orthopaedic features which is the most important to deal with lingering neck pain. It has a so-called open-cell foam structure, which guarantees that it will not be too warm, which is the main problem with most memory foam pillows.
Hypoallergenic is also dust mite resistant so it is suitable for everyone. It comes with a removable zip cover that you can wash in the washing machine.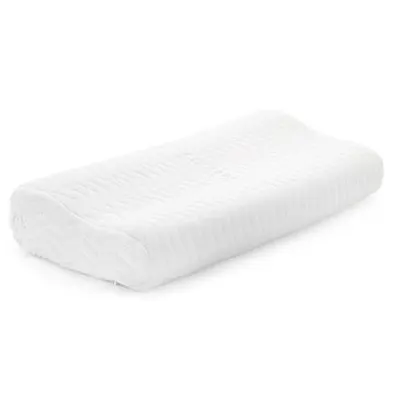 Orthopaedic features
Open-cell foam structure
Removable cover
Hypoallergenic
Some users can find it too soft
BEST LATEX: Relyon Superior Comfort Deep Latex Pillow
Relyon Superior Comfort Deep Latex Pillow is great for instant pressure relief and support.
This pillow contains 100% breathable, natural latex that will relieve you of pressure the first night you use it. Although back sleepers can use it too, since it is thick, it is ideal for side sleepers. It is 17cm (7″) deep, which can be considered quite deep so we doubt it will be comfortable to stomach sleepers.
Relyon Superior Comfort Deep Latex Pillow is a high-quality pillow with bounce back technology, so you won't have to worry about losing its shape quickly. It is more durable than some other latex pillows. Removable cover can be machine washed.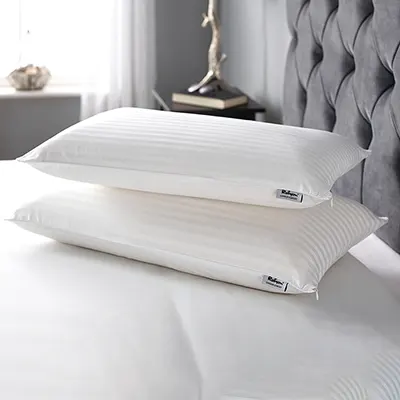 Bounce back technology
Machine washable cover
Durable
Too deep for stomach sleepers
BEST LUXURY: Sealy Posturepedic CoolSense Pillow
If you want a perfect sleep experience and the price doesn't matter to you, our recommendation is Sealy Posturepedic CoolSense Pillow.
If you only use Sealy Posturepedic CoolSense Pillow for one night, it will be clear to you why it is the winner of the luxury category. It contains ventilated memory foam so you will never be hot when you sleep on it. It also has a cooling fabric to keep you cool if needed. It is a medium-firm and provides support so that your neck does not hurt. It also has contouring properties so you will feel pressure relief. Maintenance is very simple.
It is 20 cm deep which is ideal for side sleepers, and many back sleepers also prefer thick pillows.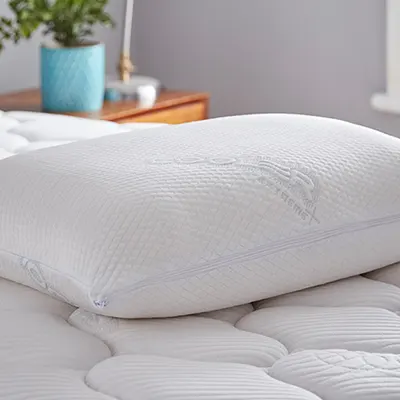 Ventilated memory foam
Cooling fabric
20 cm deep
Contouring properties
Not for stomach sleepers
Most expensive one on our list
BEST COOLING: The Simba Hybrid Pillow
For all the hot sleepers all year long and everyone else in the summer months.
One of the most uncomfortable feelings is when we lie sweaty in bed and can't sleep because it's just too hot. If something like this happens to you often, you should add Simba Hybrid Pillow to your shopping cart. It consists of a total of 6 layers, and each layer in addition to its primary role has a role to improve breathability and airflow and thus cool you down.
Inside the pillow are nano-cubes that allow you to adjust the loft and firmness which is a very useful feature. The entire production of this pillow, both in terms of materials and energy, logistics and everything else is eco-friendly.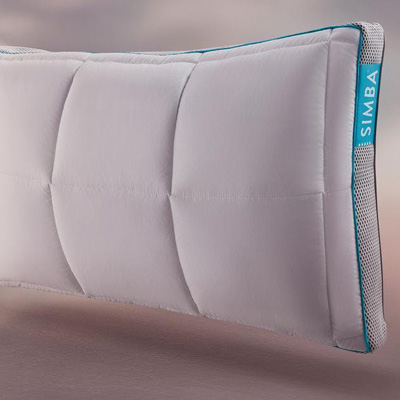 Cooling features
Adjustable loft and firmness
Eco-friendly
Types of pillows for neck pain
You can find on the market support pillows for neck made of various materials and then you are probably wondering which of them will suit you best. For neck pain, you should choose a pillow that at the same time provides support and keeps the neck in the correct position, and yet not too hard so as not to trigger pressure points. People with neck pain have the best experiences when they use memory foam, polyfoam, latex, buckwheat and feather / down pillows. We will break down each of these materials for you, to make it easier to decide on the right one.
Memory foam has been a favourite choice of many since pillows made of this material became available on the market. Memory foam reacts when pressure is applied to it, as well as the heat emitted by your head and then moulds accordingly. That is why it is ideal both for support, but for comfort too. A memory foam pillow will keep your neck, and therefore your spine and whole body in the correct position. The downside may be shorter lifespan compared to some other materials, as well as being too hot for summer. But that can be solved by buying a cotton cover.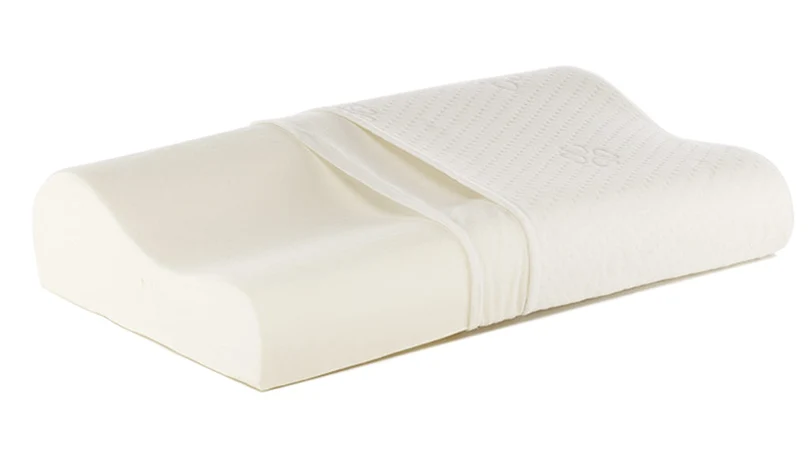 Buckwheat or better to say buckwheat hulls used as filling is a very unusual, yet effective solution when buying a new pillow. When you first sleep on a pillow filled with buckwheat hulls you will feel as if the pillow is filled with gravel, but we bet you will like the feeling. It is shaped towards the head of the one who sleeps on it, only in a different way and to a lesser extent than memory foam, for example. Although the pillow with the holder is very hard, it will not bother your sore neck. It is a material that is breathable, hypoallergenic, very durable and eco-friendly so it is a great choice. What we can state as disadvantage is sound it produces when you are moving, so it is not completely silent.
Feather has been used to fill pillows since people invented pillows. It is a natural material that is easily available and not too expensive. It is very comfortable, especially for all stomach sleepers because it is not hard, so it will not put the neck in the wrong position and thus expose it to additional stress. Also, the thickness can be increased and decreased, all that is needed is to remove or add feathers. Such pillows are not 100% made of feathers, but they also have a down in them, which gives additional comfort. What many don't like is that they lose the loft after a while, and they are also not suitable for those with allergies nor for vegans.
Latex is actually a mixture of rubber and water, where there is a slightly higher percentage of water. Temperature regulation can be a problem, but it is significantly improved by improving breathability in different ways. Latex pillows are very comfortable and you will not feel any pressure on the pressure points which can be crucial to sleep comfortably if your neck hurts. These pillows are organic and long-lasting. You cannot customize their shape, but you can only use them in the form in which you get them. Overall, latex pillows are not that common option compared to memory foam for example, but you shouldn't count out latex pillows. Learn how latex compares to memory foam!
Down is actually a type of feather, and that is the inner feathers of ducks and geese. It is the finest material, so soft and light, and it is considered a premium one. It is very comfortable and naturally breathable. You will feel like you are sleeping on a cloud. However, it can cause allergies and is much more expensive than almost all other pillows on the market, so something called a down alternative has been made. It is an artificial material, which gives you a very similar feeling. Special polyester fibres are created for all those with less money, allergies and vegans who want the feeling of down pillow.
Polyfoam is another artificial material used to make pillows. It is generally similar to memory foam but reacts much faster, which means it takes on the contours of your head and neck twice as fast as memory foam. Also, it retains original shape in a matter of minute. It is very light and also hypoallergenic, so it is suitable for everyone. In most cases, it is cheaper than memory foam, but it is also less durable, so you will have to change it more often. Polyfoam pillow tend to trap heat so hot sleepers should consider whether this is the right option for them.
What to consider when buying the best pillow for neck pain
People often approach the purchase of a pillow with very little attention, which is surprising considering that it is something we will spend about a third of each day on. Very often the pillow is exactly the cause of neck pain. Customers just look at the ad or test the pillow for just a few seconds where they get the impression of immediate comfort and buy it right away. This is a big mistake and to avoid it, you have to consider following when buying the best pillows for neck pain.
You may have never heard of the term loft when it comes to pillows, but it is a very important factor that you need to consider before buying one of the best pillows for neck pain. Loft is crucial for the position of your head. The angle between your head, neck and spine must be such that no strain is created on the muscles, ligaments, joints and so on. For all those who have neck problems, such a loft is recommended to ensure that the head and neck are aligned with the spin. Which loft you choose is influenced by the size and weight of your head too. There are also neck support pillows with an adjustable loft, so if you are not sure which loft is ideal, choose one that has an adjustable loft.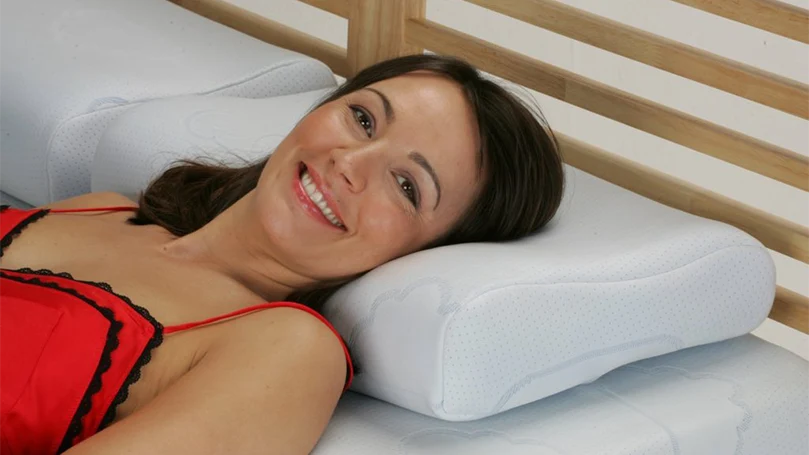 Customers when they first encounter the terms loft and support, sometimes can't quite understand the difference, but trust us these are two completely different characteristics. Support is also necessary, because if the pillow does not provide support, the pain in the neck will be further intensified. That is why pillows that follow the contours of your neck are good, instead of leaving that part empty and thus the neck has no support. Without the support of the muscles, the neck will be under great strain and you will surely feel the most pain after waking up. Therefore, the best pillow for neck support must have a good support to be considered for the title in the first place.
Firmness level is first and foremost a matter of personal affinity. However, you should not choose either too soft or too firm, especially if you are facing neck pain. Even if your neck does not hurt, it is very possible that it will start to hurt over time if it is too soft or too form. In case it is too soft, you will not have support, and if it is too form pressure points will hurt you. The firmness level of the pillow is influenced by the material it is made of, the loft, but also your personal characteristics such as head size, head weight, shoulder size and so on. You should strive for medium firm pillow.
Surely you know that uncomfortable feeling after waking up when your neck hurts and when you feel like you have had some burden on your neck all night. This is something that the best pillow for neck pain UK should solve by giving you pressure relief. You should choose one that is designed to reduce pressure points. Of course, your sleeping position is playing big role in choosing the right one for pressure relief. If the pillow is intended for back sleepers, and you sleep on your stomach, it will not give you pressure relief even though the pillow is of very high quality.
On the market you will find pillows of various shapes and for each of them the manufacturers claim that they are ergonomic and that they will solve all your problems with pain in the spine, neck, etc. Don't fall for that, but choose the shape that suits you best. The fact that the offer is so large is great and it is certain that you will find the ideal one for yourself. So don't rush to buy the first one, but try a few shapes. There are even bigger pillows then regular ones, called U shape and C shape.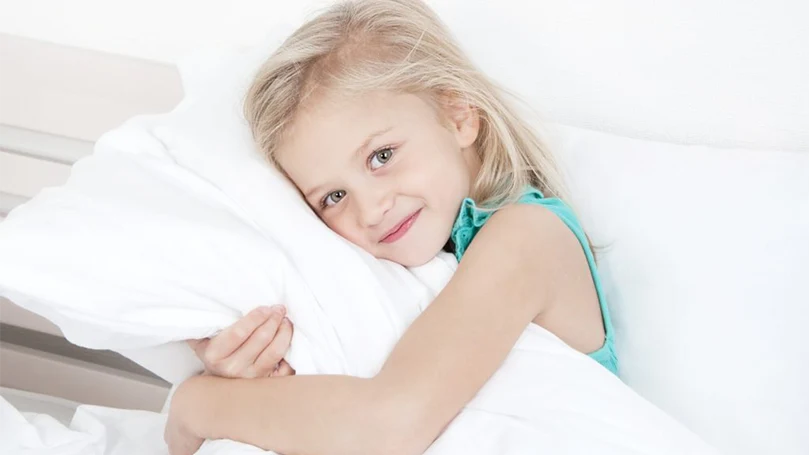 Tips for buying and using best pillows for neck pain
So far, we have explained to you what characteristics the different materials from which pillows are made have, as well as all the important factors to consider when buying the best one for neck pain. Still, we have a few more tips to give you on neck pillows. This primarily applies to your sleeping position. Side sleepers should choose a thicker pillow to keep their neck in the correct position during sleep. Back sleepers should choose a medium-hard pillow, which provides support, but it is not too hard, otherwise in the morning you will have the feeling that you slept on a rock. While stomach sleepers should buy a thin pillow to change the angle of the neck as little as possible during sleep. If the pillow is thick, then the neck and spine will be in a very irregular position.
Certainly, the price is something you need to analyse before buying. Be detailed in that analysis because the price does not always justify the quality. Our tip is to look at the reviews, because it is much more authoritative than the price.
Choose the pillow according to your sleeping position
Pay attention whether you are allergic or not
Don't think that most expensive one is the best one. There are more important factors to consider than price.
The advantages of owning the best pillows for neck pain
The first and biggest advantage of owning the best pillows for neck pain is that your neck no longer hurts or that the intensity of the pain decreases until you find the cause of the pain and solve it. It's definitely the biggest advantage and something that's why you even set out in search of a new pillow. In addition, you will definitely experience many other benefits such as breathability, which will make you no longer feel hot while you sleep.
It will be much more comfortable for you to sleep than before, because if you choose the best model according to your sleeping position, you will notice that it is easier to fall asleep and avoid waking up during the night. This is because you will get the perfect balance of support and pressure relief which is crucial for sound sleep.
Your neck won't hurt any longer.
Breathability and uninterrupted air flow will cool you down.
Best pillow for neck pain will significantly improve quality of your sleep.
FAQs about your new best pillow for neck pain
Some of the most common questions related to neck pain are whether an improper pillow can cause or worsen the problem, then what types of pillows are the best for sleepers that suffer from neck pain as well as how firm the pillow should be. We will give you the answers to these questions in the FAQs section.
What types of pillows are the best for sleepers that suffer from neck pain?
The best types of pillows for sleepers that suffer from neck pain are those that are firm enough to provide support, and yet soft to alleviate pressure points.
How firm should my pillow be for neck pain?
Your pillow should be moderately firm if you experience neck pain, because if it is very firm the pain will be even stronger.
Can an improper pillow cause my neck pain?
Neck pain can absolutely be the result of an improper pillow, especially if you are stomach sleeper.