Caravan Mattress - How To Get A Perfect Camping Experience?
Caravan gives you many opportunities and is therefore very popular among the British people. According to some data, over a million caravans are registered in the UK. However, there are some concerns how to get a perfect camping experience.
Recreational vehicles, often referred to by abbreviation RV, have been used for decades. They were originally the most popular in the USA, and are now used all over the world. There are many different types such as motorhomes, campervans, and caravans. Spending your vacation in a caravan has numerous benefits. It is so great that quite a few people decide to make it their primary home.
Many of the logistical problems people have encountered are a thing of the past. But you still have to take a few steps to arrange your camper to make your vacation or even life is as comfortable as possible, as if you are in a brick and mortar home. Various industries offer products perfectly tailored to campers.
One of these industries is the sleep industry. Since we all know that sleep is the utmost importance for every human being, you have to start with buying a suitable mattress. Don't worry, we will help you find an ideal caravan mattress.
Add a header to begin generating the table of contents
What to consider when buying a caravan mattress?
Buying a mattress is in general a very important task – whether you have a static caravan or you move constantly. You need to consider numerous different factors and characteristics before you find the right one for you. Because if you fail to do due diligence, your night's sleep will suffer and after a while your daily life will start to suffer as well. When buying a caravan mattress, that it is even more complicated because you are limited by space in the first place.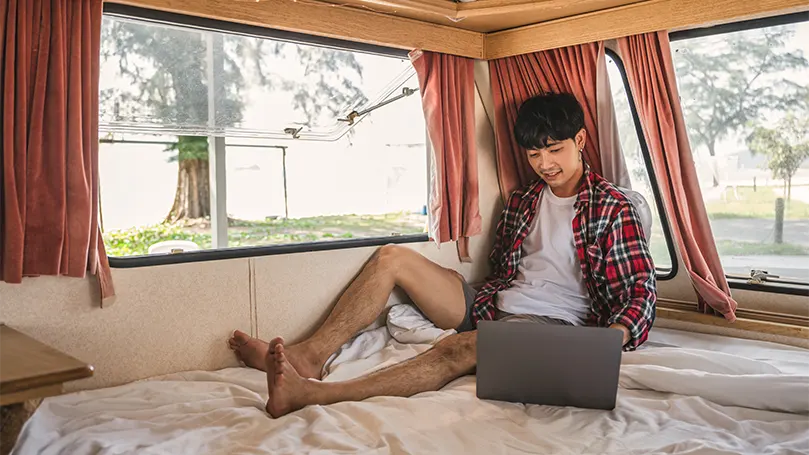 We at The Sleep Advisors have put together everything you need to consider when buying a caravan mattress. We will start with the shapes that are unique to touring caravan mattresses, and then we will continue with the features that are generally most important for mattresses.
When buying a mattress for the bedroom, the size and shape are not in the top features to consider because you are flexible in terms of space. But in the caravan, every inch is precious and you have to fit all the furniture and other things perfectly. Fortunately, a large number of sizes and shapes are available, much more than for regular mattresses and you can even order custom size mattresses.
If you are buying a caravan mattress for the first time, we guess you are going to be surprised how huge the offer on the UK market is. While you can find almost any size you need, the following four are the most common shapes and in most cases at least one of those shapes are going to be acceptable.
Caravan beds are usually not square like regular beds, but have one side that has a different shape. The offside caravan mattress is made to fit the most common type of caravan bed. If we look from above, the offside has no lower right corner but it is oblique. So when you find one offside mattress, you will see that it has overall length and short length due to its specific shape.
Nearside is a very similar to offside mattress, only the oblique is on the left and not on the right. It also has two different lengths and in the same way fit into the caravan to give you great night's sleep and enough space to move around at the same time.
Unlike offside and nearside, the island caravan mattress is of a more regular shape and it is pull-out. The lower side of the mattress has one big curve. You need to consider several different dimensions in order to choose the right islands. Overall length and length to curve are the first two dimensions, then check the straight width at the bottom as well as the overall width to make sure there is room for two people.
Island with bolster is an upgraded type of classic island caravan mattress that has an additional bolster. This allows the mattress to be pushed back slightly to save even more space without reducing the sleeping surface. Because of the extra part, there are even more dimensions you need to consider, such as the bolster to curve.
Types of caravan mattresses do not differ from the types of regular mattresses, but not every type is equally suitable for this purpose. On the market you will most often find foam, hybrid and innerspring mattresses, sometimes latex ones, and there are those who prefer airbeds.
Memory foam mattress has been popular for more than two decades due to combination of comfort, pressure relief and support.
Memory foam mattress is especially good for side sleepers. Hybrid mattresses are an advanced option, because they are mattresses that contain layers of foam plus springs and thus combine the best of both worlds, but they are also the most expensive. Innerspring mattresses are highly supportive, but can be too firm and there are concerns about durability.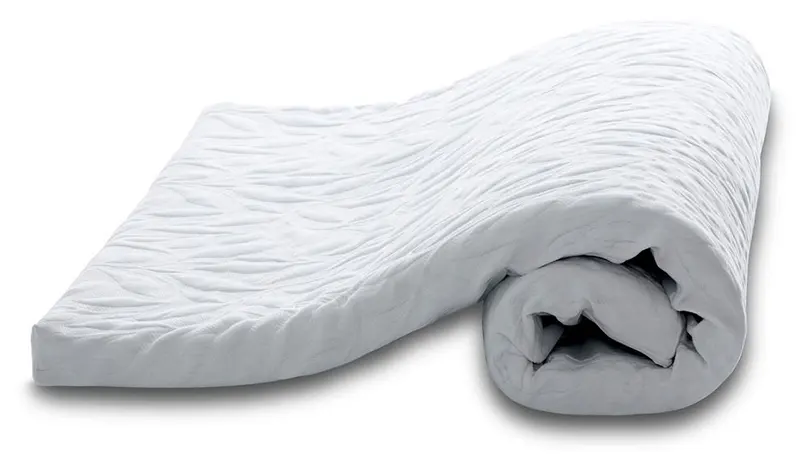 Latex can be natural and synthetic, and the characteristics are somewhat similar to foam. Airbeds are a good option if you are not sure which firmness level you want, so adjustability will be useful to you. Each of these types has many pros, but also certain cons, so the choice is individual. Also, not every type can fit in every caravan due to size and shape.
We've already mentioned basics about materials, but let's analyze them in more detail. Memory foam is a revolutionary material that gives so much to every sleepers, but of course it also has certain downsides, and that is primarily heat retention. Sleep manufacturers have made various changes to make the foam more breathable and cooling. They managed to do that, but still hot sleepers may prefer more other materials. Latex can be good example. Latex is more breathable even though it resembles the foam.
High quality hybrid mattresses have almost no flaws, because they have foam plus springs and sometimes even wool and other natural materials, but the price is what can drive you away from buying it. Innerspring mattresses are not great in motion insulation, so if someone is light sleepers, he or she may want to choose another type.
We cannot say that for example foam is always softer than spring systems because there are very firm, high density types of foam. But in general foam is chosen by those who want a softer mattress, hybrid mattresses are in the middle, and spring ones are firmer.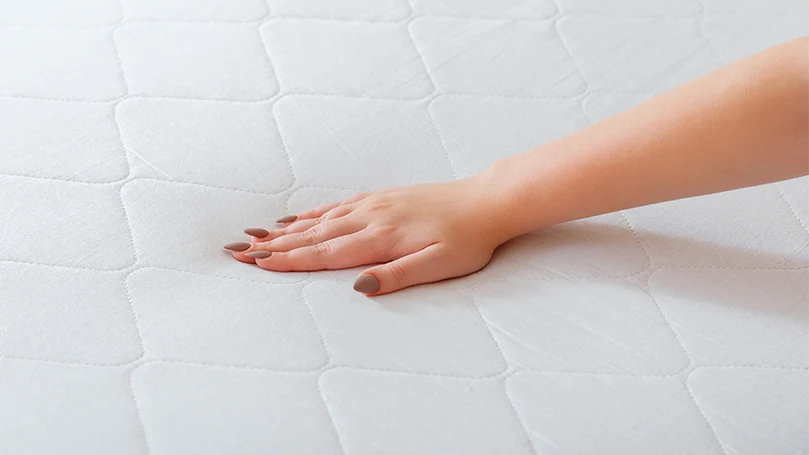 Side sleepers need soft to medium mattress to have enough support, but also pressure relief otherwise shoulder and hip pain are common. Hybrid mattresses are equally used by different sleep positions including combination sleepers. Innerspring is the preferred choice of stomach sleepers because they need most support to achieve spinal alignment. Actually back sleepers are those who have most opportunities.
When buying a caravan mattress, it is not just about whether you are a hot sleeper or not. No matter how good a camper is, it certainly cannot have as good insulation and cooling system as a house or apartment. That is why it is even more important to find breathable and cooling mattress so that you can sleep comfortably.
We have already mentioned that traditional foam is not the best choice due to heat retention, but new types of foam such as open-cell foam can certainly be a good alternative. If even such foam is too hot for you, then consider spring and hybrid mattresses. You should consider those products that have the addition of cooling materials such as wool, bamboo, cotton and eucalyptus. Don't forget to add cooling bedding especially during summer.
Removable & washable cover
To sleep in a clean and hypoallergenic environment, you need to regularly maintain your mattress, pillow and duvet. Mattress maintenance is quite complicated if there is no removable and washable cover. On the other hand, when the cover is washable, then maintenance is quick and easy. We recommend that you wash the cover every few weeks and change the bedding every few days. If you do not want to use bedding, because you like features of cover then wash it weekly.
However, many manufacturers do not implement removable covers. In that case, buying premium bedding should be priority. Vacuum mattress every once in a while.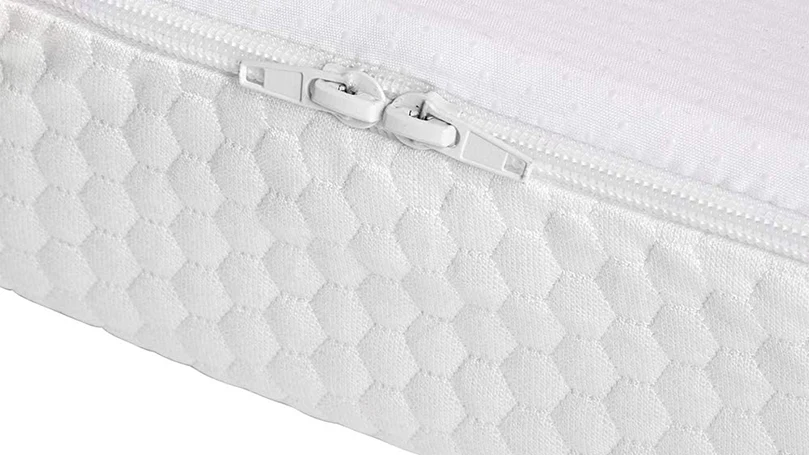 Price should definitely not be the main feature you will consider. While we know it's great to save money, peaceful night's sleep is still more important and that's why you should make a mattress purchase one of your most important investments.
This does not mean that you should spend a fortune on the mattress you will use in the caravan, especially if the caravan is not your home, but a substitute for a hotel during your vacation. Find a mattress that offers the best price to quality ratio, not the one that is the cheapest. Holidays are great time to buy one because you can find sales and clearances.
There is absolutely no difference between classic mattresses and caravan mattresses when it comes to warranty and trial period. You have to try it to know if it suits you. We can say that in this case the trial period is even more important because the environment is unconventional and the mattress may not be able to fit even though you have measured the dimensions and the like.
When it comes to warranty, a good mattress must have at least a 5 year warranty. Anything under 5 years is too short and we can consider it a yellow flag. It is best when the mattress has a 10+ year warranty.
You have significantly less space available in the caravan than in your house. That is why you will sit on the mattress more often than you sit on your mattress in the bedroom. This means that the mattress will be exposed to more wear and tear, especially the edge of a mattress on which you will sit.
So it is desirable for the mattress to be double sided. You can rotate each mattress to reduce wear and tear, but when it is double sided, then you can also flip it, which means that you practically have two sleep surfaces to alternate every few months.
When buying a mattress, thickness is most important to those who have a higher BMI. They should search for thicker mattresses for the sake of comfort and durability. But two more things need to be considered when choosing a thickness.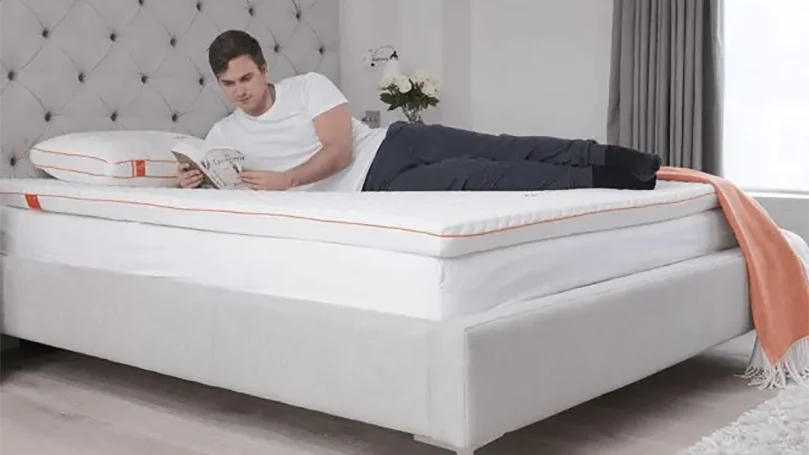 First is the physical limitation in touring caravans. People who have health problems, especially if it involves limited mobility, should not choose a very thick mattress because it will be difficult for them to climb on it. Another thing is the look of the caravan. The mattress should not be too thick so that it covers half of the window, for example.
What are the advantages of owning a caravan mattress?
First of all, you should know all the advantages of owning a high quality mattress. An uncomfortable mattress can even cause insomnia, while a comfortable mattress can cure insomnia – mattress can be that important. When you feel support, pressure relief and comfort at the same time, you will know that you have chosen the right mattress for yourself. Also, when you realize that you are not sweating even in the middle of summer, but that you are cool in your bed.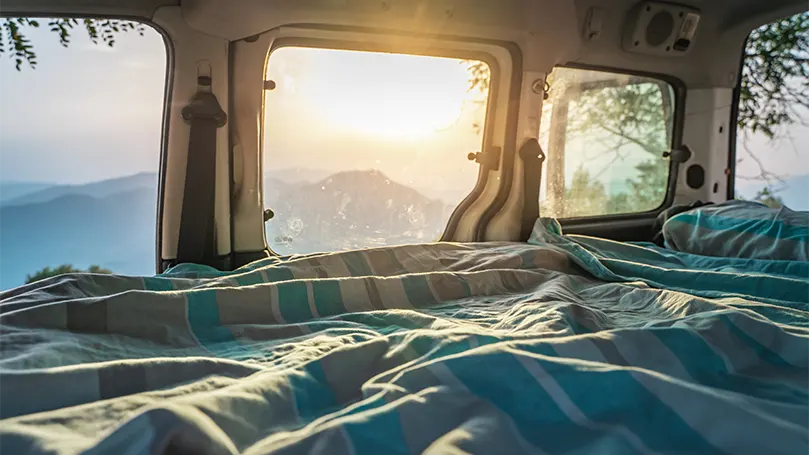 Now let's focus on the advantages of owning a caravan mattress. A regular mattress cannot fit in a caravan. Even if you manage to put it inside, you probably won't be able to use it fully if it's not adapted for caravans. So find the right shape and size and enjoy perfect sleep like in your master bed.
Caravan mattress is adapted for use in recreational vehicles both in terms of size and shape
Good night's sleep is possible only if the mattress is comfortable and supportive
Most caravan mattresses are double sided to reduce wear and tear and thus prolong service life.
Are there any tips for buying and using caravan mattress?
Don't just buy any mattress. You should not make that decision lightly whether you are buying it for the bedroom or for the back of your caravan. Our advice is to first measure how much space you have in the caravan and thus narrow down the choice. The same goes for the shape, because it is possible that only an island mattress will suit you, for example. Then consider all the features of different mattresses, including the price before you decide which one to buy.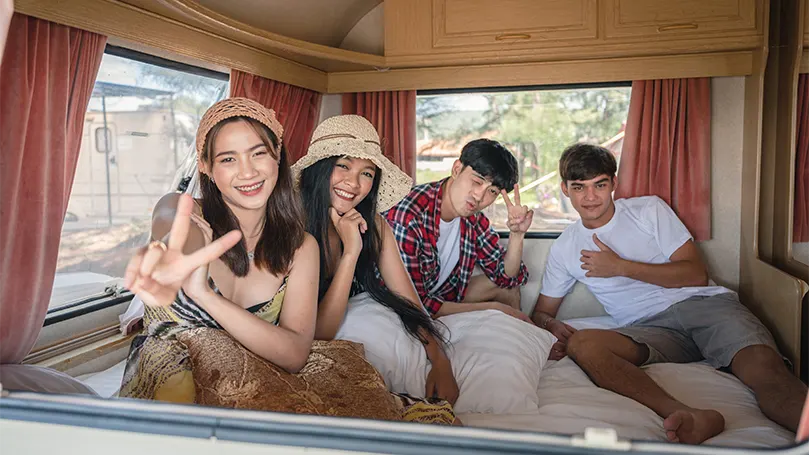 When it comes to use, the most important thing is to rotate it regularly, flip it and keep it clean. Otherwise, you may suffer from allergies if dust mites and other allergens accumulate.
When buying a caravan mattress, it is especially important to consider whether it is breathable and cooling
Don't buy a mattress that doesn't have a warranty and trial period
It is necessary to wash the cover regularly and change the bedding.
Panda Mattress Topper - The Ultimate Caravan Mattress Camping Solution
When we tested Panda mattress topper, we felt that it is exactly the product that campers need. It is very comfortable and supportive thanks to the 3rd generation, gel-infused memory foam. Thanks to the gel and bamboo material, you won't get hot or overheated. It is perfect for the hot summer days.
Side sleepers are very happy with the pressure relief, as well as couples who enjoy zero motion transfer. Since it has no pocket springs, some sleepers may find it a bit softer, especially stomach sleepers.
Hypoallergenic bamboo cover made from 40% bamboo and 60% polyester is machine-washable at 40 degrees C, and we have already talked about the importance of washable cover. You won't find a lot of toppers that come with a 10-year warranty, and a 30-night trial is quite enough.