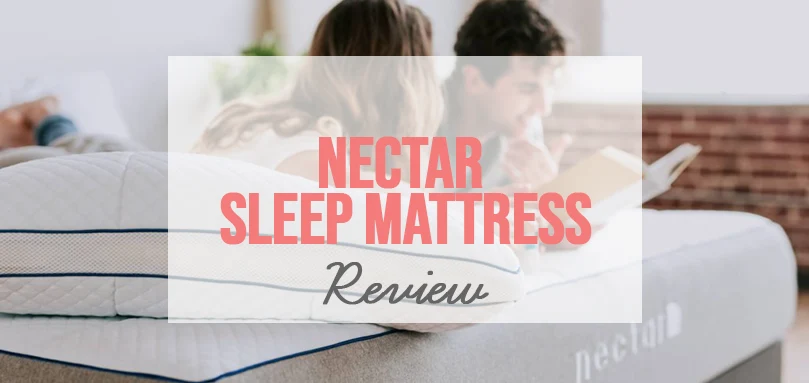 Nectar Sleep Mattress Review
Today we are reviewing an innovative mattress designed and made by a very young company Nectar. The Nectar Sleep mattress is made of multiple layers and provides a cooling effect. It comes at a very reasonable price and promises amazing durability. Plus, when ordering this mattress, you get a pretty nice present. Actually, two of them. Do you want to know what they are? Do you want to find out more about this products ups and downs? Well, let's get started!
As a very young company, Nectar Sleep proved itself as a serious competitor on the market quite quickly. They got famous for offering their long trials, forever warranties and limited promo deals where you get free pillows if you order a mattress. They also grabbed everybody's attention with their low prices. The great thing about Nectar is that they are combining high-quality, durable materials with pretty smart designs. So, they are not simply relying on either material quality or innovative approach. They are trying to merge both, and that deserves respect.
We are sure that Nectar Sleep is yet to become famous and successful. They are doing pretty great already, even though they are so young.   
About the Nectar Sleep mattress
So, let's jump to a short overview of this product. Nectar Sleep Mattress is a multilayered memory foam mattress with a cooling effect. It is suitable for people with neck and back pain. Also, it is suitable for all sleeping positions. Nectar Sleep mattress is very breathable and easy to air.
The mattress has a high comfortability level, it's supportive and responsive. It usually has an issue with smell and has reduced support on edges. The mattress come in many sizes, is suitable for all types of bed frames and has 365 nights of the home trial. Also, this product has a great price-quality ratio. We'll get into that later.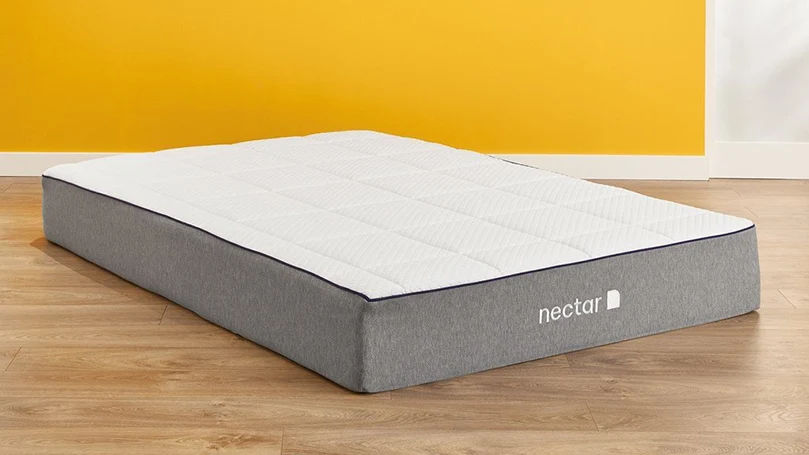 Nectar Sleep Mattress is a memory foam mattress that has additional cooling layers. This product consists of four different layers. It has a cooling cover, memory foam, cooling layer and 7 zone supported base layer. All materials are tested, safe and suitable for people with sensitive skin or respiratory system. However, if you suffer from high sensitivity to allergic reactions, you may want to use a trial period first and see whether this mattress works for you or not.
The top cover is easy to clean and maintain. Layers are breathable, thin and easy to air. The type of foam used for this mattress is very durable.
Now, when it comes to support, Nectar Sleep Mattress has one great side, and, one that is not so great. Let's explain.
Nectar Sleep Mattress has an amazing support level on the most of its surface. But, the level of support, better said stability, decreases alongside the edges. So, while this mattress is great for your body alignment, it's not so great when you put pressure on the edges.
Since it's much more important for a mattress to have good overall support than good edge support, we can't give this product a bad mark in this area. Nectar Sleep Mattress is good for all sleeping positions, it's good for your back and it reacts on shapes and pressure nicely. It's just that you can be a bit annoyed when getting up. Edges of the mattress are not going to support your weight in an ideal way. But, there is one positive thing about this issue. This weakness in the edges doesn't influence a product's overall durability!
Quite comfortable, especially for back sleepers. As a matter of fact, if you are a back sleeper you can order this product right now and don't look back. The mattress is also very pleasant to sleep on if you are a stomach sleeper. If you are a side sleeper you may want to use one extra pillow for your knees. Now, this can be a used as a general advice for side sleepers.
This mattress is somewhat firm but at the same time quite responsive. That is why it can happen that side sleepers experience a bit of sinking in their hip area. This, of course, depends on various factors, such as height and weight of the sleeper. So, if you are a side sleeper you can try the product out first just to be sure. Now, since the mattress is good for stomach sleepers it can be quite beneficial to snorers.
Besides smart layer construction, the cooling effect of this mattress also contributes to the comfortability. Have in mind that this mattress has that nice extra feature that comes as a bonus to its general softness level.
Nectar Sleep Mattress gets to be quite impressive in this department. It can control various weights and amounts of pressure. It also has a great reaction to sudden movements. It's great for co-sleeping since it isolates motions.
Very pleasant to sleep on, this mattress lets the air run through it and provides the gentle cooling effect. It is suitable for people prone to allergies or people with sensitive skin. However, you should try the product out first if you require highly hypoallergenic sleeping surface.
Now, we have to add one thing here. While this product is breathable and easy to air, it doesn't respond perfectly to moisture. It may need more time to dry. So, if you wish to spot clean the surface, we recommend using a cloth that is not too wet. Now, if something get's spilt, you may just need some patience. But the cover material can be easily vacuumed, so maintenance in general is not a problem.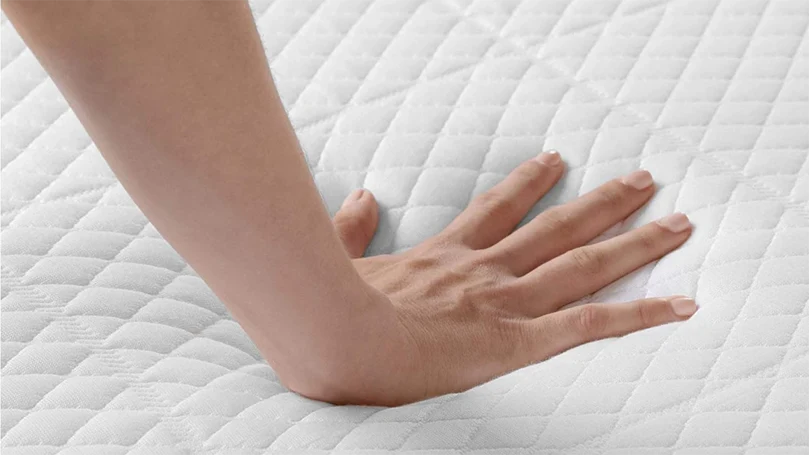 There is an issue with smell, and it can be a big one. But, it doesn't tend to last for many days and it usually disappears after prolonged airing. This is one of the rare downsides of this mattress. Luckily, it a downside that can easily be solved.
Nectar Sleep company likes to brag about this mattress's durability by giving "Forever Warranty" on it. The company says that this mattress is the only one you will ever need. Now, we don't know much about this mattress lasting forever, but we can certainly say that it will last for a long time. Materials used for it are very resilient and durable. Plus, the design promotes extended durability. So, you shouldn't worry about this aspect. Nectar is not going to let you down in this department.
This is the best thing about Nectar Sleep Mattress. Nectar Sleep Mattress is a quality one. It has some downsides, but luckily, they are not big ones. It offers many great features. All in all, there are mattresses with the same quality level currently on the market. But, Nectar Sleep Mattress fights its competition with its price. So, with this mattress, you would be getting a lot for a very low price. Plus, you get a nice present when you order Nectar Sleep Mattress.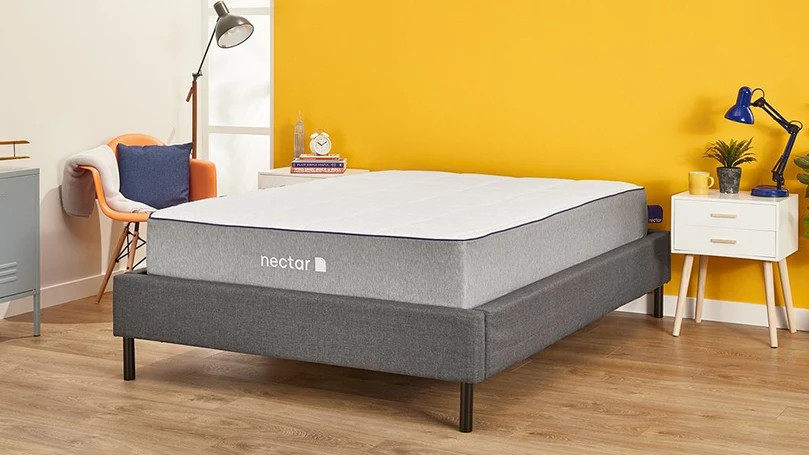 Nectar Sleep Mattress Review
Product Name: Nectar Sleep Mattress
Product Description: A new line of memory foam mattresses with a cooling layer and visco-foam for optimal temperature and ideal back and neck support.
Availability: InStock
Support

Comfort

Bounce

Breathability

Durability
The Sleep Advisors' Verdict
Nectar Sleep Mattress is a great choice for all sleeping positions. Also, it can help a lot with various back problems. The product comfortable, breathable and has a very reasonable price.
Pros
Great price
Stable support
Very comfortable
Cons
Smell is present
Low edge support
Shipping takes time
| | |
| --- | --- |
| Materials | Made of memory foam, cooling layer and visco-layer. |
| Support | Satisfying level of support for all sleeping positions. Good for back pain. |
| Comfort | All layers contribute to the comfort level. The mattress is not too firm, nor too soft. So, it's both comfy and healthy to sleep on. |
| Bounce | Bounce level is quite impressive. Good for co-sleeping. |
| Breathability | Highly breathable and somewhat cooling. |
| Smell | Unpleasant, chemical-like, smell is present after unpacking the mattress. |
| Durability | Capable of remaining in perfect shape for many years. Materials are very durable. |
| Price-quality | Worth it! |
Trial period, warranty, shipping details & refunds
Nectar company is famous for their long trial periods. For Nectar Sleep Mattress Trial period goes up to 365 Nights. Also, shipping is free. But, you sometimes may need to be patient with it. It happens that you need to wait a bit longer than 48 hours on your delivery. Now, one more interesting thing about this product is that Nectar Sleep Mattress has "Forever Warranty". 
| | | |
| --- | --- | --- |
| Size | Dimensions | Price (sale) |
| Single | 190cm x 90cm x 25cm | £ 399 |
| Small Double | 190cm x 120cm x 25cm | £ 599 |
| Double | 190cm x 135cm x 25cm | £ 599 |
| King | 200cm x 150cm x 25cm | £ 699 |
| Super King | 200cm x 180cm x 25cm | £ 799 |
This mattress is on a limited offer With £100 Off + 2 Free Pillows. We are not sure how long it'll last but we definitely encourage you to try their mattress out before the limited offer ends. In any case, Nectar Sleep also offers various other products to go with the mattress such as:
Mattress protector
Sheets
Adjustable bed frame
The Nectar foundation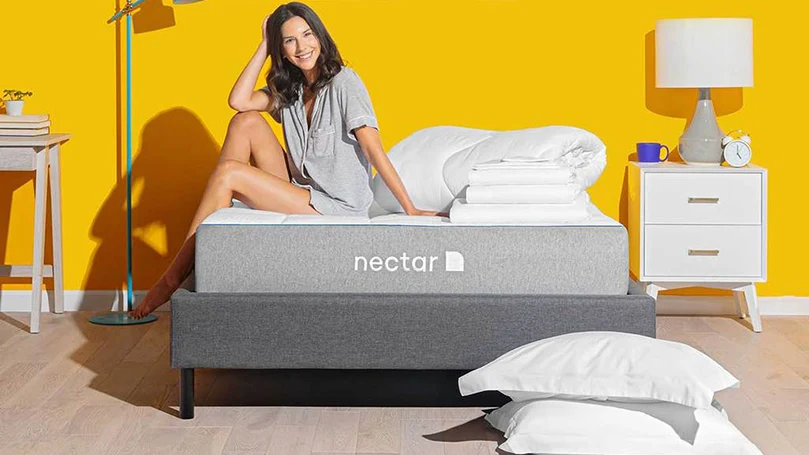 Nectar Sleep Mattress joins the club of high-quality products that we had an opportunity to rate and review. In comparison to many popular and high-quality mattresses, Nectar Sleep Mattress could take home the victory. And this is mainly due to the very affordable price. It really comes down to that. Now, let's explain this a bit.
High-quality mattresses that are comfortable, breathable and plus offer some extra great feature have a price that reflexes that level of quality. Those prices are in most cases completely justified, don't get us wrong. But, here is where Nectar Sleep Mattress jumps in.
This mattress offers the same level of quality as other top-rated mattresses on the market but at a much smaller price. Now, this very smart move because these competitive prices push Nectar Sleep Mattress on a very top. And so, do we!
So, to sum up, with this mattress you get a high-quality product at a very friendly price. The mattress is durable and fits various bed frame types. It's good for all sleeping positions and great for co-sleeping. All in all, if you are looking for a new mattress, you should definitely pay some attention to this one. And don't forget that you will be getting two pillows alongside this mattress.