16 Small Bedroom Storage Ideas For An Efficient Space-Saving
Need some small bedroom storage ideas to free up some floor space? You've come to the right spot.
Let us guess. You're tired of moving your clothes from bed to chair and from chair to bed because you don't have enough room in your bedroom to keep them properly stored so you're browsing the web for some small bedroom storage ideas?
There's a good chance we're a bit off on that one, but if you have a small bedroom, that right there was a regular occurrence. Either way, what we're trying to say is we understand and you've come to the right spot.
We're going to do our absolute best to bestow upon you some trailblazing, earth-shattering, never-before-thought-of space saving ideas to help you organize your bedroom.
Okay, we may have oversold it a little, but trust us – you're going to love every single small bedroom storage idea we've cooked up for you. That's a promise!
Add a header to begin generating the table of contents
If you're looking for a small bedroom storage idea that will help you save a ton of space, consider using a layered shelf. By stacking multiple floating shelves on top of one another, you can store a variety of items and keep your floor space clear for other purposes.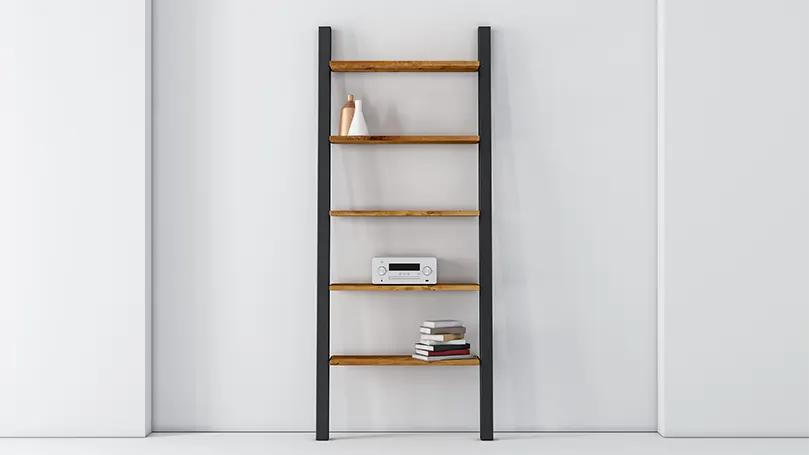 Plus, this small bedroom storage idea is simple and inexpensive to set up – all you need are a few shelves from your local home goods store or online retailer. Or, if you're really creative and handy, you can make this into one of your fun DIY projects.
Vacuum-pack clothes you don't use
If you're like most people (read: us), your bedroom closet is crammed full of clothes you don't wear. And, even though you know you should get rid of them, it's just so hard to let go. But what if we told you there was a way to free up some much-needed space in your bedroom closet – without getting rid of any clothes?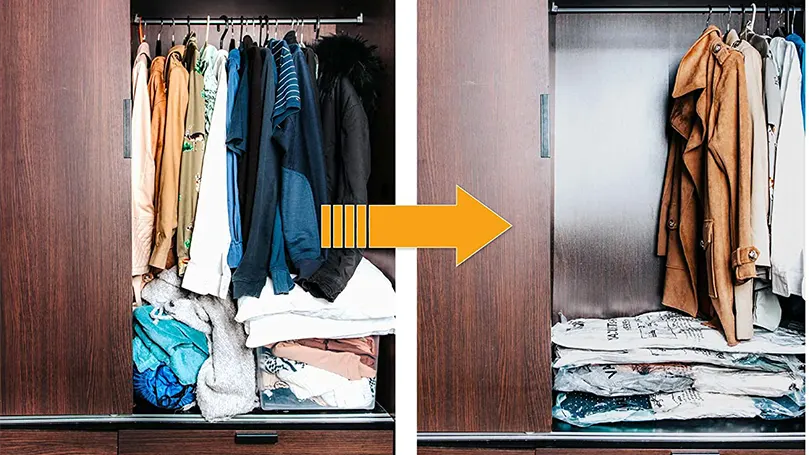 Enter vacuum-packing your clothes! This small bedroom storage idea is a great way to store away your clothes that you don't wear on a regular basis. By vacuum-packing them, you can save a ton of storage space for clothes you wear, as well as keep the ones you don't, neatly organized in storage containers until you're ready to wear them again.
Plus, vacuum-packing is a great way to protect your seasonal clothes from dust, pests, and other damage that can occur when they're stored in a traditional closet.
Did you ever consider using a wall-mounted nightstand? By mounting your nightstand or a bedside table directly to the wall, you can free up some valuable floor space and keep your bedroom looking clean and uncluttered.
Wall-mounted nightstands are also perfect for small bedrooms that don't have a lot of extra closet space like dressers and armoires. Keeping a few things in a box under the nightstand is a real space-saver.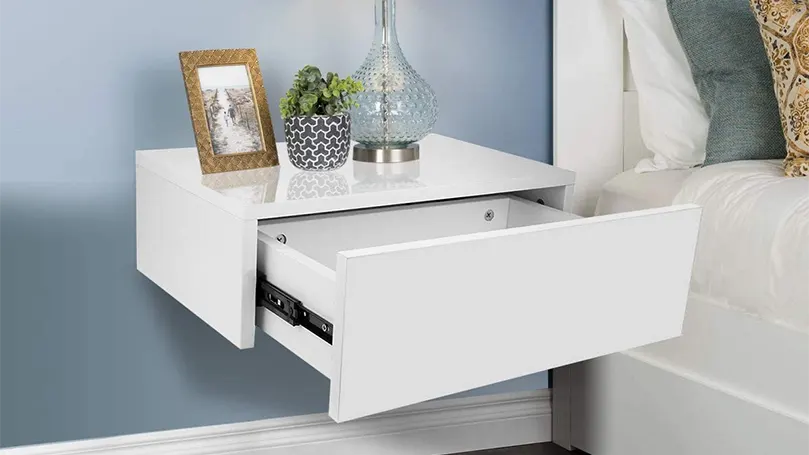 Plus, these things are super easy to install yourself, so there's no need to call in a professional. Just follow the installation instructions carefully, and you'll be all set – handyman or not!
Alright, alright… We know. It's not one of the prettiest storage solutions we could offer – but it's functional!
A door shoe hanger can be a good space-saving solution because it can hang on the back of a door and provide storage for multiple pairs of shoes. This can be helpful in a small bedroom where space is limited.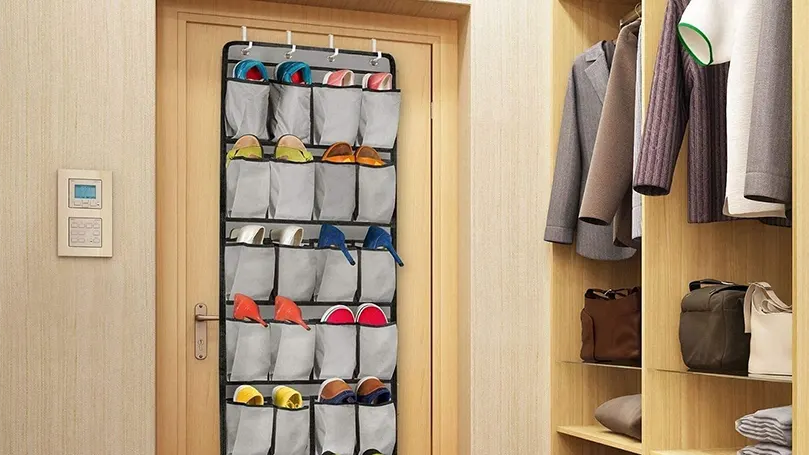 Although, if possible, we'd keep shoes out of the bedroom. While we're sure the fumes could put you to sleep in a matter of minutes, it's just not something we'd recommend if there's a better solution.
A floating desk is a great way to save space in a small bedroom. Because it doesn't take up any floor space, we feel like it's a really efficient use of limited real estate, don't you?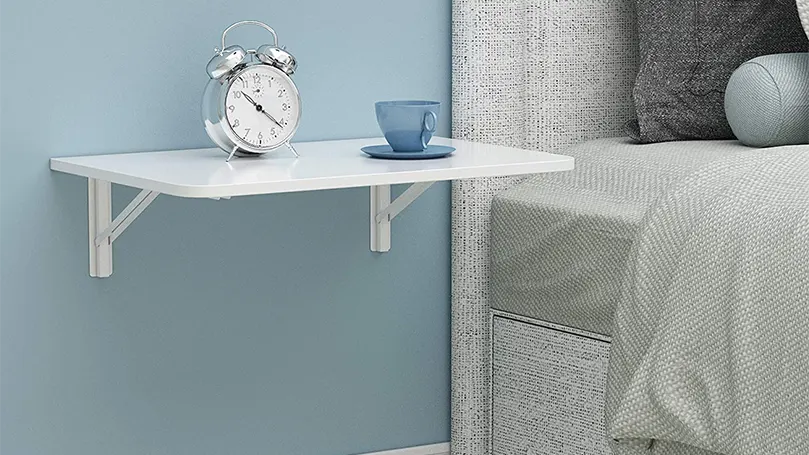 Since it hangs on the wall, there's no limit as to what you can keep under it – ask long as there's room for a chair. And wow-oh-wow, if you can build a foldable floating desk – you're in the money. This can be more than helpful in a small bedroom where every inch counts, so give it a shot.
Storage bench below the footrest
A traditional storage bench can be a great way to store extra blankets, pillows, or clothes. Not to mention, it can really class up the bedroom and give it a more homey, classical feel.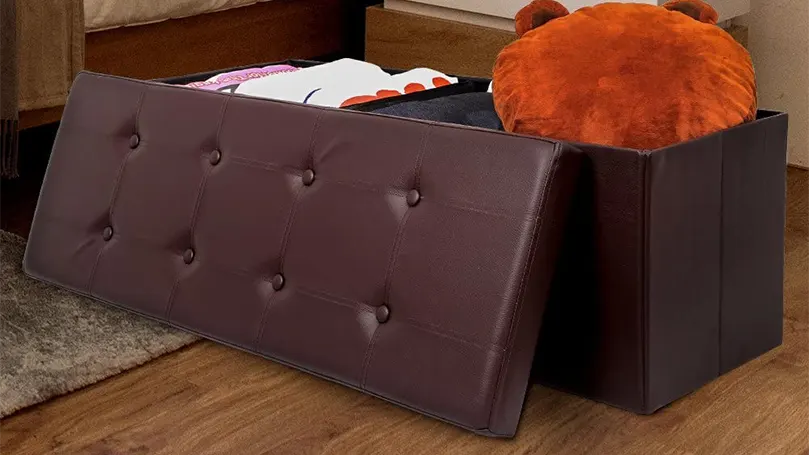 So, if you're in the mood for a storage solution that will also add some character to your bedroom, a traditional storage bench is definitely the way to go. If you throw a few decorative pillows or cushions on top of it, it can easily double as an extra seating area or even a bed for your pet if you have one.
A corner rack is a great way to save space in a small bedroom. By mounting the rack in a corner, you can make use of space that would otherwise go to waste. Plus, corner racks are perfect for small items like belts, scarves, and ties.
The way we see it, a corner rack is definitely a good space-saving solution. It is a super-easy way to save space in your small bedroom, and with just a little bit of creativity – you can even make it look good.
A Murphy bed is an awesome method to save space in a small bedroom. Because it folds up into the wall, it doesn't take up any floor space. So, if you're really pressed for space – this is the move for you.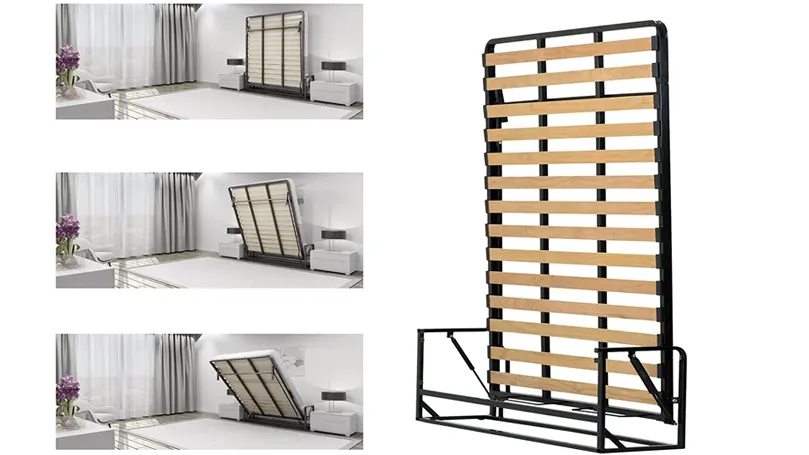 Murphy beds are also really easy to install – you can do it yourself, without calling in a professional, so don't beat yourself up about it. Plus, they come in all different sizes, so you can find one that fits both you and your room.
Get a bed frame with storage
Storage beds like ottoman beds and divan beds are fantastic options for small bedrooms that lack storage elements. These bed frames have under-bed storage units that can be used to store clothes, blankets, pillows, or any other items that you may need – perfect for all bedrooms that are tight on space.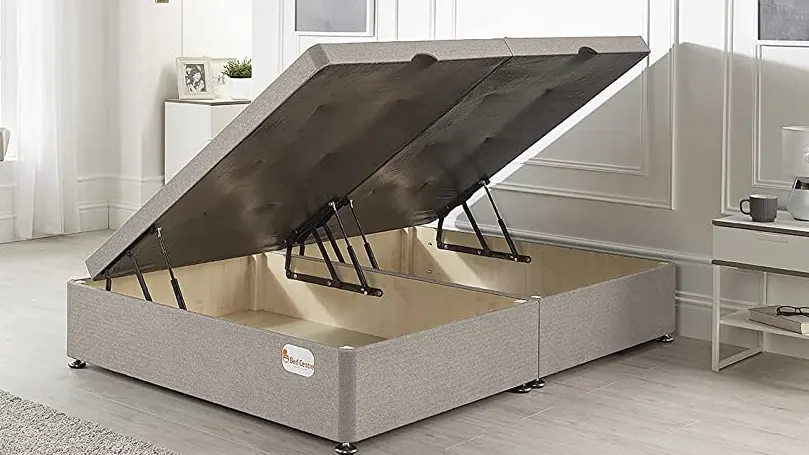 Additionally, just like Murphys, these beds come in a variety of sizes, so you can find one that fits your specific needs. And, if you're not sure which type of bed is right for you, don't worry – we're here to help!
If you're on the lookout for a way to store your books, a headboard with a shelf or any kind of storage space for that matter is a stellar option. Not only does it save space in your bedroom, but it also makes it incredibly easy for you to access whatever you need once you lie down to catch some ZZZs.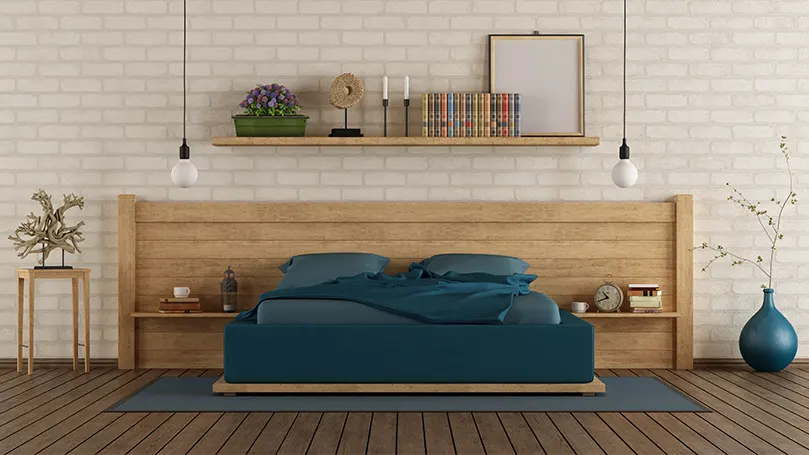 Another great small bedroom storage idea is to use hanging organizers to store smaller clothing items like scarves, belts, socks, and undergarments.
Not only will these organizers save you some floor space by being suspended in the air rather than taking up space on the ground, but they also make finding things much easier since everything will be right at eye level.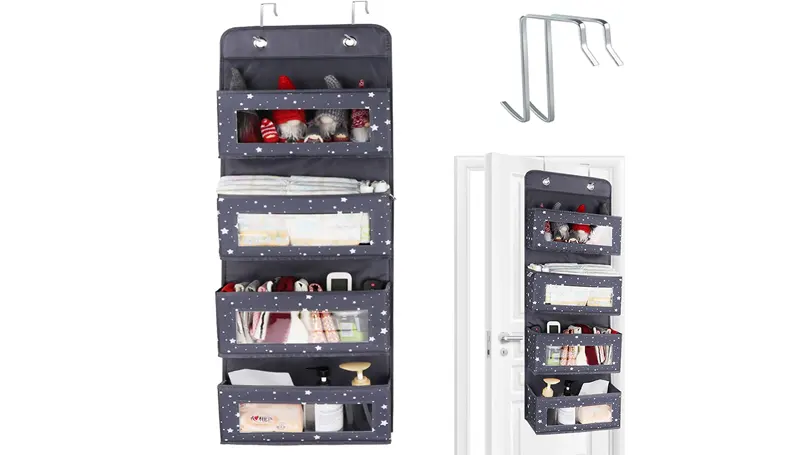 Plus, there are tons of different styles available that will perfectly complement the aesthetic of your bedroom, so you can easily find one that fits with your existing decor.
Honestly, we highly recommend using hanging organizers to store your clothing items. They are a great way to maximize the available space in your bedroom while also keeping things organized and easy to access.
Unlike other pieces of storage furniture we've mentioned so far, wardrobes are specifically designed to store clothes and other items, making them the perfect option for small spaces.
What's more, many wardrobes come with additional features like shelf space and drawers, which can be used to store additional items like family photos, books, blankets, or even shoes.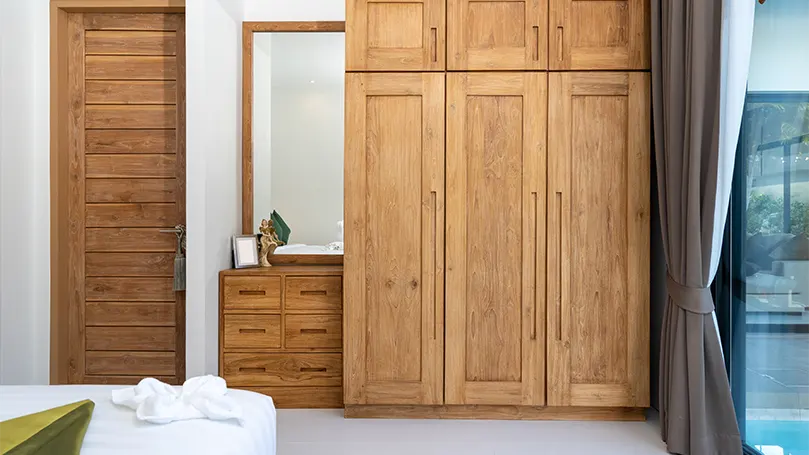 Now, we get it, you're saying you're tight on space and if you had room you would've added a wardrobe already, not come here for advice. But, the way we see it, if you really want to – you'll figure out the layout, move some things around, and find a way to cram a wardrobe into your tiny bedroom. We know you will!
Use the back of your doors
Most people don't realize that they can use the back of their bedroom door or a closet door to create more storage space out of thin air. You probably have a rack of some kind mounted on your bathroom door, so why not do the same in your bedroom?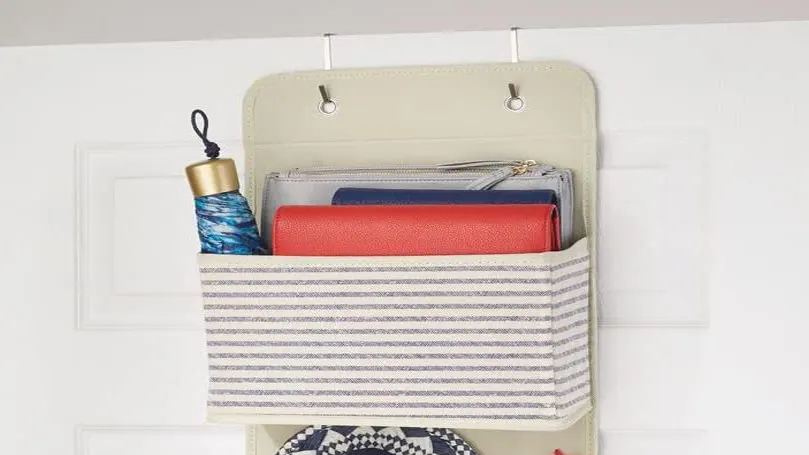 By mounting a few simple storage units or just simple hangers on the back of your door, you can make use of all that unused space and store way more clothes than you ever thought possible.
Not only can they keep your pizza slice warm for a few hours, but radiators can also double as shelves. Just make sure you don't shelve anything flammable on top of it – for obvious reasons.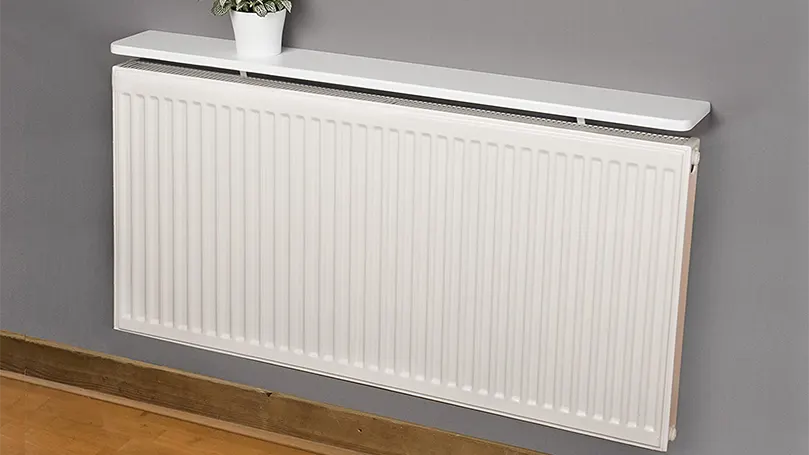 Radiators are often an underestimated source of storage space. If there is some room above the radiator, why not use it to store some extra items? Either keep stuff directly on top of it or mount a floating shelf or two on top, and keep your books, boxes, or any other small items neatly organized.
Once again, we're back at it – you're pressed for space and you can't fit a bookcase in your bedroom. Yeah, we know. But, if you have a few extra inches of floor space, add a bookcase to your resting chambers and watch it transform your space.
Not only will a bookcase provide you with additional storage space, but they also make a great decorative piece. And, the best part is that there are so many different styles and sizes available on the market today, so finding the right one for your master bedroom should be rather simple.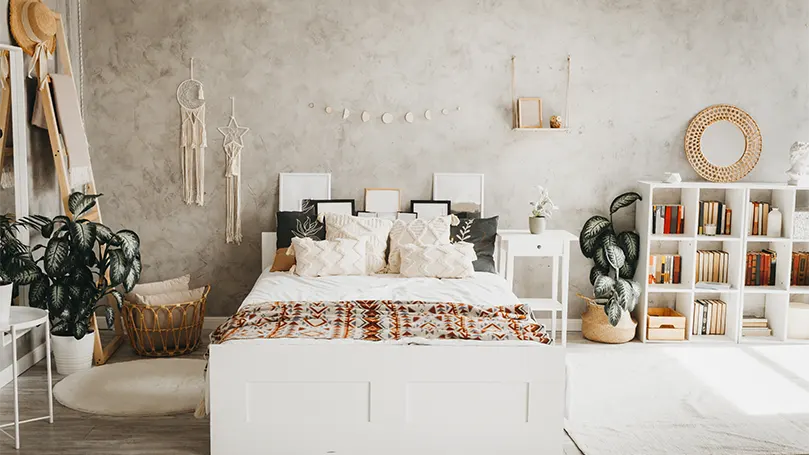 Or, hear us – you can build one. A DIY bookcase is a two-day job if you have the tools, so why not give it a try?
Stack old suitcase to make a vintage nightstand
Here's a unique and stylish way to add some extra storage space to your bedroom you might want to consider – stacking vintage suitcases.
Not only will this add a touch of personality and character to your bedroom decor, but it can also be a great way to store away extra blankets, clothes, or whatever else can fit into the suitcase.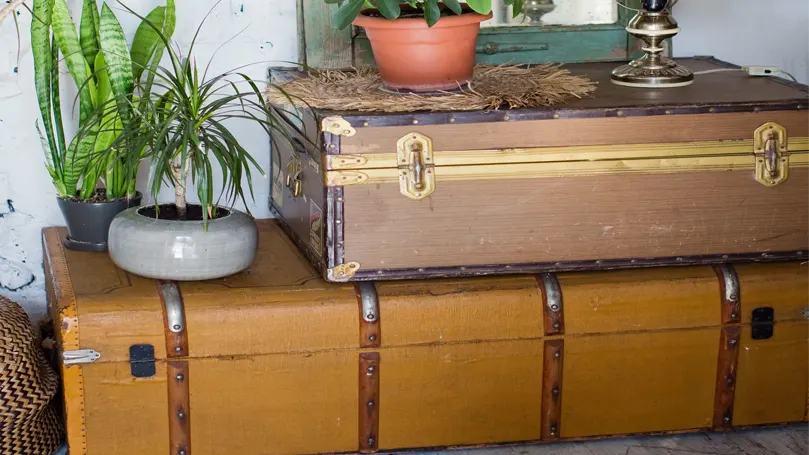 Plus, if you have some small ones, you can stack them to make a vintage nightstand, which is a great alternative to taking up precious floor space with an actual table that you can fill with random stuff.
And, if you ever end up being bored with them – you can just chuck them under the bed, freeing up some more floor space that you so desperately need. A win-win situation no matter the way you look at it!