Evercomfy Aloe Vera Duvet Review by The Sleep Advisors
All-season duvets are increasingly present on the market and although that type of duvet has many advantages, it is still not what everyone needs and what everyone wants. That is why there are duvets like this one that are available in two different TOG ratings. Here is your Evercomfy Aloe Vera Duvet review by The Sleep Advisors where we will address both 4.5 TOG and 13.5 TOG models.
Who is Evercomfy Aloe Vera duvet for?
Since Evercomfy Aloe Vera duvet is enriched with Aloe Vera it is for all those with allergy problems, children, for those with sensitive and dry skin.
This applies to both 4.5 TOG and 13.5 TOG duvet. When we talk about the difference between the two, 4.5 TOG is intended for summer, as well as for hot sleepers to which it will be suitable during most of the year. 13.5 TOG duvet is a winter duvet that will keep you warm even when it is very cold outside, but as soon as warmer days come, it will be too hot for you.
Add a header to begin generating the table of contents
What do we use this product for?
We use Evercomfy Aloe Vera duvet when we need hypoallergenic duvet and soothing sleep environment. This anti allergenic duvet with 4.5 TOG rating is ideal for keeping us comfy during the summer time. No matter how warm the nights are, we should always be covered. 4.5 TOG rating is ideal for that so we use it for spring, summer and early autumn. 13.5 TOG duvet we use to warm us and to keep us warm throughout the night when it is very cold during late autumn and winter. We all know how impossible it is to fall asleep if you are cold, and this duvet will make sure that it never happens because it is very warm. We can say safely that this one can be put into all-seasons duvets category as it can be used during any season. 
Features you should know about Evercomfy Aloe Vera duvet
Since this duvet is Aloe Vera infused, it is the first feature we will talk about because it affects many characteristics of this duvet. Of course, this is not the only feature you should know about Evercomfy Aloe Vera duvet as  it has other rejuvenating properties so we will also talk about microfibre fabrics and Wellsleep fiber.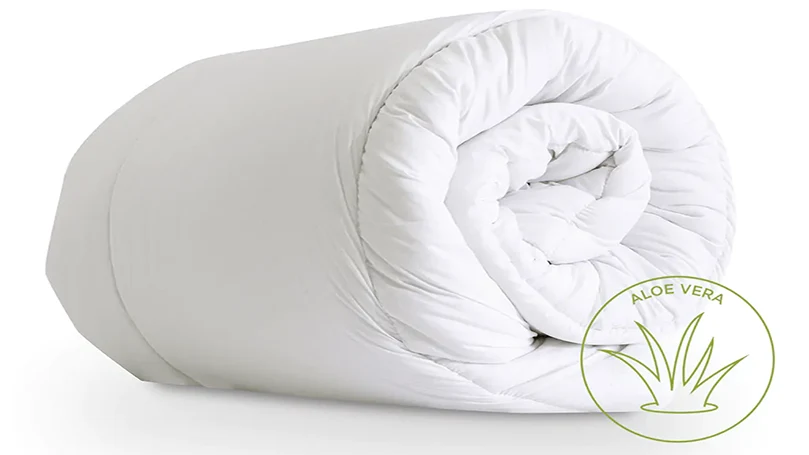 Aloe vera, or Aloe barbadensis is a plant that has been used for thousands of years due to its positive impact on our health. Even ancient Chinese and Egyptians used aloe vera to treat burns and wounds. That is why it is a very smart move to add Aloe Vera to this duvet because it has given it numerous health benefits and surely many people will buy Evercomfy Aloe Vera duvet for that reason.
The addition of Aloe Vera to this duvet makes it ideal for people with allergies, but also very pleasant for your skin. According to some reports, Aloe Vera in contact with the skin can slow down aging and wrinkles.
Durable and hypoallergenic microfibre fabrics
Microfibre is a synthetic fiber and is very often used for clothing, especially for sports purposes and sleep products. And there are two reasons why microfiber is used and why Evercomfy Aloe Vera duvet is filled with microfiber.
The first reason is that microfiber wicks moisture away from the body which is very important for duvet because you will never be wet. This is equally important for the 4.5 TOG duvet because you use it in the summer when sweating is intensified and for the 13.5 TOG duvet because it is warm and you don't want to be sweaty when the room temperature is low. Another reason is durability, because microfiber products last a very long time. Microfibre is also anti allergenic, making this duvet ideal choice for people suffering from allergies.
Special Wellsleep fiber gives softness and breathability to this duvet. Wellsleep fibers are superbly air-permeable so you won't overheat during either summer or winter. This is a concern for many customers because they think that the 13.5 TOG rating is too warm a duvet for them, but because of the wellsleep fiber it will suit even those who have central heating in their homes.
Review of Evercomfy Aloe Vera duvet
You can choose between two TOG ratings when buying Evercomfy Aloe Vera duvet – 4.5 and 13.5 which means that if you want to use this duvet all year round, you need to buy both to have a suitable one for both colder and warmer parts of the year. This Aloe Vera enriched duvet has numerous benefits for your skin and respiratory system, both because of the addition of Aloe Vera and because of the microfiber that is hypoallergenic and breathable fabric.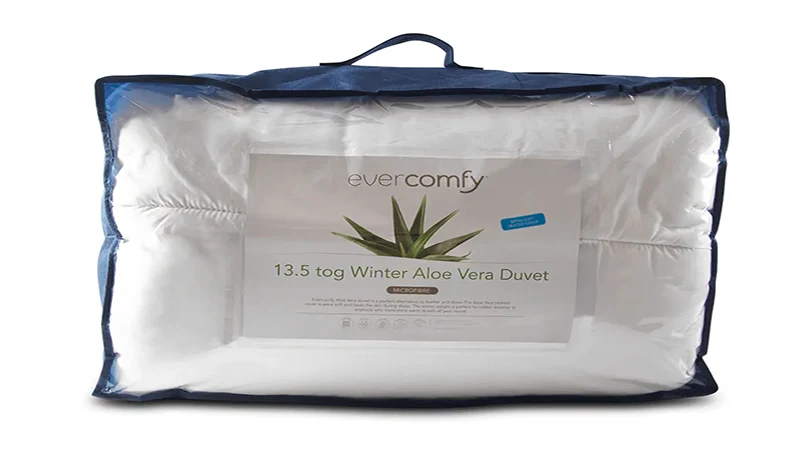 The product has no removable cover but the machine washable at 40 degrees C. Four sizes are available.
Affordable & cosy
Aloe Vera enriched
Hypoallergenic material.
No removable cover
Not all-season duvet
Slight off-gassing problems.
What we like about Evercomfy Aloe Vera duvet
Filling is distributed in evenly spaced zones, so there is no accumulation of filling in certain parts
The addition of Aloe Vera in combination with microfiber filling makes it ideal for all those with allergies
Available in 4 sizes – Single, Double, King and Super King.
What we didn't like about Evercomfy Aloe Vera duvet
There is no removable cover so you have to wash the whole duvet, and for that you need a large capacity washing machine
You have to buy both available TOG ratings to have a duvet for the whole year, although apart from occupying more space it won't be a problem because it's very affordable
No trial period, just 14 day money back guarantee if unopened.
Check the best alternatives to Evercomfy Aloe Vera Cloud Duvet
As you know, we prepare the best alternative for our products in all our reviews. Panda and Simba Hybrid Duvet are ideal alternatives to this duvet if you want premium duvets that have a different TOG rating compared to this duvet.
If you want an all-season, eco-friendly duvet then Cloud Duvet by Panda is the ideal choice for you. 10.5 TOG rating makes it suitable for all four seasons. The Panda company has achieved this primarily thanks to naturally thermo-regulating natural bamboo fibers in combination with Nano-Microfibre, so the duvet will always respond perfectly to your current needs.
You can wash it in the washing machine at 40 degrees C or by hand, and it is best to use eco-friendly detergents. Don't forget to check our in-depth review on Panda Cloud duvet to learn more about this amazing duvet.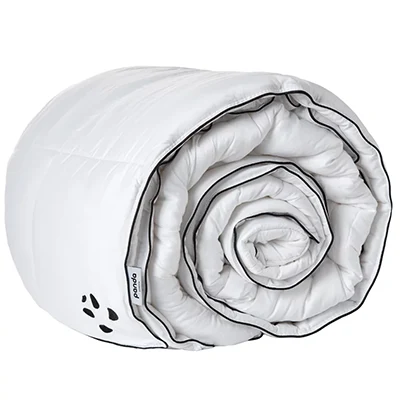 Breathable
Hypoallergenic
Comfortable. 
It may be too soft for heavier people
Must be maintained regularly
A bit pricey when compared to similar products.
Simba is a well known brand that makes a lot of high quality sleep products and their service is known to be of the highest quality but also staying eco-friendly whenever possible. The Simba Hybrid Duvet is made in part from recycled PET bottles so it is also eco-friendly.
It is very soft, and the filling is stitched evenly into square pockets so that there are no more lumps and bumps. It will keep you warm but it is not too hot, so it can be used for most of the year.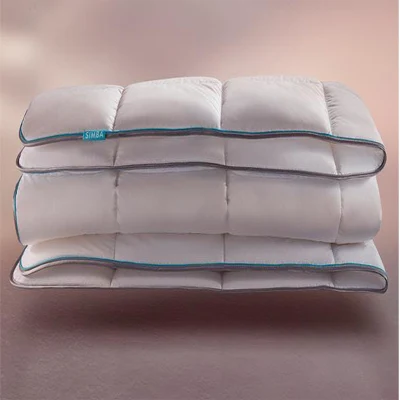 Soft & cosy
Breathable
Easy maintenance.
Not suitable for children
Some people may find it too heavy.
Consider Panda Luxury Bamboo Memory Foam Pillow if you are buying Evercomfy Aloe Vera duvet
Choosing a good pillow is necessary to prevent the appearance of pain in the neck and other parts of the body. We recommend the Panda Luxury Bamboo Memory Foam Pillow which is very supportive with no danger of flattening. This does not mean that it is hard as a stone, on the contrary, it is very comfortable. 
The 3rd generation memory foam plus breathable, naturally hypoallergenic bamboo was used. It is completely eco and socially friendly, and the warranty lasts as long as 10 years, which is probably the longest warranty for a pillow on the UK market.
Do check our review on Panda Bamboo Memory Foam pillow to learn more about this product.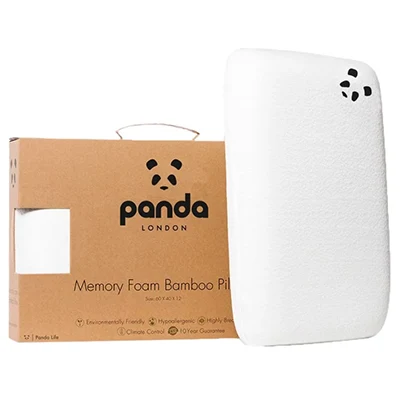 Supportive
Comfortable
Highly durable.
Only one size available
Slight off-gassing issues
Not all stomach sleepers are going to like it.
What makes this product better than some other similar ones?
The addition of Aloe Vera is what makes Evercomfy Aloe Vera duvet better than some other similar ones. Aloe Vera is a plant that could potentially benefit our health in many ways. Also, this duvet is very affordable, so although you have to buy two, due to the different TOG rating, that will definitely not be a big expense for you. In addition, you will have two products with 5-stars rating as this is high-quality products from a recognized brand. On average, you will still pay less than you would pay for two separate duvets. The product has a soothing effect on a customer as this is natural fabric that won't make you hot under it or cold during the winter time. Therefore, high-quality craftsmanship, 5-star hypoallergenic properties, versatility and a decent price tag is exactly what separates this product from the majority of them. If you need a duvet, do not hesitate anymore but go for this one.
How did we test the product?
We immediately ordered Evercomfy Aloe Vera duvet in both versions, as we would not be able to provide you with a valid review if we did not try both the 4.5 and 13.5 TOG models. You don't have to do that, you can only order one, if you already have a summer / winter duvet. As we have already mentioned, you do not have a trial period which is a minus.
The product comes nicely packaged, in a transparent plastic bag. After unpacking, you will have to air it, because off-gassing is present. Both 4.5 and 13.5 TOG variations of this duet are very easy and we noticed that right away. Thanks to microfiber, even the winter duvet is light, and the summer duvet is so light that you won't even feel it on yourself. 4.5 TOG is also suitable for use during the day, while watching a TV show for example, and you need a blanket.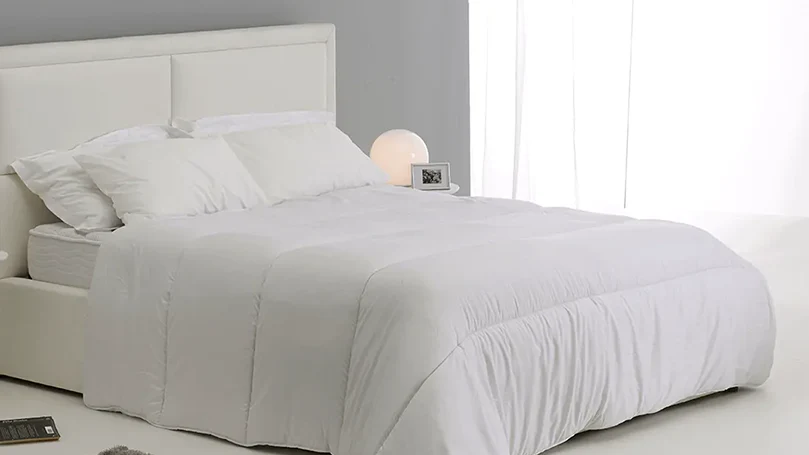 During the first night we tested the 4.5 TOG model and in addition to being light, we liked the breathability. Not hot at all, it will be ideally pleasant for the warm summer nights. Hot sleepers will certainly use it during spring and autumn, until it gets very cold. 13.5 TOG duvet is very warm, but due to breathability and because it is lightweight you will not have the impression that it has a 13.5 TOG rating which ranks it among the warmest duvets. Our feeling was like using 11 TOG duvet for example. Anyway, it will be suitable even when it is very cold.
In the end, we washed both duvet, but we would definitely prefer that we could only wash the cover, and not the whole duvet, because it barely fit even in a large capacity washing machine.
FAQs about your Evercomfy Aloe Vera duvet
Let's find even more about Evercomfy Aloe Vera duvet in our Frequently Asked Questions section. Here we will answer some of the questions that customers most often ask regarding duvet.
Is Evercomfy Aloe Vera duvet washable?
Yes, Evercomfy Aloe Vera duvet is machine washable at 40 degrees Celsius.
Is Evercomfy Aloe Vera duvet good for the summer time?
Evercomfy Aloe Vera duvet 4.5 TOG rating is great for summer time because it is very breathable and you won't feel the heat. It does not contain any synthetic or polyester fabrics making it ideal for the summer time.
Is Evercomfy Aloe Vera duvet good for the winter season?
Evercomfy Aloe Vera duvet 13.5 TOG duvet is a perfect choice for winter time because you will never be cold when you cover yourself with it. No customer has ever gave a negative feedback regarding this product and its use during the winter time.